Gold and Silver Sell Targets
Commodities
/
Gold and Silver 2011
Mar 24, 2011 - 12:28 PM GMT


Why do you suppose that gasoline prices at stations on the corner near your home generally post the same price? While the companies might contend that their product's secret additive will make your car run faster, last longer, and cause your love life to be better, most of us cannot tell the difference. If we price our gasoline above the true equilibrium price, buyers will simply not buy our gasoline. That is true for gasoline, cannabis, and precious metals.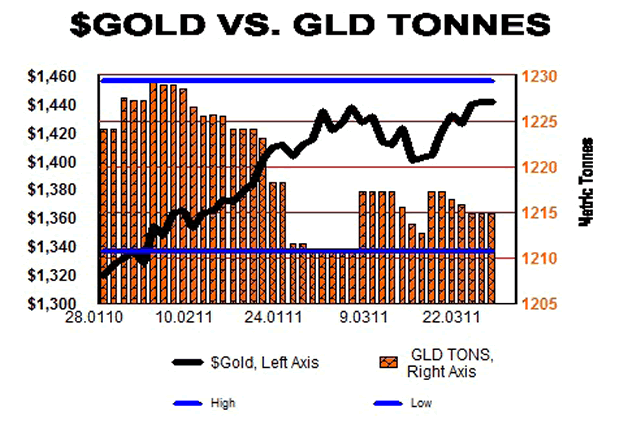 GDX, the Gold ETF, has been the big hammer in the Gold market. It holds physical Gold owned by the investors that own units in the ETF. GDX is the 6th largest owner of physical Gold, after France and before China. As an active participant in the Gold market, GDX is more important than nearly all major Gold owning countries.
From January, 2010 through June,2010 GDX acquired net about 100 tons of Gold. June 2010 was the peak in GLD's ownership of physical Gold (Financial Times, 27 January). Since June of last year it has sold more than 100 tons. In less that a year, GDX has had physical Gold transactions of 200 tons, but net of zero. Those transactions represent demand for physical Gold by investors.
In the graph above is plotted the size of GLD's Gold holdings, using bars and the right axis. Horizontal blue lines are the high and low for those holdings for the period of time shown in the graph. Solid black line is the price of $Gold using the left axis.
High for GDX's physical Gold holdings in this plotted time period was in early February. Since then, investors have sold 15 tons of physical Gold. In that same time period, the price of $Gold has risen more than $70. The message in that graph is not hard to discern, even if one is a Keynesian economist. As the price of $Gold has risen, the demand for physical Gold has fallen. Such is as economic theory says it should be.
Today speculators do not restrict themselves to the physical market for a commodity. If one can trade paper Gold and paper Silver, no need exists to be hampered by reality of physicals. We find in markets for paper Gold and Silver that economics is turned upside down. As prices rise, demand increases. At the same time, funny little stories are created to justify this upside down world.
When paper markets become detached from the reality of the physical markets we must acknowledge that the greater fool theory is again operational. Such is clearly the case with Silver, and perhaps somewhat with Gold. It is in those times that valuation work becomes a useful anchor for our emotions. Remember, those urging you to buy Silver today will not cover your losses, as uranium investors have recently discovered. Remember, no logical or economic connection exists between events in the Middle East and the price of Silver.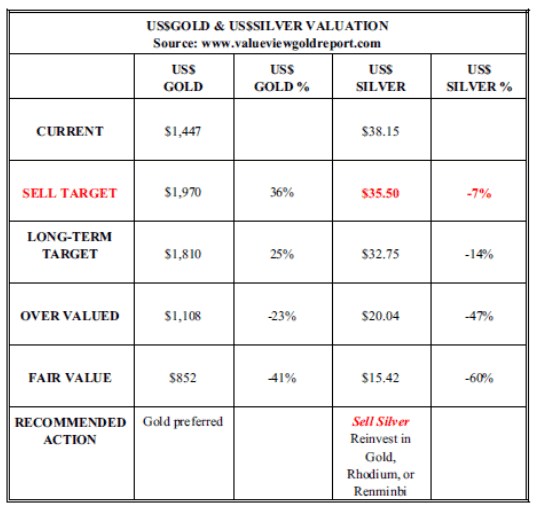 By Ned W Schmidt CFA, CEBS
GOLD THOUGHTS come from Ned W. Schmidt,CFA,CEBS as part of a joyous mission to save investors from the financial abyss of paper assets. He is publisher of The Value View Gold Report, monthly, and Trading Thoughts, about weekly. To receive these reports, go to www.valueviewgoldreport.com
Copyright © 2011 Ned W. Schmidt - All Rights Reserved
© 2005-2019 http://www.MarketOracle.co.uk - The Market Oracle is a FREE Daily Financial Markets Analysis & Forecasting online publication.
Comments
C
25 Mar 11, 06:38
silver


I'm sticking to my physical silver, I am not rich, not everyone can be of course. I don't plan on selling for at least ten years.



silverbond
25 Mar 11, 12:18
U sell I buy


Troll alert! *-)



Matty
25 Mar 11, 23:30
EXACTLY THE OPPOSITE
I just can't hold it in, any more. Long have "Scientists" told us laughter is good for both physical and emotional health - (duh!) - but, with the help of Ned Schmidt I have further discovered that laughing AT THE RIGHT PEOPLE can also be phenomenally good for your wallet! Mr. Schmidt - second to none, AFAIK - provides the ultimate example, and proof, in his investment "advice", which I now make a point never to miss - and never to do anything but EXACTLY THE OPPOSITE of whatever he recommends - consistently since discovering him, two years ago. And I've made (and continue to make) A BUNDLE, doing just that, let me tell you! For example, back on March 7, Ned urged us all to get out of silver and back into gold - thus, I stayed (which I already was) max invested in silver - and it duly continued up, almost 5% over gold - THANKS, NED - LOVE YA, buddy (LOL)! I could cite numerous additional examples - again, without exception, over the (at least) prior two years - and exactly how much (more) I made off of each one, but space (and Having a Life) does not permit. Let me just say it reminds me of Hillary Clinton's (famously defensive) screeching, of a few years back: "What's NOT to like about Ned Schmidt's advice: the hilarity or the prosperity (if you do exactly opposite of what he says)?" Or maybe I got that quote slightly wrong - but you know what I mean... Ned Schmidt is THE PERFECT negative barometer - advice DEAD Wrong, EVERY Time - and as such, provides a near-foolproof route to guaranteed proffit - IF you will only and always NEVER FOLLOW his advice, but instead do your level best to commit to the exact opposite. Now I recommend going back and re-reading his article - in fact, clicking on it again (at least once) to give Ned another "hit", and thus encourage him (LOL) - and I b'lieve you will see his "analysis" in a whole new "light": golden. Semper Fi, -Matty in Florida


Only logged in users are allowed to post comments.
Register/ Log in