Silver Bullion and Stocks Spring Into Life
Commodities
/
Gold & Silver Stocks
May 25, 2011 - 09:52 AM GMT


Two of our favourite silver producers led the charge today, Endeavour Silver Corporation (EXK) up 9.25% and First Majestic Silver Corporation (AG) up 7.49% as silver prices bounced $1.53/oz in today's trading session.
Silver prices have gained 4.37% in today's trading session and look to have found some support at the $34.00/oz level, which could form the platform for a re-test of the $40.00/oz level.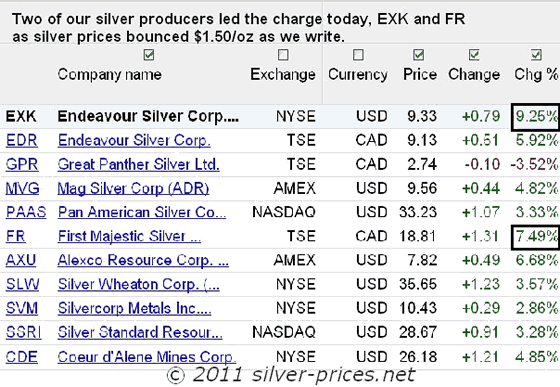 Taking a quick look at the technical indicators we can see that there is an imminent crossover on the MACD which is usually a positive sign for silver along with the STO and RSI, both of which are heading north at the moment.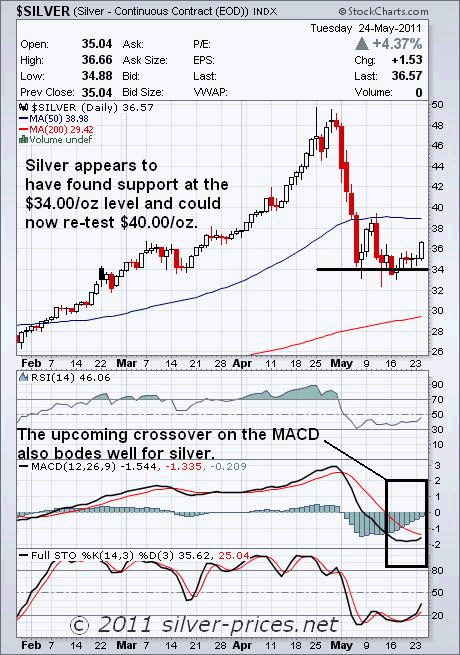 The difficulty is determining just where will silver prices go from here. In the short term we are of the opinion that silver will continue to consolidate with some erratic moves in both directions. The months of June, July and August have been slow moving historically and we could be in for more of the same. However, its not a given as many parts of the world are experiencing turmoil at the moment, either politically, economically, or environmentally. The next black swan event could make an appearance as early as tomorrow and change the financial landscape almost immediately, just as the rapid increases in margin requirements knocked the stuffing out of silver prices. One such event could be a similar assault on gold prices which would no doubt have a knock on effect on silver. However the demand for silver, both by the industrial users and the investment community is strong and growing as suspicion grows regarding the credibility of the fiat currencies.
Also remember that those politicians and officials who control the printing presses have different objectives from that of the retail investor. The top priority for them is to get re-elected and they will continue to 'buy' votes with various giveaways to protect their lifestyles. Its short term-ism at its very worst and we are stuck with it. The printing presses will continue to roll as this is all they know how to do. Currencies will leap over each other in the race to the bottom and the people will become, albeit slowly, more aware that their paper money is buying very little indeed. The dawn of this realization has begun and is gathering pace.
To avoid being totally wiped out in the coming carnage try to move some of your wealth, even if you consider yourself to be a poor person, into some form of trade-able hard asset. In that respect silver deserves some consideration. As we have said many times the first step is to acquire physical silver coins and bars and keep them where you can get your hands on them and outwith the banking system. When the chips are down the banks will do what the governments tell them to do, regardless of our perceived rights.
The second way to get involved is by investing in a small number of quality silver producing stocks. Now, some of our readers have informed us that they are unable to purchase the stocks that we have recommended due to the inability of their stock broker to trade on a particular exchange, say the NYSE. To this sort of situation we can only ask if they are providing a service to you or if you are providing a service to them? There are a number of web based trading platforms available to you which free you from such shackles, so wake up and take charge of your own future.
Finally, if you have a stomach that can stand violent oscillations then the use of leverage, through a well thought out options trade could boost your account. However, be warned options can also knock a whole in your account just as quickly, so seek some professional advice before putting your hard earned cash on the table.
In conclusion we are of the opinion that despite the day to day white noise that is ever present, silver prices will finish the year at much higher price levels than they are now. So take some time and read as widely as you possibly can, formulate your very own protection plan and start to build a position at your own speed, before prices become a little daunting.
To stay updated on our market commentary, which gold stocks we are buying and why, please subscribe to The Gold Prices Newsletter, completely FREE of charge. Simply click here and enter your email address. (Winners of the GoldDrivers Stock Picking Competition 2007)
For those readers who are also interested in the silver bull market that is currently unfolding, you may want to subscribe to our Free Silver Prices Newsletter.
DISCLAIMER : Gold Prices makes no guarantee or warranty on the accuracy or completeness of the data provided on this site. Nothing contained herein is intended or shall be deemed to be investment advice, implied or otherwise. This website represents our views and nothing more than that. Always consult your registered advisor to assist you with your investments. We accept no liability for any loss arising from the use of the data contained on this website. We may or may not hold a position in these securities at any given time and reserve the right to buy and sell as we think fit.
© 2005-2019 http://www.MarketOracle.co.uk - The Market Oracle is a FREE Daily Financial Markets Analysis & Forecasting online publication.

Only logged in users are allowed to post comments.
Register/ Log in