Stock Market Investor Sentiment Growing Overly Negative
Stock-Markets
/
Stock Markets 2011
Jun 20, 2011 - 07:14 AM GMT


Right now just about everything that has to do with the financial markets except for bonds has been in a corrective mode since the end of April. That means gold, oil, and most commodity related stocks are down too. It is true that the price of gold itself has held up well during this drop in the broad market, but the HUI gold stock index is down over 19% from its April high.
Since almost everything is moving together it makes a lot of sense to keep a close eye on the broad US market averages and investor sentiment in order to get an idea of when this correction is going to end. From a contrarian standpoint sentiment surveys were flashing a warning sign. According to the Investors Intelligence survey the ratio of bullish investment advisors and newsletter writers to bearish ones stood at 78% on April 5, which is higher than the average level of 76.2% that has marked the peak of the past several major tops in the stock market.
The herd tends to be right often in the stock market, but at critical junctures is almost always wrong. So when there is a manic level of bullishness in the market that was a reason to be concerned. I know from feedback I've gotten myself from individual investors most people were starving for stock picks and trading ideas to play the market. When I expressed caution on the market in my May monthly newsletter I even got some hate mail from people and a few new people demanded refunds for my WSW Power Investor trading service who were angry at the lack of stock picks. I simply won't put out picks unless I think the time is right.
The truth is almost everyone has a bullish bias for the stock market. If you are a broker or investment advisor your clients are almost always true believers in the market so you have an interest even if you don't realize it in being bullish all of the time for them. Newsletter writers have subscribers who are always hungry for stock picks and trading ideas so when the advisors start to get negative on the market if often becomes a time to buy - because they are really going against the grain then.
The reason why sentiment date is important, is because most people do not get bearish on the stock market until they sell their holdings. Since corrections are driven by selling once everyone is sold out and becomes bearish bottoms are often at hand.
According to last week's Investors Intelligence survey the number of writers bearish on the stock market rose to 26% from 23% while the number of people bullish on the market fell to 37% from a higher of over 56% in April. This brings the ratio of bullish-to-bearish writers at 1.42, which is the lowest ratio since last September.
So in other words while people were getting wildly bullish in April and May they are now getting negative on the stock market. Bad news is everywhere. Turn on the TV and all you hear now on the financial networks is talk of Greece (wasn't that a story a year ago), how real estate is going to fall more, and poor economic data. All of these things may be problems, but the stock market tends to move in waves and overdoes things on both the downside and the upside.
Chart action and sentiment are key to reading the weekly trend of the market and sentiment suggests that we are nearing the end of this current correction.
Now sentiment doesn't always call exact tops and bottoms. Although the top in gold stocks coincided closely to the peak in bullish sentiment, the broad market averages didn't top out themselves for a few more weeks. To me sentiment is saying a lot of people are getting too worried now about the stock market so you shouldn't worry so much.
More useful in calling exact bottoms in the market is the VIX, the Chicago Board options volatility index, which measures the premium options traders are paying for volatility in real time. At key moments of panic traders and investors pile into puts to protect their long positions or bet against the market and this causes the VIX to rise in value.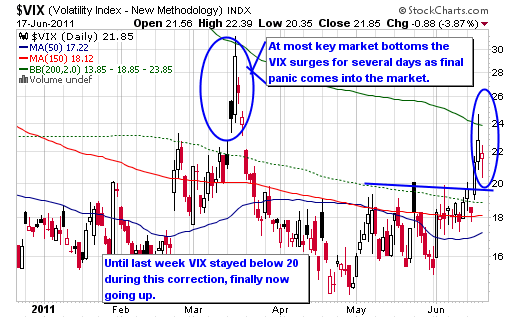 During most of this current stock market correction the VIX has stayed below 20. In May while the market dropped the VIX barely went up, which was a sign that the correction was not going to be a mere couple days pullback, but a correction that could last for several weeks and lead to big losses. Last week the VIX finally broke above 20.

During most extended market corrections the VIX has a final surge right on the bottom. We have not yet seen that happen so I expect we'll see the market pullback one more time to cause the VIX to spike up. If such a move coincides with a heavy ratio of sell to buy orders on the NYSE and Nasdaq than it will likely market a complete end to this current correction.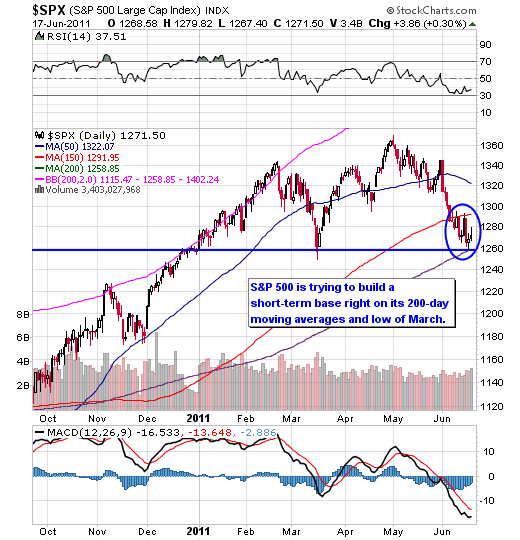 The S&P 500 has been trying to hold up on its 200-day moving average and put in a bottom. Whether it is successful or not I still expect we'll see at least one more day of panic selling in the market with the VIX spiking up before this current correction is completely over. I think it most likely it will break its 200-day moving average before it finally bottoms, but I doubt there will be much more downside from there because of the growing bearish sentiment.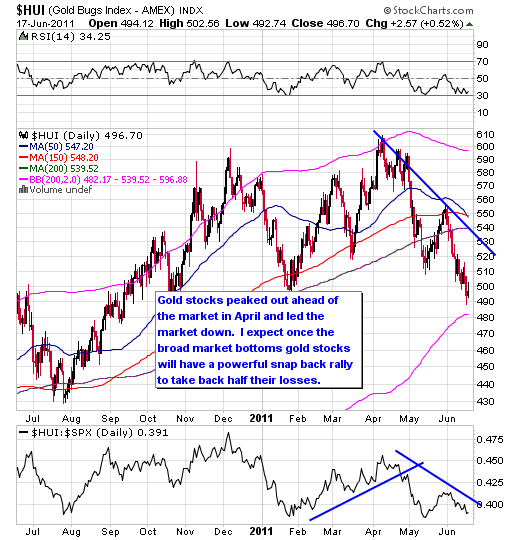 Gold stocks peaked out before the broad market averages did and led the market lower. I expect once this current correction that they will take back at least half of their losses and in a fast snap back rally.
The HUI is actually just hovering on major support at its lower 200-day Bollinger band.
Subscribe to my free weekly newsletter for more in depth analysis of the financial markets with a discussion of individual stock picks. To subscribe for free click here.
By Michael Swanson
WallStreetWindow.com
Mike Swanson is the founder and chief editor of WallStreetWindow. He began investing and trading in 1997 and achieved a return in excess of 800% from 1997 to 2001. In 2002 he won second place in the 2002 Robbins Trading Contest and ran a hedge fund from 2003 to 2006 that generated a return of over 78% for its investors during that time frame. In 2005 out of 3,621 hedge funds tracked by HedgeFund.Net only 35 other funds had a better return that year. Mike holds a Masters Degree in history from the University of Virginia and has a knowledge of the history and political economy of the United States and the world financial markets. Besides writing about financial matters he is also working on a history of the state of Virginia. To subscribe to his free stock market newsletter click here .
Copyright © 2010 Michael Swanson - All Rights Reserved.
Disclaimer - WallStreetWindow.com is owned by Timingwallstreet, Inc of which Michael Swanson is President and sole shareholder. Both Swanson and employees and associates of Timingwallstreet, Inc. may have a position in securities which are mentioned on any of the websites or commentaries published by TimingWallStreet or any of its services and may sell or close such positions at any moment and without warning. Under no circumstances should the information received from TimingWallStreet represent a recommendation to buy, sell, or hold any security. TimingWallStreet contains the opinions of Swanson and and other financial writers and commentators. Neither Swanson, nor TimingWallstreet, Inc. provide individual investment advice and will not advise you personally concerning the nature, potential, value, or of any particular stock or investment strategy. To the extent that any of the information contained on any TimingWallStreet publications may be deemed investment advice, such information is impersonal and not tailored to the investment needs of any specific person. Past results of TimingWallStreet, Michael Swanson or other financial authors are not necessarily indicative of future performance.
TimingWallStreet does not represent the accuracy nor does it warranty the accuracy, completeness or timeliness of the statements published on its web sites, its email alerts, podcats, or other media. The information provided should therefore be used as a basis for continued, independent research into a security referenced on TimingWallStreet so that the reader forms his or her own opinion regarding any investment in a security published on any TimingWallStreet of media outlets or services. The reader therefore agrees that he or she alone bears complete responsibility for their own investment research and decisions. We are not and do not represent ourselves to be a registered investment adviser or advisory firm or company. You should consult a qualified financial advisor or stock broker before making any investment decision and to help you evaluate any information you may receive from TimingWallstreet.
Consequently, the reader understands and agrees that by using any of TimingWallStreet services, either directly or indirectly, TimingWallStreet, Inc. shall not be liable to anyone for any loss, injury or damage resulting from the use of or information attained from TimingWallStreet.
© 2005-2019 http://www.MarketOracle.co.uk - The Market Oracle is a FREE Daily Financial Markets Analysis & Forecasting online publication.

Only logged in users are allowed to post comments.
Register/ Log in