Let Chinease Yuppies - Chuppies Power Your Portfolio!
Stock-Markets
/
Chinese Stock Market
Nov 27, 2007 - 11:01 AM GMT

Tony Sagami writes: If your family is like mine, Thanksgiving signals the beginning of the holiday season. Of course, we also have another very important way to kick off the holiday season — we attend a performance of the Nutcracker, in which my daughter Keiko dances.
Keiko has been doing this since age four, and excuse me for sounding like a proud daddy, but she is one of the most talented dancers in our community. This year, she played the French Maid and one of the Flower Girls ... and she was fantastic!
Like we do every year, we also enjoyed our traditional Thanksgiving feast and watched the Washington-Washington State football game.
I even braved the shopping mall on Black Friday. I was surprised, however, at how sparse the crowds were. Then again, I live in Montana, which is hardly the retail capital of the world.
Was my experience in line with what was happening elsewhere? That depends on the country ...
U.S. Retailers Fear a Shopping Apocalypse this Holiday Season
According to the National Retail Federation (NRF), the sluggish sales I saw in Montana were mirrored by the rest of the country.
The NRF said that more than 147 million shoppers went shopping last weekend but only spent an average of $347. That's down from $360 last year. More importantly, the percentage of shoppers hitting discount stores, like Wal-Mart, increased from 50% to 55% this year.
Clearly, Americans are feeling the pinch. And there are plenty of reasons why ...
Oil is near $100 per barrel.
The credit crisis is expanding.
The dollar is still falling.
Real inflation is rising at a torrid pace.
And real estate continues to weaken on all fronts.
Look, I'm not pointing this out to sound like Mr. Grinch. It's just that retail sales represent two-thirds of U.S. gross domestic product (GDP), so investors should be very worried that this retail weakness will push our economy into a recession.
Meanwhile, it will be a very different holiday shopping season across the Pacific ...
Miracle on Nanjing Road: It's A Wonderful Life for Chuppies!
China's economy isn't feeling a consumer spending pinch at all. In fact, the Chinese National Bureau of Statistics reported that retail sales soared by an 18.1% annualized rate in October to US$111 billion.
That's on top of a 17% increase in September and a 16.1% increase for all of 2007!
Those Chinese shoppers aren't just buying chopsticks or tofu, either. They're buying big ticket goods like crazy: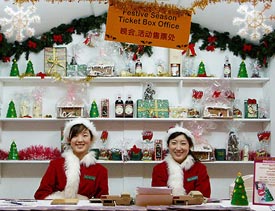 There will be a lot of holiday cheer in China this year!
Apparel purchases soared 32.6% ...
Jewelry sales jumped 37.5% ...
Furniture buying climbed 41.7%!
And don't get me started on the electronics boom! Heck, 82% of urban Chinese citizens own cell phones and 33% own computers. Asians love electronic doodads of all kinds.
Get this: As recently as five years ago, China bought only 1% of luxury handbags. According to a Goldman Sachs survey, the Chinese are now the third-largest consumers of luxury goods. They now account for 12% of the market and the country is expected to become the #1 luxury market in the world soon enough.
I've seen it with my own eyes — Louis Vuitton and Gucci handbags are more common in Shanghai than Manhattan. And the city's Nanjing Road is now the equivalent of what 34th Street in New York City once was.
Buddhism is the most popular religion in China, but that hasn't stopped the Chinese from embracing the concepts of Santa Claus and Christmas.
Christmas is an all-out consumption festival, as employers buy gifts for employees ... companies send presents to clients ... and boyfriends and girlfriends exchange packages with each other.
I was in China last December and every mall from Shenzhen to Shanghai was decked with boughs of holy, lights, and tannenbaum trees!
Chinese Christmas trees are called Trees of Light and Santa Claus is called Dun Che Lao Ren, which translates into "Christmas Old Man."
Talk about an economic miracle!
And that's why I suggest you ...
Put the Power of China's Booming Retail Sales into your Portfolio
The reason for the spending spree is simple. China is creating a new bulging middle class population. There are 100 million middle class Chinese today, and that number is expected to DOUBLE by 2010.
These "chuppies," or Chinese yuppies, are educated and have money burning holes in their pockets. As a result, Chinese consumption is estimated to increase by a whopping 18% a year over the next decade.
My point is simple — as an investor, you do not want to put your money where the consumers are cutting back and pinching pennies.
Rather, you should consider investing in economies where employment is rapidly expanding and where confident consumers are actively supporting their economy.
And right now, China is where that's happening!
I continue to believe individual companies that cater to the Chuppies will be huge winners. Examples include China Mobile and E-House. Alternatively, you can always look into a mutual fund or exchange-traded fund that targets Asia.
But either way, I encourage you to consider adding some Chinese investments to your holdings. That's the best way I know of to spread some holiday cheer to your portfolio.
Best wishes,
Tony
This investment news is brought to you by Money and Markets . Money and Markets is a free daily investment newsletter from Martin D. Weiss and Weiss Research analysts offering the latest investing news and financial insights for the stock market, including tips and advice on investing in gold, energy and oil. Dr. Weiss is a leader in the fields of investing, interest rates, financial safety and economic forecasting. To view archives or subscribe, visit http://www.moneyandmarkets.com .
© 2005-2019 http://www.MarketOracle.co.uk - The Market Oracle is a FREE Daily Financial Markets Analysis & Forecasting online publication.

Only logged in users are allowed to post comments.
Register/ Log in