Three Great Ways to Play Silver Bull Market
Commodities
/
Gold & Silver Stocks
Aug 01, 2011 - 04:15 AM GMT


Well it looks like an agreement has been reached and all that is left is to cross the T's and dot the I's. For those of you that have been reading my writings, you know that I have written that once there was some sort of agreement on the debt ceiling we will get a short term relief bounce on the dollar and that's when you buy gold and silver as there is an inverse correlation to a strong dollar and the price of gold and silver. Then the realization that nothing has changed for the better will become apparent and the markets will sell off with a vengeance.
Once the S&P VIX is above 30 slowly start buying by dollar cost averaging in as we sell off. I had a very smart reader write to me that we may well see the VIX at 50. I'm not sure if I agree completely that the VIX will go that high but at some point Dr. Bernanke and the FOMC will have no choice but to step in with another round of QE3. When that happens, the markets will turn very bullish and if you have not bought into the selloff you will have missed the chance to buy a discount prices. So I advise all to stand aside while the congress and president take their victory laps for snatching defeat from the mouths of victory and keep a keen eye on the S&P VIX.
When the VIX hits 30, start buying and keep buying while it runs up.

This weekend I received many questions and comments from readers far and wide about silver. I have responded to all that Micro timing the market is folly and that is doubly true with a volatile and manipulated commodity like silver. Today I wanted to talk about two new stocks and one old favorite.

I will begin today's essay using our old friend the silver ETF (SLV). A look at the chart below will show that I seem to have had this one wrong.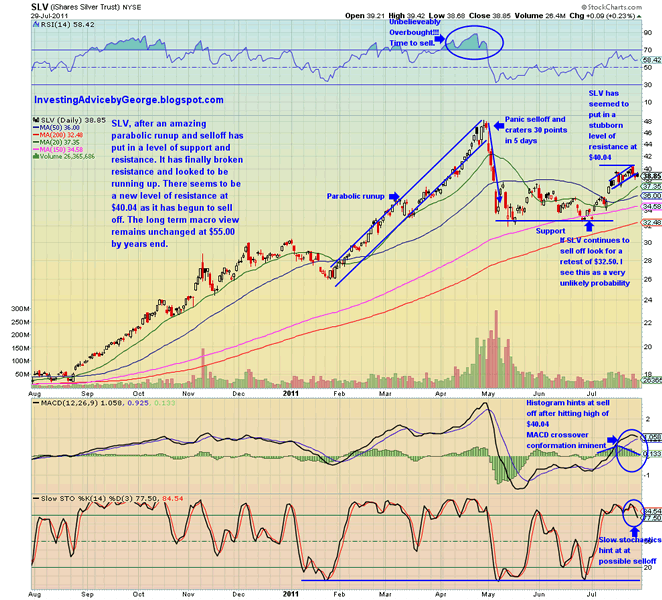 After the Parabolic run up that ended abruptly the last trading day of April SLV sold off in a week and there is an old market axiom that one should never try and "catch a falling knife." I dutifully obeyed and when it bounced twice at $32.60 it began a nice run up. I always had a feeling that it would go back and test the 200 day moving average at about $31.00. Well it looks like I was wrong on SLV. The stock has seemingly put in a pretty firm level of support at $38.00 and has tested a resistance level of $40.04 and closed on Friday at $38.85. I believe we will all get another swing at the ball at $38.00 and I would advise opening a position at that level if you have not already. I am not beating myself up over missing the bottom as I have often written that anyone who tells you that they bought at the bottom and sold at the top was either very lucky (once) or is not completely forthcoming. Either way as I have written in many posts I see the continued debasement of the dollar as the only way we will be able to pay off the staggering debt we have run up and I do not see that changing, bill or no bill. So I advise readers to buy SLV at $38.00 or below because I believe that it will be $55.00 to $60.00 by year's end.

The next stock that I want to talk about is Pro Shares Ultra Silver (AGQ). Please see chart below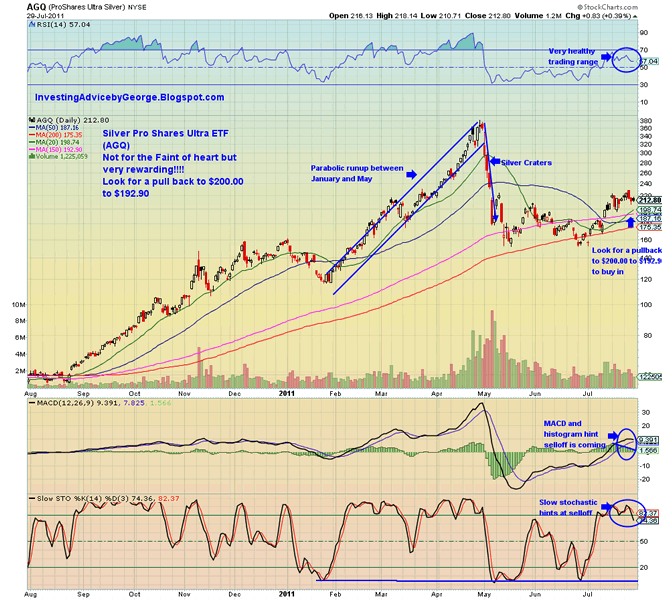 This stock is not like SLV which is purported to be tied to the underlying asset, silver. Instead AGQ is an ETF that buys futures contacts in silver and then leverages them 2 to 1. This stock is very risky and I was told by the head of investor relations that it is a vehicle that is meant to be used as a day trade. I have used in the past twice with great success but only when I had the probabilities of the trade going my way over 90%. Many of my readers have taken a long position in it and I have written to them if this is an ETF that needs to be watched very closely as a move the wrong way will put your lights out in a heartbeat. If I am correct in my assertion of a short term bounce in the dollar after the debt ceiling circus is resolved this may give us an opportunity to buy AGQ back in at $200.00 to $193.00 or lower. Furthermore if I am right that SLV will be $55.00 - $60.00 by year's end that is a staggering 100% gain in 5 months. The caveat in that scenario is that I used the word if two times and for me that's two times too many. Having said that, I will be a buyer of AGQ at $190.00 or below and I will look for a target price of $450.00 by year's end.

Finally I wanted to introduce a stock that several of my readers have recommended Silver Wheaton (SLW).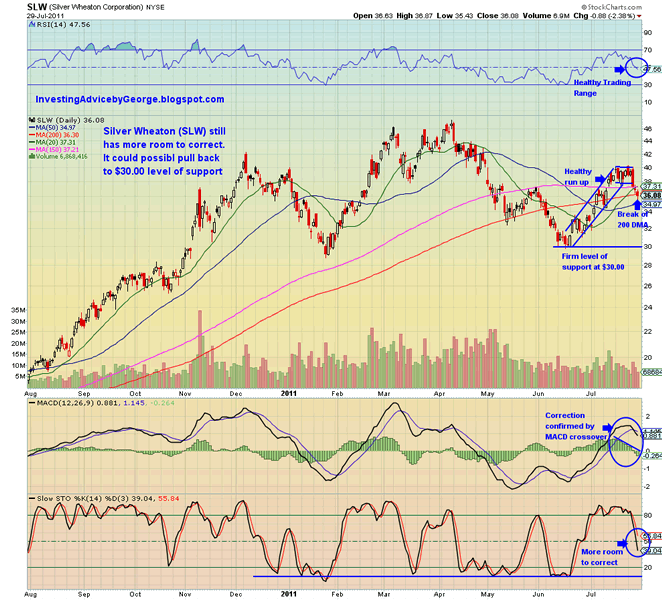 Silver Wheaton Corp. (Ticker: SLW, listed: (NYSE), (TSX)) is a mining company which generates its revenue primarily from the sale of silver. The company's silver and gold interests are located in Mexico, Canada, South America, Europe and the United States.
Silver Wheaton is the largest silver streaming company in the world. Based upon its current agreements, forecast 2011 production is 27 to 28 million silver equivalent ounces, including 15,000 ounces of gold. By 2015, annual attributable production is anticipated to increase significantly to approximately 43 million silver equivalent ounces, including 35,000 ounces of gold. This growth is driven by the company's portfolio of world-class assets, including silver streams on Goldcorp's Penasquito mine and Barrick's Pascua-Lama project. A look at the chart below is very interesting.
You can see that the stock closed below the 200 day moving average and the MACD has confirmed the correction predicted by the histogram but the slow stochastics indicates that it has room to continue to correct and the RSI is at a very healthy 47.56. If this stock sneezes at the open on Monday I will be a buyer and will continue to buy on any further pullback to the $30.00 level. I see a price target on this stock of $50.00 by year's end.

Have a great Trading Day!
By George Maniere
http://investingadvicebygeorge.blogspot.com/
In 2004, after retiring from a very successful building career, I became determined to learn all I could about the stock market. In 2009, I knew the market was seriously oversold and committed a serious amount of capital to the market. Needless to say things went quite nicely but I always remebered 2 important things. Hubris equals failure and the market can remain illogical longer than you can remain solvent. Please post all comments and questions. Please feel free to email me at maniereg@gmail.com. I will respond.
© 2011 Copyright George Maniere - All Rights Reserved
Disclaimer: The above is a matter of opinion provided for general information purposes only and is not intended as investment advice. Information and analysis above are derived from sources and utilising methods believed to be reliable, but we cannot accept responsibility for any losses you may incur as a result of this analysis. Individuals should consult with their personal financial advisors.
© 2005-2019 http://www.MarketOracle.co.uk - The Market Oracle is a FREE Daily Financial Markets Analysis & Forecasting online publication.

Only logged in users are allowed to post comments.
Register/ Log in