Euro Collapse, U.S. Debt Ceiling Default Armageddon Irrelevant to Stocks Stealth Bull Market?
News_Letter
/
Stock Markets 2011
Aug 04, 2011 - 07:31 PM GMT

The Market Oracle Newsletter
July 25th, 2011 Issue #14 Vol. 5


The Market Oracle Newsletter
July 25th, 2011 Issue #14 Vol. 5
Euro Collapse, U.S. Debt Ceiling Default Armageddon Irrelevant to Stocks Stealth Bull Market?
Stocks Stealth Bull Market 2011 Ebook Direct Download Link (PDF 2.8m/b)
Interest Rate Mega-Trend Ebook Direct Download Link (PDF 2.3m/b)
Inflation Mega-Trend Ebook Direct Download Link (PDF 3.2m/b)
Dear Reader
The financial news is bad, very bad, don't see how it could get much worse with europe's debt default contagion spreading to Italy and Spain sending bond yields soaring to Euro life-time record highs, whilst in the U.S. there is talk of imminent debt default on failure to raise the debt ceiling prompting the mainstream press talking heads aided by the BlogosFear to once more iterate a busted flush that the stocks bear market is about to resume (just as has been the case for the past 2+ years).
Remember a month ago with Greece tottering on the brink of default and the Dow down 7% from its bull market high ?
What has happened since ?
The Dow has rallied by 800 points! So yes there has been a crash but it has been to the UPSIDE.
Lets stay with the Euro-zone debt crisis, yes the PIIGS are bankrupt, and they are not alone, so is Japan, Britain and the United States, that is nothing new, it is not news, it is the sovereign debt mega-trend which is driving the INFLATION mega-trend as I wrote about at length over 18 months ago, in that there is only one answer to the sovereign debt crisis of the west and that is INFLATION, to INFLATE the debt away, there is NO OTHER ANSWER, and NOTHING has changed.
The Inflation Mega-Trend will run for this whole decade and I have included some 50 pages of wealth protection strategies in the Inflation Mega-trend ebook that remain just as valid today (FREE DOWNLOAD).
Mainstream Media and BlogosFear
I am going to cut through the BS and tell you like it is. The mainstream press is populated by journalists who think they are economists, but wait its worse, they then regurgitate at length the views of vested interest academics who's models NEVER match reality. NEVER! EVER! Why ? Because they lack the most fundamental requirement for being able to generate accurate analysis and that is the market forces of profit and loss instead rely on funding to follow schools of thought. If there is no consequences for being wrong then that is all they will ever be for it is far easier to pump out commentary for print deadlines than to take the time to formulate strategies upon which ones hard earned cash is depending.
Another point to consider is that the mainstream financial press most of the time are having conversations with salesmen, be they CEO's selling their companies stock or, salesmen that just want to pump a service that they are forced to promote as a consequence of being unable to compete in the derivatives and commodities markets. Still worse are the media whores that tend to spend more time in TV make-up rooms than sat in front of market trading screens that they seek to commentate upon, whilst jumping from channel to channel.
FEAR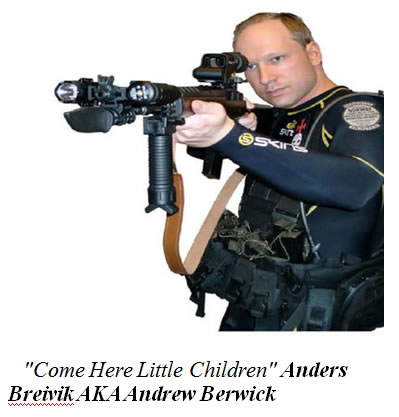 All of this is further regurgitated at length by the BlogosFear, a phrase that I coined some years ago as a consequence of the perma-doom mindset regardless of the reality of a situation. However the media and the BlogosFear being ignorant of the facts is nothing new, for it is the human condition for those that seek to exert power over others to nearly always be pessimistic of the future which has its roots in Religion Driven Fear of what God will do to you if you do not obey those that purport to have a direct line to him, so we are talking about something ingrained in out genes that goes back hundreds of thousands of years.
Everything is driven by FEAR, Preachers use it (of all faiths), Politicians definitely use it, the mainstream media cannot get enough of it with 9 out of 10 stories being bad news, and off course there are the FEAR driven insane fanatics hell bent on killing as many innocents as they possibly can such as the Norwegian Nazi, though the real secret behind his craziness is probably more to do with him never having been able to get a girl friend and hence needed to find others to blame for his own inadequacies which over time resulted in mental illness and finally evil deeds.
The reality of the real state of the world is that of continuing global economic growth coupled with exponential innovation and technological advancement, 20 years ago few could foresee how the Internet would change the way we work and learn resulting in huge gains in productivity, as will technologies such as BioTech, Artificial Intelligence and Robotics change our world enormously over the next 20 years, resulting in a many fold increase in worker productivity, these good news mega-trends will rarely make it into your gloom and doom mainstream press that only knows how to sell fear, which is why most investors will miss these mega-trends.
The Eurozone Debt Crisis Reality
The bond vigilantes are heavily short illiquid debt markets i.e. Ireland, Greece and Portugal, which goes a long way to explain why Italy has been targeted as shorts are cashing out of illiquid markets and opening positions in Europe's biggest most liquid bond market, Italy!
This is reflected in recent bond market price action as yields for Italian debt are on the rise whilst yields in the likes of Greece have fallen a little, that is the reason for current price action, and NOT the noise you are hearing in the mainstream press about x,y,z - none of which reflects reality of bond markets price action.
The mainstream press focuses in on just one or two elements without comprehending the reality of the actual situation in that:
a. The PIIGS are NOT the whole they are one small part of the Euro-zone economy that is NOT contracting but growing with Germany literally booming as a weak Euro gives it a great comparative advantage both internally in the euro-zone and externally to the whole world that far out weighs the actual net costs of bailouts, even the FT's mighty Martin Wolf failed to get it as illustrated below:
Financial Times July 2010, Martin Wolf is worried that the concerted austerity of Germany, Britain and other industrialised countries may "destroy the recovery".
Germanys economic boom is the flip side of the PIIGS sovereign debt crisis as I have been mentioning since at least early May 2010 - Greece Economic Depression Resulting in INFLATION NOT DEFLATION Surge ) and again 09 Aug 2010 - UK Economy GDP Growth Forecast 2010 to 2015.
Bottom line - The large industrialised export orientated areas of the Eurozone such as Germany are going to BOOM! Therefore the PIGS sovereign debt crisis is old news. The U.S. looks set to experience sluggish growth.
He also failed to get that Britain is stealth defaulting on its debt by means of high inflation during some email exchanges with him over a year ago, I wonder if he has now changed his opinion after a year of high UK inflation?

The bottom line is that the mainstream press is good at looking in the rear view mirror and telling your what has already happened, but because they lack the fundamental mechanism of profit and loss in their analysis they will by wrong at least 80% of the time on any market or economic outlook, think about that, even a coin toss is a 50/50 proposition!
b. That the debt crisis calls for money printing, regardless of what the politicians and central bankers state this is what will follow as we are witnessing with the latest Euro 109 billion bailout of Greece that is a stepping stone towards a Euro-bond with all of the ramifications it will have for the core Euro-zone interest rates.
c. That the PIIGS will default on their debts, infarct Greece and Ireland HAVE defaulted because the borrowers are being forced to except longer terms and lower interest rates than the market interest rates, a so called orderly default is taking place.
The announced orderly default does NOT solve anything, because Greece is still left with a huge and growing debt mountain, so this is just another milestone on the path towards further defaults. All the Euro-zone has done is to buy some more time for Greece.
Therefore depositors need to continue to protect themselves against PIIGS defaults and the Inflation Mega-trend (see my last article of 29th June 2011), as bond holders are being marched towards loss of capital so will ultimately depositors, in one way or another, in the UK it is stealth default by means of high Inflation, in the likes of Greece it is in your face default.
PIIGS Lesson for U.S. and UK on Interest Rates
Central bankers in the US and UK have managed to get away with murder where interest rates are concerned that especially in the UK lag far behind even the highly suspect official CPI inflation rates. However as the soaring PIIGS market interest rates of as high as 30% illustrate that UK and US interest rates of 3% on 10 year debt is NOT sustainable especially as debt to GDP levels continue their inexorable trend to above 100% of GDP even after most of the real debt and liabilities have been excluded from the calculations, therefore official debt is just the tip of the ice-berg much as UK and US bank exposure to PIIGS debt is just the tip of the ice-berg of potential losses as it excludes derivatives positions such as CDS.
The experience of the PIIGS and history before them has shown that failure to get a grip on budget deficits, debt and future liabilities WILL result in sharply higher market interest rates even if the Bank of England and the U.S. Fed remain deaf dumb and blind to their own debt crisis as they point the finger at the likes of Greece today.
The problem is that most people won't realise how bad the current debt crisis is in the UK and USA until they actually have to face the consequences PIIGS style of soaring market interest rates even if the irrelevant official rates remain stuck at near 0%. This public reluctance to face reality of unsustainable deficit spending is manifesting itself in public sector workers demonstrating and striking against cuts without which the markets WILL force the governments hands who will respond with not 4.2% UK CPI Inflation but panic level of money printing that pushes inflation rates to above 10%.
Therefore the imperative remains for the UK and US government to focus on cutting the budget deficits asap whilst they have it in their means to do so rather than be forced to act by the markets.
U.S. Debt Ceiling Smoke and Mirrors Political Game
The mainstream press is telling you that a US default as a consequence of failing to agree on raising the debt ceiling will be catastrophic, well the only place your seeing this catastrophe being played out is in the mainstream press for it is invisible to the US stock and bond markets, after all the Dow is barely a couple of percentage points away from its bull market high!
As of writing there is no agreement between Obama and Boehner and apparently the deadline is imminent for action to ensure millions of cheque's do not bounce.
As ever, the name of the gave is managing your risk, and the greatest risk is to depositors who run real risks of loss of capital for a mere pittance in interest that is at half the rate of inflation and does not reflect the risk they are exposed to, so if you have not already done so, go see my last article on what depositors should do to protect their wealth.
Whilst U.S. Bonds may have rallied on the debt woes of others but ultimately bond bulls will lose, because bond holders are betting on deflation instead the opposite is true as you don't get deflation on a annual budget deficit of 11%, which is why stocks are rising i.e. as a manifestation of the inflation mega-trend NOT deflation mega-trend which would see the opposite to the be true aka early 1930's wipeout.
I just do not understand why so many people are fixated on a re-run of the 1930's for these past few years when the opposite has been transpiring as I warned of well over 18 months ago in the Inflation Mega-trend ebook. Instead the early 1930's chart gets rolled out with an amended start date because it has turned out to be wrong for over 2 years now and some 100% on the stock indices, so yes, this does mean there would need to be a 50% crash in stock prices just for the deflation fools to break even let alone make money on worthless calls such as the Dow falling to below 1000. At the end of the day perpetually shorting of stocks that these bear market fools are engaged in and propose to others to do, is an unlimited liability risk as the upside is unlimited i.e. 100%, 200%. 300%,. demanding perpetual financing of short positions for ever, whereas the maximum Long risk is always limited to 100%. Therefore I am always far more careful in the management of short positions than long positions given the risks, especially when virtually all trading activity is further leveraged by X10 upwards.
The bottom line is that the debt ceiling political show is just that, a show for the electorate and mainstream media talking heads, whatever happens is irrelevant to the long term megatrend's, and if there is any short-term panic, I will once more be seeking buying opportunities.
In fact if the debt ceiling talks do fail and the US government is forced to balance its books as a consequence of a freeze on spending, then that would be GOOD for the US Economy as instantly the federal spending will be cut by some 50%, so the market may take the opposite view on the future prospects for the US economy than that of financial armageddon being pumped out by the mainstream press and BlogosFear.

Gold and the Inflation Mega-trend
Gold breaking above and holding $1600 is evidence of continuing safe haven buying as capital seeks to escape to precious metals and lower risk emerging market currencies from all of the rampant money printing taking place.
I am no gold bug, for on face value it is not a good long-term investment, i.e. does not generate a return but demands a holding cost in terms of storage and insurance, but the gold bull trend of a near decade is a manifestation of the Inflation mega-trend that encompasses the loss of value of all fiat currencies that looks set to continue at an accelerating pace for the next decade, therefore so could the gold bull run also for for the duration of this decade long inflation Mega-trend. My long standing target as repeated in the Inflation Mega-trend ebook (Jan 2010) remains for gold to target $2,000 having achieved all of it's interim targets as mentioned in the ebook. I will come back to an in depth analysis of Gold at a later date as I favour investments in other commodities such as Oil over the likes of Gold and Silver, especially as an opportunity appears to be brewing in gold stocks over bullion.
Stocks Stealth Bull Market Update
In my last in-depth stocks analysis (13 Jun 2011 - Stocks Bear Market Rally is Over Mantra About to Get Busted Again?) I concluded in an imminent bottom to be followed by the stock market carving out a base into late June / Early July before trending higher to target a new bull market high during Mid August as illustrated by the original graph.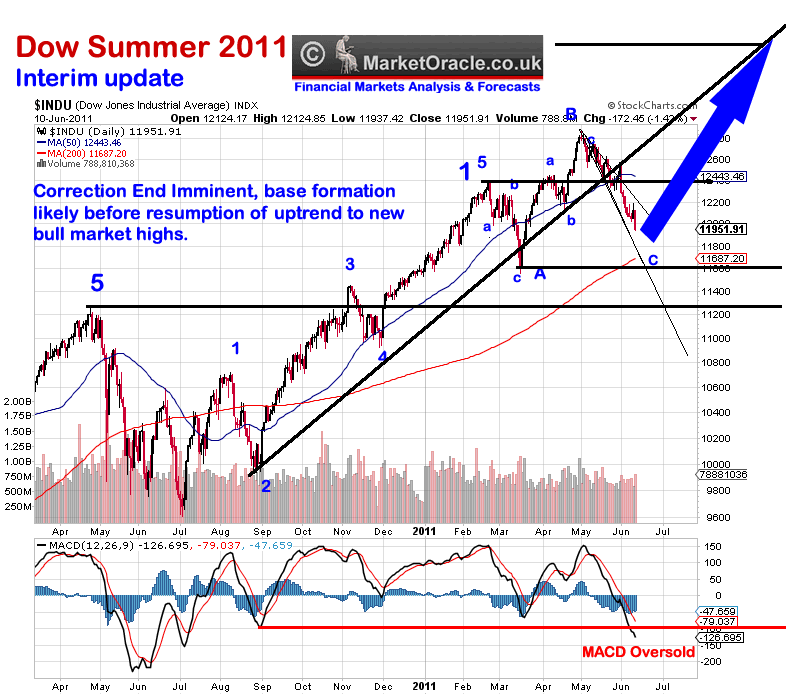 Subsequent stock market trend continues to support my expectations, with the Dow pending a breakout to a new bull market high by mid August 2011. Basically the stock chart trend illustrates what I have stated earlier in this article in that both the Euro-zone and U.S. debt crisis are irrelevant to the stock market which continues to behave as it should. Current support lies at Dow 12,290 and resistance at 12,755, therefore immediate price action in advance of an ultimate breakout higher looks set to be contained within this tight range, which suggests all news on the debt ceiling front will be good news for the stock market regardless of whether the U.S. defaults or not.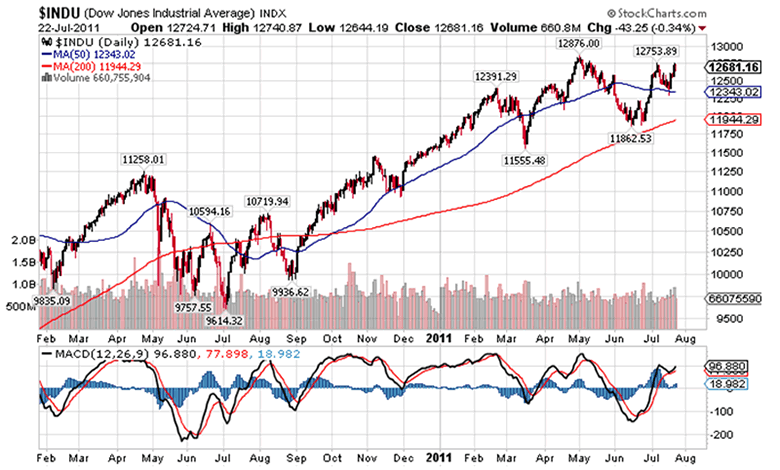 However should panic strike and support fail at 12,290, then the Dow would likely revisit the June 2011 low of 11,860, which would act to just delay the inevitable breakout higher, but would give all you lucky guys and gals another great panic driven buying opportunity.
Bottom Line - The bull market in stocks will continue to lead the Inflation Mega-trend. The Sovereign Debt Crisis Induced Market Volatility such as that afforded by the US Debt ceiling failure default would present Great Buying Opportunities into primarily U.S. and Emerging Market stocks, commodities and UK Internationals, and presumably likewise for other International European stocks. Remember September 2008 and how you could have made a killing out of a crisis by bargain basement buying, in which respect always keep a shopping list of stocks then when others panic - BUY! Though my expectations are that a major panic does not look likely, so your debt crisis buying opportunity looks to have come and gone during mid June.
To ensure you are in always receipt of my key analysis subscribe to my ALWAYS FREE newsletter.
Your debt crisis noise ignoring Mega-Trends investing analyst.
Source and Comments: http://www.marketoracle.co.uk/Article29471.html
By Nadeem Walayat
Copyright © 2005-2011 Marketoracle.co.uk (Market Oracle Ltd). All rights reserved.
Nadeem Walayat has over 25 years experience of trading derivatives, portfolio management and analysing the financial markets, including one of few who both anticipated and Beat the 1987 Crash. Nadeem's forward looking analysis focuses on UK inflation, economy, interest rates and housing market. He is the author of three ebook's - The Inflation Mega-Trend; The Interest Rate Mega-Trend and The Stocks Stealth Bull Market Update 2011 that can be downloaded for Free.
Nadeem is the Editor of The Market Oracle, a FREE Daily Financial Markets Analysis & Forecasting online publication that presents in-depth analysis from over 600 experienced analysts on a range of views of the probable direction of the financial markets, thus enabling our readers to arrive at an informed opinion on future market direction. http://www.marketoracle.co.uk
Disclaimer: The above is a matter of opinion provided for general information purposes only and is not intended as investment advice. Information and analysis above are derived from sources and utilising methods believed to be reliable, but we cannot accept responsibility for any trading losses you may incur as a result of this analysis. Individuals should consult with their personal financial advisors before engaging in any trading activities.
You're receiving this Email because you've registered with our website.
How to Subscribe
Click here to register and get our FREE Newsletter
To access the Newsletter archive this link
Forward a Message to Someone [FORWARD]
To update your preferences [PREFERENCES]
How to Unsubscribe - [UNSUBSCRIBE]
About: The Market Oracle Newsletter
The Market Oracle is a FREE Financial Markets Forecasting & Analysis Newsletter and online publication.
(c) 2005-2011 MarketOracle.co.uk (Market Oracle Ltd) - The Market Oracle asserts copyright on all articles authored by our editorial team. Any and all information provided within this newsletter is for general information purposes only and Market Oracle do not warrant the accuracy, timeliness or suitability of any information provided in this newsletter. nor is or shall be deemed to constitute, financial or any other advice or recommendation by us. and are also not meant to be investment advice or solicitation or recommendation to establish market positions. We recommend that independent professional advice is obtained before you make any investment or trading decisions. ( Market Oracle Ltd , Registered in England and Wales, Company no 6387055. Registered office: 226 Darnall Road, Sheffield S9 5AN , UK )
Copyright 2011 MarketOracle.co.uk
© 2005-2019 http://www.MarketOracle.co.uk - The Market Oracle is a FREE Daily Financial Markets Analysis & Forecasting online publication.

Only logged in users are allowed to post comments.
Register/ Log in