What Happened In Tripoli From 20TH To 22ND Of August - The Truth !!
Politics
/
Middle East
Aug 23, 2011 - 06:21 AM GMT

Forest Lane Submits: It's no longer a surprise that a media war is being waged against Gaddafi and Libya. In March, all news were breaking and highly contradictive towards each other. It arose in global media approximately on 15th of August, when a Saudi Arabia newspaper Asharq Alawsat told that Gaddafi is allegedly ill and ready to leave the country. Saudis, mortal enemies of Muammar Gaddafi, were, of course, such a reliable source, that all other papers followed.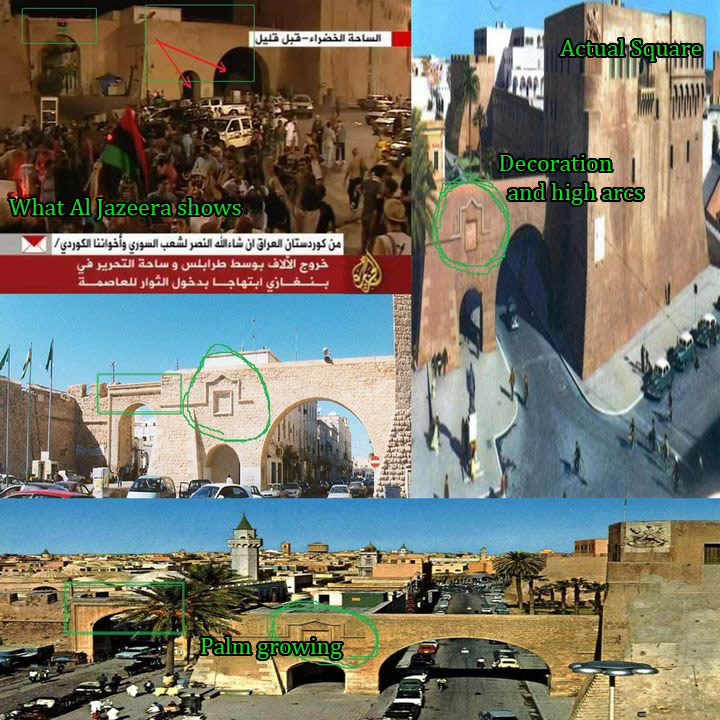 In the same time news channels were choking with new victories of the insurgency. It looked like it took rebels a couple of hours to occupy a city, making poor Moussa Ibrahim steam from his ears, proving to journalists that it is virtually impossible. All this show was a careful preparation for the main course – the taking of Tripoli. But in spite of mercenaries parachuted from Misurata to the south, despite attempts to cut the road from Tunisia, despite the insurgents' zerg rush on all fronts, much of the rebel success remained on the screen. Much of the rebel success remained on the screen. And cities cannot be taken by illusion. Therefore, NATO decided to pursue the most risky way: beginning the ground operation.
To cover it up and in the same time spread chaos and panic among Libyans, a set of Tripoli's Green Square, Bab al-Azizya and several streets was constructed in Doha, Qatar, and videos of successful uprising in Tripoli and its takeover by the rebels were being made. The directors used the same stratagem that their civilian counterparts in Vietnam War movies: to draw their supposed victories.
ATTENTION on 1:30 of this video - it is picture of street - there is NO STREET REALLY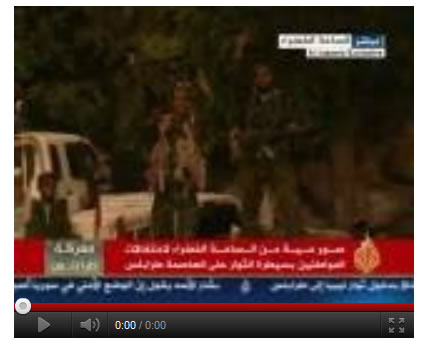 On the 20th of August, Twitter, the major supplier of nonexistent witnesses came to life, like a shelled hornet nest. Rebels reported about fights in the city center - with smartphones in the free hand, no doubt. Some have gone further and managed alone to fully capture the west of the city. With the blessings of the almighty Photoshop pictures of rebels against Tripoli and Zawya were shown. Making sure that the February script goes according to plan, and the audience does not seem to mind, the forces of democracy gave a sign to the "moles", long located in the capital and waiting for this day.
The saboteurs ran recorded sounds of battle through speakers of the mosques, to mislead the citizens and give reporters the reason to write about the "audible gunfights and explosions". Simultaneously, dozens of armed people from Algeria, Tunisia and Egypt leaked to several areas of the city, shooting and threatening Libyans. Several Apaches flew in and bombed. The premier of the Qatari film failed at the box office, and the saboteurs were quickly dealt with, but they turned out to be a distraction. NATO marines and mercenaries were arriving from the sea in small fast boats.
The slaughter began. Within 11 hours, 1300 innocent civilians were killed in Tripoli, and 5000 injured, as French Foreign Legion and Al Qaeda cut their way through. All this time, the bombings continued non-stop. Three Apaches flew over the city, firing their miniguns. The gangs of Al Qaeda were burning houses, looting shops and assaulting every woman in sight. Any prominent supporter of Gaddafi was targeted and their houses attacked first. Tripoli is still controlled by Libyan army, but NATO marines and mercenaries as well as Western media continue the attack and slaughter
NATO was entrusted by the Security Council to protect civilians
.
In fact, France and the UK are now back to resume their colonial massacres.
Source: http://libyasos.blogspot.com/2011/08/what-happened-in-tripoli-from-20th-to.html
© 2005-2019 http://www.MarketOracle.co.uk - The Market Oracle is a FREE Daily Financial Markets Analysis & Forecasting online publication.
Comments
Forrest Lane
23 Aug 11, 15:49
Preparations for massacre are in progress


The only sensible explanation that can be behind this "wag the dog" hoax is that it's meant to cover up the onset of a ground operation and inevitable subsequent massacre of civilians loyal to their country and its legitimate leader. Which would be the only hope for desperate NATO's aggressors and their pocket 'rebels' whose murderous plot was falling apart after the assassination of Abdul Fatah Younis. I think that the time is more than ripe for people in 'developed democracies' to start to actually do something about mass slaughters of innocent people committed in pursuit of their elites' special interests - otherwise they will simply be the next.



Rick
23 Aug 11, 18:05
What Happened In Tripoli In 1976 & 2011?


I could never forgive Gaddafi for his complicity with PLO terrorists during the 1976 Entebbe affair. In my view, this was not only a blatant crime against humanity, but against Allah as well. The last time that I knew, the Quran does not teach violence.



Paul
24 Aug 11, 16:29
Entebbe


Entebbe made the news recently Rick, before the Israelis killed the story. Seems the original narrative wasn't all it was cracked up to be, as so often seems to be the case concerning Israel.




Only logged in users are allowed to post comments.
Register/ Log in