Agri-Food Prices Make New Highs
Commodities
/
Agricultural Commodities
Aug 31, 2011 - 12:45 PM GMT

Unburdened by the failure of Keynesian socialism, China continues to grow. India, despite repeated self inflicted political wounds, is also likely to experience an expanding economy. With the EU suffering from another financial crisis, it is unlikely to have a positive economic experience in the next few years. In the U.S. job killing policies and regulations of Obama regime stand in the way of expanding employment.
Investors should seek out positive opportunities, and ignore failing economic sectors. Those markets and entities that serve the economic growth of China and India will expand. Those that serve Western economies, hamstrung by the ongoing failure of Keynesian economics, should be avoided. China and India over the next decade will create a middle class of consumers greater than the population on North America. Those middle class consumers will do as all others have, eat well.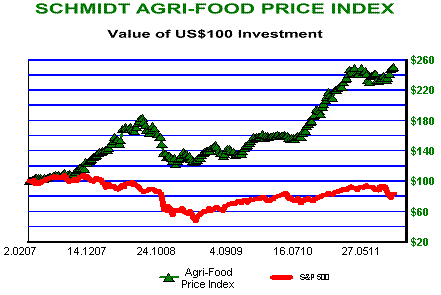 Source: Agri-Food Value View
Agri-Food Price Index, pictured in above chart, recently went to a new high, after consolidating for several months. Duration of most recent correction was similar to that of the last. Fortunately, the depth was far less. Commodity markets have not experienced level of leveraged speculation of previous bull run.
Importantly, much of recent movement in Agri-Food prices seems more oriented to individual markets rather than being of a broad based speculative nature. Soybeans, for example, just went to a new 90-week high due in part to structurally bullish nature of that grain. Sugar's price will now be determined permanently by Chinese consumers as that nation has become a net importer in recent years. Income growth there will now determine another Agri-Commodity's price for the world.
Three ways exist for investors to participate in the benefits of expanding Agri-Food demand from China today, and India tomorrow. Investing directly in commodities, however, is not well suited for most investors. Agri-Land is another. Despite the high returns in recent years, some opportunities still exist, as we identified in our recent report on U.S. Agri-Land. Third way is through Agri-Equities. While Asian Agri-Equities probably offer best potential, large multinational Agri-Equities, what we refer to as Tier One, probably are the best approach for most.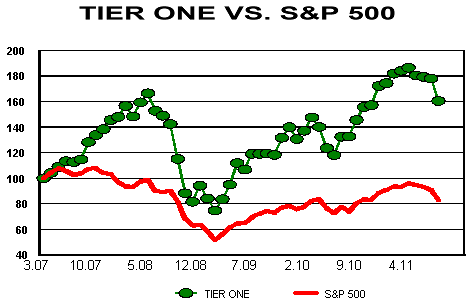 Chart above is of a price index for large, multinational Agri-Equities. Over time the performance of this group has been excellent. We do note that a major correction was experienced during the Bernanke financial fiasco of 2008-9. These stocks have also been correcting along with the market, and August has been rather difficult. For one, investors decided to drive their tractor stocks into the ditch.
Last major correction lasted nine months. Thus far these stocks have corrected for four months, and conditions are far better than the 2008-9 period. Some downside may yet be added to the depth dimension. End of September or early October should, given the movement in Agri-Food prices, be an excellent time for adding these Agri-Equities to portfolios. Now is the time to do your research.
5th Annual U.S. Agricultural Land As An Investment Portfolio Consideration, 2011 has been released, and is now available. This report is the definitive annual study of returns earned on U.S. agricultural land. Includes analysis of both crop land and pasture land for important agricultural states and identifies best current investment opportunities. This unique, though dry and boring, statistical analysis is intended for sophisticated investors. Obtain it at: www.agrifoodvalueview.com/AgriLandAnnual
By Ned W Schmidt CFA, CEBS
AGRI-FOOD THOUGHTS is from Ned W. Schmidt,CFA,CEBS, publisher of The Agri-Food Value View, a monthly exploration of the Agri-Food grand cycle being created by China, India, and Eco-energy. To contract Ned or to learn more, use this link: www.agrifoodvalueview.com.
Copyright © 2010 Ned W. Schmidt - All Rights Reserved
© 2005-2019 http://www.MarketOracle.co.uk - The Market Oracle is a FREE Daily Financial Markets Analysis & Forecasting online publication.

Only logged in users are allowed to post comments.
Register/ Log in