Gold Mining Stocks: Is this the Breakout?
Commodities
/
Gold & Silver Stocks
Sep 12, 2011 - 03:29 AM GMT


When this bull market in precious metals began the mining stocks outperformed the metals, at least for the first few years and they delivered some very nice returns to us all. The last few years they have performed poorly and not only have they not outperformed the metals, many stocks have failed to keep pace with gold and silver, So, are we now seeing a major sea change in the outlook for mining stocks?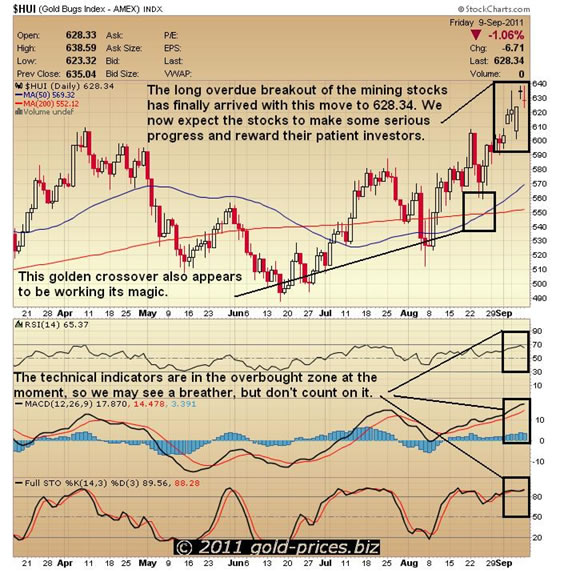 We kick off with a quick look at the above chart where we can see that the long overdue breakout of the mining stocks has finally arrived with this move to 628.34 on the HUI Index. The HUI is the Gold BUGS Index and broadly represents a group of unhedged gold stocks. This breakout is significant as these stocks have been stuck in a sideways consolidation pattern for some time now as gold prices have outperformed in what has been an excellent summer so far. Also in support is the recent golden crossover, whereby the 50dma has crossed over the 200dma in an upward swinging movement. So we now expect the mining stocks to make some serious price gains and reward their patient investors. On the negative side we can also see that the three technical indicators shown, the RSI, the STO and the MACD are in the overbought zone at the moment, so we may see a breather, but don't count on it.

Lifting our heads and scanning the world in general, there a number of major events to note and look out for as they will give us a few clues as to what action or lack of it, will be taken in both Europe and the United States, regarding the economic and financial mess both are enduring.

In Europe, Germany has an important vote coming up on the 29th September regarding the continuing support for increased resources for the European Financial Stability Fund (EFSF) to fight the debt crisis. There exists a prior agreement between the Eurocrats to increase their financial fire power which includes a second bailout package for Greece. This move will see Germany's share of EFSF loan guarantees rise to €211bn euros or approximately US$305bn from €123bn previously. When we put this vote into a context of Angela Merkel's waning popularity, as evidenced via the recent regional election failures and a slowing German economy, those responsible for backing this scheme will be doing so with much trepidation. A 'no' vote could well be a game changer for the Eurocrats.

Prior to the above event we have two days of the Federal Reserve Board, Ben Bernanke and his team, meeting to discuss the state of play in the United States. The world eagerly awaits the outcome of this meeting as to whether there will be more or less fiscal stimulus. Ben Bernanke has already trailed that there are 'measures' at his disposal and so the investment community will be watching to see if he can indeed pull a rabbit out of his federal hat. If we get more stimulus then the general market participants may cheer the move for a day or two, however, that means more debasement of the dollar and gold prices will be spurred on once again. If there is no change to the status quo then the stock market will plunge, which as previous actions have shown, is not desirous by the Federal Reserve as they see it as a reflection of how well the economy is doing.
Note how the language has changed as we go along, the green shoots of recovery don't warrant a mention these days having been replaced with such phrases as a 'jobless' recovery. Will quantitative easing being mentioned, maybe not, we could be in for a whole new set of phrases which could stall us for awhile, until we work out that its inflation in drag. There's an old adage that a week is a long time in politics, so don't be surprised if a black swan event pops up from left field to throw a spanner into the works resulting in yet more volatility, before we get to these meetings.

While we are on the subject of officialdom, isn't it rather sad that we find ourselves in a situation where politicians now occupy center stage. Its akin to a touch line judge being the star of a sporting event, we really don't want to see them or hear them. We want our performers to be under the spotlight for the right reasons. Bring on smaller government.

Finally our strategy remains intact as it has been since this bull market in gold began. The purchase, outright, of physical gold to be retained in your very own hands is still the top priority. A small selection of quality miners that you are capable of getting to know very well indeed is still the next priority. However, the future in our very humble opinion, for the gold producers is now looking brighter as each day goes by. Those of you who have read our previous articles will be aware that we have in third place the use of a few well thought option trades. This strategy has worked out well for us, but each to their own. You must find your own balance on this bull, one that you are comfortable with. However, we will leave you to ponder this: If gold prices continue to make good progress and the gold producing companies regain their leverage to gold and outperform gold, what would that do to the Call Options on these very same stocks?

Just a thought

Stay on your toes, volatility will be the order of the day and have a good one

To stay updated on our market commentary, which gold stocks we are buying and why, please subscribe to The Gold Prices Newsletter, completely FREE of charge. Simply click here and enter your email address. (Winners of the GoldDrivers Stock Picking Competition 2007)
For those readers who are also interested in the silver bull market that is currently unfolding, you may want to subscribe to our Free Silver Prices Newsletter.
DISCLAIMER : Gold Prices makes no guarantee or warranty on the accuracy or completeness of the data provided on this site. Nothing contained herein is intended or shall be deemed to be investment advice, implied or otherwise. This website represents our views and nothing more than that. Always consult your registered advisor to assist you with your investments. We accept no liability for any loss arising from the use of the data contained on this website. We may or may not hold a position in these securities at any given time and reserve the right to buy and sell as we think fit.
© 2005-2019 http://www.MarketOracle.co.uk - The Market Oracle is a FREE Daily Financial Markets Analysis & Forecasting online publication.

Only logged in users are allowed to post comments.
Register/ Log in