Why Proposals That Italy Should Sell Its Gold Are Ridiculous
Commodities
/
Gold and Silver 2011
Nov 11, 2011 - 07:13 AM GMT


Many have suggested that Italy should sell its substantial gold reserves in order to pay down some of its debt and avoid a sovereign debt crisis. We view such proposals as ridiculous, due to the magnitude of Italy's debt relative to the value of its gold holdings. However, one such proponent of such a transaction is Gunther Krichbaum, a lawmaker in German Chancellor Angela Merkel's governing coalition and he is also the Chairman of the Committee of the Affairs of the European Union. The German Bundestag has proposed that Italy sell its sizeable gold reserves in order to lower its debt, implying that Italy's gold reserves are relatively high and could be used to pay off their sizeable debt. The same suggestion has been put to Germany in the past and it was met with an emphatic rebuttal.


Whilst Italy does have substantial gold holding and should be commended for not selling these reserves (as Gordon Brown did in the United Kingdom, selling at a gold price of around $275/ounce), Italy's reserves are dwarfed by their level of debt. The Italian Government has approximately EUR1.6 trillion in outstanding debt. This is an incredible amount. The schedule of repayments for the next ten years is shown below.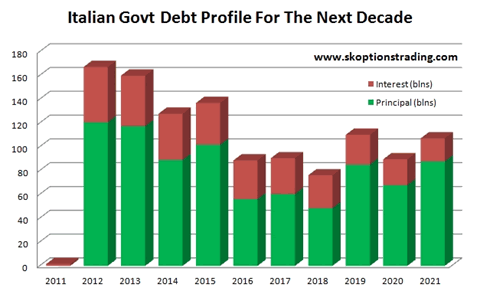 So we know about the debt, but how much gold does Italy have?

Italy has 2701.9 tons of gold, one of the largest reserves in the world. Assuming that Italy could sell all its gold for USD$1800/oz, then their gold reserves are worth EUR115.28 billion. On its own this number may be impressive, but it pales into insignificance when compared to Italy's EUR1.6 trillion.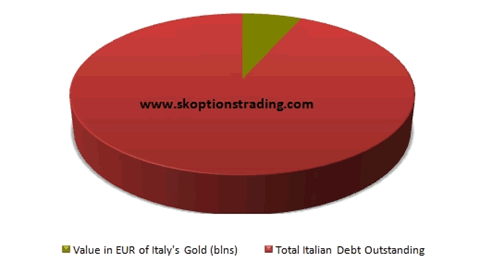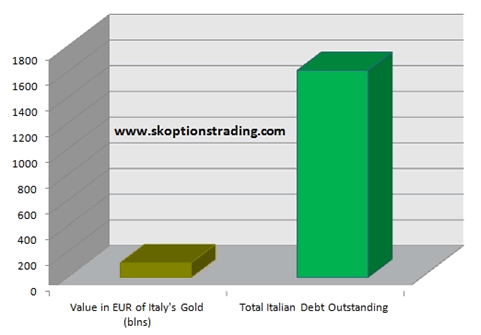 Italy's interest obligations over the next three years comes to over EUR127 billion and the value of their gold is just over EUR115 billion, therefore, selling all their gold now will not even cover interest payment obligations for the next three years.

In 2012 Italy will have to repay over EUR167billion in debt, the value of their gold stands at a little over EUR115 billion. So we can see that selling all their gold now will only raise enough cash to repay 68.8% of next year's debt obligations.

Even if Italy were to sell all of their gold reserves they would only reduce their outstanding debts by just 7.14%. So Italy would have no gold reserves and still have 92.86% of its debt.

As this move has little effect on Italy's financial health then we have to question the wisdom of such a transaction. Also bear in mind that such a transaction has been proposed in the past and rigorously rebuffed by the Bank of Italy.

These suggestions amount to chasing after billions when the problem is in the trillions. This is typical of the eurocrats in that their strategies are usually too little too late and this one is looking increasing like it is too big to bail.

The European crisis continues to look like a train wreck in slow motion, it will take a long time to co-ordinate an all encompassing solution to be formulated, agreed and then implemented.

As investors our core position is made up of physical gold and silver, and a small number of what we deem to be quality precious metal mining stocks, along with the occasional options trade. We will maintain this strategy as we remain unmoved and unimpressed by the actions of our political masters.

Chin up and have a good one.
To stay updated on our market commentary, which gold stocks we are buying and why, please subscribe to The Gold Prices Newsletter, completely FREE of charge. Simply click here and enter your email address. (Winners of the GoldDrivers Stock Picking Competition 2007)
For those readers who are also interested in the silver bull market that is currently unfolding, you may want to subscribe to our Free Silver Prices Newsletter.
DISCLAIMER : Gold Prices makes no guarantee or warranty on the accuracy or completeness of the data provided on this site. Nothing contained herein is intended or shall be deemed to be investment advice, implied or otherwise. This website represents our views and nothing more than that. Always consult your registered advisor to assist you with your investments. We accept no liability for any loss arising from the use of the data contained on this website. We may or may not hold a position in these securities at any given time and reserve the right to buy and sell as we think fit.
© 2005-2019 http://www.MarketOracle.co.uk - The Market Oracle is a FREE Daily Financial Markets Analysis & Forecasting online publication.
Comments
g kaiser
11 Nov 11, 20:31
Italy selling their gold


If you go under, you go under and all of you assets are sold. That the gold Italy supposedly still has will only cover about 10 % of their debt has no relevance to anything. It just goes to show that they are really, really insolvent, and that nobody in their right mind should lend them any money, or lend to the rest of Europe, or the States for that matter.

It really really just goes to show, you can't trust anybody, so rather trust gold.



Andrew Butter
12 Nov 11, 22:18
Italy Doesn't Have To Pay It's Debt Back


You say that Italy has to pay back 127 billion Euro next year.

No it don't, it has to it roll over; and in any case it makes no sense for governments to de-leverage whilst their private sectors are de-leveraging like crazy, that's a recipe for suicide.

What will happen is the ECB will buy a nice brand-new helicopter like the one Ben has, and then help Italy, and France, and Greece...roll it over.

That will buy time for the governments of the EU to take away a good proportion of the silly rules that stop the private sector doing anything and instead focusing their creativity outside Europe, and so the private sector can re-boot the economy.

If not well that's the end anyway, all that will be left to find out is the manner of the suicide.



j pat
14 Nov 11, 06:40
Not allow to buy Gold ETF in £ from Halifax!


Could anyone comment of the lightly hood of this being true? I want to buy a Gold ETF from the Halifax. The one they say they only can trade because of policy is the US $ PHAU when I want to be able to hedge in Gold ETF in £'s which is PHGP! It seams convent: GOV owned: that I cant protect myself from a shrinking £ this is the e-mails I have received from Halifax Share Trading.

"The listing that we trade is PHAU which is the USD quoted listing on the LSE."

"That is the same but it is in $ the product I require is in £ their is a important differance. Will you list  PHGP its is logical to list products in £ on a UK site. If you wont list it what is the reason you wont deliver products based in £. Thank you"

"Yes I am afraid that HSDL policy is to only trade one line of any stock and as we



Aspers
15 Nov 11, 05:38
Italy's Gold


I would have thought Italy would have used its gold as collateral to raise its debt, if it is to be sold then I am sure bondholders may have a claim on it.



AnCap
16 Nov 11, 01:46
Halifax Gold ETF


j pat - why not consider a Fund & Share account with Hargreaves Lansdown, they do sterling based ETFs for gold, silver, platinum and palladium, plus mixes. Or you could use their ISA/SIPP options for taxation benefits.



dr ray
18 Nov 11, 16:26
Italy selling its gold?


Unlike an individual filing for bankruptcy, when a country defaults no-one goes in and seizes assets. The creditors are stiffed.

Therefore Italy does not need to sell its gold. Eventually it can default, stiff its creditors (ie the banks which bought its debt including ECB) and then start over again with its gold reservs intact.

If Italy's default brings down the financial system, Italy will surface as one of the worlds richest and most creditworthy countries because of its large gold reserves.




Only logged in users are allowed to post comments.
Register/ Log in