Stock, Commodities and Financial Market Forecasts for 2008
Stock-Markets
/
Financial Markets
Dec 28, 2007 - 12:34 AM GMT


Larry Edelson writes: I've enjoyed spending time with my loved ones this Christmas here in sunny, South Florida. It's so great to have the whole family together!
My hope is that your home is also filled with warmth and joy this holiday season, and I wish you and your family a very happy, healthy and prosperous New Year!
Right now, let's turn down a glass to celebrate our investment results this year and talk about my general forecasts for 2008.
This coming year is going to be full of twists and turns. But if we navigate them correctly, which I believe we will, it will also be one of our most profitable years ever.
My yearly forecast for all the markets — along with my initial core 2008 recommendations — will be detailed in the January 2008 edition of Real Wealth Report .
But for now, let me give you a glimpse of my big picture view for 2008 ...
Forecast #1: More Asian and Arab Money Will Pour Into The U.S.
Foreign investors in the Middle East and Asia are going to use more and more funds from their oil revenues and our trade deficits with those regions to bail out many more U.S. companies ... and to make strategic long-term investments.

China's sovereign wealth fund, China Investment Corp. (CIC), has already scooped up 9.9% of Morgan Stanley for $5 billion ... and spent $3 billion for a 10% stake in the Blackstone Group, the largest private equity investment firm in the U.S.

CIC has $200 billion at its disposal, with hundreds of billions more on tap, courtesy of Beijing's $1.435 trillion in reserves — which is enough to buy 10% of the entire USA!

Singapore's Temasek Holdings, which has more than $100 billion in assets, has already bailed out Merrill Lynch with a $5 billion investment.

Abu Dhabi's Investment Authority has bailed out Citigroup with a $7.5 billion, 4.9% stake. ADIA has $875 billion in assets in its coffers.
And now, Saudi Arabia is setting up the largest sovereign wealth fund in the world. It's set to capitalize it in early 2008 with a whopping $900 billion!
As natural resource prices surge and the mountain of U.S. debt grows toward the sky, sovereign wealth capital from Russia ... Brazil ... Venezuela ... Norway ... Sweden ... and many other countries will flood into the markets.
Forecast #2: China and India Will Continue To Boom
I just came back from China and contrary to popular belief, I saw no signs of a slowdown, whatsoever.
My 2008 forecast ...
"China will once again put in 10%-plus GDP growth. And most investors and analysts will get China wrong. Again."
The key to understanding China is getting an on-the-ground view there, like I do.
Take the country's pulse ... see with your own eyes what's going on ... talk to people from all walks of life ... and most importantly, read between the lines when it comes to Beijing.
For every "policy-tinkering" and "valve-tweaking" you hear about that suggests a slow-down in China, always keep in mind that Beijing is simultaneously opening up other valves and implementing new policies that keep the economy growing.
For example ...
China's recent interest rate increase was largely offset by a near simultaneous policy decision to double the amount of money foreign investors can put into China's banks and financial institutions.
So on the one hand, Beijing tightened its money supply, while on the other hand, it let more foreign money come into the system.
Beijing's recent directives to curb loan growth are also misdirection moves. Everyone (outside of China) has made much ado about this, but they fail to tell you the details.
Yes, Beijing is curbing loan growth — but primarily in the urban areas! In the rural areas, to help close the wealth gap, Beijing is actually encouraging loan growth and directing over $500 billion in infrastructure investment over the next five years.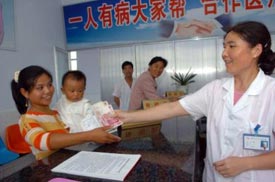 As China's population booms, a massive upgrade to its healthcare system is underway.
On top of that, the Chinese government recently approved a $700 billion upgrade to the country's healthcare system in the rural regions .
Much of the same is happening in India, where more millionaires are being created daily than in any other country except China.
I expect more than 9% GDP growth in 2008. Consumer spending should keep growing at about a 6% rate, fueling the rocket that is the Indian economy.
Forecast #3: The Dollar May Stage A Brief Rally, But Don't Touch It with A 10-foot Pole
It's already started to rally. But with central banks around the world already having pumped in more than $750 billion of new money and credit — with more money-pumping coming in 2008 — the dollar's long-term downtrend is very much intact.
And don't kid yourself: Washington wants a lower dollar. It's the only way the U.S. stands a chance of not being crushed by its mountain of debt — because it will devalue the currency and inflate asset values against which those debts are held.
This is perhaps the most sure-fired economic principle you can bet on, now, in 2008, and even in years to come. The dollar's value will continue to lose purchasing power. Simultaneously ...
Forecast #4: Inflation Will Startle Almost Everyone In 2008
You've already seen the first shots across the bow ...
November's Consumer Price Inflation showed wholesale prices jumping higher and faster than at any other time in the past 34 years.
Coming in 2008: More surprises to the upside in inflation. And realization that inflation is running far above Washington's estimates.
Inflation is a self-fulfilling cycle. As prices start to rise and the public perceives prices tomorrow will be higher than today, they start to pay up for goods and assets.
That, in turn, leads to yet higher prices ... more inflation ... and more pressure on the dollar.
Inflation will be the main economic topic in 2008. You can count on it.
Forecast #5: Resources and Select Foreign Markets Will Outperform
In order to preserve your money's value and make big profits to boot, focus on ...
Natural Resources ...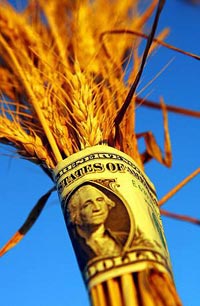 Wheat is poised to explode in 2008.
Gold's bull market is set to continue next year, reaching new record highs above $1,000 an ounce.
Platinum has just hit record highs and is set to move even higher in 2008.
Oil is set to explode well past $100 a barrel.
Food and other soft commodities such as wheat, corn, soybeans, sugar, cocoa, rice and coffee are all set to make substantial gains in 2008.
The opportunities will be tremendous and varied. But price swings will be wilder than ever. So timing them will be crucial. And stock selection will be absolutely critical.
Asian and African Markets ...
Expect a major new buying opportunity in China's and India's markets in early 2008.
I'm talking one that will rival any of the past several years!
The stock market pullbacks occurring in both countries are nearly complete, and the next leg up in these dynamic markets is about to begin.
Also expected to spin off large profits in 2008: Frontier markets in Asia and Africa, in countries like Vietnam and Cambodia, Botswana, Cote d'Ivoire (formerly the Ivory Coast), and South Africa.
A Lucrative Opportunity To Grow Your Nest Egg
In 2008, I will report to you on the aforementioned markets from my first-hand, in-the-trenches perspective.
As a Real Wealth Report subscriber, you'll naturally receive every profitable report I write, every rewarding recommendation I make in the newsletter, AND my special, million-dollar flash alerts.
If you're not yet a subscriber, I strongly encourage you to join now and hang on for what could be your most profitable investment year ever.
You won't want to miss January's Real Wealth Report 2008 forecast issue so you can get my core recommendations for 2008 ... plus every benefit that active subscribers already get, including 12 hard-hitting monthly issues ... flash alerts ... all my buy and sell signals ... and full access to my website.
Click here now to take advantage of this special New Year's offer and start your risk-free introductory subscription to my Real Wealth Report .
Best wishes and happy New Year,
Larry
This investment news is brought to you by Money and Markets . Money and Markets is a free daily investment newsletter from Martin D. Weiss and Weiss Research analysts offering the latest investing news and financial insights for the stock market, including tips and advice on investing in gold, energy and oil. Dr. Weiss is a leader in the fields of investing, interest rates, financial safety and economic forecasting. To view archives or subscribe, visit http://www.moneyandmarkets.com .
© 2005-2019 http://www.MarketOracle.co.uk - The Market Oracle is a FREE Daily Financial Markets Analysis & Forecasting online publication.

Only logged in users are allowed to post comments.
Register/ Log in