Stock Markets Weaken as Credit Crisis Hits Earnings
Stock-Markets
/
Financial Markets
Dec 28, 2007 - 05:33 PM GMT


Citigroup is now expected to cut its dividend by 40%. Moreover, management is now expected to increase its estimated write-offs from $11 billion to $18.7 billion. Citi's CEO, Charles Prince lost his job, but not all the fat bonuses he'd collected in previous years.
Merrill Lynch is forecast by Goldman Sachs analysts to have an $11.5 billion write-off this quarter. That's after an $7.9 billion hit and a 94% loss in revenues in the third quarter . Merrill's ex-CEO, Stan O'Neal left with $161 million in his back pocket.
Countrywide managed to avert an implosion by borrowing $51.4 billion from the Atlanta Federal Home Loan Bank in the third quarter. However, the assets used as collateral for the loan are raising eyebrows. Countrywide may have transferred its subprime problems to the U.S. taxpayer through a stealth bailout. Meanwhile, Angelo Mozilo, Countrywide's CEO is under investigation by the SEC for improper insider sales of company stock.
Treasury Secretary, Henry Paulson, proposed a "freeze" on a limited number of adjustable rate mortgages. On the surface, the idea of saving families from foreclosure sounds appealing. However, it also prevents the owners of the mortgage-backed securities, many of them foreign, from suing the issuers of these securities to buy them back at face value.
In addition, foreclosures are being stymied in Ohio by the courts, since creditors of mortgage-backed investment pools may not have clear title to the homes being foreclosed. Chalk another one up for Wall Street securitized mortgages. Who knows where the title to these properties are?
Meanwhile, the European Central Bank had already increased its loans to participating banks by 45% between August and November to EUR 215.1 before " injecting" another EUR 348 billion on December 18 th . That amounts to a 280% increase in liquidity injections to European banks since last August. Is there a financial crisis in Europe ? Why aren't they saying anything about it?
Blame the sell-off on an assassination…really?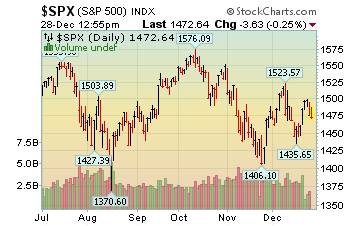 " NEW YORK (MarketWatch) -- U.S. stocks posted steep losses on Thursday, as the assassination of former Pakistani Prime Minister Benazir Bhutto and largely disappointing economic data hurt investor sentiment."
On Thursday, durable goods orders rose by only .1% while analysts expected 2.2%. Today, new home sales declined by 9% to the lowest level seen since April 1995. Both of these items are serious signs of an economic slowdown that may soon be reflected in reported profits. The market cannot withstand shrinking profits in the wake of the debt crisis.
Will Treasury Bonds be a safe haven for investors?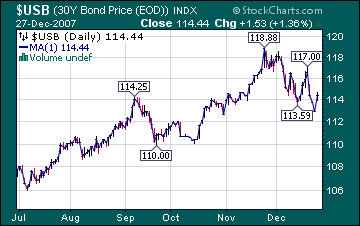 Treasury bonds declined into the T-bond auction on Wednesday, when the Treasury sold $22 billion of 2-year notes to the general public. On Thursday and Friday, bonds rallied again, possibly out of fear of another sell-off in stocks. At this moment, the rally doesn't show much promise on the chart, since the decline produced a deeper low. This decline has already wiped out most of the gains since September. Could it be that bonds will suffer the same fate as the stock market?
A breakout in gold.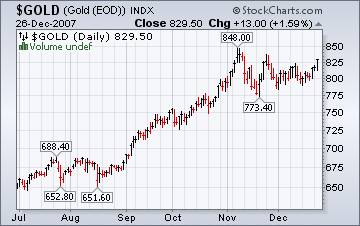 Gold futures rose for a fifth day on Friday, extending its run into the New Year. " Gold for February delivery rose $10.2 to $842 an ounce on the New York Mercantile Exchange in early afternoon trading. It rose to an intraday high of $843.3 earlier, the highest in more than a month." At least one commodity is wishing us a Happy New Year!
The Nikkei finished the year down 11%.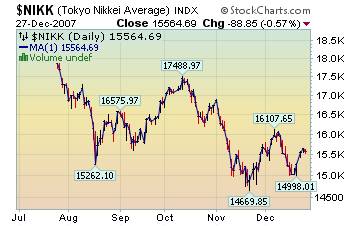 TOKYO (AP) — Japan 's stock market wrapped up a year of jittery trade with a sharp fall Friday, beset by fears about the U.S. economy and worries that global political instability will follow the assassination of Pakistani opposition leader Benazir Bhutto.
The Nikkei 225 index fell 256.91 points, or 1.7%, to 15,307.78 points, closing at the end of the morning session on the final day of 2007 trading.
It's the first time in five years the benchmark ended a year lower than the previous year's close. The Nikkei lost 1,918.05 points, or 11.1%, for the year. In 2006 the benchmark Nikkei gained 6.9%.
Investors forge ahead while central planners put on the brakes in China .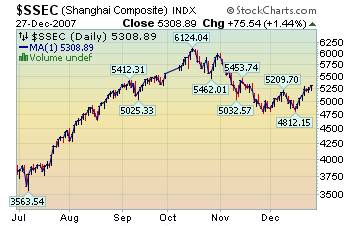 China's stock market chalked up a stellar — and turbulent — year Friday, with its benchmark Shanghai Composite index having soared nearly 97 percent, making it the world's best-performing major stock index in 2007.
Many think that the Shanghai index will stay up through the 2008 Olympic Games. It will be interesting to see how 2008 plays out for the Shanghai index.
Pullback or plunge?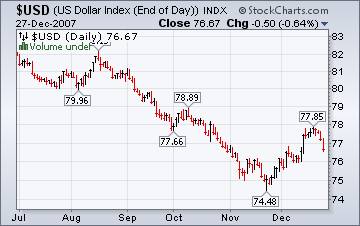 The U.S. dollar seems to have done a little backing and filling this week. So far, the decline is not critical. If it stays above 76, we may see a further rally to new heights. A decline below that level may put the dollar recovery into question. The decline in the U.S. dollar is attributed to the unwinding of the Yen carry trade. Traders are anticipating that the turmoil in Pakistan will force the U.S. to increase its military presence there.
US new home sales fall again.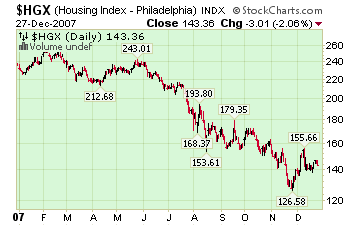 WASHINGTON ( MarketWatch ) -- Sales of new U.S. homes fell by a more-than-expected 9% in November to a seasonally adjusted annual rate of 647,000, the Commerce Department reported Friday.
The housing decline is affecting demographics across the country, with Michigan leading the 50 states in losses of population. In addition, the number of baby boomers coming of age to "step up" into their second home is shrinking as well as first-time buyers of starter homes. A knockout combination for real estate.
Gasoline at $3.50 again for the New Year?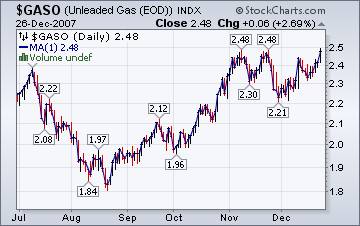 The Energy Information's Weekly Report has the year in review for 2007. It certainly has been a volatile one. Thursday's spike came after the release of the report, so its impact cannot be gauged yet. One possibility for the spike may be the increase in global liquidity from all the central banks. Higher prices certainly won't help the economy, though.
Prices for natural gas remain flat.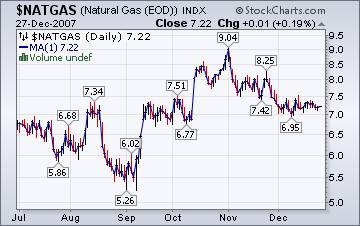 The Natural Gas Weekly Update paints a pretty sanguine picture. Prices were down modestly last week. Natural gas in storage is 9% above its 5-year average levels. The most volatile area of the country is the New England region, which had its share of storms last week. If anyone can predict the weather, he can also predict what will happen to natural gas prices.
Crisis may make 1929 look a 'walk in the park'
Ambrose Evans-Pritchard has recently published his latest views on the banking crisis.
This is getting quite alarming.
" They still have another couple of months before this starts imploding. Things are very unstable and can move incredibly fast. I don't think the central banks are going to make a major policy error, but if they do, this could make 1929 look like a walk in the park."
We're on the air every Friday.
Tim Wood of www.cyclesman.com , John Grant and I normally have had a running commentary on the markets. This week, John is on vacation and Tim and I are doing a brief commentary on the markets. You will be able to access the interview by clicking here .
Happy New Year!
Please make an appointment to discuss our investment strategies by calling Claire or Tony at (517) 699-1554, ext 10 or 11. Or e-mail us at tpi@thepracticalinvestor.com .
Regards,
Anthony M. Cherniawski,
President and CIO
http://www.thepracticalinvestor.com
As a State Registered Investment Advisor, The Practical Investor (TPI) manages private client investment portfolios using a proprietary investment strategy created by Chief Investment Officer Tony Cherniawski. Throughout 2000-01, when many investors felt the pain of double digit market losses, TPI successfully navigated the choppy investment waters, creating a profit for our private investment clients. With a focus on preserving assets and capitalizing on opportunities, TPI clients benefited greatly from the TPI strategies, allowing them to stay on track with their life goals
Disclaimer: The content in this article is written for educational and informational purposes only. There is no offer or recommendation to buy or sell any security and no information contained here should be interpreted or construed as investment advice. Do you own due diligence as the information in this article is the opinion of Anthony M. Cherniawski and subject to change without notice.
© 2005-2019 http://www.MarketOracle.co.uk - The Market Oracle is a FREE Daily Financial Markets Analysis & Forecasting online publication.

Only logged in users are allowed to post comments.
Register/ Log in