Two Gold Related Long/Short Pair Trades For 2012
Commodities
/
Gold and Silver 2012
Jan 10, 2012 - 07:19 AM GMT


Pair trading is a trading strategy based on the concepts of statistical arbitrage and convergence. Typically it involves being long one security and short another. For example one may believe that Apple would outperform Microsoft, so one buys Apple and shorts Microsoft. A pair trade may also involve two trading two markets that usually move close together but have drifted apart, for example the US and UK stock markets. If the FTSE has rallied strongly when the S&P has not, the trader may decide to short the FTSE and buy the S&P, taking the view than the US stock market will catch up to the performance of the UK stock market. Whilst our primary focus is on trading options, we have identified what we believe are two attractive pair trades for 2012.
Long GLD/Short TIP
The first of these pair trades is one based on convergence. Historically US real interest rates have an inverse relationship with gold prices, a relationship which we have written about frequently. The basic premise is that when monetary policy becomes more accommodative, US real interest rates decline and gold prices rise due to the ease in monetary policy. However over recent weeks gold prices have fallen but US real interest rates have remained low and this pair trade is speculating that the two will converge again.
To execute the trade we would use the gold exchange trade fund GLD and the iShares Barclays TIPS Bond Fund, although futures can be used as well. GLD tracks the price of gold and TIP tracks the price of Treasury Inflation Protected Securities. Since gold prices move inversely with real interest rates, it moves with the price of inflation protected bonds, since yield and price move in opposite directions in the bond market. This relationship is demonstrated in the chart below.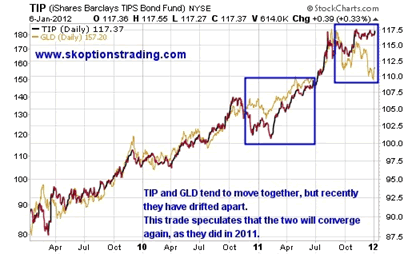 However if US real interest rates declined from their current levels and gold prices fell (which translates to GLD down, TIP up) then this trade would incur losses.

The trade would be executed as follows. One must match the legs of the trade dollar for dollar, not share for share. So for every share of GLD bought at $157.20, one must sell roughly 1.34 shares of TIP to properly construct this trade. For example one could buy 100 GLD and short 134 TIP.

Long DGP/Short GDX

This second trade is based on our view that gold mining stocks will continue to underperform the gold price itself. This is a view that we have held for some time and frequently have written about. We believe that owning gold mining or exploration stocks is a very poor way to gain exposure to the gold price and we have been actively discouraging using mining stocks as a gold investment vehicle since May 2008. For our reasoning for this view please read one of our articles on the topic.

We are bullish on gold going into 2012 and although we would not be buying mining stocks that does not mean that gold stocks will not increase in value. They may well increase in value, but we think gold will still outperform the mining stocks. Therefore this pair trade is a long gold/short gold mining stocks position. This is something we have been suggesting throughout 2011 and we should point out that a Long GLD/Short GDX pair trade would have returned 26.2% during 2011.

However we have decided to use DGP (PowerShares DB Gold Double Long ETN) in this particular trade as there is a chance that gold miners may match gold's rise this year, but we put a very low probability of them performing twice as well as gold. We are suggesting using GDX (Market Vectors Gold Miners ETF) but the trade could also be constructed by shorting a basket of gold mining stocks of the traders choosing. This trade could also be executed using gold futures or GLD.
This trade will deliver losses if; gold prices fall and gold mining stocks fall by less than half as much or, if gold prices rise but gold miners increase by more than double the rise in gold. We expect gold prices will rise and this rise will be larger than any rise in mining stocks.

The trade would be executed as follows. Again, one must match the legs of the trade dollar for dollar, not share for share. So for every share of DGP bought at $50.80, one must sell roughly 0.95 shares of GDX at $53.35 to properly construct this trade. For example one could buy 100 DGP and short 95 GDX.
To sign up for all our trading recommendations please visit www.skoptionstrading.com. Our model portfolio is up 411.90% since inception which is an annualized return of 95.96%. We have an average return of 37.02% per trade, having closed 93 trades (86 were closed at a profit). On average we keep a trade open for 49.25 days. Our focus is on options trading, not pairs trades, but the options trades we signal to our subscribers can be executed as easily as any stock option trade. Our trading signals can be auto-traded via Global Autotrading or eOption. Our service costs just $199 per 6 months or $349 per year, so for less than a dollar a day you can get our market updates, trading signals and model portfolio send directly to your email address.
Also many thanks to those of you who have already joined us and for the very kind words that you sent us regarding the service so far, we hope that we can continue to put a smile on your faces.
To stay updated on our market commentary, which gold stocks we are buying and why, please subscribe to The Gold Prices Newsletter, completely FREE of charge. Simply click here and enter your email address. (Winners of the GoldDrivers Stock Picking Competition 2007)
For those readers who are also interested in the silver bull market that is currently unfolding, you may want to subscribe to our Free Silver Prices Newsletter.
DISCLAIMER : Gold Prices makes no guarantee or warranty on the accuracy or completeness of the data provided on this site. Nothing contained herein is intended or shall be deemed to be investment advice, implied or otherwise. This website represents our views and nothing more than that. Always consult your registered advisor to assist you with your investments. We accept no liability for any loss arising from the use of the data contained on this website. We may or may not hold a position in these securities at any given time and reserve the right to buy and sell as we think fit.
© 2005-2019 http://www.MarketOracle.co.uk - The Market Oracle is a FREE Daily Financial Markets Analysis & Forecasting online publication.

Only logged in users are allowed to post comments.
Register/ Log in