Chinese Housing Market Still Booming
Housing-Market
/
China Stocks
Jan 18, 2008 - 12:49 AM GMT


Tony Sagami writes: You know all about the idiocy of the subprime mortgage insanity ... the popping of the U.S. real estate bubble ... and the billions in write-downs from financial institutions.
But today I want to tell you about a real estate boom that's still underway, and is likely to continue for years, even decades. I'm also going to tell you about a company that's well positioned to mint money in the process.
As you can probably guess, the story is taking place in Asia ...
A Red-Hot Chinese Real Estate Market Is Getting Fueled by Historic Migration
Asia is witnessing the largest human migration in the history of mankind.
It started in the early 1980s when China made economic reforms and embraced free markets, putting itself on the path to capitalistic prosperity.
Since then, waves of migrant workers have flowed to factories in Special Economic Zones (SEZs) and the large urban coastal cities.
While accurate numbers aren't available, estimates point to somewhere between 150 million and 200 million fortune-seeking migrants moving into China's largest urban cities!
For example, Shenzhen, a vibrant city across the border from Hong Kong, has grown from a small fishing town to a modern metropolis of 10 million residents in just two decades.
Meanwhile, Chongqing, a 31-million-resident province in southwest China, is so determined to become a modern city that it expects to increase its percentage of urban dwellers from 45% today to 70% by 2020. To achieve that goal, country dwellers must move into the city's urban areas at a rate of more than 500,000 a year.
China's factories are drawing more and more citizens from the interior countryside ...
And as large as those numbers are, the migration wave is going to get even bigger!
Reason: The Chinese government wants it to happen. Hou Yan, a senior official with the country's National Development and Reform Commission, said, "Our policy is not to delay the migration trend from rural areas."
According to the State of World Population Report 2007, China's urban population will grow from 560 million in 2005 to 910 million by 2030. That will shift the percentage of urban dwellers from 42% to 64%. Compare those numbers with 1980, when just 20% of the country's population lived in cities.
All of these migrants are going to need a lot of things, including roofs over their heads. You see, the Chinese are no different than Americans when it comes to home ownership — it's their #1 financial priority.
And thanks to an economy that has grown at more than 10% for five years in a row, incomes are rapidly rising. That's creating an entire generation of new middle class families who can more easily afford homes.
This Company Holds the Key to Profiting from Chinese Real Estate
I want to introduce you to the Chinese version of Century 21 — the largest, most successful, fastest-growing real estate brokerage company in all of China.
Based in Shanghai, the company is a traditional real estate broker with more than 2,500 real estate agents in 24 of China's largest cities. More than 80% of its revenues come from traditional commissions.
The Chinese real estate boom shows no sign of slowing!
It has a fantastic niche, too. Instead of concentrating on individual listings with individual Chinese homeowners, the company primarily works with major developers. It provides comprehensive marketing and sale services for newly constructed high-rise developments.
And it doesn't just slap up for-sale signs and wait for buyers to stumble in. It has a sophisticated marketing strategy that incorporates print, television, Internet, billboards, housing exhibitions, and sponsorship of high-profile entertainment events.
Last year, it sold nearly two million square meters of new developments for just over $2 billion, pocketing an average commission of 2.2%. In the past five years, the company has sold five million square feet of properties worth $5.4 billion.
The company also has the only comprehensive database of up-to-date, in-depth information for residential and commercial real estate. And it's finding a steady stream of institutional real estate investors who are willing to pay for that data.
In my opinion, this company is the next best thing to flying to China and investing directly in real estate yourself.
Five Reasons I Love This Chinese Real Estate Play
Reason #1: China is hot, America is not. As I mentioned earlier, not a day goes by without some news item about our country's deepening real estate problems. So I don't blame you if you're hesitant to add a real estate stock to your portfolio.
But the real estate situation in China couldn't be more different than ours. There aren't half-finished condo projects collecting seagull poop ... there aren't tens of thousands of flippers defaulting on their mortgages ... and the country's mortgage market isn't suffering a liquidity crisis.
Furthermore, Chinese laws require that homebuyers put up a down payment of 20% to 30% ... and a whopping 83% of all homes in China are purchased with ALL CASH! That may sound impossible, but not in a country that has a 20%-plus savings rate.
The Chinese real estate market is smoking. According to Chinese research firm CEIC Data, real estate prices have risen at a 38% annual pace from 2001 to 2005, and were up 26% in 2007.
Naturally, the real estate brokers are raking in the commissions ...
Reason #2: Profits are skyrocketing. Just two years ago, this company only pulled in a total of $5.6 million in revenues. Fast forward to 2006 when sales jumped 1,000% to $56 million!
In its fiscal second quarter, sales increased a staggering 147% to $24 million, and profits soared by 242% to $6.4 million from the same period a year ago.
For the first six months of 2007, total revenues hit $40 million, an increase of 193% from $13.7 million; profits jumped from half a million to $10.8 million.
Wow! Those are impressive numbers!
Reason #3: A winning business model. One of this company's biggest advantages is its special relationships with developers. Under its agreements it gets not only exclusive listing rights to new properties, but also takes as much of 20% of its fee in the project's profits.
Think about that. It takes 80% of its commission in cash but also gets a nice equity kicker from the development's success. Given the booming real estate market in China, that's as lucrative as flipping IPOs during the red-hot tech stock boom!
Reason #4: Cream of the real estate crop. When I said this company is the Century 21 of China, I wasn't blowing smoke. In 2006, it was named "China's Best Company" by the National Association of Real Estate Brokerage and Appraisal Companies and the "Leading Brand Name in China's Real Estate Services Industry" from the China Real Estate Top 10 Committee.
For the last three consecutive years, it has also been the #1 real estate broker in China as measured by number of transactions ... total sales value ... total square footage ... and geographic coverage.
Reason #5: Management eats its own cooking. Unlike the U.S. where corporate insiders usually own just a small fraction of a company's shares, most Chinese entrepreneurs retain a mountain-sized chunk of their companies' stock.
The founder and CEO of this company has done exactly that ... he owns an impressive 41.7% of his firm.
Does that guarantee that he is going to make shareholders a bunch of money? Of course not, but it sure gives him all the incentive in the world to try.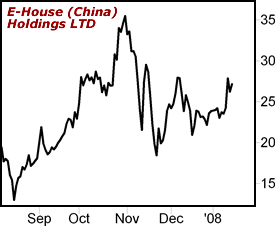 This company went public on the New York Stock Exchange a few months ago, and I recommended it to my Asia Stock Alert subscribers shortly afterward.
They're sitting on very healthy open gains right now, so I don't think they'll mind if I tell you the company's name — it's E-House Holdings Limited.
However, I'm not telling you to run out and load up on the shares ... only you can decide if the stock is right for you. You'll also have to decide when it's time to sell. I think it's only fair that I reserve timing signals for my paying subscribers.
But whatever you decide to do, I want you to realize that not every country is going through the same horror story as the U.S. China, and its booming real estate market, is proof of that!
Best wishes,
Tony
P.S. Want to get all of my favorite Asian stocks, along with my specific buy and sell signals? Then subscribe to Asia Stock Alert for just $199.
This investment news is brought to you by Money and Markets . Money and Markets is a free daily investment newsletter from Martin D. Weiss and Weiss Research analysts offering the latest investing news and financial insights for the stock market, including tips and advice on investing in gold, energy and oil. Dr. Weiss is a leader in the fields of investing, interest rates, financial safety and economic forecasting. To view archives or subscribe, visit http://www.moneyandmarkets.com .
© 2005-2019 http://www.MarketOracle.co.uk - The Market Oracle is a FREE Daily Financial Markets Analysis & Forecasting online publication.

Only logged in users are allowed to post comments.
Register/ Log in