The Euro End's on 6th of May 2012
Politics
/
Euro-Zone
May 05, 2012 - 02:14 PM GMT


Few Americans will have noticed that this Sunday the end of the Euro will take place. On that day the final run-off ballot between current French president Mr. Sarkozy and socialist presidential candidate Mr. Hollande will decide over the future of the Euro.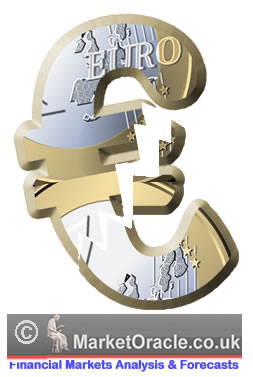 According to all polls the leftist socialist candidate Mr. Hollande will win by a safe margin over the current president Mr. Sarkozy and will be the next French president. Politicians in Berlin are biting their nails already in anticipation of the election result. The savings dictate that Germany has imposed on most of the other heavily indebted euro zone countries is vehemently opposed by socialist party leader Mr. Hollande who favors more government spending, meaning: accumulating more debts, in order to promote growth in the Euro zone.
But since poor economic knowledge is not only endemic to the relentlessly irritating Mr. Hollande but seems almost a prerequisite for success in the French socialist party, we shall not hold it against him. Still there is no reason to not be alarmed.
It is with utmost interest that I usually follow the "know it all" duo's, Nobel Prize laureates Messieurs Krugman and Stiglitz, statements. These prominent economists accuse the German Chancellor Mrs. Merkel, now, in the style of Heinrich Brüning, to destroy the European economy with austerity programs. Mr. Brüning was the last German Chancellor before the power of Adolf Hitler. Mr. Brüning had tried in vain to fight the effects of the global economic crisis in Germany with a massive austerity program, tax hikes and pay cuts. If Messieurs Krugman and Stiglitz complain about the weakness of the Euro area and ask from the old continent, state-financed economic stimulus injections, the simply ignore, or worse, do not understand massive structural problems in most of the Southern Europan Mediterranean countries.
The situation today is fundamentally different from Mr. Brüning's era. Messieurs Stiglitz and Krugman are simply on the wrong track.
Economic stimulus injections may look good from a US perspective where the US Fed supports any such programs by simply printing the needed money (something which the European Central Bank per its articles is not allowed to do). More importantly such stimulus programs will only work if functioning government structures are in place. And this is not the case in the southern European countries, the so-called Mediterranean countries.

The Greek government system for example, by all common consensus, has been characterized by a deeply corrupt political elite who not only would put 25 year old daughters, nieces, and mistresses of ministers and generals on the payroll of the state funded pension system, but who even worse have not been able to establish a functioning tax collection system in Greece. Tax evaders have been left – and still are – unpunished. The list of sins is long, and not only in Greece. The politics of the southern European countries has been a collection of the worst political practice, known only from other notorious Third World countries. The tax paying electorate in the northern and central European countries with functioning economies, according to numerous polls, simply have enough of scandals and corruption among their neighbors, whose bills they have been footing now since many years.

Who is to blame German chancellor Mrs. Merkel? She speaks in the name of northern and central European taxpayers, who should pay the bill for blatant mismanagement of other countries. She is repeating her mantra: before additional billions of euros evaporate in the south, the Mediterranean countries should first do their homework, she says. A polite phrase for an ultimatum to the Mediterranean countries to either get rid of corruption and mismanagement or be faced with a stop of cash flowing from the rich countries in Europe to the Mediterranean countries.

I am sure if Messieurs Stiglitz and Krugman knew more about the patently ridiculous mismanagement in some of those European countries they would adjust their generalizing advice of simply putting more money into dysfunctional countries.
If a company goes bankrupt usually the first thing shareholders do is to exchange management and make sure a change program is being implemented. What Messieurs Stiglitz and Krugman now are suggesting – against all better knowledge – is not only to keep the current incompetent management in their lucrative posts but also to give them more money to continue their past disastrous course. Mrs. Merkel, understandably so, has had it.

This brings us back to French incumbent Mr. Hollande. His idea of reforms is to not only accumulate more debts by increased government spending, but – change nothing. No structural reforms. But in France the government accounts already for more than 61% of French GDP. How exactly is Mr. Hollande planning to accomplish the inevitable, which is to reduce the debt burden? By increasing the government's pathologically large percentage in the French GDP even more? As France is part of the Euro zone he cannot ask the Central bank, unlike the USA, to print more money. Mr. Hollande will either have to ask the Germans to pay for his delusions or to stick to an austerity program or to leave the Euro zone. I am wondering if Messieurs Stiglitz and Krugman really had done their homework on the disastrous economic fundamentals of the European Mediterranean countries.
Viewed from this perspective, the conflict between Merkel and Hollande also is an attempt to both nurture the illusions of their respective supporters and to pretend that everything in Europe could be restored to the way it once was. It's an attempt to escape the bitter truths of the euro crisis, which is dominated by one truth in particular: If the European currency is to be secured over the long term, additional sacrifices are inevitable, above all among the southern Europan countries who will face a simple choice: leave the Euro zone or face tough structural reforms and austerity programs. We, the investors, can safely assume, that the Germans and the remaining small number of northern functioning countries in Europe, will no longer foot the bill of incompetent corrupt political elites in the Mediterranean Europe.

But France's Mr. Hollande is not the only problem. None of the Mediterranean countries in Europe are supportive of structural reforms and austerity programs. Their electorate is unwilling to reduce their current standard of living. There is no support whatsoever among voters for structural reforms. Who could blame them? For example, hundreds of thousands of farmers in the Mediterranean countries have become accustomed to the fact that approximately 53% of their income consists of subsidies paid by the European Union, which is ultimately fed with cash from Germany and a small number of functioning countries in Europe, who have been paying the bill since years. The political elite in the Mediterranean countries has not been able or willing, likely out of fear of being voted out of power, to tell their electorate the bitter truth.
In France this Sunday probably a president will be elected who has promised to his voters to stop the current reform efforts and its unpopular effects. Even in Greece extremist parties will dominate the Parliament and likely reverse the reform package imposed by the Germans, thus risking the disposition of bitterly needed further credit lines, paid by the Germans. The ruling parties in Greece have in the past few months hardly dared to justify their austerity measures. In the Netherlands, a government has failed because their meager budget plan just could not even say goodbye. In Italy and Spain, countries already plagued by massive unemployment rates of above 25% and huge debt burdens, there are increasing voices, to cancel the reform efforts and resume the catastrophic debt policies of the past, even supported by the German socialists.

If those anti-reformatory people should actually be successful, the Euro cannot be saved. Connected with demands for growth packages and more debts, the illusions communicated by those people to their electorate are that you can save yourself the necessary restructuring of the economies, if only it were possible to produce economic growth – by the means of more debts.
This concept has not worked in the past with the same political elite, why should we assume that it will work now or in the future?
The political leaders from the Mediterranean countries apparently do in fact want to continue supporting ailing structures, while asking Mrs. Merkel to pay the bill.

In other words, the Mediterranean countries are asking nothing less from German Chancellor Mrs. Merkel than to share revenue of all Euro countries by the means of Euro bonds as well as transfer taxes imposed on the rich and functioning northern countries to the favor of the ailing and corrupt structures in the south.

This is equivalent to, a hypothetical example, the Argentinean government asking the US to share revenues and use the US-Dollar instead of the Mexican peso. An obviously unacceptable idea.

You can safely assume, dear investor, that the electorate in Germany and the other remaining functioning countries in the Euro zone never will agree to that. Why would they?

Last but not least, considering the astronomical dimensions of the debt burdens of the Mediterranean countries, we shall not forget that Germany financially is not able to save Spain or Italy, much less France. Those three ailing countries are too big to be saved, but by no means too big to fail.

And therefore I suggest with a high degree of confidence that May 6th, 2012, we will remember as the day which marks the end of the Euro.

My advice to investors: stick to precious metals, commodity opportunities if priced right, select real estate and the Swiss Franc.
By Volkmar Hable

If you would like to send me a message please send an email to Volkmar@hable.ca

Copyright © 2012 Dr. Volkmar "Marc" G. Hable - All Rights Reserved Disclaimer: The above is a matter of opinion provided for general information purposes only and is not intended as investment advice. Information and analysis above are derived from sources and utilising methods believed to be reliable, but we cannot accept responsibility for any losses you may incur as a result of this analysis. Individuals should consult with their personal financial advisors.
© 2005-2019 http://www.MarketOracle.co.uk - The Market Oracle is a FREE Daily Financial Markets Analysis & Forecasting online publication.
Comments
Onc' Scrooge
06 May 12, 08:56
End of the Euro by french luxury dreams


Hi,

you forgot to tell that France has already the highest deficit spending per capita in the Euro-Zone.

WHY ? :

- French workers retire with 62 (Sarkozy lifted the age from 60 to 62) German workers retire with 66 (this age is increasing every year until it reaches 67). Hollande claims to roll the retirement age back to 60 ! There are a lot of workers in France who have gouvernmental (or semi-gouvernmental) jobs retiring with 55 (Railroad, Electricity...).

- French workers earn a guaranted minimum salary (SMIC) which is about 1400 Euros a month or 9,22 Euros (about US-$ 12,00) for an hour of work - in Germany there isn't such a minimum salary and there are a lot of workers working for less than 1000 Euros a month (or less than 6 Euros an hour).

Political allies of Hollande claim to rise the SMIC up to 1800 Euros a month (without working more !)

- French workers only work 35 hours a week in Germany workers work 40 hours a week.

- in France over 70% of all children go to high school to get with 18 years the baccalaurreat (BAC) and go on studying at least up to 20-21 (or more) - in Germany only 35% of all children try to have the German Abitur (BAC, High School) 65% of the youngsters work at age of 16 !

... and so on..

There is no way to bring the two nations together.

If you try to bring the French people to accept german rules there would be a real revolution in France like it had been in 1789.

On the other hand the german workers would accept to gain the french advantages but who will pay that ?

But having increasing differences between the 2 countries which seems to be the will of Hollande will force the Germans to struggle against because German workers wont' accept to work longer (in age and per week) and with less salary by paying french luxury with their tax money. You're right this could be the beginning of the end of the Euro.

Greetings

Onc' Scrooge



Paul_B
07 May 12, 06:31
Euro Disaster Zone


The Euro was a flawed concept right from the start, so this is far from the beginning of the end of the currency; it's already well down the path as attested to by the appallingly high levels of structural unemployment it has brought about in the peripheral regions. Anyone who thinks this situation is sustainable must be mad. This is history's longest running financial train wreck and will make a fascinating text for future students of economics on precisely how NOT to run a currency bloc. The rest of us can but look on in morbid fascination as the whole ghastly thing unravels before our eyes.

As an aside, I see today live on CNBC that the great Warren Buffet has finally admitted that all fiat currencies are terminal and the gold bugs have been dead right about this all along. I wonder why it's taken him so long to admit it when up until now for so long he's been in denial??



Marcin Strojny
07 May 12, 08:40
Cotrol by fear and debt


Very naive analysis. Us, working Europens, we work already twice as much as 100 years ago, while in real term we earn as much as those folks in Medieval Europe. People who don't accept austerity are perfectly sane and sound. They misused the money lasso that the banksters ruling elite of the world wants to put around everybody's neck...down with the Euro!

Those elites need fear to rule : 'too big to fail' means it must fail. Why any aspect of freedom must be called anarchy?

The first things the banksters disguised as EU did when they took over the Eastern Europe was to shut down almost all production and to impose central banks and debt. Those countries were deprived of healthy economies from the start; if they don't pay debt.



Onc' Scrooge
08 May 12, 02:45
Hollande wants new Versailles treaty!


Dear Marcin,

I just don't want to pay with my money the inceasing living standards of the Greeks, Italian, Spaniards and French (and ....).

I just dont want to pay another Versailles treaty without ever doing something ugly to the others.

If you like to pay I have nothing against it!

It is easy to blame only the banksters (you are right there) but in reality the european politicians promissing luxury to be elected are the real reason for all the problems

These politicians don't tell us the reality which is in fact that you can not distribute more than is earned. And that means the workers in Europe can't get more then the workers in China, Vietnam ... at least with the background of an uncontrolled globalisation! Hollande has socialist dreams of the 80ties in his head which resultated in heavy inflation (10-15% per year) under the Mitterand gouvernment in the beginning 80ties. And now he wants to do the same with Germany and others paying for it.

NO - only if they kill me!

Greetings from the money bin to the Beagle Boys Union from

Onc' Scrooge




Only logged in users are allowed to post comments.
Register/ Log in