US Dollar Continuing Rally or Fresh Lows?
Currencies
/
US Dollar
Jan 28, 2008 - 10:00 AM GMT


Jack Crooks writes: Forecasting market tops and bottoms is a mug's game. In reality, the best we can do is trade with confidence when the time is right.
In fact, I've learned the key to long-term market success isn't just about winning trades ... it's about limiting what you lose during the times you are wrong. And I think the single best way to control your risk is by holding two opposing views of the market in your mind at the same time.
Sure, you have to be confident in one scenario if you're going to take action in the markets. But you also need to be open to the possibility that you could be wrong. That way, as new information comes out, you'll be able to quickly change direction if necessary.
This realistic approach is a trader's best friend, especially in the kind of volatile markets we have today.
Take the U.S. dollar for example. There's a debate raging about its future direction, and I see three distinct possibilities ...
How the "Dollar Smile" Points the Way to Future Currency Moves
The "Dollar Smile" is a straightforward and effective way to size up the buck's potential moves. It's a concept developed by Morgan Stanley economist Stephen Jen.
Why is it called the dollar smile? Well, take a look at this visual depiction ...

As you can see, the dollar smile indicates three major scenarios that could unfold. Let's look at each one ...
Scenario #1: Dollar Appreciates on Risk
This left corner of the smile suggests the dollar will rise when global risk dominates the financial system. In other words, investors would be willing to ignore economic weakness in the U.S. in the event of a global financial shakedown.
Capital would rush back into greenbacks despite underlying structural problems that would ordinarily hurt the dollar.
Here's why ...
U.S. fund managers held approximately U.S.$20.7 trillion under management as of the first quarter of 2007. And that doesn't include the investments from hedge funds or private equity players, either.
All these professional investors have likely been underweight the U.S. dollar and dollar-based assets. That means most of their holdings are in places like Europe, Asia and Latin America.
We're also getting more and more proof of what I've expected all along: Much of these investments are highly leveraged into the derivatives market.
Data compiled by the International Swaps and Derivatives Association shows that the outstanding volume of over-the-counter credit derivatives increased from U.S.$3.5 trillion in 1990 ... to U.S.$63 trillion in 2000 ... and more than U.S.$415 trillion by the start of 2007!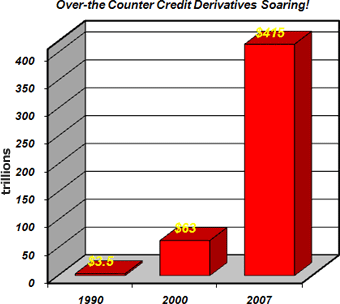 Up until August of last year, these leveraged bets by institutional fund managers worked well because there had been little volatility in financial markets.
But the exceptional volatility in the markets since the beginning of 2008 is changing that dynamic quite a bit.
Institutions are running around with their tails between their legs. They have no idea where they can hide. The rush to reduce risk in global portfolios means institutions with trillions of dollars invested offshore will likely bring it back to the U.S.
And as they do, the net effect is increased demand for the U.S. dollar.
Scenario #2: Dollar Falls to New Lows
The middle of the dollar smile suggests the greenback will fall to new lows if the U.S. economy muddles along and expectations for U.S. interest rates turn sour.
Just this past week, the Federal Reserve slashed benchmark rates by 75 basis points in an emergency announcement.
This remedial action followed a series of consecutive rate cuts ... and precedes a scheduled meeting at the end of the month, where the Fed is expected to act again .
Basically, this scenario represents a double-whammy of trouble for the buck — falling growth and falling interest rates. Anyone will tell you it's tough for the buck to stay afloat when it's on the short end of its two most important fundamental drivers.
This scenario also assumes that the rest of the world no longer needs the U.S. economy for growth.
Each day, however, new evidence shows the rest of the world struggling at the hand of U.S.-led problems. The U.K. is number one on this list of "Who's next to bite the dust?" Japan is struggling, too. And everyone's wondering whether the Eurozone is due to suffer.
Therefore, I think this scenario looks less likely to happen right now, but it should remain in your mind as a solid long-term possibility.
Scenario #3: Dollar Appreciates on Growth
The right corner of the dollar smile suggests the buck will rise on the back of a U.S. growth surprise. Of course, this would be a HUGE surprise, and is thus the least likely of the three scenarios!
Nevertheless, the logical explanation runs something like this ...
Despite the hit U.S. consumers have taken from the housing recession and surging energy prices, they've shown surprising resiliency. There are some indications of weakness, but for the most part a decent labor market has been enough to keep consumers spending.
This scenario, however, would require a much less "accommodative" Federal Reserve. And they've already committed themselves to a financial and economic bailout.
Plus, confidence would need to return quickly for U.S. growth to even have a chance. And from there we'd still be a long way from "surprise" territory.
A couple of months ago, this sequence of events would have been plausible. But attitudes have changed dramatically. So, to me, a growth surprise just isn't in the cards right now.
Bottom Line: You Could See a Dollar Rally, But Should Remain Open to the Idea of Fresh Lows
Is the dollar smile a perfect indicator? Of course not. But I think it's a great way to think about the dollar's potential paths.
Scenario #1 — a flight to safety in the greenback — looks most likely right now given market volatility. However, Scenario #2 — a plunge to new all-time lows because of U.S. weakness — remains a distinct possibility in the longer-term.
I'll be watching the latest news flows and readjusting my stance as new information comes to light. And I'll let you know as soon as I see a major development or turning point for the greenback.
Best wishes,
Jack
This investment news is brought to you by Money and Markets . Money and Markets is a free daily investment newsletter from Martin D. Weiss and Weiss Research analysts offering the latest investing news and financial insights for the stock market, including tips and advice on investing in gold, energy and oil. Dr. Weiss is a leader in the fields of investing, interest rates, financial safety and economic forecasting. To view archives or subscribe, visit http://www.moneyandmarkets.com .
© 2005-2019 http://www.MarketOracle.co.uk - The Market Oracle is a FREE Daily Financial Markets Analysis & Forecasting online publication.

Only logged in users are allowed to post comments.
Register/ Log in