Buy Gold on Correction Towards $850
Commodities
/
Gold & Silver
Jan 28, 2008 - 06:57 PM GMT

"..the most secure form of gold ownership is to actually take physical possession of the gold."
Unless you've decided not to read our reports after taking out a subscription, Members will be well aware of our constant recommendations to buy gold and or gold stocks. Buying gold stocks is relatively easy. Where there seems to be some confusion is in how to buy bullion.
The first point to note is that we are recommending buying physical gold, not a paper derivative or gold futures or anything else where it relies on a counterparty providing delivery of that gold.
Obviously the most secure form of gold ownership is to actually take physical possession of the gold. By this, we don't mean taking it home and shoving it under the bed. Unless you have a safe, it is best to pay for a safety deposit box at a major bank to store the gold for you securely. This way the gold is in your possession - not held by someone else on your behalf.
Physical possession can be arranged in a number of ways, most conveniently through a local bullion or coin dealer. Just on coins, unless you know what you're buying or have a trusted relationship with a coin dealer, we suggest avoiding investing in gold through coins.
One way of buying bullion relatively easily is through the London Stock Exchange via Lyxor Gold Bullion Securities, trading under the ticker, GBS. This is similar to an ETF (exchange traded fund) whereby the amount invested is backed by physical gold. In this case, the gold is stored in vaults in London. More information can be found in the link below.http://www.lyxorgbs.com/
While there are different ways to own gold, it all boils down to one thing; owning real money that is not backed by a third party promise to pay at some future date.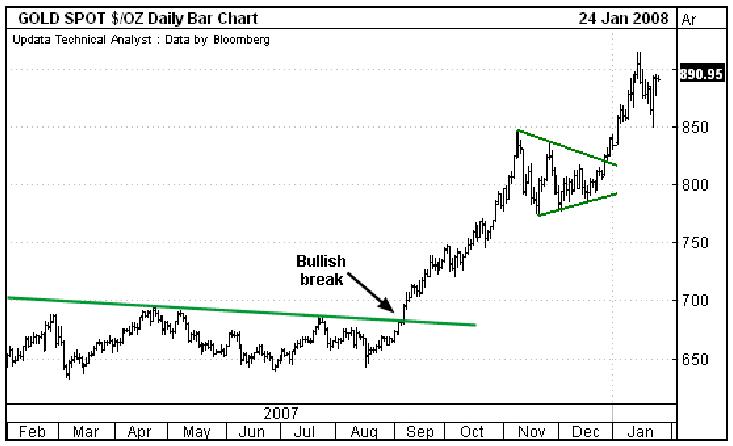 Supporting our view of a shorter term correction, in recent week's gold has become increasingly talked about in the mainstream media and it seems US$1,000 price targets are all the rage in 2008. Although this does not diminish our longer term bullish view (it's actually a long term positive as more investors learn about gold's investment qualities) we are concerned that gold's new found popularity might lead to short term disappointment amongst the latecomers.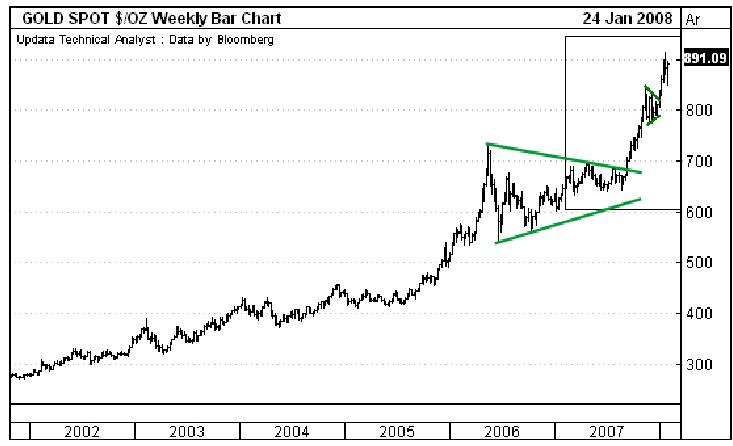 We recommend continuing to hold gold and for those without exposure or looking to add to their position, look to buy on any correction towards the US$850 region.
For more information on Fat Prophets go to www.fatprophets.co.uk or call 08003890705.
About Us - Fat Prophets provides independent advice on the financial markets where our objective is to be transparent, accountable, objective and ethical. We believe that integrity is the central characteristic of every successful investor. Our independence in financial markets is derived from the fact that Fat Prophets does not execute transactions or provide investment banking services.
Fat Prophets principal focus is to deliver a quality service to Members by discovering and identifying quality stock recommendations on the London Stock Exchange. The launch of our UK service follows the successful establishment of Fat Prophets in Australasia.

Founded in June 2000, Fat Prophets is owned and operated by financial markets professionals. Having become Australia's leading independent stock market advisors, our horizons were broadened during 2003 through the addition of Fat Prophets United Kingdom. Our service offering also includes Fat Prophets Mining & Resources, Fat Prophets USA, and Fat Prophets Funds Management.

Fat Prophets UK was launched in 2003. As one of the world's largest stock markets, the UK offers an expansive array of investment opportunities. Within this environment our value-based strategy has proven highly successful, and fattened our Members' portfolios.

Fat Prophets Australasia focuses on delivering a quality service to Members by identifying and recommending undervalued companies on the Australian and New Zealand stock exchanges.

Fat Prophets Mining & Resources coverage extends to companies involved in mining, exploration, precious metals, diversified resources, energy, mineral sands, bulk ores, diamonds, as well as mining and energy infrastructure services.

Fat Prophets USA has an international focus, recommending a broad range of US based and foreign companies trading on the US exchanges.

Fat Prophets Funds Management In 2005 the company diversified into funds management when the Fat Prophets Australia Share Fund (Fat Fund) was successfully listed on the Australian Stock Exchange after $33 million was raised.
Disclaimer : Mint Financial (UK) Ltd, trading as Fat Prophets United Kingdom, has made every effort to ensure the reliability of the views and recommendations expressed in this report. Fat Prophets United Kingdom research is based upon information known to us or which was obtained from sources which we believed to be reliable and accurate at time of publication. However, like the markets, we are not perfect.
This report is prepared for general information only, and as such, the specific needs, investment objectives or financial situation of any particular user have not been taken into consideration. Individuals should therefore discuss, with their financial planner or advisor, the merits of each recommendation for their own specific circumstances and realise that not all investments will be appropriate for all subscribers.
To the extent permitted by law, Fat Prophets United Kingdom and its employees, agents and authorised representatives exclude all liability for any loss or damage (including indirect, special or consequential loss or damage) arising from the use of, or reliance on, any information within the report whether or not caused by any negligent act or omission. If the law prohibits the exclusion of such liability, Fat Prophets United Kingdom hereby limits its liability, to the extent permitted by law, to the resupply of the said information or the cost of the said resupply.
© 2005-2019 http://www.MarketOracle.co.uk - The Market Oracle is a FREE Daily Financial Markets Analysis & Forecasting online publication.

Only logged in users are allowed to post comments.
Register/ Log in