Rising Eurozone Yields Will Push Gold Towards the Monetary System
Commodities
/
Gold and Silver 2012
Jun 19, 2012 - 08:02 AM GMT


A trend I've been focusing on lately are the signs we are seeing of gold returning to the monetary system. Consider the signs:
1. Central banks continue to increase their purchases of gold, having become net accumulators of gold since 2009. The central bank of Kazakhstan purports to have 20% of its reserves in gold.
2. Banking standards from Basel III, an international banking institution, may be changing so as to give banks that hold gold a higher score.
3. The European Redemption Pact, an agreement to consolidate excess debt in the Eurozone, is allegedly discussing the idea of issuing Eurobonds that would be partially backed by gold.
4. In the United States, states like Utah are moving to restore gold's status as an officially recognized form of money.
What all these events are telling us is that faith in the fiat money system of the world, in which all money is loaned into existence, is breaking down -- as it has repeatedly done so many times before when such monetary systems were attempted. The market does not trust this type of money, and is choosing gold instead, as gold is a form of money whose supply is difficult to control and bears no intrinsic relationship to debt.
And so, one development I'm watching particularly closely because I think it will send gold even further towards the global monetary system are yields on bonds of member nations in the Eurozone. The higher yields go for the individual countries in the Eurozone, the more expensive it becomes for them to borrow from the private market -- and the more likely it becomes that they won't be able to borrow at all. Consider the yields the market is demanding on 10 year bonds from the following nation-states in the Eurozone:
Spain: 7%
Italy: 6%
Portugal: 10.5%
Greece: 26.2%
Ireland: 8.2%
Of course the problem these countries face is nothing new, and has received much attention from the financial media. What is less discussed but perhaps more important, though, is that Germany -- the stronghold of the European Union that is often looked to as the country that can essentially bailout the others and preserve faith in the Euro -- is also starting to see its yields rise. See the chart below.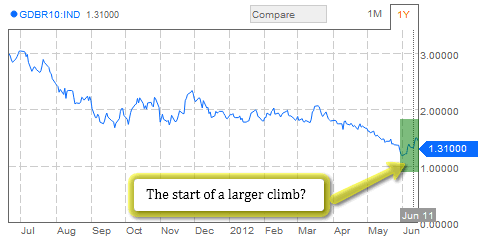 For a more dramatic effect, let's zoom in to the 30 day chart: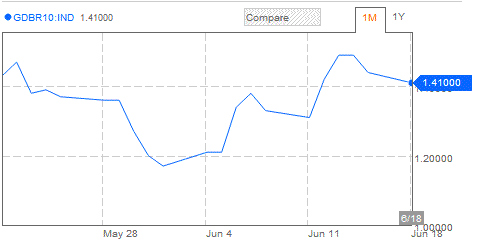 Now, it may be a bit too early to draw any meaningful conclusions from the uptick in the yield on Germany's 10 year bonds; this could just be normal market volatility. But this has been a fairly strong move, and its timing is interesting -- right during the big Greek elections. Is the market worried that Germany will be called upon to pay for Greece's bills? If so, is the implication of rising yields that the market does not view this favorably and will charge Germany for paying Greece's bills?
I think that at some point, if not now, that is the way the market will view the situation. And that is part of why the EuropeanRedemptionPact is so important. If accepted, the plan will basically roll up all the excess debt of these nations into a single bond -- a Eurobond -- that would be managed by Germany. Countries whose excess debt, defined as public debt beyond 60% of their GDP, is rolled up into the Eurobond would need to put up 20% collateral of the amount of debt they shrug off to the Eurobond. And, most importantly, gold would be an accepted form of collateral.
So, what is essentially being proposed as the solution to get the world to lend money to nation-state governments in the EU is if governments are willing to put up gold as collateral. This creates a world in which the governments themselves have an incentive to see a very high gold price, as the higher gold is valued by the market, the less gold they will need to put up as collateral. To put it simply, if the Euro is to remain a viable currency and the European Union a viable supranational government, something akin to a gold-backed Euro is needed.
Now there is some suspicion surrounding this proposal, with concerns that it is basically a ploy to further consolidate power and gold in Europe. Indeed, I find such concerns to be reasonable and warranted. But what is the alternative? If Greece, or any of the other countries whose yields have exceeded the critical 7% mark -- the point at which the interest burden makes public debt too difficult to take on -- exits the Euro voluntarily or through expulsion, it will need to launch its own currency. And how will it gain the credibility and trust needed to attract capital to store their wealth in this new currency? In my opinion, a currency that is relational to gold and possibly silver is the answer. Indeed, Hugo Salinas-Price suggested that Greece leave the Euro and create a drachma that can be redeemed for silver.
In sum, it is clear that yields on public debt are rising throughout the European Union. Rising yields is creating an inability for member nations to continue borrowing to finance their government spending. Whether this problem is rectified by aggregating debt and backing it with gold or a splintering of the Euro that leads to multiple currencies employing a monetary policy in which the currency is relational to gold or silver.
By Simit Patel
http://www.informedtrades.com

InformedTrades is an online community dedicated to helping individuals learn to trade the world's financial markets. Members earn prizes for sharing their knowledge, and the best contributions are compiled into InformedTrades University, the largest collection of free organized
learning material for traders on the web.
© 2012 Copyright Simit Patel - All Rights Reserved
Disclaimer: The above is a matter of opinion provided for general information purposes only and is not intended as investment advice. Information and analysis above are derived from sources and utilising methods believed to be reliable, but we cannot accept responsibility for any losses you may incur as a result of this analysis. Individuals should consult with their personal financial advisors.
© 2005-2019 http://www.MarketOracle.co.uk - The Market Oracle is a FREE Daily Financial Markets Analysis & Forecasting online publication.

Only logged in users are allowed to post comments.
Register/ Log in