Investing in Uranium Stocks - As Uranium set to soar to $100
Companies
/
Investing
Feb 21, 2007 - 09:38 AM GMT

The price of uranium is poised for a sprint to $100 per pound this year, and many uranium stocks are already taking wing. So is it too late to buy? Not by a long shot — especially if you can find uranium "ugly ducklings."
You remember the story of the ugly duckling, don't you? As ducklings go, this bird was far from handsome. The other ducks didn't think he'd amount to much — they considered him a freak with a beak! But once he grew up a bit, he spread his wings and revealed he was a beautiful swan.
Right now, there are companies calling themselves uranium explorers, but they're really real estate companies. They don't have enough experienced geologists and engineers to fully explore their resources, let alone turn them into mines. They're perched in an area where a lot of activity is taking place, hoping that some neighbor will want to buy out their land. Investors waiting for one of these stocks to take off might have a long wait.
Another bird to avoid is the pig-on-the-wing. These companies operate like piggy banks for management. They issue more and more shares, ostensibly raising funds for exploration. But you'd be amazed how much of that money ends up in management's personal piggy banks. If you're holding one of these stocks, you'll see your position diluted over and over again, as the stock struggles but never takes off. Remember, pigs can't fly!
Last but not least are the ever-present turkeys. These companies seem to have all the right pieces, but they're put together in such a way that they just can't get off the ground. Hunt around and you'll find that turkeys usually suffer from bird-brained management. If you're holding a turkey, your best scenario is that someone else may come along and buy it … eventually. That's not an ideal scenario though.
Three Steps to Building An Ugly Duckling Portfolio
Now that you have some red flags to watch out for, let's talk about ways to find tomorrow's winners …

First, look for companies with pounds in the ground. Some of the best bargains are companies that took over old uranium resources that were abandoned when the uranium sector went bust around 1980.
These resources are not compliant with strict Canadian or even-more-strict U.S. standards, so the new owners will have to do a lot of drilling before they can declare "inferred" resources (the least accurate measure) ...
They'll have to drill some more to come up with probable (indicated) reserves and expand the inferred resource ...
Finally, after more back-drilling, they'll have a proved (measured) resource, which is the smallest but most certain amount of uranium in the ground.
And by this time, the stock will have catapulted from pennies on the dollar to something closer to a fair valuation.
Here's the trick: You can get a good idea of what will come out of these old, abandoned resources by looking at "historic resources." These were the best estimates made before strict, modern standards came into play. But if the company that made the historic estimate was an old energy company like Chevron or Gulf, you know the estimate isn't some pie-in-the-sky figure.
How do you find these historic pounds in the ground? Go to the new owner's website and nose around until you find the presentations it makes at investor conferences. I find that Canadian companies usually have historic resources they'll talk about with Canada investors, but won't talk about in the U.S. because of stricter regulations here.
So, using historic resource numbers is a great way to be the early bird catching the worms!
Second, look for a smart management team. I love when a company is sitting on an undervalued resource. But I also know that it takes smarts to get that metal out of the ground profitably. That's where a solid management team comes into play.
Great management might even be more important than pounds in the ground. In fact, if you want to find even uglier ducklings, seek out companies that don't have a lot of resources but do have very smart management.
I can give you examples of uranium companies that are run by very smart people — firms like Strathmore Minerals and Paladin Resources — but these are pretty well known.
So how do you find out if a little-known stock is run by smart people? Go to the company's website and look up the biographies of the management team and board of directors. You're looking for experience, and lots of it — especially people who have brought projects from resource to mine in the past.
What's more, you want companies that have a rack of experienced workers. If a company is getting by with one geologist and one engineer, it's more likely one of those cuckoo real estate companies is not an active explorer.
Third, don't keep all your eggs in one basket. If you look for companies with historic pounds in the ground and solid management teams, you're on your way to feathering your nest.
Still, I suggest spreading your money amongst a bunch of companies rather than betting the whole wad on one potential high-flyer. This also gives you a greater chance of bagging a moonshot stock.
Of course, as you become more knowledgeable about stocks in this sector, you'll become better and better at consistently finding the big winners. Let me give you an example …
This Company's Resources Increased 170% in a Year; Its Parent Company's Stock Is Up 146% Since October!
Last August, I went to visit a company called Aurora Energy (Toronto Stock Exchange: AXU) . Since then, a lot has happened …
Aurora recently announced that its 100%-owned Michelin and Jacques uranium deposits in Labrador contain a measured and indicated resource of 58 million pounds of uranium (U308), and an additional inferred resource of 38 million pounds of uranium.
In effect, Aurora's uranium resource base has increased 170% in slightly more than 12 months. The company did a lot of hard work and deserves credit for a job well done. But I'm not surprised by the result. After all, it had 597 historic underground samples from a company that poked around the same area decades ago.
The company, Brinex, did intensive uranium exploration in the Michelin area in the 1960s and 1970s resulting in the Michelin deposit being advanced to the feasibility stage. The historical estimate for Michelin was 20 million pounds of uranium oxide.
But then the price of uranium crashed and Brinex shelved its plans for Michelin. When uranium prices perked up again, Aurora's parent company, Fronteer Development (AMEX: FRG) , came in and scooped up a property with a known historic resource. With some more drilling and preparation, Aurora may be hauling uranium out of Michelin as early as 2011.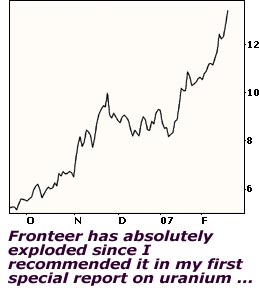 This example perfectly illustrates the power of a sound management team and historical resource figures. And the best part is that readers of my first uranium report, The Golden Age of Uranium , are well acquainted with Aurora and Fronteer. At the time, Fronteer looked like the better bargain, so I recommended it. At the end of last week, Fronteer was up 146% from the day my report came out (October 3). Over the same period, Aurora posted a solid return of 86%. I believe both could go substantially higher.
Here's why …
Forces Driving Uranium Prices Higher Continue to Line Up
In my opinion, this is still a great time to put some money to work in the uranium industry. That's because there are more and more reasons that uranium prices could shoot up to a $100 a pound by the end of this year ...
Global warming keeps heating up. January 2007 was the warmest since we began keeping records back in 1800. The world's land areas were 3.4 degrees Fahrenheit warmer than a normal January, according to the U.S. National Climatic Data Center. That broke the old record (set in 2002) by 0.81 degrees.
What does this have to do with nuclear power? Well, 30 billion tons of CO2 (a greenhouse gas) are released into the atmosphere each year by the burning of fossil fuels, including coal. Nuclear power plants release zero greenhouse gases.
And since U.S. electric demand is projected to climb by 45% over the next couple decades, we're either going to burn more coal, making the world even warmer, or build a lot of nuclear power plants.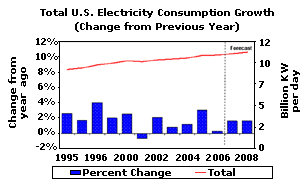 The public seems to have made its choice already! In July, the Los Angeles Times and Bloomberg questioned 1,478 American adults. Of those polled, 61% said they would support an increase in nuclear power if it helped to address global warming.
There are about 30 new nuclear plants proposed here in the U.S. … and dozens more proposed around the globe. That should only exacerbate …
A uranium supply/demand squeeze. Now that Cameco has announced that planned uranium sales from its flooded Cigar Lake Mine project could be deferred for up to seven years, the squeeze is really on!
Mines were only able to produce about 60% of required uranium last year, with the rest coming from old Russian warheads. But in 2013, that current conversion program ends. And because the Russians want to build at least 42 new nuclear plants, they'll probably decide to keep whatever uranium they have.
We'd better hope that enough new mines come online in the U.S., Canada and Australia to pick up the slack. How high will uranium prices be in 2013? I don't even want to guess. But …
Uranium prices could blow through the $100-a-pound mark this year. Last year, I said uranium could hit $100 a pound, and a lot of people thought I was crazy. Now, if anything, that target looks too conservative.
I think $140 by the end of next year seems reasonable. And according to some analysis I've read, the cost of uranium oxide could surge past $500 per pound and still be competitive with coal and natural-gas-fired power plants.

Put together, we've got all the ingredients for the biggest bull market of our lifetimes ...
Three Ways to Get A Stake in Uranium
If you want a pure way to play rising uranium prices, check out the Uranium Participation Corp ., a Canadian fund that tracks uranium. The symbol on the Toronto Stock Exchange is U . In the U.S., the symbol is URPTF on the Pink Sheets. (On Yahoo, that would be URPTF.PK.)
If you want the leverage of individual stocks, you can consider buying a swan like Fronteer Development.

As I mentioned, subscribers to my first uranium report are already sitting on triple-digit open gains, so this stock isn't quite the little secret it once was. Still, it's one of the best picks in the uranium industry. It not only has great uranium potential, it also has hot gold properties it's developing.

But a word to the wise: I'm watching Fronteer constantly, and I will let people who bought my Golden Age of Uranium report know when to take profits. If you decide to buy it because it was mentioned here in Money and Markets , you'll be on your own.

Now that you know how, you can seek out your own ugly ducklings. And rest assured, there are still bargains to be had!
For example, I found a classic ugly duckling for my latest uranium report, Small Uranium Wonders report, which just came out a few weeks ago.
The company is sitting on what I estimate to be at least nine million pounds of uranium, probably much more. It will start production soon. And its mining costs for uranium will be covered by production of its other metal, vanadium.
So what makes this duckling so ugly? It doesn't have near the amount of publicity it should. And it has some other problems that I think have been blown way out of proportion. To me, the stock could triple in the next two years, even if the price of uranium doesn't go up another cent.
My point is simple: There's still plenty of money to be made in uranium stocks. You just have to know what to look for. Now go out and get yours!
Yours for trading profits,

Sean Brodrick
P.S. Today is your LAST DAY to access our free one-hour teleconference, "The Easy and Hassle-Free Way for Reaping Windfall Profits in Foreign Markets." Just call 1-888-348-4629, and when prompted, enter your passcode: 995980, followed by the pound (#) sign. Or if you're overseas, dial 719-884-8882. But if you don't call today, you'll miss it entirely!
This investment news is brought to you by Money and Markets. Money and Markets is a free daily investment newsletter from Martin D. Weiss and Weiss Research analysts offering the latest investing news and financial insights for the stock market, including tips and advice on investing in gold, energy and oil. Dr. Weiss is a leader in the fields of investing, interest rates, financial safety and economic forecasting. To view archives or subscribe, visit http://www.MoneyandMarkets.com
© 2005-2019 http://www.MarketOracle.co.uk - The Market Oracle is a FREE Daily Financial Markets Analysis & Forecasting online publication.
Comments
Susan Soh
28 Aug 10, 02:53
Uranium stocks


My Mega Uranium stocks were bought at $4.20 in my superfund. They have plummeted to around 0.50 so should I just sit on them for years ?

I would greatley appreciate your comments as this was the first time I bought Uranium shares in Australia where I live. Redport was bought out by MGA so I had no call on what would happen.

Kind regards,

Susan Soh.




Only logged in users are allowed to post comments.
Register/ Log in