Stock Market Downtrend Likely Underway
Stock-Markets
/
Stock Markets 2013
Apr 06, 2013 - 06:46 PM GMT


An interesting week to say the least. Despite making new uptrend highs at SPX 1574 on Tuesday, then plunging to 1540 by Friday, many pundits are still guessing the direction of this market medium term. For the week the SPX/DOW were -0.55%, and the NDX/NAZ were -1.50%. Asian markets lost 1.1%, European markets lost 2.1%, and the DJ World index lost 1.3%. On the economic front, despite the disappointing Jobs report, the week ended with positive reports slightly ahead. On the uptick: construction spending, factory orders, auto sales, consumer credit, the monetary base, and both the unemployment rate and trade deficit improved. On the downtick: ISM manufacturing/services, the ADP index, monthly payrolls, the WLEI and weekly jobless claims rose. Next week we get to read the FOMC minutes, and receive reports on retail sales and consumer sentiment.
LONG TERM: bull market
It was an exciting week for the bulls as the SPX came within two points of its Oct07 1576 all time high. The DOW cleared the Oct07 all time high hurdle exactly one month ago friday. This bull market continues to unfold with its own particular set of characteristics. No two bull markets are alike. We have been expecting the typical five Primary waves, during this Cycle wave [1] bull market, to unfold in a continuous series of impulse waves. Primary waves I and II completed in 2011, and Primary wave III has been underway since then. When Primary III concludes, we will still have Primary waves IV and V to go before the bull market concludes in the spring of 2014.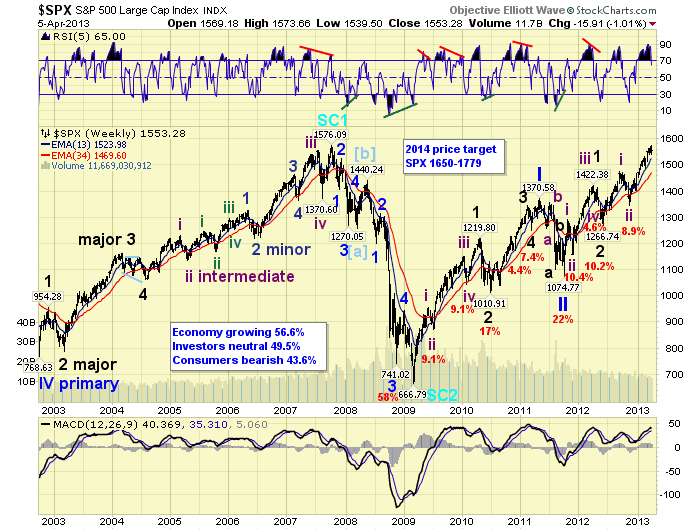 Primary I divided into five Major waves, with a subdividing Major wave 1. Primary III is following a similar path, but both Major waves 1 and 3 are subdividing into five Intermediate waves. Major waves 1 and 2 completed in mid-2012, Major wave 3 has been underway since then. Intermediate waves i and ii completed in late-2012. It currently looks like Intermediate wave iii just completed at SPX 1574, and Intermediate wave iv is underway. After this expected correction concludes an Intermediate wave v uptrend should be next to complete Major wave 3. Then after a Major wave 4 correction, another uptrend should follow to complete Primary III. So if we are indeed in Intermediate wave iv of Major 3, we still have three more uptrends, after this correction, before the bull market concludes.
MEDIUM TERM: downtrend likely underway
The seemingly relentless five month uptrend, Nov12-Apr13, appears to have concluded at SPX 1574. As an Intermediate iii wave uptrend it divided into five Minor waves SPX: 1424-1398-1531-1485-1574. Minor 5 wave (89 pts.) was nearly equal to Minor 1 (81 pts.), while Minor 3 (133 pts.) had a Fibonacci 1.618 relationship to both. Each Minor wave, including that irregular Minute b high, ended with a negative divergence on the daily chart. This was about as classic an Elliott wave advance as one observes in the markets. Also notice the waning MACD momentum during Minor waves 3 and 5.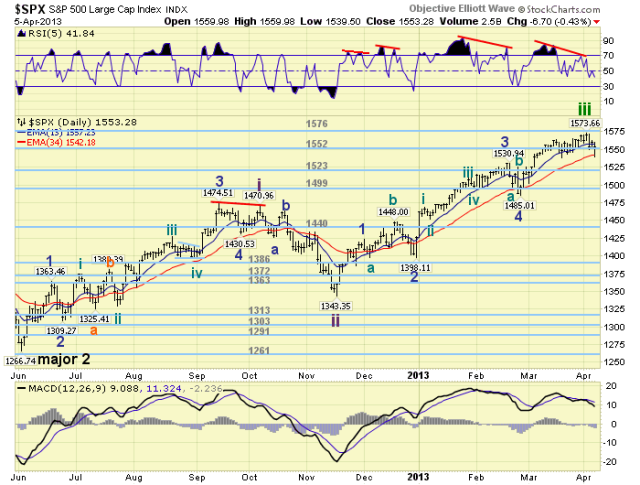 This Intermediate wave iii rose 231 pts. (1343-1574), while Intermediate wave i rose 208 pts. (1267-1475). With Int. iii longer than Int. i, Intermediate wave v, when it begins, can travel any distance the market takes it. Since Intermediate wave ii was a complex zigzag, we would expect Intermediate wave iv to alternate with a flat. This has been the characteristic of this bull market. Also, with Int. iii ending within the OEW 1576 pivot range, we would now expect a three to four week correction back to the 1499 pivot for Int. iv. This represents about a 4.5% correction, another characteristic. Should this unfold as expected. We would then expect Int. wave v to rally to the OEW 1628 pivot range to end Major 3 wave by May/June. Keep in mind the downtrend has not been confirmed by OEW's quantitative analysis yet. But the technicals suggest it is underway.
SHORT TERM
Medium/short term support is at the OEW 1552 and 1523 pivots, with resistance at the 1576 and 1614 pivots. Short term momentum ended the week above neutral after setting up a positive divergence on Friday's open. The short term OEW charts are negative with the reversal level at SPX 1557.
After Minor waves 1, 2, 3, 4 concluded at SPX 1485 we have been tracking the Minor wave 5 advance. We counted four Minute waves SPX: 1523-1501-1564 and 1539, then watched Minute v advance. This advance was quite choppy, with lots of gap openings, and then it revealed itself as a diagonal triangle. The Minor wave 3 advance also ended with a diagonal triangle Minute v. Lots of diagonals during this bull market.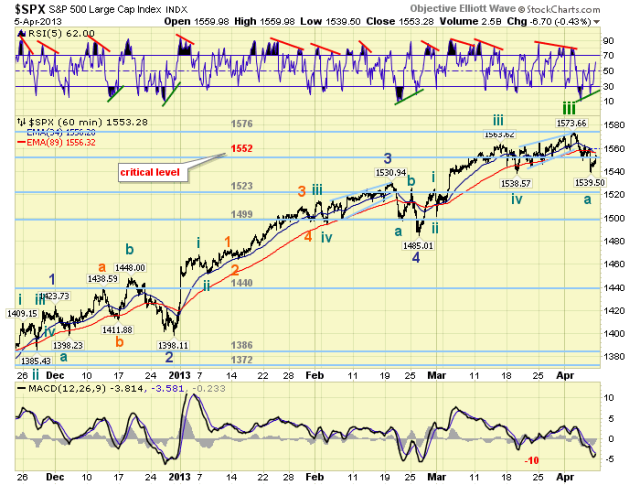 On Tuesday the SPX hit the upper limit of the diagonal at 1574 then started to pullback. On Wednesday the SPX broke below the lower rising trend line suggesting the pattern completed. Then after a retest of that trend line on Thursday, the market gapped down on Friday breaking through the critical support at the OEW 1552 pivot. The sequence down looked like five waves to SPX 1550, a counter rally, then another five waves to 1540 on Friday. We have labeled this decline as Minute wave a of Minor wave A. After the low was hit the market had a good rally to SPX 1555 on Friday. This could be counted as all/part of Minute wave b. We would expect the OEW 1552 pivot range (1545-1559) to hold this advance.
When this rally does end Minute wave c should follow, possibly another zigzag down to the OEW 1499 pivot range to end Minor A. After that we would expect a better than 50% retracement of the entire decline for Minor B. This should then be followed by a retest of the low for Minor C, and the end of Intermediate wave iv. An Intermediate wave v should then advance to the OEW 1628 pivot range over the next month or two. This is only a potential roadmap, let's see what actually occurs. Best to your trading!
FOREIGN MARKETS
The Asian markets were all lower on the week, except for Japan, losing 1.1%. Australia, China, Hong Kong, India and S. Korea are all in downtrends.
The European markets were all lower on the week losing 2.1%. England, France, Germany, Greece, Italy, Spain and the STOX 50 are all in downtrends.
The Commodity equity group were all lower on the week losing 2.9%. All three indices: Brazil, Canada and Russia are in downtrends. This brings the total to 75% of the world indices we track are in downtrends.
The DJ World index has not confirmed a downtrend yet, but lost 1.3% on the week.
COMMODITIES
Bonds prices confirmed an uptrend this week joining the uptrend in yields. Bonds gained 0.8%. Yields could drop as low at 1.55% in the coming weeks.
Crude got close to confirming an uptrend, but is still down trending and lost 4.3% on the week.
Gold is down trending, lost 1.0% on the week, but had a good $25 rally on Friday.
The USD ran into some heavy resistance at Thursday's 83.66 high. With many of the foreign currencies already in uptrends, versus the USD, that high may have been the uptrend top.
NEXT WEEK
Tuesday kicks off the economic week with Wholesale inventories. Wednesday: the Budget deficit and the FOMC minutes. Thursday: weekly Jobless claims and Export/Import prices. Friday: Retail sales, the PPI, Business inventories and Consumer sentiment. As for the FED. We have two speeches by FED chairman Bernanke. One on Monday after the close, and the other on Friday at 12:30. There is also Senate testimony from FED deputy Ashton on Thursday. Best to your spring weekend and week!

CHARTS: http://stockcharts.com/...
http://caldaroew.spaces.live.com
After about 40 years of investing in the markets one learns that the markets are constantly changing, not only in price, but in what drives the markets. In the 1960s, the Nifty Fifty were the leaders of the stock market. In the 1970s, stock selection using Technical Analysis was important, as the market stayed with a trading range for the entire decade. In the 1980s, the market finally broke out of it doldrums, as the DOW broke through 1100 in 1982, and launched the greatest bull market on record.
Sharing is an important aspect of a life. Over 100 people have joined our group, from all walks of life, covering twenty three countries across the globe. It's been the most fun I have ever had in the market. Sharing uncommon knowledge, with investors. In hope of aiding them in finding their financial independence.
Copyright © 2013 Tony Caldaro - All Rights Reserved Disclaimer: The above is a matter of opinion provided for general information purposes only and is not intended as investment advice. Information and analysis above are derived from sources and utilising methods believed to be reliable, but we cannot accept responsibility for any losses you may incur as a result of this analysis. Individuals should consult with their personal financial advisors.
© 2005-2019 http://www.MarketOracle.co.uk - The Market Oracle is a FREE Daily Financial Markets Analysis & Forecasting online publication.

Only logged in users are allowed to post comments.
Register/ Log in