Riding A Copper Commodity Horse
Commodities
/
Copper
May 25, 2013 - 02:49 AM GMT


My last article, 'Give It A Doubt' was about population growth, urbanization in developing countries and the one billion people predicted to join the consuming classes by 2025.
"One billion people will enter the global consuming class by 2025. They will have incomes high enough to classify them as significant consumers of goods and services..." McKinsey Global Institute, Urban world: Cities and the rise of the consuming class
Some of these new consumers are going to be Americans but the majority are in developing countries, they might not want to be Americans but they do want at least a modest piece of what we'll call the American lifestyle, the cell phones, flat screen TV's, a nicer apartment, a car or maybe a motorcycle, washer/dryer, a fridge, AC - the amenities of a modern society and all the necessary infrastructure that goes with a well functioning competitive modern economy.
But what if all these new one billion consumers were to start consuming, over the next 12 years, just like an American? What's going to happen to the world's mineral resources if one billion more 'Americans' are added to the consuming class? Here's what each of them would need to consume, per year, to live the American lifestyle...
In 2010, more than 38,000 pounds (19 tons) of minerals and fuels were needed per person to maintain the American lifestyle.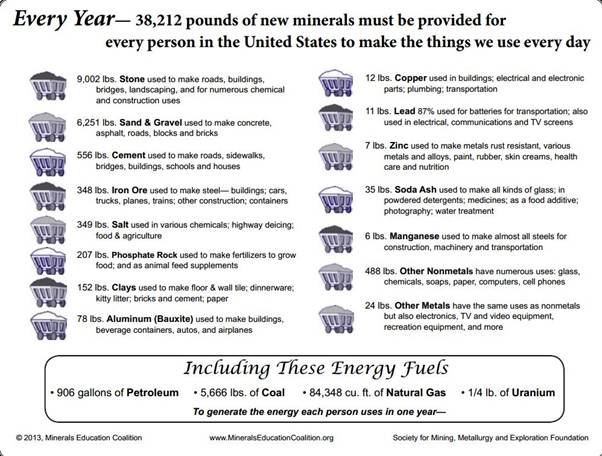 Out of the 38,000 total pounds needed, 21,675 pounds were energy fuels - the coal, petroleum, natural gas, uranium - required for transportation and to heat, cool and light homes and businesses.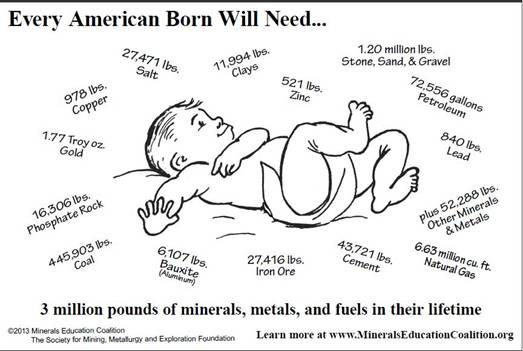 One billion new consumers by 2025. Can everyone who wants to, live an American lifestyle? Can everyone everywhere else have everything we in North America have?
The answer is a resounding NO!
"The data also show that nations such as South Africa and China will need to increase their average urban per-capita copper stock-in-use by seven or eight times to achieve the same level of services as the developed countries if they use existing technology.
Is there enough copper to meet this potential requirement?
Concern about the extent of mineral resources arises when the stock of metal needed to provide the services enjoyed by the highly developed nations is compared with that needed to provide comparable services with existing technology to a large part of the world's population. Our stock data demonstrate that current technologies would require the entire copper and zinc ore resource in the lithosphere and perhaps that of platinum as well. Even a lower level of services could not be sustained worldwide because a continuing supply of new metal is needed to make up for inevitable losses in the recycling of the metal stock-in-use.
Substitution has the potential to ameliorate this situation, but one should not automatically assume that technology will produce a satisfactory substitute for every service at an affordable price and precisely when needed.
...anthropogenic and lithospheric stocks of at least some metals are becoming equivalent in magnitude, that world-wide demand continues to increase, and that the virgin stocks of several metals appear inadequate to sustain the modern ''developed world'' quality of life for all Earth's peoples under contemporary technology...Do we really envision a developed world quality of life for all of the people of the planet...?" R. B. Gordon, M. Bertram, and T. E. Graedel, Metal Stocks and Sustainability
Copper ETF
The U.S. Securities Exchange Commission (SEC) approved the first copper exchange traded funds (ETF) to actually hold the physical metal. J.P. Morgan and Blackrock received approval to each start copper ETF's that will allow speculators to buy and hold copper in warehouses - up to 183,000 tons - the more shares investors buy, the more copper is taken off the market.
JPMorgan's fund would store LME copper valued at up to $499,761,150. BlackRock's iShares Copper Trust - Goldman Sachs owns the warehousing company Metro BlackRock intends to use to store its copper - would use up to 121,200 tonnes of copper as guarantee against shares in its fund.
As of writing the two funds would equate to 30 percent of current copper stocks in LME-bonded warehouses.
Credit Suisse/Glencore, Deutsche Bank and Citigroup are also looking at physical copper ETFs. Goldman Sachs signed a copper off-take agreement with Spanish miner Emed in 2012.
"ETFs...can immediately take metal out of the market, potentially leading to physical scarcity. If investment in ETFs proves to be highly responsive to news, such as an earthquake in Chile for example, a relatively modest supply disruption could turn into a much larger one, directly impacting on the ability of consumers to buy the red metal." Bloomsbury Minerals Economics' Copper Briefing Service
Future Production
Some of the major copper projects either going into production or continuing to ramp up are:
Buenavista, Mexico
Antapaccay, Peru
Los Bronces, Caserones and Esperanza, Chile
Salobo, Brazil
Konkola Deep, Zambia
Morenci, U.S.
KOV and Tenke Fungurume, Democratic Republic of Congo (DRC)
Oyu Tolgoi, Mongolia
Two of the world's largest existing mines - Escondida in Chile and Grasberg in Indonesia - should start seeing higher output again.
In April of 2013 the Chilean Copper Commission (Chile is the world's largest producer of copper) predicted global demand for copper will rise by 1.4 percent this year to 20.829 million mt. Global mine production will rise 3 percent to 17.526 million mt to create an estimated world surplus of 68,000 mt, rising to 89,000 mt in 2014.
There are many reasons to be bullish on copper
Global surpluses of 68,000 mt in 2013 and 89,000 mt in 2014, are, in the world of copper supply, fairly tight conditions. Perhaps even more significant, no one is calling for much in the way of a price decrease.
Why are analysts not calling for much of a price decrease? Well, many mines do not come online on time and the disruption rate, the amount of promised copper that fails to materialize is now as high as 8 percent - operating mines can suffer production stoppages/slowdowns or move into lower grade ore.
A long term structural trend became evident in the industry in 2012 - shortfalls in targeted production were characterized by a fall in grades and recoveries rather than unexpected disruptions.
Chile produces a third of the world's copper and has seen a seven fold increase in energy costs over the last ten years, also because of a severe water shortage in the high desert, where most of the country's major copper mines are located, water must be pumped from the ocean to almost 800 meters above sea level and then pumped hundreds of kilometers to the mines, of course the seawater must also be desalinated.
CRU estimates Chile's copper production costs have risen 60 percent over the last seven years compared to a world average of 30 percent. Chile's state copper giant, Codelco, has seen a 57 percent cash cost increase between 2010 and 2012.
Chinese end demand is growing and consumer destocking has ended.
Many of the world's largest mining companies have delayed or outright halted expansion plans - BHP Billiton, the world's largest miner, has said it will not spend the $80 billion slated for expansion by 2015.
There is a lack of good substitutes, plastic piping replaces copper piping but this has been going on for years, aluminum can replace copper in electrical cables but more is necessary for the same effect and connections are poor which can cause fires, this has lead to municipal building codes actually banning aluminum from being used for residential wiring.
There has been a recent surge in warehoused copper stocks, the increases reflect incentives offered to store metal in those locations. Glencore owned Pacorini has been offering incentives of more than $100 to deliver copper to their warehouses. These incentives have drawn usually unseen stocks into the public's eye perhaps distorting impressions.
Perhaps the biggest reason to get bullish on copper are the massive costs and risks involved in finding and opening new mines in often geo-political risky countries where a miners social license to operate is shaky at best.
Copper prices need to be significantly above marginal cost, in other words, prices need to stay high enough to provide miners with an adequate return on their investment for building today's much more expensive and riskier new mines. There is also a significant additional cost in keeping production constant year over year.
If copper does not stay well above miners marginal costs the much needed new mines will not be build.
Conclusion
Global growth is on the path for continued improvement in 2013 - metal consumption will expand. Excess copper stocks are being taken up by traders, warehousing companies and soon ETF's.
Copper, one billion new consumers, over 800 million people to be born between now and 2025 and a massive current, and future, infrastructure deficit should all be on our radar screens.
Is an investment opportunity in copper on your radar screen?
If not, maybe one should be.
By Richard (Rick) Mills
If you're interested in learning more about the junior resource and bio-med sectors please come and visit us at www.aheadoftheherd.com

Site membership is free. No credit card or personal information is asked for.
Richard is host of Aheadoftheherd.com and invests in the junior resource sector.

His articles have been published on over 400 websites, including: Wall Street Journal, Market Oracle, USAToday, National Post, Stockhouse, Lewrockwell, Pinnacledigest, Uranium Miner, Beforeitsnews, SeekingAlpha, MontrealGazette, Casey Research, 24hgold, Vancouver Sun, CBSnews, SilverBearCafe, Infomine, Huffington Post, Mineweb, 321Gold, Kitco, Gold-Eagle, The Gold/Energy Reports, Calgary Herald, Resource Investor, Mining.com, Forbes, FNArena, Uraniumseek, Financial Sense, Goldseek, Dallasnews, Vantagewire, Resourceclips and the Association of Mining Analysts.
Copyright © 2013 Richard (Rick) Mills - All Rights Reserved
Legal Notice / Disclaimer: This document is not and should not be construed as an offer to sell or the solicitation of an offer to purchase or subscribe for any investment. Richard Mills has based this document on information obtained from sources he believes to be reliable but which has not been independently verified; Richard Mills makes no guarantee, representation or warranty and accepts no responsibility or liability as to its accuracy or completeness. Expressions of opinion are those of Richard Mills only and are subject to change without notice. Richard Mills assumes no warranty, liability or guarantee for the current relevance, correctness or completeness of any information provided within this Report and will not be held liable for the consequence of reliance upon any opinion or statement contained herein or any omission. Furthermore, I, Richard Mills, assume no liability for any direct or indirect loss or damage or, in particular, for lost profit, which you may incur as a result of the use and existence of the information provided within this Report.
© 2005-2019 http://www.MarketOracle.co.uk - The Market Oracle is a FREE Daily Financial Markets Analysis & Forecasting online publication.

Only logged in users are allowed to post comments.
Register/ Log in