Follow the Money - Sell Google Buy Hogs
Commodities
/
Livestock
Jun 06, 2013 - 04:18 PM GMT


Does management of Shuanghui International Holdings understand the future better than most? Or maybe, the Street and its army of overpaid analysts and gurus never understand the future. Whatever the actual situation, the best course for investors may be to simply follow the money.
For those that missed it because their news media was cluttered with trivial reports on tech stocks and silly glasses, Shuanghui of China is buying Smithfield Foods(SFD) for almost $4.8 billion. They are not buying GOOG, ZNGA, FB, LNKD, or any of the other nonsense being promoted by the Street. SFD raises hogs and produces pork. What might the Street be missing? Could it be that one can eat a hog while one cannot eat a tweet?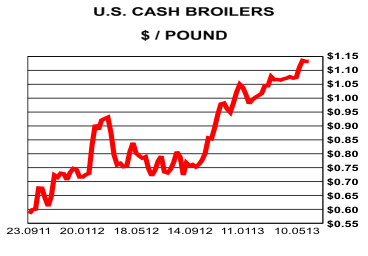 Little wonder the Chinese economy is performing far better than the U.S. and the EU. In that nation entrepreneurs like Wan Long of Shuanghui are investing in real assets that will help feed 1.3+ billion people in the decades ahead. In the U.S., billions of dollars are being squandered on trivia that will send silly messages and pictures on a phone. China will eat while the U.S. will have google glasses.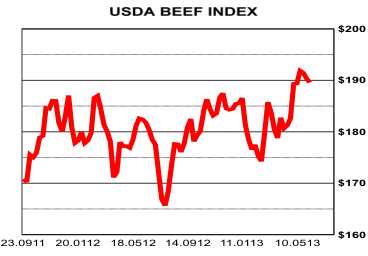 Animal protein from hogs, chickens, and beef are an essential part of the human diet. As consumer incomes rise, as they are in China and the developing nations, the demand for animal protein rises faster. How China satisfies that demand is an important question, the answer to which may be quite rewarding to investors.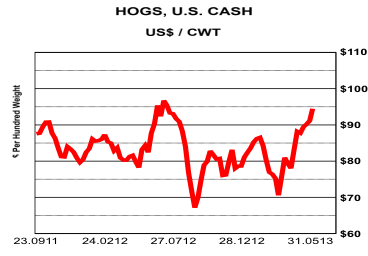 As the charts on the previous page show, the price of both broilers, table chicken, and beef have moved to new 90-week highs. In the chart to the right, U.S. hog prices are near to such a high. Clearly, the markets for animal proteins have tightened. Given the long-term shortage of Agri-Grains, higher animal protein prices, in an irregular fashion naturally, over time should be expected.
Shuanghui clearly understands the fundamentals of feeding China, while most Western economists and investment gurus do not. To produce a pound of pork requires about six(6) pounds of grain. 700 gallons of water are consumed in the production of a pound of pork. So, which is easier, importing six pounds of grain, 700 gallons of water, or one(1) pound of pork? On which would you prefer to pay the postage?
Shuanghui with the Smithfield purchase is acquiring a global conduit of pork production, breeding knowledge, a legacy of safe pork, and brand names that will facilitate sales of pork in China. So, we ask a very simple question. In which should one should you put money, an entity like SFD that cannot be replicated at any price today or silly techno-glasses? If you arrive at the right answer for that question, then AgriMoney should be the next stop in your investment search.
By Ned W Schmidt CFA, CEBS
AGRI-FOOD THOUGHTS is from Ned W. Schmidt,CFA,CEBS, publisher of The Agri-Food Value View, a monthly exploration of the Agri-Food grand cycle being created by China, India, and Eco-energy. To contract Ned or to learn more, use this link: www.agrifoodvalueview.com.
Copyright © 2012 Ned W. Schmidt - All Rights Reserved
© 2005-2019 http://www.MarketOracle.co.uk - The Market Oracle is a FREE Daily Financial Markets Analysis & Forecasting online publication.

Only logged in users are allowed to post comments.
Register/ Log in