Stock Market Correction Continues
Stock-Markets
/
Stock Markets 2013
Jun 15, 2013 - 05:20 PM GMT


Another choppy week in the US as foreign markets continue to confirm downtrends. For the week the SPX/DOW were -1.10%, the NDX/NAZ were -1.45%, and the DJ World index dropped 0.60%. On the economic front positive reports continue to outpace negatives ones. On the uptick: wholesale/business inventories, retail sales, the PPI, the WLEI and the monetary base, plus both weekly jobless claims and the current account deficit improved. On the downtick: export/import prices, consumer sentiment and the budget deficit worsened. Next week we have the FOMC meeting, housing reports and leading indicators.
LONG TERM: bull market
For the past three and one half weeks this market has been in a choppy downward slope while failing to make a new bull market high. This is the longest stretch, without a new uptrend high, since the Nov12-May13 uptrend began. While the market has pulled back only 5.2% during this period. It still appears to be in correction mode.
Longer term nothing has changed. We are still counting this four year bull market as Cycle wave [1]. Cycle wave bull markets unfold in five Primary waves. Primary waves I and II completed in 2011, and Primary III has been underway since then. Primary I divided into five Major waves, with a subdividing Major wave 1. Primary III is dividing into five Major waves, but both Major waves 1 and 3 are subdividing into five Intermediate waves. Major waves 1 and 2, of Primary III, ended by mid-2012, and Major wave 3 has been underway since then. Intermediate waves i and ii, of Major 3, ended by late-2012. Intermediate wave iii appears to have ended in May13, and Intermediate wave iv should be currently underway.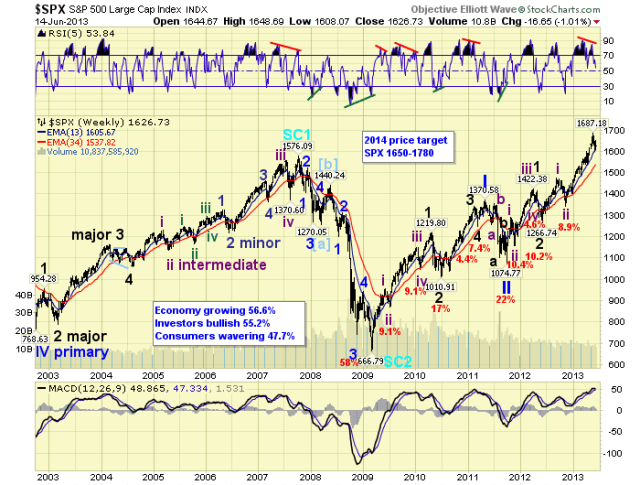 After Intermediate wave iv concludes, an uptrending Intermediate v should complete Major 3. Then after a Major 4 correction, an uptrending Major 5 should complete Primary III. Finally, after a Primary IV correction, an uptrending Primary V should complete the bull market. Thus far we continue to project a completion to the bull market by late-winter early-spring of 2014.
MEDIUM TERM: downtrend probable
We tracked the six month November-May uptrend, as Intermediate wave iii divided into five Minor waves, with subdivisions in Minor waves 3 and 5. It was a seemingly relentless uptrend, as every potential turning point just created another extension. Nevertheless, it has been more than three weeks since the market has made a new high, while prices have drifted lower.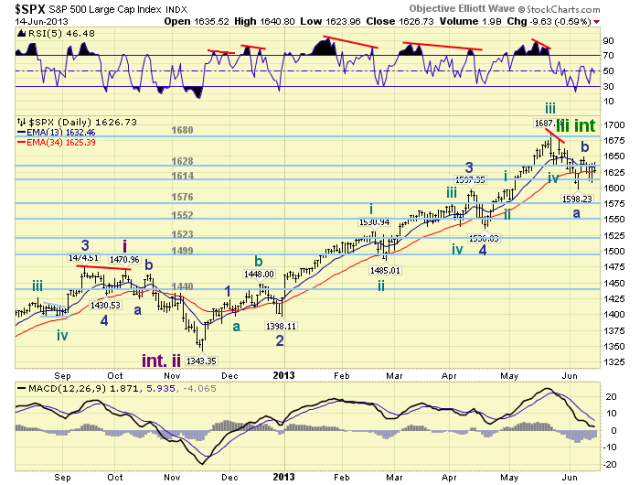 At this point we can not state with absolute certainty that Intermediate wave iv is underway. Simply because this is not subjective Elliott wave, but objective Elliott wave. OEW quantifies the waves as they unfold. And, OEW has not confirmed the downtrend yet. Nevertheless, we have been counting the SPX 1687/1674 highs as the end of Intermediate wave iii. Intermediate wave iv should unfold in three Minor waves: ABC. We have labeled last weeks low at SPX 1598 as the end of Minor wave A. Then the rally to SPX 1649 as the end of Minor wave B. Minor wave C should currently be underway. Minor A appears to have declined in a double zigzag, and naturally Minor C should do the same.
Our target for Intermediate wave iv remains SPX 1536-1540. This is where several fourth waves concluded during the Int. iii uptrend. Since this small range falls in between two OEW pivots, we expanded Int. iv support to between the 1523 and 1552 pivots. The 1552 pivot also represents a 38.2% retracement of the entire uptrend. So this is probably the most likely support area. Medium term support is at the 1614 and 1576 pivots, with resistance at the 1628 and 1680 pivots.
SHORT TERM
Short term support is at the 1614 pivot and SPX 1593-1598, with resistance at the 1628 pivot and SPX 1636-1640. Short term momentum declined below neutral after hitting quite overbought on Friday. The short term OEW charts are negative with the reversal level now SPX 1630.
This correction has been quite choppy and a bit difficult to decipher. The DOW, for example, has swung triple digits nearly every day as the bulls and bears battle it out. After a complete review of the SPX/DOW charts we feel we have identified the operative pattern.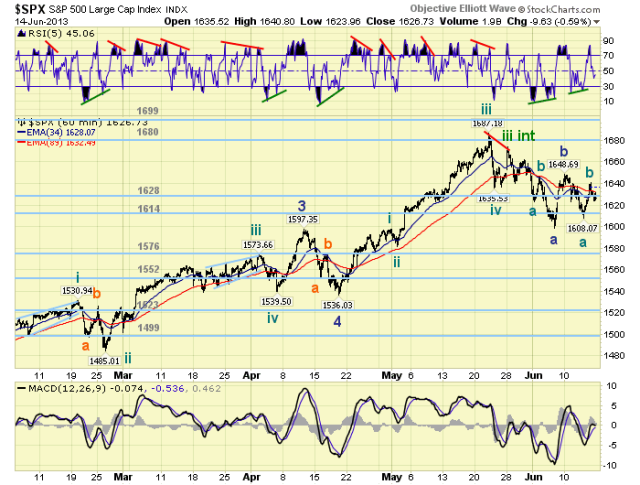 Minor A unfolded in a double zigzag SPX 1674: 1623-1647-1598. Notice both zigzags were about 50 points. For the DOW, both zigzags were about 400 points. Minor B was a sharp rally from SPX 1598-1649/48 which appeared to have ended in a diagonal triangle. Minor C, thus far has declined in a zigzag from SPX 1649/48-1608, or about 40 points. This was followed by quite a sharp rally to SPX 1641 on Friday. The market should now be embarking on its second zigzag of Minor C.
Another 40 point decline would put the SPX back to 1598, for a double bottom flat. An 80 point decline would put the SPX in the OEW 1552 pivot range. Both patterns could work to end the correction. An alternate count, being carried on the DOW charts, suggests Minor B is still underway and a retest of SPX 1648/49 is next. Early next week should give us the answer to these two counts. Best to your trading!
FOREIGN MARKETS
The Asian markets were mostly lower on the week for a net loss of 1.3%. All eight indices we track are in confirmed downtrends.
The European markets were all lower on the week for a net loss of 2.4%. Only Germany has yet to confirm a downtrend.
The Commodity equity group were all lower for the week for a net loss of 2.6%. All the indices we track are in confirmed downtrends.
The DJ World index is downtrending and lost 0.6% on the week, and 90% of the international indices we track are in confirmed downtrends.
COMMODITIES
Bonds continue to downtrend losing 0.3% on the week.
Gold remains in a weak uptrend gaining 0.3% on the week.
Crude continues to uptrend and gained 1.5% on the week.
The USD is still downtrending and lost 1.2% on the week.
NEXT WEEK
Monday kicks off FOMC/OPEX week with the NY FED at 8:30, then the NAHB at 10:00. Tuesday: the CPI, Housing starts and Building permits. Wednesday: the FED concludes its meeting with a statement. Thursday: weekly Jobless claims, Existing homes sales, the Philly FED, and Leading indicators. On Friday Options expiration. Best to your weekend and week!
CHARTS: http://stockcharts.com/...
http://caldaroew.spaces.live.com
After about 40 years of investing in the markets one learns that the markets are constantly changing, not only in price, but in what drives the markets. In the 1960s, the Nifty Fifty were the leaders of the stock market. In the 1970s, stock selection using Technical Analysis was important, as the market stayed with a trading range for the entire decade. In the 1980s, the market finally broke out of it doldrums, as the DOW broke through 1100 in 1982, and launched the greatest bull market on record.
Sharing is an important aspect of a life. Over 100 people have joined our group, from all walks of life, covering twenty three countries across the globe. It's been the most fun I have ever had in the market. Sharing uncommon knowledge, with investors. In hope of aiding them in finding their financial independence.
Copyright © 2013 Tony Caldaro - All Rights Reserved Disclaimer: The above is a matter of opinion provided for general information purposes only and is not intended as investment advice. Information and analysis above are derived from sources and utilising methods believed to be reliable, but we cannot accept responsibility for any losses you may incur as a result of this analysis. Individuals should consult with their personal financial advisors.
© 2005-2019 http://www.MarketOracle.co.uk - The Market Oracle is a FREE Daily Financial Markets Analysis & Forecasting online publication.

Only logged in users are allowed to post comments.
Register/ Log in