US - UK Digital Totalitarianism. What is to be Done?
Politics
/
US Politics
Jun 26, 2013 - 03:35 PM GMT


All past warnings about NSA and GCHQ are now confirmed. It is a crisis of American and British democracies. A political columnist writing about an earlier AP spy scandal warned: "Anyone who speaks to the media about any matter has to assume that their phone numbers and contact information have been or could be made available to the government by secret court order."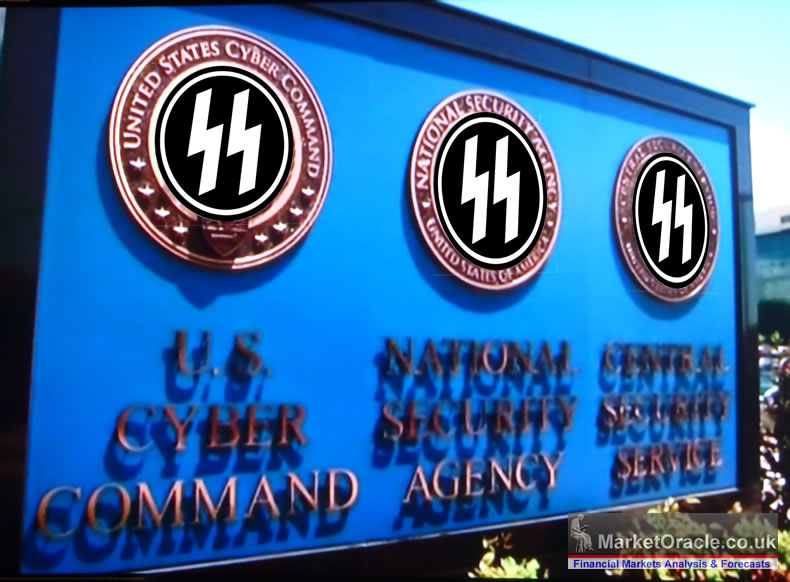 He is correct, of course, and in light of revelations made by Edward Snowden, his warning extends to every bit and byte of communication made by anyone using any and all devices connected to the digital network. It also extends beyond government to the private sector that maintains the very data exploited by government. It has become a seamless digital totalitarianism where divisions between public and private sectors are blurred; where dictatorship (and possibly fascism) can be rapidly installed, to paraphrase William Blake, by digitally-forged manacles inculcated in the population.
What is to be done? What can be done? The time for warning about the mushrooming police-military state in America has faded: the "people" only have yawned and their yawning over the past twelve years has helped build the police-state, the security-state, the fear-state, the paranoid-state, the war-state, the martial-law state, the terrorizing-state, the totalitarian-state, a near fascist-state in America. They must now wake-up on their own. America's present and future crucible starts there.
If financial and military despots are running America, their rise to power did not occur in darkness. Information was made available to "We, the people"; Congressional members and Presidents were informed; news organs periodically reported on the developing surveillance state; President Obama's drone and assassination programs were publicized but quickly dismissed; notwithstanding public revelations by Wikileaks et. al., bestial and criminal wars continued to be conducted against whole nations and regions in the name of every American who, in the absence of complaining, rubber-stamped them; Mr. Obama continues to be seen by his constituents as the same man cheered in 2008 at Grant Park; responsible investigative web writers saturated the internet for years with ominous information - later confirmed - intending to sound every alarm in the nation. The fire engines never came.
They give a damn in America about taxes, Hollywood scandals, sports, iPhones and Facebook pages. Bradley Manning, the "traitor", has only betrayed America's falsehoods and lies. Edward Snowden has only opened the eyes of the world to America's falsehoods, lies and grand designs for cyber hegemony. Truth too often is crucified in America as Thetford-born Tom Paine discovered at the end of his days in 1809. If today were April 18, 1775, Paul Revere would find himself arrested, carted to Boston Common and hanged (with Sarah Palin leading a mob yelling "traitor").
America: When you fully realize the extent of despotism that is enveloping your country, you will blame the Left, the Right, the Socialists, the Birchers, the financial elite, the politicians, the media and the Generals.
But, in a democracy, YOU have the responsibility.
What is to be done?
Espionage conducted by the corporate-government state extends from the internet and includes any device connected to the digital network, including UPC labels to credit/debit cards to RFID embedded passports to windshield bar codes read by scanners at toll booths, etc. The digital sea is a seamless and totalitarian one ("Scan Me"). Something once dropped into the sea is forever within the sea, wherever she may take it.
Total privacy, therefore, is impossible even after pulling all plugs (dial-up, broadband, cell, smart phone, tablet, cloud, GPS, Kindle, IPv6 device, etc.) that transmit information about you to the "Network". Minimalization is possible and is more than highly recommended.
The future will further embrace the new cyber technologies and culture for the simple reason that young people (those under 30) are "wired". For example, an entire generation of Chinese young people were made angry at and alienated further from America, reported an official China news source, over news that NSA had hacked into the lives of every person living there. The Chinese, young and old, didn't yawn, nor did the rest of the world.
The development of artificial intelligence is no more a question but a fear. If the secrets of NSA can be revealed, can Google's also? If so, what will be discovered? An artificial master mind building an artificial master race to control the human race?
Worship of technology in the young can lead to strong relationships with digital devices rather than with other human beings. It can substitute face-to-face relations with "interface relations" - communicating through a device. It can produce dependency. It can blur and confuse existing realities and create ones that are purely virtual but taken as real. The forthcoming touch generation of computers and devices will produce a decline in literacy, I predict, and an increase of alienation.
If one cannot learn how to unplug today, one will become an extension of the Network tomorrow. This is dangerous.
What can anyone do, is the question? Few do anything except take note. As a retired person, no longer in business and born with a strong steak of independence, an answer repeatedly surfaced for me, yet it wasn't one I wished to follow: "PULL THE PLUG".
Because one can no more evade surveillance and potential self-incrimination in the digital world than a fish can evade water, I pulled the digital plug on the second of May. No more broadband internet, no dial-up, no cell, no digital TV, no smart phone, no Kindle, no GPS, no anything connected to the "Network". (I'm sending this article through a public hotspot).
The onerous dangers of the digital Skinner box for bringing corporate-government totalitarian control of the population are becoming too pronounced to easily or conveniently circumvent. But you CAN decline further "conditioning". You can decline to be "mind scanned". You CAN decline to remain a rat within its box. And, unlike a fish, you CAN jump out of the water and survive.
Few will.
* * *
Potpourri (about the future):
Re-develop your perspective of living outside the digital virtual world.
Consult nature.
Sensitize yourself.
Re-discover your intuition and original mind.
If you seem like an alien amongst sleepers it is because your perspective is either from the distant past or from the world following this one. Our present paradigm is collapsing. Let it collapse! Don't let it collapse you; you must survive to assist in building a new paradigm as it emerges in the later years of this decade.
When the consciousness of the masses is ready to advance a step, you will know it. This is some time away. For now, during a limbo period between one door closing and another opening great patience is required and mental/emotional survival skills are necessary.
There is no stopping the rotation of the planets and no stopping the radical global shifts which lie ahead. Those who try to alter or change or defeat them only defeat and harm themselves. Accept any radical and tumultuous changes you experience. Now is a period of thunderstorms preceding what will seem a long deluge. Psychological preparation is in order (self-discipline, "mind control").
Wars, wars and more wars. Wars at home. Wars with the world. American arrogance, violence, conceit and lawlessness will not be victorious (what evil exists in America will NOT triumph). Do not pay the price for the actions of others or be coerced into paying the price. Do not interfere with the laws of sowing and reaping that now are becoming manifest and visible. The time ahead is when truths long buried are revealed; lies are uncovered; illusions are dissolved. This is why it will be very painful for some and liberating for others.
If it is necessary to be less visible in your affairs, the process is thusly: Once you come off the stage of the theatre, you become a member of the audience taking a front row seat. Eventually, you change and take a back row seat in the theatre. For some, you leave the theatre entirely.
I believe, in less than half a generation, there will be a "new" America, a better America. At that time, she will no longer be a financial or military hegemon. But she will bring to the world a higher plane because she will ascend from being the most materialistic nation in history to one that will usher in the next "evolutionary leap", one that will not and cannot be measured in materialistic terms!

But, as the world watches and maneuvers, she first must go through the fires
(c) 2013 Michael T Bucci. All Rights reserved.
(Note: responses to emails might be delayed or not met.)
Michael T Bucci is a retired public relations executive from New Jersey presently residing in New England. His essays have appeared at The Market Oracle (UK). He is the author of nine books on practical spirituality including White Book: Cerithous.
By Michael T Bucci
Contact: mbucci@michaelbucci.com
Michael T Bucci is a retired public relations executive from New Jersey presently residing in New England. His essays have appeared at The Market Oracle. He is the author of nine books on practical spirituality including White Book: Cerithous.
© 2013 Copyright Michael T Bucci - All Rights Reserved Disclaimer: The above is a matter of opinion provided for general information purposes only and is not intended as investment advice. Information and analysis above are derived from sources and utilising methods believed to be reliable, but we cannot accept responsibility for any losses you may incur as a result of this analysis. Individuals should consult with their personal financial advisors.
© 2005-2019 http://www.MarketOracle.co.uk - The Market Oracle is a FREE Daily Financial Markets Analysis & Forecasting online publication.

Only logged in users are allowed to post comments.
Register/ Log in