Forbidden Thoughts on the 4th of July
Politics
/
US Politics
Jul 04, 2013 - 05:52 AM GMT


Every nation celebrates its founding day. Ours is the Fourth of July.
Canadians will not be celebrating the Fourth of July. This may have something to do with the fact that in December 1775, the United States of America, which did not actually exist yet, sent two invading armies into Quebec, which was French Canada, in the hope that they could persuade the French to secede. George Washington thought this was a good idea. It made perfect sense politically, because the American Revolution grew out of the taxes imposed by the British government to pay for the debts it had incurred during the French and Indian War, which had led to the surrender of Quebec to the British by the French government in 1763. That war was started by George Washington in 1754 at the Battle of Jumonville Glen.
The invasion was a failure. It was led by Benedict Arnold. Anyway, half of it was. His half was a strategic disaster.
Americans regard Benedict Arnold as a traitor. So do Canadians. Americans see him as a traitor because he switched sides. So do Canadians.
This is why the Fourth of July is not a holiday in Canada. It is merely July 4.
The Fourth of July was all about war and secession. It is all about avoiding tyranny at the hands of the British. You know. The way Canada suffered.
FALL-BACK CITIZENSHIP
If you have ever thought that there might come a day when you would leave the United States permanently, because of the loss of liberty here, have you given any thought to what country you would flee to?
For most American would-be expatriates, the list is short. First, most Americans want to go to some country where English is the primary language. Second, the ones who have given more thought to these matters want to live in a country in which there is a strong common-law position. Third, they want to live in a country where there is considerable education. Fourth, they want to live in a country that has economic opportunities.
They do not normally think of the Isle of Man.
Most of them think of Canada. They might go to Australia or New Zealand, but those nations are far away. A move to Canada would seem to be a lot less disruptive.
When Americans think of Canada, they think of the welfare state. That is because of the Canadian system of medicine. But with Obamacare looming, there seems to be no particular reason for choosing the United States rather than Canada as your place of primary medical care. Certainly, the distinctions between the two systems are growing vague.
Some taxes are higher in Canada; some taxes are lower. Canadians have this enormous advantage: if they live outside of the geographical confines of Canada, and they earn their income from outside Canada, they pay the Canadian government no income tax on this money. If they live in the Bahamas, they pay no income taxes.
The weather is cold in most of Canada, but you could always live in Vancouver, British Columbia. I used to live right across the border from Canada in northwest Washington State. The weather was great. Back then, real estate was relatively inexpensive on both sides of the border. Those were the good old days. In terms of climate, the border area of British Columbia is terrific. You do not get frozen in the winter, and you do not get broiled in the summer. Humidity is low.
The languages are almost identical, except for "eh?" and "aboot." The legal systems are similar. They are both common-law systems.
Canadian bankers were smart enough not to get involved into the subprime lending nonsense. Their banks are much more stable than American banks.
The border between Canada and the United States is the longest border shared by two nations. Border security is minimal in some areas. For a motorcycle ride down the road dividing the two nations -- no fences, one marker -- watch this.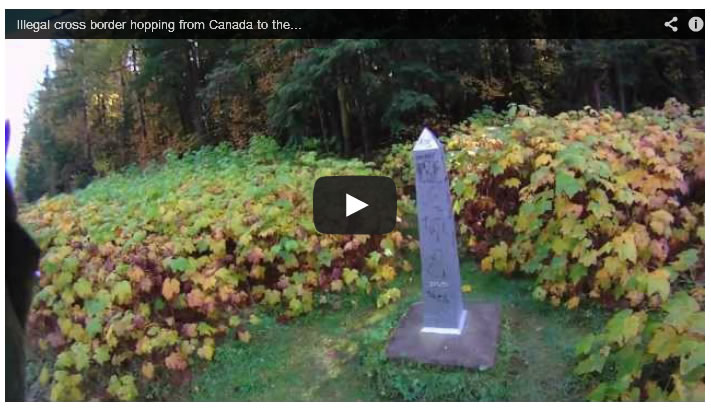 There is no problem with the northern border with illegal aliens trying to get into the United States. There is a reason for this.
Canada has never had hyperinflation. The United States has: the American Revolution.
Canada has never had a Civil War.
Canada once had a Prime Minister who had started out as an agent of the Rockefellers: Mackenzie King. But, when it comes to national leaders who were agents of large banking interests, the United States certainly has had its share.
So, when you think about the Fourth of July, think about Benedict Arnold. The man was a traitor. The question is: to whom? I mean, mainly to whom? To whom first?
CONCLUSION
I will celebrate the Fourth of July today as I usually do. I will watch Jimmy Cagney playing George M. Cohan in Yankee Doodle Dandy. I will do my best not to sing along with Over There. This will not be easy. It never is. I grew up with Cohan songs. My father was a huge fan. My father thanked him. My mother thanked him. And I thank him. Just not for Over There.
I may go out with my grandsons to see a display of local tax expenditures high in the sky. As far as tax expenditures go, fireworks are among my favorites. They provide entertainment, they only take place once a year, and nobody gets hurt. When you are dealing with the state, that is about as good as it gets.
Gary North [send him mail ] is the author of Mises on Money . Visit http://www.garynorth.com . He is also the author of a free 20-volume series, An Economic Commentary on the Bible .
© 2012 Copyright Gary North / LewRockwell.com - All Rights Reserved
Disclaimer: The above is a matter of opinion provided for general information purposes only and is not intended as investment advice. Information and analysis above are derived from sources and utilising methods believed to be reliable, but we cannot accept responsibility for any losses you may incur as a result of this analysis. Individuals should consult with their personal financial advisors.
© 2005-2019 http://www.MarketOracle.co.uk - The Market Oracle is a FREE Daily Financial Markets Analysis & Forecasting online publication.

Only logged in users are allowed to post comments.
Register/ Log in