Cyprus - The Time of Maximum Pessimism Is the Best Time to Buy
Companies
/
Investing 2014
Mar 05, 2014 - 06:36 PM GMT

By Nick Giambruno
"The time of maximum pessimism is the best time to buy, and the time of maximum optimism is the best time to sell."—Sir John Templeton
As you may have heard, Doug Casey and I traveled to Cyprus in search of crisis-driven bargains… and we found them. This has been previously outlined in the articles here and in our specific investment picks in Crisis Investing in Cyprus.
Speaking of those picks, we outlined eight companies on the Cyprus Stock Exchange that we thought were fundamentally sound, but unjustly beaten down by the crisis. And thus far they have performed exactly as we thought they would.
The eight stocks that Doug and I identified are all up since the publication of Crisis Investing in Cyprus. Two of them have more than doubled, including one that's up 335%i.
While those returns are nothing to bat an eye at, we believe there is still a lot more room for upside, and that it's not too late to get in.
The top three catalysts for an economic recovery are still at the very earliest stages of being played out. And if the returns to date on our picks are any indication, we expect them to go much higher once these catalysts are fully under way.
Additionally, for the vast majority of people, there is still an aura of "maximum pessimism" surrounding Cyprus, which is what makes it an excellent contrarian investment. However, it's clear this sentiment—and the current buying opportunity—won't last forever.
Here are the three main catalysts to watch for.
Catalyst #1 Elimination of Capital Controls
Cyprus was the first eurozone country to implement official capital controls (but probably not the last). The restrictions put in place during the crisis are still there, though they are being gradually eased.
The first step toward the relaxation of capital controls occurred last week, and it's possible that they will be fully lifted later this year. While it remains to be seen whether that will actually happen, there has been tangible progress in that direction.
Additionally, Cyprus has been meeting and exceeding its benchmarks set by the Troika (the IMF, the European Commission, and the European Central Bank), including the privatization of inefficient state-run enterprises and quickly enacting reforms, such as cutting government spending. This progress and the gradual relaxation of the capital controls are reasons for guarded optimism.
A couple of points to clarify about the capital controls:
First, they do not apply to new money brought into Cyprus (nor the capital gains and income generated from that money). That money can be taken out of the country without restriction. Second, the bank deposit confiscation only applied to cash balances above the guaranteed amount of €100,000 at the two troubled banks, Laiki Bank and Bank of Cyprus. Relatively sound institutions were not affected. Also, there was no forced selling or conversion of securities held in brokerage accounts. All of the brokers whom we met with held the majority of their cash in institutions outside of the country for additional protection.
Of course, the government could always come up with a new edict or decree, but we view that as unlikely at the moment, since they're actively encouraging new investments in the island.
Catalyst #2 Offshore Gas Bonanza
In 2011 there was a discovery of a massive gas field about 100 miles south of Cyprus. The resources there are estimated to be worth tens of billions of dollars (not insignificant for a country with a $23 billion GDP)—and are enough to turn Cyprus into an energy exporter. Though it could be a number of years before these resources are monetized, it gives Cypriots a lot to look forward to over the intermediate term.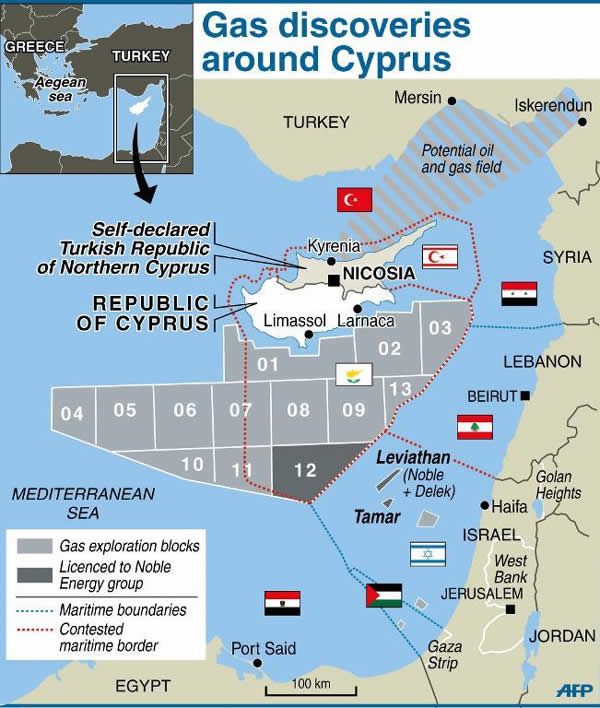 Catalyst #3 Relisting of the Bank of Cyprus
Previously the Bank of Cyprus and Laiki Bank accounted for a large chunk of the volume traded on the Cyprus Stock Exchange. Laiki Bank is now defunct, with its good parts having been folded into a restructured Bank of Cyprus—whose shares have been suspended from the stock exchange.
The restructured Bank of Cyprus is expected to start trading again sometime midyear, which will be an important catalyst in rejuvenating the stock market.
This is not to say the Bank of Cyprus is completely out of the woods. Far from it. While it has restored its capital base following the bail-in, it still has major issues with non-performing loans (NPLs).
That said, the Bank of Cyprus is the cornerstone of the Cypriot financial system, which is a major pillar of the Cypriot economy, and it has the backing of the Troika. The IMF believes that, despite the NPLs, the bank will be able to maintain an adequate capital base through at least 2016.
Owning a country's premier bank—especially after it's been chastised by a near-death experience—can be a profitable speculation.
It's Not Too Late to Snatch These Bargains
While our eight investment picks are all up since the publication of Crisis Investing in Cyprus, including two of which that have more than doubled (including one that is up 335%i), that doesn't mean it's too late to get in.
The fact that we're still at the very early stages of these three catalysts, combined with the continued "maximum pessimism" sentiment tells us that there's still a lot more upside potential.
With features that make it a popular tourist and retirement destination combined with the potential economic boon from exploiting the offshore gas reserves, the Cypriot economy has a good chance to recover over the medium term.
When you weigh it all together, it's clear that now is the time to start deploying speculative capital.
In order to invest on the Cyprus Stock Exchange, you'll need a local brokerage account. Our preferred Cypriot broker can open accounts remotely for online trading, with no minimum balance requirements, and they still accept American clients.
This is information that you won't find anywhere else. And there's nobody better to guide you through it all than legendary crisis investor Doug Casey.
You can find out more about Crisis Investing in Cyprus by clicking here.
iReturns denominated in euro terms from 11/6/2013 through 3/4/14
Disclaimer: The above is a matter of opinion provided for general information purposes only and is not intended as investment advice. Information and analysis above are derived from sources and utilising methods believed to be reliable, but we cannot accept responsibility for any losses you may incur as a result of this analysis. Individuals should consult with their personal financial advisors.
© 2005-2019 http://www.MarketOracle.co.uk - The Market Oracle is a FREE Daily Financial Markets Analysis & Forecasting online publication.

Only logged in users are allowed to post comments.
Register/ Log in