Putin's Kremlin Q&A Show
Politics
/
Russia
Dec 19, 2014 - 06:33 AM GMT


Not the BBC Version
This was billed as Vladimir Putin's end-of-year question and answer session for the press, pressure groups, the public, and anybody else who is interested in Russia. The BBC however, true to its role of unsinkable US aircraft carrier anchored near Calais, rivaling Israel's role in the so-called American "empire", treated Putin's Q & A session as a rather pathetic attempt to ignore the US-led attempt to destroy the Russian economy. The BBC screened only 15 minutes of Putin's conference, ignoring the other 2 hours of Q & A. BBC News TV had former UK ambassador to Russia, Andrew Wood, in its early-morning studios to proclaim Putin's death sentence.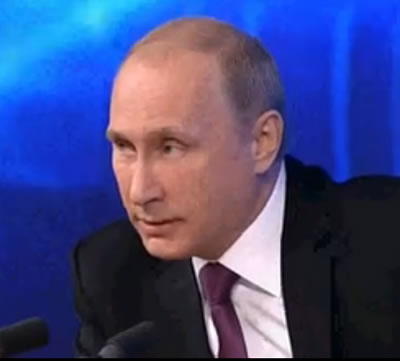 Wood is well-known for his nicely scripted and nicely paid editorials, articles, panel discussion and talk show performances – where he simply says that Putin is a criminal, a Mafia boss, has destroyed his country, and should ask the UK how to Save Russia. Unsurprisingly, the crony media like the BBC loves that, so the BBC gives Wood a pile of taxpayer-pounds to say more of the same stuff!
In his first 15 minutes Putin deliberately adopted a "let's cool down" tone, saying he wasn't asking the central bank to set up capital controls, or fix the rouble's exhange rate, or use more of his own sanctions against the west, for its rather blatant attempt to destroy the Russian economy. He said the economic crisis might last up to 2 years, but could or might wind down within 6 months, and also said that Russia has to grow its manufacturing industries. Later on, a Russian press reporter asked him about "the oil needle", and Russia's still high dependence on oil and gas exports.
The Q & A
That was already long after the BBC switched off its reporting of Putin's Q & A session, and switched back to the things which really concern Britain, or at least the things which fascinate Olde England like pedophilia, child abuse and football. Three major growth industries in England! Putin didn't use the "oil needle" term himself, but did say that relative to 1998, Russia had already moved quite a long way from the bottomless pit that Yeltsin-led Russia fell into – led by Yeltsin.
He said there was a now a Russian place and role in the global economy, and did not agree that the recent gas and energy deals with China and Turkey were give-aways. As the Kremlin has said plenty of times, if slow-or-no growing Europe does not want or need Russia's energy exports, plenty of others do! How Russian exports are paid for is also a growing "foreign exchange needle" that Russia can prod the Americans and Europeans with.
Described by ex-ambassador Wood as "an admission of failure" when Putin only skimmed the subject of the frenetic speculation against the rouble, in his 15-minute introduction, Putin later answered several questions on the rouble crash. He also took several questions on Ukraine, from Ukrainians in the audience who would be difficult to call "separatist-friendly". Wood, as a born English liar, told BBC viewers that Putin had "not even mentioned Ukraine". Crimea was also mentioned and the now-famous "2% of GDP" cost of Crimea's re-integration into the Russian Federation.
On Ukraine unlike Crimea. Putin can and will be called "confrontational" by talking heads like Wood, when they get around to listening to his Q & A session instead of saying "Putin did not talk about Ukraine".Putin made some allusions to famous Russian poets and writers – who in their time, had been accused of being unpatriotic or divisive. But that was an internal Russian affair, and many of these 19th century poets and writers were later called great Russians and patriots. He therefore accepted there was division in Russian public and political opinion about Ukraine, if not so strongly about Crimea. Putin repeated several times, replying to several questioners, that Ukraine mst and will solve its own problems itself – but will not harass Russian speakers doing it. He even cited Ukraine's Poroshenko, and took a question on the relations – good and bad – between Poroshenko and the "Ukrainian passionara" Iulia Tymoshenko, whose spoiler role in bringing on the Ukrainian crisis has been almost ignored by western media.
Why Putin will be labelled "confrontational" by US and European mainstream media talking heads and their politician friends, is simple. Putin said that a Q & A session was not the place to go into details of geopolitics and Russia's place in the world – except to say it does exist! More important, he said, was that the Fall of the Berlin Wall was immediately followed by breakneck NATO expansion to "contain" or "encircle" Russia. Who is doing the Wall Building?
The De-fanged Bear
Putin used what westerners love to use – the "bear analogy" for Russia. He said there is a big difference between letting the bear look after its own forest – and trying to takes its claws out and de-fang it, and then be surprised you have a stuffed bear that can do nothing! He said that the west should leave the bear alone and let it eat honey in its own forest, and not harass it. As the French saying goes, you first have to kill the bear before you can sell its fur, but listening to ex-ambassador Andrew Wood you can imgaine that selling bear fur coats or bearskin hats for the English Queen's royal guard, on the back of Vladimir Putin and the Russian people, is an elite sport or past-time.
Likely to infuriate western doom-sayers hoping that Russia will not come back up from a quick remake of the 1998 crisis, Putin was deliberately calm about the rouble crisis and its potential economic impacts. Several Russia press questioners, certain to be called "coached and rehearsed" by the doom-sayers, asked to what extent the current crisis could be made productive.
In fact the long overdue and necessary, and inevitable move away from over-dependence on oil and gas – Putin agrred that this is an easy sector to invest "when things are going the right way" – will certainly be a higher priority than it was before the present crisis. Putin said, that apart from a few subsectors – which have been targeted by US-led sanctions – the oil and gas sector is not High Tech. Over-concentrating on oil and gas, despite its potential for aiding regional development, for example the internal Russian pipeline projects for serving the Pacific coast, turns investors away from from High Tech and from the manufacturing sector.
If Russia does make the move away from and out of oil and gas, spurred or prodded by the present western-organized financial and economic crisis for Russia, this will be a good thing. Putin said that several times, resulting in a long session with the press and public that reflected credit on his leadership – and in no way an "admission of weakness".
By Andrew McKillop
Contact: xtran9@gmail.com
Former chief policy analyst, Division A Policy, DG XVII Energy, European Commission. Andrew McKillop Biographic Highlights
Co-author 'The Doomsday Machine', Palgrave Macmillan USA, 2012
Andrew McKillop has more than 30 years experience in the energy, economic and finance domains. Trained at London UK's University College, he has had specially long experience of energy policy, project administration and the development and financing of alternate energy. This included his role of in-house Expert on Policy and Programming at the DG XVII-Energy of the European Commission, Director of Information of the OAPEC technology transfer subsidiary, AREC and researcher for UN agencies including the ILO.
© 2014 Copyright Andrew McKillop - All Rights Reserved Disclaimer: The above is a matter of opinion provided for general information purposes only and is not intended as investment advice. Information and analysis above are derived from sources and utilising methods believed to be reliable, but we cannot accept responsibility for any losses you may incur as a result of this analysis. Individuals should consult with their personal financial advisor.
© 2005-2019 http://www.MarketOracle.co.uk - The Market Oracle is a FREE Daily Financial Markets Analysis & Forecasting online publication.

Only logged in users are allowed to post comments.
Register/ Log in