The Ultimate Middle East Dilemma: Time For Us To Stop Intervening?
Politics
/
Religion
Apr 14, 2015 - 03:59 PM GMT


The last time I was speaking in Dubai, my wife had lunch with three highly intelligent women from Shia, Sunni, and Christian backgrounds.
Ordinarily you wouldn't expect three people with these backgrounds to agree on something, but they did on one thing….
That is, the West doesn't understand why the Arab world hates them.
What's so difficult to understand? Our oil interests have caused us to meddle in this territory for decades. It doesn't take much to figure out that they hate us for interfering in their affairs.
Unfortunately, today we're increasing our involvement in the conflict in Yemen. Ultimately, that will make our relations with these people even worse.
But the big picture is this: We've been in a negative geopolitical cycle since 9/11. The cycle indicates a favorable period starting around 2020 or so, but that won't happen until the Arab/Muslim world does what it must to restore order and balance… and that has nothing to do with us.
The reason why Yemen has become so important today is that Al Qaeda has selected the tiny country as its new headquarters.
Yemen recently had a coup that disfavored Saudi Arabia's influence in the region and they are our official ally. Now, Saudi Arabia is bombing the region and has developed a coalition of nine other countries to make sure Yemen remains under Sunni control.
Meanwhile, Shia-dominated Iran is supporting the rebels in Yemen, and they have been our official enemy up until recent negotiations… see how tricky this gets?
Saudi Arabia and Iran are the two largest military powers in the Middle East. If this "powder keg" goes off, it could turn into a broader Sunni/Shia war beyond all of the individual civil wars and insurgencies in the Middle East.
Of course, the best thing we could do is just largely stay out of it… but history shows that's not our strong suit.
After major crises like WWI and WWII, the victors tend to split up the booty and redraw new political lines around their own interests. Rarely do they take into account the internal political and religious interests of the regions they are carving up.
I learned this way back, when my father was doing mission and charitable work in Romania.
We had branded that nation as "communist." Turns out, this was just another line drawn after WWII. It had nothing to do with the way Romania had chosen or seen itself.
Fortunately, my father, who had served as the top political strategist in the Nixon White House, was able to use his connections to grant Romania "most favoured nation" status.
That was one of our wrongs that we corrected… but it hasn't stopped us from pursuing our own interests in other territories like the Middle East.
Today, there is a natural "Arab Spring" occurring in that region. Countries that have largely been run by dictators — or similarly corrupt democracies — are looking to revolution as a means of creating some better religious/political alignment.
Fundamentally, there isn't a huge difference between what they're doing now, and what we did in the late 1700s.
But there is a big problem here: countries like Iraq and Afghanistan.
Both countries have major religious divisions from the lines drawn after WWII. Iran, like Iraq, has a large Shia population. But they also have a strong minority of Sunni to the west towards Iraq and a smaller contingent of Kurds to the north, more in line with southern Turkey.
Afghanistan's population, on the other hand, is Sunni dominant. They have a smaller Shia constituency smack in the middle, but Iran is the predominant Shia country by far. See the map below.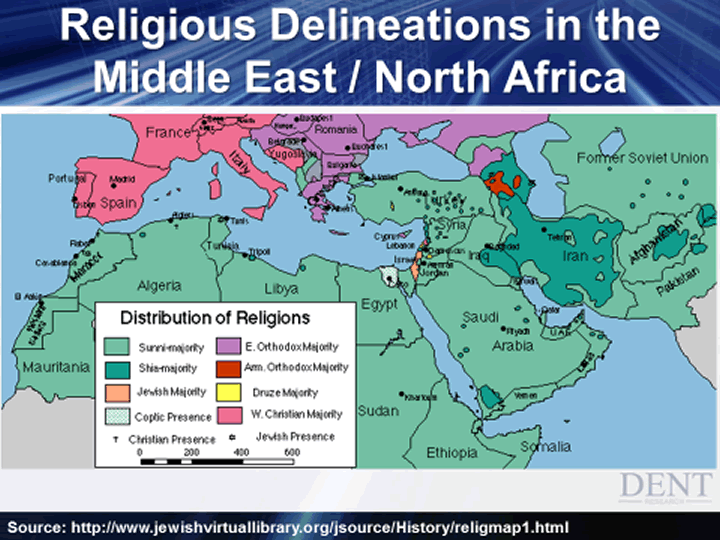 When it comes down to it, I don't see the endless civil wars and conflicts letting up until the Middle East realigns itself along religious boundaries. That would mean Iran taking over the western part of Iraq, the Sunni part of Iraq possibly merging with Syria or visa-versa, and the Kurds in Iraq going to Turkey.
These different Muslim sects have rarely gotten along, and they look less likely to in the future.
That should have been reason enough to not enlist in two failed wars in Iraq and Afghanistan. You just can't build a viable democracy from these different ideologies!
Besides, the Muslim world sees us as infidels! They don't want us interfering in their political and religious affairs… even if we did help them topple a dictator like Saddam Hussein and many others.
In the present struggle in Yemen, we'll naturally side with Saudi Arabia. Their politics favor Western-leaning values, even if their people don't.
Iran is much the opposite. They are extremely clerical at the highest political level. Their people, on the other hand, are more highly educated, favor democracy, and are pro-West. The truth is that we might be better off siding with them longer term.
Either way, it's a no-win situation for us. Whoever we side with, the Arab world still hates us for interfering. And whatever side we are against will hate us even more.
Why not let them settle their own disputes? These mistrusting desert cultures have fought over water and religion forever. Why don't we let them decide whether or not they want democracy?
This isn't an overnight fix. The Geopolitical Cycle won't turn favorable again until around 2020. Perhaps we'll see them redraw their own borders and politics then.
But for now, we should give up on intervening in this region to protect our oil interests. It's already cost us two very expensive wars, and much more.
As for our oil interests, we can produce shale oil and natural gas at some reasonable price here at home… even at lower oil prices.
So what's better: Pay the premium… or stay involved in this explosive and volatile area?
I know my vote.
Harry
Follow me on Twitter @HarryDentjr
Harry studied economics in college in the '70s, but found it vague and inconclusive. He became so disillusioned by the state of the profession that he turned his back on it. Instead, he threw himself into the burgeoning New Science of Finance, which married economic research and market research and encompassed identifying and studying demographic trends, business cycles, consumers' purchasing power and many, many other trends that empowered him to forecast economic and market changes.
Copyright © 2015 Harry Dent- All Rights Reserved Disclaimer: The above is a matter of opinion provided for general information purposes only and is not intended as investment advice. Information and analysis above are derived from sources and utilising methods believed to be reliable, but we cannot accept responsibility for any losses you may incur as a result of this analysis. Individuals should consult with their personal financial advisors.
© 2005-2019 http://www.MarketOracle.co.uk - The Market Oracle is a FREE Daily Financial Markets Analysis & Forecasting online publication.

Only logged in users are allowed to post comments.
Register/ Log in