Skunk Works Engineers Supersonic Profits
Companies
/
US Military
May 29, 2015 - 01:26 PM GMT

MoneyMorning.com
William Patalon writes: In baseball and football, making the cover of Sports Illustrated is the Holy Grail recognition achievement.
In modeling, it's the cover of Vogue.
And in the world of innovation, making the cover of Popular Science gives you top bragging rights. And we've found a company that just has…
The Fastest Jet Ever Designed for Speed and Profit
Aerospace giant Lockheed Martin (NYSE: LMT) – operator of the famed "Skunk Works" unit that developed such "black project" winners as the supersonic SR-71 Blackbird, the high-flying U-2 reconnaissance aircraft, and the enemy airspace-penetrating F-117 Nighthawk – scored the latest Pop Science cover with the new spy plane the company is proposing for the U.S. Air Force.
The story – "America's Secret Spyplane: Inside the Fastest Strike Jet Ever Designed" – graces the cover of the magazine's June issue. The report focuses on an aircraft that Lockheed is referring to as the SR-72 – and that some writers have referred to as "Son of Blackbird" for its similarities to the now-retired SR-71.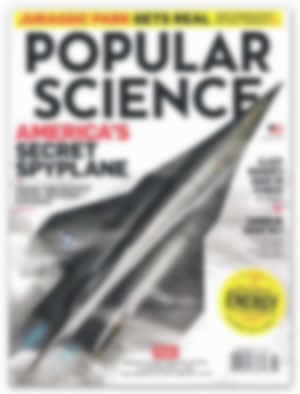 We told our Private Briefing readers about this new spy plane in our Nov. 18, 2013, in our report," Look Who's Building America's Next Spyplane." We chose to focus on the jet because one of the partners in the development program is Aerojet Rocketdyne Holdings Inc. (NYSE: ARJD), a company whose stock we recommended at $11.40 a share back in February 2013, when it was still known as GenCorp Inc.
We said the shares would double, and that's just what they did: Shares of the maker of engines for rockets and missiles ran up more than 100% to peak at $24.99 a share.
But we continue to like the stock – a point we made in the April report "Missiles of October, Missiles of Pyongyang – and the One Stock to Buy."
The fact that Popular Science saw fit to make this spy plane its cover story underscores the project's importance.
That's why I wanted to give you an update today.
Let's start with a bit of historical context.
Blackbird, Fly
One of the reasons the "Son of Blackbird" is getting so much attention – aside from its stunning expected performance – is the stunning record of its predecessor, the SR-71.
From the time it became operational in 1964 until it was retired in 1989 (and then retired again in 1998), the SR-71 Blackbird spy plane was unparalleled it its ability to fly fast, fly high, and literally outrun the missiles enemy defenders fired to bring it down.
In fact, during its entire operational career – 3,551 mission sorties totaling 11,000 hours (including 2,750 mission hours being flown at Mach 3) – no Blackbird was ever felled by enemy fire.
That's no surprise, of course: You can't hit what you can't catch.
The needle-nosed black jet cruised easily at Mach 3.2 and flew its missions at 85,000 feet – right at the edge of outer space. That extreme performance, and the spy plane's 2,900-mile mission range, meant the Blackbird could "overfly" potential "hot spots" in North Korea and Vietnam – or even a nuclear test site deep inside China – and bring back "the goods" that U.S. military decision-makers desperately needed in order to act.
Spy satellites, for all their benefits, lacked the flexibility of a supersonic spy plane.
Jets, you see, can be directed to a specific target at a desired point in time – while satellites are shackled to their orbiting tracks. In fact, in cases where the president or military decision-makers need to look at a specific target, it can take as long as 24 hours before a satellite can be in the proper orbit – much longer than it takes to plan and launch a spy-plane mission. And because the overflights of satellites can be predicted, a targeted enemy can camouflage or in some other manner hide the assets our military leaders want to see.
These shortcomings quickly became apparent when Congress forced the Blackbird's first retirement in 1989. Just four months later, with Operation Desert Storm swirling, U.S. Gen. "Stormin' Norman" Schwarzkopf Jr. was told that the expedited reconnaissance the Blackbird could have given him was no longer available.
In part because of that lesson – and several others like it – several SR-71s were brought out of retirement in 1993. But the program was killed for good in 1998, leaving a gap in America's strategic reconnaissance capabilities that new drone-type aircraft are just beginning to fill.
With that, Congress notched an achievement that had forever eluded our enemies.
It brought down the Blackbird.
Seventeen years later, America's spy-plane saga is about to enter a new phase.
In November 2013 – when we first brought this story your way – Lockheed unveiled plans for the SR-72.
Lockheed is a storied aviation firm.
In World War II, it designed and built the P-38 Lightning, a twin-engine, twin-boom fighter that German Luftwaffe pilots referred to as der Gabelschwanz-Teufel (the "fork-tailed devil"). Indeed, it was the P-38 that America's two top aces of all time flew – Army Air Force Pacific Theater of Operations (PTO) rivals Maj. Richard "Dick" Bong (40 victories) and Maj. Thomas McGuire (38 victories). It was also the plane used in April 1943 for the successful long-range interception of Japanese Adm. Isoroku Yamamoto, the architect of the attack on Pearl Harbor.
Lockheed has received the Collier Trophy six times, including in 2001 for being part of developing the X-35/F-35B LiftFan Propulsion System, and again in 2006 for heading the team that developed the F-22 Raptor jet fighter. It's currently working on the F-35 Lightning II.
But it's usually Lockheed's "Skunk Works" unit – which developed all those super-secret jets – that generates the most awe from observers.
The "Son of Blackbird" could be the Skunk Works' next big achievement. That's the aircraft that we're focusing on here – and that Popular Science spotlighted in its cover story.
Anatomy of a Spy Plane
Ever since the SR-71 was mothballed, aviation journalists, analysts, and other experts have speculated about a replacement aircraft. Most figured there was a "black" project successor that was being flown but not publicly revealed. The long-rumored (but never proven) "Aurora" was probably the most talked about candidate. But there were others, too.
In early November 2013, after years of unanswered queries, the Skunk Works disclosed the details of a longstanding project it described as an "affordable" hypersonic "intelligence, surveillance and reconnaissance" (ISR) jet the company believes could reach "demonstrator" status by 2018 and that could be deployed by 2030.
Aerojet Rocketdyne will provide the two revolutionary engines that keep the SR-72 affordable, while still enabling it to fly at Mach 6 – twice the speed of its unstoppable predecessor.
Armed versions of the unmanned aircraft will be able to launch strikes against the targets that it is surveilling – before they can hide. And here's the kicker: The SR-72 will be unmanned – making it a drone, or unmanned aerial vehicle (UAV). But it will still be the fastest military jet on the planet.
The SR-72 "will require a hybrid propulsion system – a conventional off-the-shelf turbo jet that can take the plane from runway to Mach 3, and a hypersonic ramjet/scramjet that will push it the rest of the way," writer Clay Dillow said in the Pop Science cover story. "Its body will have to withstand the extreme heat of hypersonic flight, when air friction alone could melt steel. Its bombs will have to hit targets from possibly 80,000 feet… once it is [deployed], the plane's ability to cover one mile per second means it could reach any location on any continent in an hour – not that you'll see it coming" because of its speed and stealthy cross-section.
This is a weapons capability that the U.S. military has wanted for some time. In the early 1990s, after the Blackbird was retired the first time – and as worries about North Korea and the Middle East had really started to spiral – U.S. Navy Adm. Richard C. Macke told the Senate Armed Services Committee that even a blanket of satellites wouldn't negate the need for a spy plane like the SR-71.
"From the operator's perspective, what I need is something that will not give me just a spot in time but will give me a track of what is happening," Adm. Macke explained. "When we are trying to find out if the Serbs are taking arms, moving tanks or artillery into Bosnia, we can get a picture of them stacked up on the Serbian side of the bridge. We do not know whether they then went on to move across that bridge. We need the [data] that a tactical [vehicle like] an SR-71 [or] a U-2, or an unmanned vehicle of some sort, will give us, in addition to, not in replacement of, the ability of the satellites to go around and check not only that spot but a lot of other spots around the world for us. It is the integration of strategic and tactical."
Yes, the military has wanted a jet like this for years.
But cost has been the problem.
The U.S. military has new drones. And some will have supersonic capability.
But none will have the hypersonic speed potential of the SR-71, which allowed it to avoid radar and outrun the surface-to-air missiles (or "SAMs," in pilot-speak) that defend enemy airspace and are especially lethal around high-value targets.
It's not just a matter of worrying about the loss of the aircraft. It's also the fact that the loss of the aircraft often means that the badly needed information isn't obtained.
"Hypersonic is the new stealth," Brad Leland, portfolio manager for air-breathing hypersonic technologies at Lockheed Martin, told Aviation Week & Space Technology. "Your adversaries cannot hide or move their critical assets. They will be found. That becomes a game-changer."
The reason no successor was developed was a combination of cost and capabilities.
Aircraft that fly at supersonic speeds – especially for extended periods – are subject to incredible temperatures. In fact, because the Blackbird was designed to fly so fast, the aircraft's "skin" was built to expand as the jet's surfaces heated up. As a result, it was notorious for leaking lots of jet fuel while sitting on the ground – the seams would close up when the surfaces reached their usual operating temperatures. That's why the SR-71 was built from a heat-resistant alloy of titanium – one of the more expensive metals on Earth.
For a "hypersonic" aircraft designed to fly at Mach 6, the technical challenges and potential costs increase substantially. The stealth capabilities and new-technology avionics of today have soared in cost compared to what was used in the Blackbird.
But it's the power plant – the aircraft's engines – that would have been the most cost-prohibitive.
By devising a revolutionary solution, a Lockheed project director said the development team made that a moot issue.
"The Skunk Works has been working with Aerojet Rocketdyne for the past seven years to develop a method to integrate an off-the-shelf turbine with a scramjet to power the aircraft from standstill to Mach 6 plus," Lockheed's Leland said.
And the answer the team came up with is as simple as it is elegant – and literally opened the door for this remarkable new aircraft.
A Revolutionary Solution
The revolutionary approach – and I'm oversimplifying it here – involves mating the kind of high-speed-turbine engine you'd find in a supersonic jet fighter with a ramjet/scramjet. The turbine will take the aircraft from a standing start all the way up to about Mach 3 – where the ramjet/scramjet takes over. The design also allows the power plant to traverse what the development team refers to as the "thrust chasm" at about Mach 3.
The use of what is basically an off-the-shelf fighter-jet turbine with some modifications both to it and the ramjet makes the package much more affordable. The team believes it could have a demonstrator ready to fly in 2018 and an optionally piloted flight-research vehicle in the air by 2023.
If that goes well, the SR-72 program could be launched soon after and be in service by 2030. This timetable also dovetails with an Air Force plan to support development of a hypersonic strike weapon by 2020.
Don't be depressed by the seemingly long time line: This is good news for GenCorp, a noted maker of high-speed motors that added to its offerings with the $550 million purchase of Pratt & Whitney's Rocketdyne unit in June 2013.
Even before the sale, Lockheed's Skunk Works unit had been collaborating on the SR-72 with the P&W Rocketdyne unit.
Once the sale went through, GenCorp combined Rocketdyne with its existing Aerojet rocket-motor business to create the bigger Aerojet Rocketdyne division.
And earlier this year, to reflect the shift in focus, the company changed its name to Aerojet Rocketdyne.
As we've told you in many reports – thanks to the proliferation of missile systems with intercontinental ranges – we're forecasting a big uptick in demand for antiballistic missile systems (ballistic-missile interceptors). That was already bullish for Aerojet Rocketdyne.
The SR-72 project means that GenCorp's rocket engine continues to get in on the new-and-futuristic growth opportunities in the military/aerospace sector.
As we've also said from the outset, the rocket-motor business isn't the only undervalued asset GenCorp has. It also has some prime highway-frontage property in the Sacramento, Calif., area – carried on its books at the price it was bought for in the 1950s. The company is looking to divest that land in the next few years, and the windfall could power the stock to as much as $23 to $27 a share, we told you in a report back in 2013.
The "Son of Blackbird" program is one we'll certainly be keeping an eye on: Thanks to Aerojet Rocketdyne, we believe it's one of those stories that is as intriguing as it is profitable.
More from Bill
As the Executive Editor of Money Morning, Bill Patalon has access to investing strategies that are powerful and worth a fortune. And triple-digit gains like 101%… 122%… 160%… and 261% are not uncommon. And right now, he's looking at a little company that's poised to soar 201%. The stock is trading for under $10 a share right now but this won't last long. So don't wait. Go here for details.
Source :http://moneymorning.com/2015/05/29/skunk-works-engineers-supersonic-profits/
Money Morning/The Money Map Report
©2015 Monument Street Publishing. All Rights Reserved. Protected by copyright laws of the United States and international treaties. Any reproduction, copying, or redistribution (electronic or otherwise, including on the world wide web), of content from this website, in whole or in part, is strictly prohibited without the express written permission of Monument Street Publishing. 105 West Monument Street, Baltimore MD 21201, Email: customerservice@moneymorning.com
Disclaimer: Nothing published by Money Morning should be considered personalized investment advice. Although our employees may answer your general customer service questions, they are not licensed under securities laws to address your particular investment situation. No communication by our employees to you should be deemed as personalized investent advice. We expressly forbid our writers from having a financial interest in any security recommended to our readers. All of our employees and agents must wait 24 hours after on-line publication, or after the mailing of printed-only publication prior to following an initial recommendation. Any investments recommended by Money Morning should be made only after consulting with your investment advisor and only after reviewing the prospectus or financial statements of the company.
© 2005-2019 http://www.MarketOracle.co.uk - The Market Oracle is a FREE Daily Financial Markets Analysis & Forecasting online publication.

Only logged in users are allowed to post comments.
Register/ Log in