Gold Stocks Buckle
Commodities
/
Gold and Silver Stocks 2015
Nov 18, 2015 - 11:46 AM GMT


There is absolutely nothing good that can be said about the mining stocks at this point. Then again, there has been little good to say about these things for a long, long time.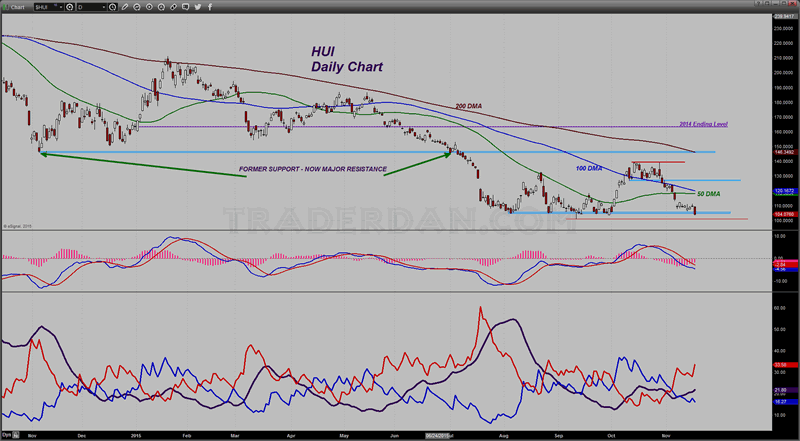 The month of October provided a bit of a glimmer of hope but the rally could not even make it to the 200 day moving average before failing. The secondary top near 140 lies between the 100 day and the 200 day moving averages and is now going to be a key technical level that will stand in the path of any recovery rally.
Downside momentum remains strong at this point with no evidence of any concerted buying.
What is astonishing is that this index ended last year ( started this year) near the 165 level. It is currently below 105 for a whopping loss of 36% YTD! What is even more astonishing is how the poor victims of the gold cult have simply sat there and watched their life's savings going up in smoke while their ringleaders regale them with stories of how proud they should be because they have held their ground and stuck with their "real/honest money" in the face of "blatant manipulation, etc."
How much pain and misery is now taking place in their lives as a result of this gold cult crap is something many of us will never fully know but suffice it to say, based on some of the emails I have received, it is very widespread in those circles.
Instead of cutting their losses as any DISCIPLINED INVESTOR would have done a long, long, long time ago, they have "stayed the course" ( being egged on by their gurus to do just that ) to the point that an index that was sitting above 600 back four years ago has now collapsed to THIRTEEN YEAR LOWS with nearly every single one of these "course-stayers" still sitting in it. How incredibly tragic to see so many people being duped by these flim flam artists.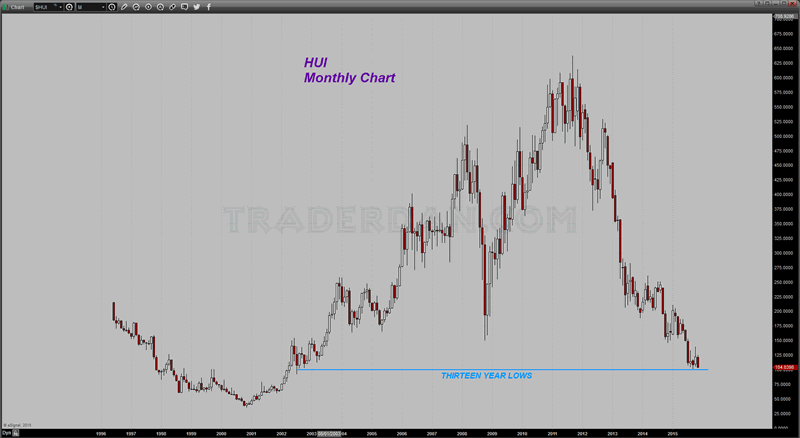 I have said and written it many times before and will do so now again: listening to these people is hazardous to one's financial health and is a surefire way to financial ruin. Learn to LISTEN TO THE PRICE CHART. It does not lie and unlike the gold cult gurus, false prophets, phony "watchmen" and whatever else they might call themselves or are in reality, it will not lead you astray.
I have been trading for a long time and never over the course of my trading career have I ever seen a group of people that is more consistently wrong and more obtuse than the gold cult. They simply lack the ability to see the markets for what they are to the point that one is alarmed by their disconnect from reality and suspects that some are actually borderline delusional.
Remember dear reader, being successful as a trader / investor is not about holding fast to the ideology of an investment, sector, asset class, etc. It is about honestly approaching the markets checking to see if the charts CONFIRM your view before tying up large sums of capital. One can have a long term approach to a market and therefore invest from that time frame and perhaps overlook the shorter term price swings but at some point there is such a thing as portfolio rebalancing.
That includes moving money out of sectors that are not performing well as one takes a hard-nosed look at the manner in which they have allocated their wealth. Sadly, the gold cult mentality prevents such a thing from occurring as it brainwashes their victims into sitting there until the bitter end.
if there is one thing that I would like for my readers to take away from this site it is this – NEVER, EVER entrust your investment decisions to those who have a vested interest in the sector that they are telling you to invest in. Such DO NOT HAVE YOUR BEST INTEREST at heart; they have theirs. Remember that.

Dan Norcini
Dan Norcini is a professional off-the-floor commodities trader bringing more than 25 years experience in the markets to provide a trader's insight and commentary on the day's price action. His editorial contributions and supporting technical analysis charts cover a broad range of tradable entities including the precious metals and foreign exchange markets as well as the broader commodity world including the grain and livestock markets. He is a frequent contributor to both Reuters and Dow Jones as a market analyst for the livestock sector and can be on occasion be found as a source in the Wall Street Journal's commodities section. Trader Dan has also been a regular contributor in the past at Jim Sinclair's JS Mineset and King News World as well as may other Precious Metals oriented websites.
Copyright © 2015 Dan Norcini - All Rights Reserved
All ideas, opinions, and/or forecasts, expressed or implied herein, are for informational purposes only and should not be construed as a recommendation to invest, trade, and/or speculate in the markets. Any investments, trades, and/or speculations made in light of the ideas, opinions, and/or forecasts, expressed or implied herein, are committed at your own risk, financial or otherwise. The information on this site has been prepared without regard to any particular investor's investment objectives, financial situation, and needs. Accordingly, investors should not act on any information on this site without obtaining specific advice from their financial advisor. Past performance is no guarantee of future results.
© 2005-2019 http://www.MarketOracle.co.uk - The Market Oracle is a FREE Daily Financial Markets Analysis & Forecasting online publication.

Only logged in users are allowed to post comments.
Register/ Log in