Kiss the Gold Bear Goodbye (But Wear a Helmet). . .
Commodities
/
Gold and Silver 2016
Mar 10, 2016 - 10:45 AM GMT


Friday's morning action in gold has been at once both terrific and frothy, wonderful and scary, and redemptive and soothing, says precious metals expert Michael Ballanger.
My hedges are all getting blown to smithereens with the miniscule damage to my net worth being vastly outdone by the gargantuan damage to my ego as the power of the physical market is beating on the Commercials like rented mules and rag-dolling gold bears like common farm animals. The CNBC crowd are all taking complete ownership of the "gold trade" and everyone here in Toronto is scrambling for last-minute hotel rooms for PDAC inclusion.
Notwithstanding the fact that Zerohedge posted the chart seen below under the headline, "Futures Flat Ahead Of Payrolls As Gold Continues Surge After Entering Bull Market," and despite the fact that Blackrock suspended issuance of new shares of its gold ETF because "it holds physical gold as an asset," the world is alive with sound of music of a different tone and pitch葉he melody we are hearing from the Crimex floor is actually the sound of a possible short squeeze in the making, and Blackrock knows damn well that there is no physical gold in any size ANYWHERE to be had and hence the halt in new Blackrock Gold ETF paper.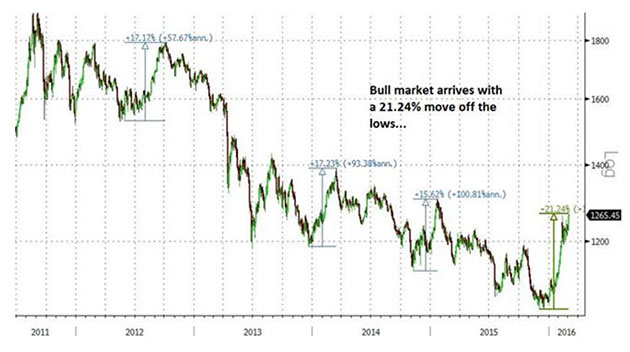 . . .Everyone and their brother have my inbox inundated with emails with one thousand reasons why the gold market is going straight, without interruption, without a rest, with no need for any sort of breather or pause, to $10,000 an ounce and how the big bad banksters are going to cause a system reset where ATMs don't work and mobs invade our homes. Seriously folks, wasn't it only six weeks ago that the Sovereign Wealth Funds were dumping the gold and silver miners as if they were Fukushima waste ponds? Well, maybe $10,000 gold and social anarchy is in the cards for some time down the line and while I certainly don't hope for it, I think that today's action was rather suspect with gold hitting a feverish $1,280.70 and the HUI an oxygenated 182.73 only to close at 171.96 so THAT, my friends is a true "reversal day," hitting a new high for the move then reversing and closing down on the day. You all know that I don't trust technical analysis in trading precious metals because of the constant shenanigans with margin rates and deliveries and the like but one thing is for certain, you must respect reversals and I will say that here at 3:25 p.m. before the COT is released in a few minutes. . .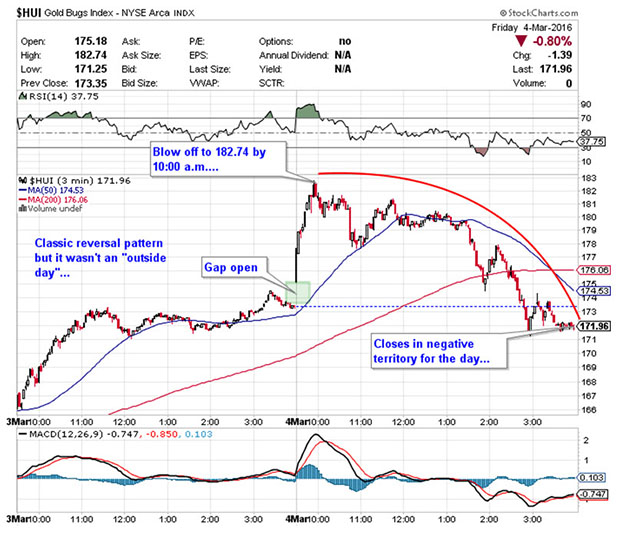 The COT Report: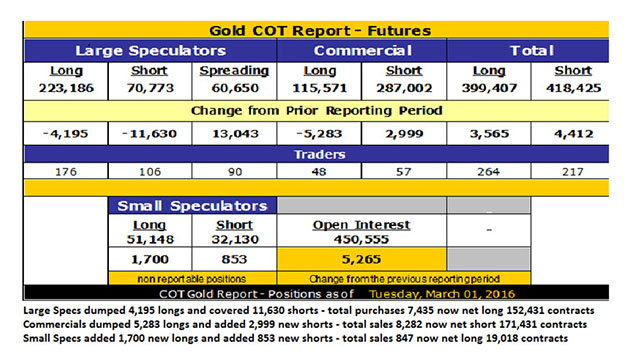 The COT has once again sounded the alarm for CAUTION as the short position held by Commercials is now 5,431 contracts LARGER than in mid-October of last year just before they took it down $150 per ounce in six weeks. Now I know I sound like your nagging mother from years ago (when you were reading comics under the covers with a flashlight instead of "going to sleep" as you knew you should) but I deeply apologize for departing from my historic role as a card-carrying, drum-thumping, bugle-blowing BULL on gold and gold miners but the last time you all heard me warbling like an in-heat oriole in the Spring was in early December after the Commercials reported a short position of only 2,911 contracts, one of the lowest numbers recorded EVER by the guys that (allegedly) act for the producers of gold around the planet. More importantly, they also act for the holders of the largest cache of above-ground gold on the planet, the Central Wanks容r唯anks, who happen to own the lawmakers (Washington) and the law enforcers (SEC) and the regulators (CFTC) whom all conspire to promulgate the myth that the U.S. currency unit will preserve wealth better than one ounce of gold and/or silver.
So, when I get emails with three words: "SCREW the Commercials!!!" all typed in caps with little smiley faces all plastered within the body of the email, I'm sorry悠 detect a noticeable uptick in not only bullish sentiment but also a new-found cockiness in gold bulls, many of whom I have never heard from before, that tells me that they are the very "newbies" that always get laid out like a Pakistani throw rug after monsoon season.
What I was looking for was a noticeable downtick in the Commercial short position because it would have confirmed that they were covering into a RISING market, ostensibly "on-the-run" from the majestic power of raw, physical demand for the real thing, actual gold instead of the phony, synthetic doppelganger that can be substituted by the Crimex Criminals in the wink of an eye (and nod of an under-the-barstool bag of Franklins) at the direct expense of the gold investor, pension funds, university endowments and one Michael J. Ballanger, all of whom carry varying importance in the grand scheme of things, right?
"SCREW the Commercials"? I severely do not think anyone should attempt to trade one's own or other people's money with an attitude as brazen as that and while no one other than I would luxuriate more in the silky-sweet satisfaction of a Commercial Signal Failure, I have to respect them and protect the capital accordingly by assuming that the Evil Ones still own the paper price of gold and silver. To do otherwise is sheer folly. Nevertheless, it was a great week to be a player in gold and the gold miners and despite the late day reversal in both, precious metals portfolios have been blessed by the final hibernation of not just a bear, but one mother of a Kodiak bear and based upon the amount it consumed between March of 2011 and today, I think it will be a very long period of slumber for this well-fattened beast.
While I bid him goodnight, I will have my helmet on at all times because you just NEVER know when and if he'll opt for one last midnight snack. . .
Originally trained during the inflationary 1970s, Michael Ballanger is a graduate of Saint Louis University where he earned a Bachelor of Science in finance and a Bachelor of Art in marketing before completing post-graduate work at the Wharton School of Finance. With more than 30 years of experience as a junior mining and exploration specialist, as well as a solid background in corporate finance, Ballanger's adherence to the concept of "Hard Assets" allows him to focus the practice on selecting opportunities in the global resource sector with emphasis on the precious metals exploration and development sector. Ballanger takes great pleasure in visiting mineral properties around the globe in the never-ending hunt for early-stage opportunities.
Want to read more Gold Report interviews like this? Sign up for our free e-newsletter, and you'll learn when new articles have been published. To see a list of recent interviews with industry analysts and commentators, visit our Streetwise Interviews page.
Disclosure:
This article does not constitute investment advice. Each reader is encouraged to consult with his or her individual financial professional and any action a reader takes as a result of information presented here is his or her own responsibility. By opening this page, each reader accepts and agrees to Streetwise Reports' terms of use and full legal disclaimer. This article is not a solicitation for investment.
From time to time, Streetwise Reports LLC and its directors, officers, employees or members of their families, as well as persons interviewed for articles and interviews on the site, may have a long or short position in securities mentioned. Directors, officers, employees or members of their families are prohibited from making purchases and/or sales of those securities in the open market or otherwise during the up-to-four-week interval from the time of the interview until after it publishes.
All images/charts courtesy of Michael Ballanger
Streetwise - The Gold Report is Copyright ゥ 2014 by Streetwise Reports LLC. All rights are reserved. Streetwise Reports LLC hereby grants an unrestricted license to use or disseminate this copyrighted material (i) only in whole (and always including this disclaimer), but (ii) never in part.
Streetwise Reports LLC does not guarantee the accuracy or thoroughness of the information reported.
Streetwise Reports LLC receives a fee from companies that are listed on the home page in the In This Issue section. Their sponsor pages may be considered advertising for the purposes of 18 U.S.C. 1734.
Participating companies provide the logos used in The Gold Report. These logos are trademarks and are the property of the individual companies.
101 Second St., Suite 110
Petaluma, CA 94952
Tel.: (707) 981-8999
Fax: (707) 981-8998

© 2005-2019 http://www.MarketOracle.co.uk - The Market Oracle is a FREE Daily Financial Markets Analysis & Forecasting online publication.

Only logged in users are allowed to post comments.
Register/ Log in