IndyMac Checks and Stocks Bounce, Commodities Deflate
Stock-Markets
/
Financial Markets
Jul 25, 2008 - 08:17 PM GMT


The fear, the hassle, the long lines in the hot sun, and now the wait . Many IndyMac customers who are moving their money to another bank won't be able to access all of their funds for more than a week. By law, the other banks must make IndyMac cashier's check deposits up to $5,000 available for withdrawal in one business day. But any amount over that can be held up to nine business days. It is reported that some banks are not taking IndyMac checks at all.
An FDIC takeover of a bank is no fun for the depositors. Even though the accounts are insured up to $100,000, the FDIC can only piecemeal out withdrawals until they have settled their audits. The inconvenience factor is very high. That is yet another reason for doing due diligence on your own bank or credit union before the authorities have stepped in.
Contact service@veribanc.com for an evaluation of the financial institutions in your area. There is a fee for this service, but well worth the effort to find out how healthy your own bank or credit union is. Your due diligence may very well save you from the hassle that many IndyMac customers have had to face and add to your peace of mind.
Scandal over Fannie and Freddie?
In the Opinion Page of the Wall Street Journal, Dick Armey writes an expose' of the behind-the- scenes politicking over Fannie and Freddie. It is unconscionable that Fannie and Freddie can still lobby the Congress and Senate while they are considering a bailout. Politics aside, both institutions have been given too much slack already. Now will they be into the taxpayers' wallets to the tune of $1 trillion? I hope not. Write your congresspersons and senators to reconsider the impact of giving Fannie and Freddie unlimited credit at taxpayers' expense. If a bailout occurs, it should be done with a complete phase-out of Fannie's and Freddie's implicit backing of the U.S. Government.
Beware the rally.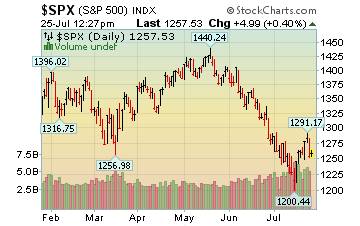 ( Bloomberg ) -- U.S. stocks rose on growing speculation the worst of the economic slowdown is over after better-than-forecast reports on durable goods orders, consumer confidence and new-home sales.
Durable goods orders rose higher than expected. Between the lines, however, inventories of consumer goods rose 2.3% while 94% of the 1.6% rise in durable goods orders were to support the war effort. Without Iraq , the economy would be in shambles.
Bonds took a licking…will they keep on ticking?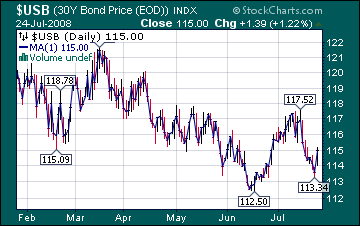 Treasury prices declined Friday, sending government debt towards a weekly loss, after a U.S. report showed orders for durable goods unexpectedly increased last month. See the comment above on the stock market. A pullout from Iraq with the resultant reduction in military supply orders will have the effect of slowing down the economy immensely. Ultimately, if this were to happen, it would show up in higher bond prices and lower interest rates.
The turndown happened. What's next?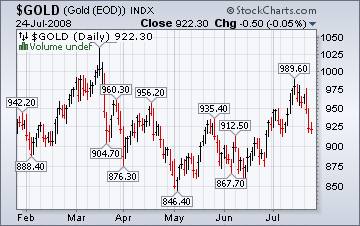 The anxiety level in the stock market has lowered significantly. As a result, the price of gold has dropped. What we are witnessing is a classic rotation from one asset class to another. The cause of this rotation can be as simple as investors having less fear of stocks, now that the rally has begun, to belated trend followers who got in late and are now suffering losses. The chart suggests a rally back to 950, then the moment of decision. A decline from there has the potential target below 850.
The Nikkei has a mood change. Will it last?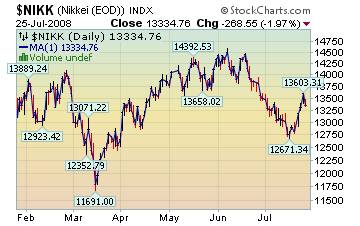 After seven consecutive weeks of decline, the Nikkei has had a change of heart, at least for a few days. Today, the rally streak snapped after nearly 50% of the prior losses were regained. A 50% rally is typical in a bear market, so investors should not take the rally as a good omen. In fact, further declines in the Nikkei could set off declines in the rest of the Asian Markets.
When smog gets in your eyes…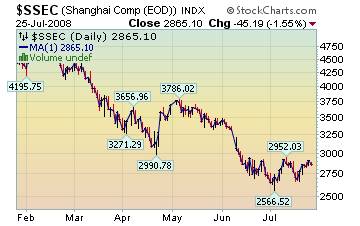 (Bloomberg ) -- China 's stocks fell, led by financial companies, on concern credit-market losses will widen and a slowing U.S. economy will reduce demand for exports. You can see the buildup of inventories in consumer goods having an effect on the outlook in the Shanghai Index.
The central bank this year ordered lenders to set aside a record amount in reserve to tame inflation after raising interest rates six times in 2007. Inflation climbed to 7.9 percent in the first half of this year, compared with 4.8 percent for all of 2007, government figures show.
The dollar is struggling with support.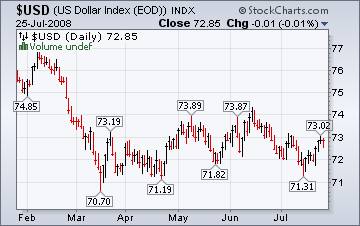 (MarketWatch) -- The dollar pared its gains Friday as Wall Street trimmed its own rise, but the currency still maintained a firmer tone after better-than-expected economic data and lower crude prices.
Oil's downward move fueled further gains in the buck this week. The dollar gains momentum whenever prices of dollar-denominated commodities fall, making them less attractive for investors holding other currencies. It's time for a pullback in the buck while commodities rally briefly.
Bailout plan eases tensions in housing market, but opposition grows.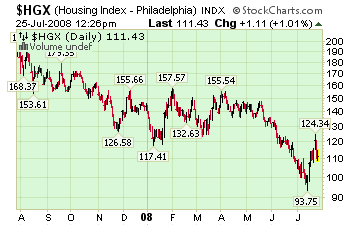 RealtyTrac (R) http://www.realtytrac.com ), the leading online marketplace for foreclosure properties, today released its Q2 2008 U.S. Foreclosure Market Report(TM), which shows foreclosure filings were reported on 739,714 U.S. properties during the second quarter, a nearly 14 percent increase from the previous quarter and a 121 percent increase from the second quarter of 2007. The report also shows that one in every 171 U.S. households received a foreclosure filing during the quarter.
The '70s revisited.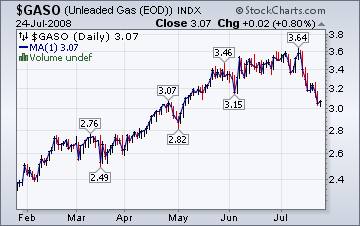 (Reuters) - Facing a crippling increase in fuel costs, some rural U.S. schools are mulling a solution born of the '70s oil crisis: a four-day week.
Cutting out one day of school has been the key to preserving educational programs and staff in parts of Kentucky , New Mexico and Minnesota , outweighing some parents' concerns about finding day-care for the day off. Have they noticed that prices are going down yet?
Natural gas ready to roll over?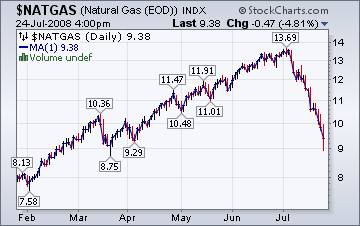 The Energy Information Agency's Natural Gas Weekly Update states that there were price declines for natural gas in all 48 lower states. "The price declines over the period likely can be attributed to falling crude oil prices and easing concerns about the sufficiency of natural gas supplies following a larger-than-expected report of net injections into working gas storage last Thursday, July 17. These declines occurred despite the countervailing effects of sustained warm temperatures through out the Lower 48 States and the potential threat to offshore natural gas production by the formation of Hurricane Dolly in the Gulf of Mexico ."
Got a problem with your investments or the price of anything? Blame it on the speculators.
In the last two weeks, speculators (long or short) have taken it on the chin as the short term trends suffered strong reversals. Congress, in its infinite wisdom, wants to place the blame for our problems (Oil prices too high, bank stock prices too low. The list is endless.)…on the speculators.
The fact is, meddling by Congress and the Fed have set up opportunities for speculators to thrive, while often making matters worse for the average family. We have met the enemy, and he is our own government and its bureaucracies. Demanding Congress to "fix it" merely sets us up for another set of victims and "bad guys."
In hearing rooms on both sides of the Capitol rotunda, commodity index investors are being pilloried by witnesses and legislators alike for pushing commodity prices - most particularly oil prices - higher. Is there any basis for their accusations? The answer will surprise you.
We're on the air every Friday.
Tim Wood of www.cyclesman.com , John Grant and I are back in our weekly session on the markets. This week we debate what the market is telling us, near-term. It should be fascinating. You will be able to access the interview by clicking here .
New IPTV program going strong.
This week's show on www.yorba.tv is packed with information about the direction of the markets. I'm on every Thursday at 4:00 pm EDT . You can find the archives of my latest programs by clicking here .
Please make an appointment to discuss our investment strategies by calling Claire or Tony at (517) 699-1554, ext 10 or 11. Or e-mail us at tpi@thepracticalinvestor.com .
Anthony M. Cherniawski,
President and CIO
http://www.thepracticalinvestor.com
As a State Registered Investment Advisor, The Practical Investor (TPI) manages private client investment portfolios using a proprietary investment strategy created by Chief Investment Officer Tony Cherniawski. Throughout 2000-01, when many investors felt the pain of double digit market losses, TPI successfully navigated the choppy investment waters, creating a profit for our private investment clients. With a focus on preserving assets and capitalizing on opportunities, TPI clients benefited greatly from the TPI strategies, allowing them to stay on track with their life goals
Disclaimer: The content in this article is written for educational and informational purposes only. There is no offer or recommendation to buy or sell any security and no information contained here should be interpreted or construed as investment advice. Do you own due diligence as the information in this article is the opinion of Anthony M. Cherniawski and subject to change without notice.
© 2005-2019 http://www.MarketOracle.co.uk - The Market Oracle is a FREE Daily Financial Markets Analysis & Forecasting online publication.

Only logged in users are allowed to post comments.
Register/ Log in