Breaking News - Spain Launches War on Cash
Politics
/
War on Cash
Nov 24, 2016 - 04:19 AM GMT


India, Uruguay, Australia and now Spain. The Minister of Finance and Public Service, Cristóbal Montoro has reportedly just announced "anticipated measures in order to 'reduce the use of cash.'
In other words, Spain is going to make cash transactions even more difficult. As of presstime, from what we can tell, this has yet to be reported anywhere in English media except here now at TDV.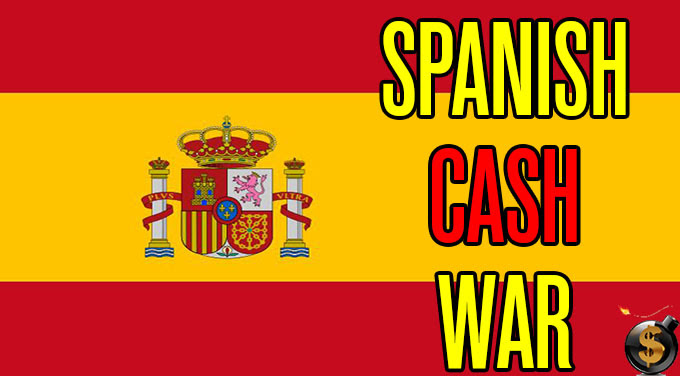 As you can see, the chaos is increasing. Combine cash bans with attacks on fake news (more on that tomorrow), and you end up disturbing a significant amount of people as we wrote here recently.
This amounts to a trend of course, of the sort we've been analyzing for several years now. We've predicted increased social chaos throughout the West and beyond because globalism is not built by votes but by violence and widespread disaffection that allows globalist "solutions" to be rammed home.
I expect "cash banning" to be speeded up along with selected attacks on the alternative media – as part of a larger effort to create widespread social dissension. People believe attacks on cash and "news" are what they seem to be on the surface. They are not. They are part of a much deeper strategy that involves additional globalism.
We've expected just these sorts of actions and have profited from them for the past several years along with our newsletter subscribers. We await more of the same.
Currently, violence spawned by this anti-cash trend can be seen in such countries as Uruguay and India where cash banning on large bills has ignited significant social chaos already. India is in the throes of riots while Uruguay has been hit with a nationwide strike aimed in part at derailing a mandate that all employers must pay employees electronically via a bank account, starting as soon as March.
You won't read much about the results of cash banning because the mainstream media won't cover it, but the moves are doing their job, which is in part to inflict maximum social damage and make people aware that nothing they think they control is really theirs.
The more easily absorbed reason for cash bans has to do with negative interest rates. People prefer to hold cash instead of receiving bank bills and thus cash must be banned. Alternatively, nations are said to require more efficient tax collection that can only be generated if people cannot hold cash.
These are good reasons – from government's' point of view – to try to ban cash. But as I mentioned above, the larger reason has to do with riling up tax slaves. The more chaos the better …
Spain is already splitting into several pieces because of its endless depression which has resulted in over 50 percent of its youth being unemployed. The Catalans are ready to secede and like the Basques are foes of Spain's central government and the Castilians that partially run it.
Back in 2012, Spain banned large euro cash transactions – anything over $2500 as a matter of fact. Now with a further squeeze that apparently may include various VAT changes as well, the trap is primed once again. Such aberrant moves can bring a kind of civil war to Spain sooner rather than later.
There hasn't been any violence in Australia so far as we know, though Citicorp has now announced it won't handle cash at its branches there.
Again, this is a trend we expect to continue and expand. It's not really about cash (or fake news) so much as shaking people's confidence in their societies. The kind of globalism our overseers want is not going to be built from peaceful treaties, or not to begin with. There's going to be blood.
Please protect yourself. Bitcoin, gold and silver are all viable alternatives as the chaos builds, and we've been suggesting them for years, unlike many other publications including alternative publications that continue to disregard cryptocurrencies as valid stores of value.
We knew from the start that bitcoin would work, recommending it at $3.00 in 2011. You can see its incredible progress here:
People have become millionaires from our bitcoin recommendations and I'd also suggest you get a copy of our just-published bitcoin book which is free to subscribers.
Going forward – and given the growing amount of attacks on cash – you'll need to figure out ways to position yourself in alternatives stores of value more than ever.
You'll be told that gold, silver and bitcoin are also subject to confiscation but unlike cash and "investments" governments have traditionally found it very difficult to control these non-cash items. They offer a valid alternative that you must take advantage of for at least part of your portfolio.
Although it is important on how and where you store your precious metals. For that, we also have another e-book, free to subscribers, called Getting Your Gold Out of Dodge, which can help you to internationalize your precious metals.
In the newsletter, we discuss these alternatives at length at least twice a month plus continual updates. It is imperative that you educate yourself and continue to follow what's going on via a reputable and truthful source. Our thousands of subscribers will vouch for our coverage and once you subscribe you will too. Plus, our worldwide group of subscribers can answer any questions you have in our private Facebook group. This is an incredible additional resource that many have benefited from.
You can subscribe here.
Anarcho-Capitalist. Libertarian. Freedom fighter against mankind's two biggest enemies, the State and the Central Banks. Jeff Berwick is the founder of The Dollar Vigilante, CEO of TDV Media & Services and host of the popular video podcast, Anarchast. Jeff is a prominent speaker at many of the world's freedom, investment and gold conferences as well as regularly in the media.
© 2016 Copyright Jeff Berwick - All Rights Reserved Disclaimer: The above is a matter of opinion provided for general information purposes only and is not intended as investment advice. Information and analysis above are derived from sources and utilising methods believed to be reliable, but we cannot accept responsibility for any losses you may incur as a result of this analysis. Individuals should consult with their personal financial advisors.
© 2005-2019 http://www.MarketOracle.co.uk - The Market Oracle is a FREE Daily Financial Markets Analysis & Forecasting online publication.

Only logged in users are allowed to post comments.
Register/ Log in