The Stock Trader's Actionable Guide to Trump
Stock-Markets
/
Investing 2017
Feb 15, 2017 - 11:45 AM GMT


There are aspects to Trump's public comments that concern me. He says stuff that makes me sit up and take notice, especially on the military front.
Yet, rather than blindly accepting the "news" that best supports my biases, I try to view each new Trump "event" objectively.
By contrast, the progressives/liberals unfailingly fall for every bit of click-bait that reinforces their view that Trump is a detestable, woman-hating, earth killer and the epitome of a capitalist pig.
On the other side of the philosophical wall, there are an almost equal number of people who view Trump as a Knight Exemplar, come to smite the corrupt politicos and smash down the self-loathing, politically correct, climate-alarmist, and meddling-big-government, perfect-world socialists that have all but destroyed the American dream.
The extreme distance between the two perspectives creates a tradeable opportunity. Actually, a series of tradeable opportunities, which I cover below. (For more trading ideas, subscribe to my free investment newsletter, The Passing Parade.)
This is especially true because of the extraordinary media bias that takes every small thing Trump does or says and blows it way out of proportion.
Any investor worth the moniker knows markets operate largely on emotion.
And that gives rise to the Trump Trade.
What Most People Are Missing… and How to Profit from It
A more nuanced view of Trump's various strong words has to take into account his deep experience negotiating hundred-million-dollar deals in the hardball world of New York and New Jersey real estate.
We're talking about sitting across the table from dozens of the world's highest-paid lawyers and hammering out deals that mollify not just the sellers of the prime real estate, but also the zoning boards, unions, owners of neighboring properties, etc.
Succeeding in that world requires a level of focus, determination, and skill that is impossible for the average person to even imagine. It is as hardball as it comes. Anywhere.
Now ask yourself, how would someone with Trump's negotiating credentials approach a counterparty ahead of a negotiation?
Would they signal in advance what they wanted and all that they were willing to give up in order to get what they were after?
Or would they come in hard with outsized threats and posturing, setting the stage to ultimately prevail on the points that count?
Case in point, Trump has made much of the idea that he'll make Mexico pay for a wall between the two countries. Among the many rejoinders to the idea, former Mexican President Fox said, "I'm not going to pay for that f#&#ing wall!"
And so, thanks to Trump's posturing, the negotiations began with arguing about who is going to pay for the wall—not even the wall itself.
Getting the opposition to negotiate at the top of the range you set, in order to eventually settle for what you actually want, is Negotiation 101. And Trump is way, way past Negotiation 101.
Viewed through that particular lens—and I think I am at least directionally correct, as Trump would be hard pressed to forget all he has learned about negotiating just because he's been elected president—we can expect his administration to be something of a rollercoaster ride.
That's because he has a big agenda.
And he has a lot of opposition to cut through in order to accomplish that agenda. As such, I suspect hardly a week will go by without Trump saying or doing something—loudly—that seems outrageous, ill-advised, or bullying.
And the media, as set against Trump as they are, can predictably be expected to scream as loud as they can about his latest outrage and all the dire consequences. Viewed from the negotiator's perspective, they are playing right into his hands.
Likewise, we need to look past the posturing and try to ascertain what Trump's end goals are.
What does Trump want accomplished in each of these situations?
In most cases, he'll be trying to deliver on his "America First" promise. That was by far the most prominent plank in his platform and in his inauguration speech.
To get it done, he'll need to improve the competitiveness of American business by cutting taxes, slashing regulations, and directly negotiating more equitable trade agreements with important trading partners.
In Trump's view, he is America's negotiator-in-chief. It's in his blood. It's what he does best. Therefore, you can choose to get hung up on the optics, or you can take advantage of the situation by taking stock of whatever his next target may be and trading against all the easily frightened sheeple.
To make the point, let's return to the situation with Mexico.
Trade Idea #1: Mexico
The chart here shows the six-month performance of the Mexican Bolsa, their stock market.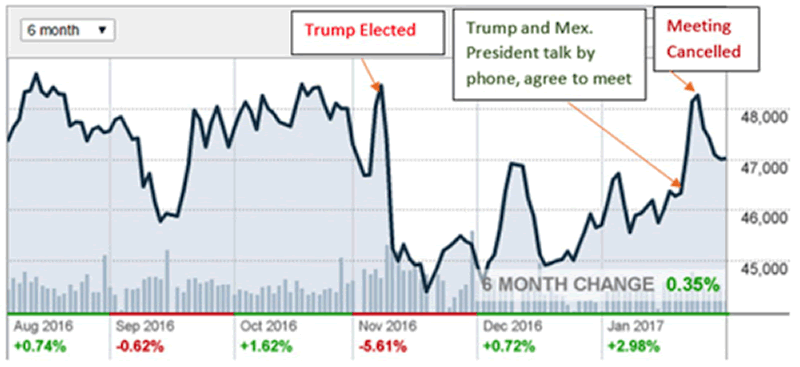 Since the election, the Bolsa has traded like a yo-yo, based entirely on Trump's pre-negotiation rhetoric and the biased media's reaction to it.
On this particular trade, which will likely be a buy of Mexican stocks, I'm going to watch things a bit more closely before taking a position. The real money will be made by waiting until it seems Mexico and the US are on the verge of a total breakdown in trade.
In fact, what will really be happening is Trump wearing the Mexican politicians down to ensure he gets exactly what he wants.
And make no mistake, the US will come out on top. That's because over 81% of all Mexican exports—about $310 billion worth—go to the US. Mexico's second-largest trading partner is Canada at a miserly $10.5 billion.
There are a number of ways to play volatility in the Mexican market.
You can concentrate your investments in specific Mexican exporting companies who trade as ADRs on US exchanges. But for most investors, the best approach is likely buying a large and liquid diversified ETF such as the iShares MSCI Mexico Capped ETF (EWW).
Trade Idea #2: Pounding on Pharma
Another recent example of the Trump Trade can be seen in the pharmaceutical sector.
That Trump would take on the sector is understandable; his most ardent supporters skew toward the 50+ age demographics.
These are the people most affected by the skyrocketing insurance costs triggered by Obamacare and by the indefensibly high cost of certain drugs required for the patient to live a normal life.
A friend of mine is currently spending over $2,000 a month for a single drug, so I understand the angst on a personal level.
During his campaign, Trump promised to bring those drug costs down, and now he is ramping up the negotiations to do just that.
Here's a three-month chart of the price action in PowerShares Dynamic Pharmaceuticals (PJP), one of the more popular pharmaceutical ETFs.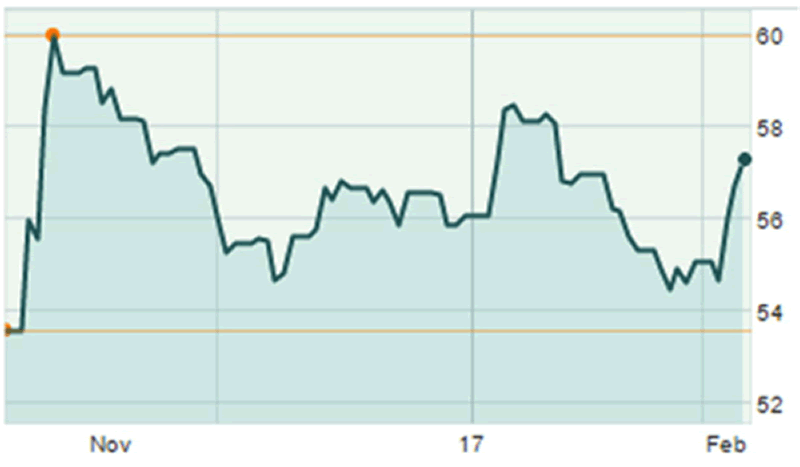 Like the Mexican stock market, you can see a sell-off after Trump won, and the subsequent gyrations as Trump began to use the bully pulpit of his presidency to set the stage for negotiating with the drug industry.
The recent spike in the index came after Trump sat down with key industry executives and offered to trade them a big reduction in regulation if they play ball with him on the pricing.
That's what's called a win-win in the business world. Trump gets what he's after (or at least there's a good chance he does), and the drug companies get relief from the time and money regulatory regime that is the bane of their business.
When the Media Sells, We'll Buy
Given Trump's background, you can expect the president to go in hard every single time. And the media will inadvertently help him by whipping certain members of the public—including the investment community—into a frenzy of action.
When they sell, we'll be looking to buy. And when they buy, we'll be looking to sell.
In the end, successful investment speculation—and make no mistake, this is speculation—requires volatility.
If nothing else, Trump is volatile. Or is happy to seem that way if, in the end, it gets him what he wants.
Subscribe to The Passing Parade
A rousing weekly romp on economics and markets with a dose of politics and other follies, The Passing Parade is published every Friday by Garret/Galland Research. Click here to get your free copy sent straight to your inbox.
David Galland
Managing Editor, The Passing Parade
Garret/Galland Research provides private investors and financial service professionals with original research on compelling investments uncovered by our team. Sign up for one or both of our free weekly e-letters. The Passing Parade offers fast-paced, entertaining, and always interesting observations on the global economy, markets, and more. Sign up now… it's free!
© 2017 David Galland - All Rights Reserved

Disclaimer: The above is a matter of opinion provided for general information purposes only and is not intended as investment advice. Information and analysis above are derived from sources and utilising methods believed to be reliable, but we cannot accept responsibility for any losses you may incur as a result of this analysis. Individuals should consult with their personal financial advisors.
© 2005-2019 http://www.MarketOracle.co.uk - The Market Oracle is a FREE Daily Financial Markets Analysis & Forecasting online publication.

Only logged in users are allowed to post comments.
Register/ Log in