Junior Mining Investing, Gold Stocks Divergence Opportunity
Commodities
/
Gold & Silver Stocks
Sep 04, 2008 - 10:55 AM GMT


Few investors can stand up to the fortitude of an investor in the junior mining sector. Basically, if you did not sell everything in May 2006, then your portfolio is probably under water. The drawn downs in the junior's has been beyond belief. Most of the shares are down 50% or more from the May 2006 highs and many are off 70%, 80% and even 90%.
Are investors insane to stay with these 'investments' or should we be looking elsewhere?
Each investor must answer this question for themselves. However, investors need to remember the reasons they started investing in the junior mining sector in the first place. Has anything changed? Has inflation gone away? Has the Fed stopped printing money? Have the fundamentals of the U.S. Dollar changed (other than for the very short-term)?
Let's face it, nothing has changed and investors need to stay the course. Sure it is difficult to hang in there in these challenging times, but if you believe (as do we) in the long-term bull market in the commodities including gold and silver, then you must exercise patience and good judgment and do not panic. Do you want to be selling now, at these low prices? Of course not.
To quote, Kevin Corcoran, author of Junior Mining Investor "…The junior exploration and mining industry is one of the few sectors that offers life-changing investment returns. This doesn't mean it's easy to make money in speculative mining stocks. However, the more research and work you do, the better your chance to create great wealth. Investors must do their homework, call the companies regularly and be ready to execute positions when risk/reward dynamics are stacked in their favor….There has never been a better time to invest in natural resources. Be a student of the markets and take advantage of the tremendous opportunity currently offered in junior mining and exploration stocks."
We suggest that investors be aware of the high risk of investing in this sector as well as the spectacular potential rewards. Particularly at this time, investors need to focus on companies with excellent management, excellent properties and cash in the bank. This will greatly increase our chances of success.
Paraphrasing one of our peers in the investment community; 'regular investors invest 100% in order to receive a 10% return, while junior mining investors invest 10% of their monies looking for a 100% return'.
Junior mining investors today have every reason to be disappointed in the performance of this group over the last year or so. But that is the past and we must move forward. Do we whine over our losses or do we get to work and select some of the great opportunities currently available at these ridiculously low prices. Remember, we are in a long-term bull market and these shares will shine again, and many of the shares currently selling for pennies will be selling for many dollars in the coming months and years. Do you hear it? Knock, Knock, Knock. Yes, that is opportunity knocking. The question is; are you listening?
If you are listening, let's take a look at a couple of charts and see where we are. Believe it or not, we needed this most recent pullback as the short term technical indicators showed gold was getting ahead of itself.
The first chart is a one year price of gold.
The second chart reflects the XAU Index to Gold.
The third chart reflects the TSX Venture Index to Gold.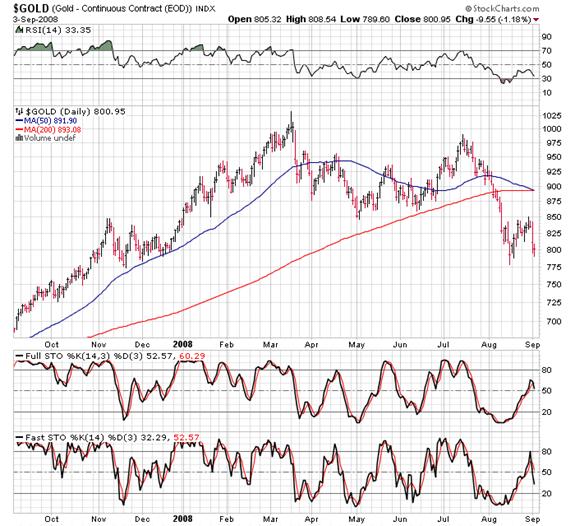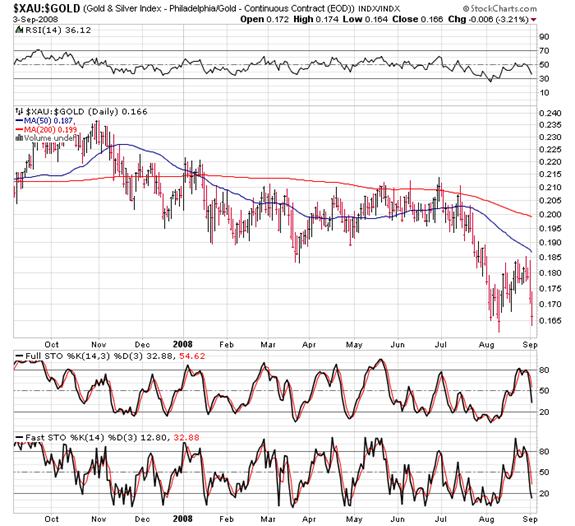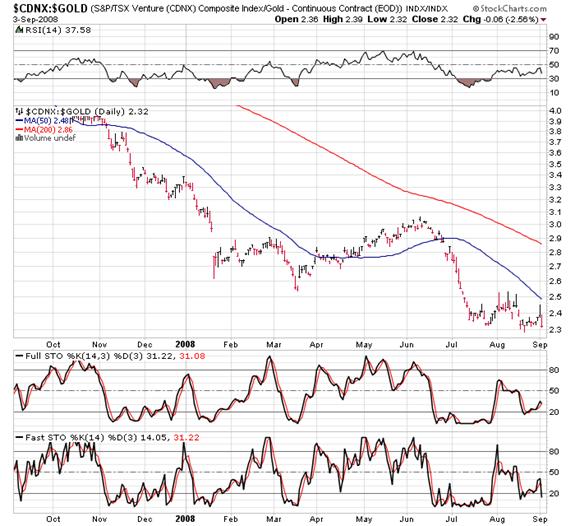 If you see what I see (positive diversion forming), we are at or very near an incredible buying opportunity which suggests that you complete your shopping season very soon.
Yes, junior mining investors are a rare breed. Do you have what it takes? If so, do your homework, selecting sound junior mining shares or perhaps long-term warrants trading on those shares.
If you would like to know more about warrants, I encourage you to visit our website for more information and education on warrants.
For subscribers, we also provide a database for all companies with call options and leaps trading on the natural resource shares in addition to the warrants; a valuable tool for all investors.
Dudley Pierce Baker
Guadalajara/Ajijic, México
Email: info@preciousmetalswarrants.com
Website: PreciousMetalsWarrants
Dudley Baker is the owner/editor of Precious Metals Warrants, a market data service which provides you with the details on all mining & energy companies with warrants trading on the U. S. and Canadian Exchanges. As new warrants are listed for trading we alert you via an e-mail blast. You are provided with links to the companies' websites, links to quotes and charts, tips for placing orders and much, much more. We do not make any specific recommendations in our service. We do the work for you and provide you with the knowledge, trading tips and the confidence in placing your orders.
Disclaimer/Disclosure Statement:PreciousMetalsWarrants.com is not an investment advisor and any reference to specific securities does not constitute a recommendation thereof. The opinions expressed herein are the express personal opinions of Dudley Baker. Neither the information, nor the opinions expressed should be construed as a solicitation to buy any securities mentioned in this Service. Examples given are only intended to make investors aware of the potential rewards of investing in Warrants. Investors are recommended to obtain the advice of a qualified investment advisor before entering into any transactions involving stocks or Warrants.
© 2005-2019 http://www.MarketOracle.co.uk - The Market Oracle is a FREE Daily Financial Markets Analysis & Forecasting online publication.

Only logged in users are allowed to post comments.
Register/ Log in