The Next Great Depression in the Making
Economics
/
Great Depression II
Jun 25, 2019 - 10:48 AM GMT


They lie, cheat, and steal? No way!

With all eyes focused on Facebook's cryptocurrency reveal tomorrow, what the Fed will do this Wednesday, and Slack's IPO on Thursday, all of which we'll address in the coming days, let's turn our attention to another major issue that is silently unfolding: the great baby bust. More than any of the current hot events, it will have a significant impact on the future of our economy and the success of your investments…

Decades before births peaked in 2007, I was projecting it would happen. But how could I know that? Easy. Because births fall when the economy slows, especially in the Economic Winter Season, which we're in the latter part now.



A warning: I've got to get technical here to make my point clear. Bear with me…
The first wave of Millennial – or Generation Y – births peaked in 1990, at 4.16 million, just below the Baby Boomer peak of 4.3 million in 1957. The second wave, now increasingly called a new Generation Z or Zillennials, peaked in 2007 at 4.32 million, just barely
above
the Boomer peak.
The Boomer plateau peak was 40 years after the Bob Hope peak in 1921. That's right on the typical 40 years generation cycle. However, the difference between the Boomer top in 1961 and the Y top in 1990 was just 29 years and between Y and Z was only 17 years.
The generation cycle is collapsing in the U.S. and our next four-season economic cycle will be shorter, more like 50 years, taking us back towards the Kondratieff Wave average 60-year rhythm.
That means we'll get the next Spring Spending Wave peak around 2036-37, an inflation or summer peak around 2039-40, and a fall bubble boom peak around 2055-56… and here's the kicker… a longer depression into around 2072 – 2073-plus.
That's bad news for today's young kids and future grandkids. The Fed's actions today, won't help them. Nothing Facebook or the next IPO or the Donald does will change this. Really, it's up to you to get them ready and we're here to help (something we're focusing on this week in
The Rich Investor,
so be sure to read your emails). Particularly because, besides the numbers, these economic cycles will also have different drivers going forward.
With the emerging world, especially India and Southeast Asia, leading the way in the coming decades and next four-season economic cycle.
The massive baby booms in the western world all peaked between 1960 and 1964 and both exaggerated the magnitude of the inflation cycle, stretching that 60-year cycle to two 40-year generation booms and busts – 80 years from boom tops and between bottoms, like the depression bottoms of 1942 and the one I project for 2022.
But the inflation cycle that was always the foundation of the K-wave didn't change. It continues to peak about every 60 years. It's still the real four-season economic cycle rhythm.
Here's what actual and projected birth and immigration trends say…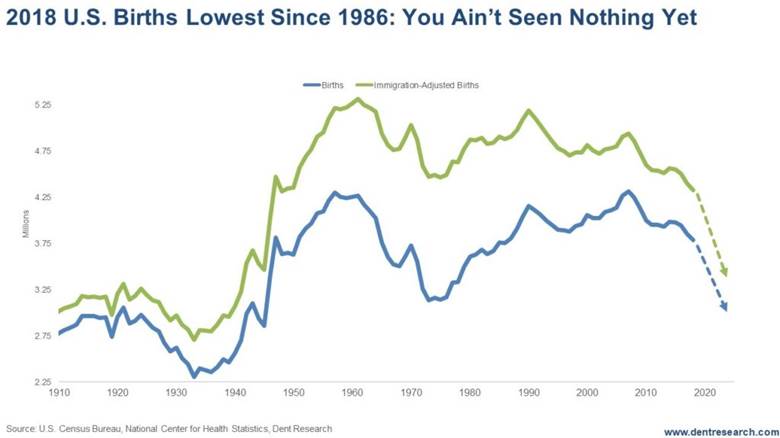 Births peaked at the top of the "real" fall boom in 2007 (before QE). They've fallen ever since, despite a modestly growing economy after the Great Recession of 2008-09 and the greatest stock bubble ever from QE.

The blue line is the U.S. birth rate. The green line includes legal and estimated illegal immigrants. Immigration had a huge impact on the immigration-adjusted birth index through the early 1970s. Immigration peaked in 2001 and the average immigrant is age 30. Since then the immigration impact has continued to narrow with the crash in immigrants from 2.71 million in 2001 to 1.00 million in 2015.

Note, that the next fall bubble boom from around 2045 – 2056 will be minimal due to the declining immigration trends.

When we see a stronger downturn and debt deleveraging into 2023 or so, births and immigration will plummet even faster.

Note my projections into around 2023 of about 3.0 million actual births and 3.4 million immigration-adjusted births. The birth lag for the Spending Wave should be 49 – 50 by then.

All of this is to warn you that the Millennial (Y Generation) Spending Wave decline is shaping up to be steeper than the one after the Bob Hope or even the Baby Boom generations. It points toward the next winter or depression season between 2057 and 2072/73.

Stock prices adjusted for inflation are not likely to exceed the 2019 projected top, and will then likely retest the projected 2022 bottom by 2073. That means a sideways market for the rest of your kids' lives… unfortunately. But that's why we will advise you – and them – to invest more in Asia and the best demographic sectors in coming booms.

The U.S. will fade more noticeably as a major power unless we both attract immigrants in the coming Economic Spring Boom – which is not typical historically – and/or we start living a lot longer to amplify our aging demographic trends. Such a life expectancy surge is likely to hit in the rising tide of the next 45-year Technology Cycle between 2032 and 2055…

That's our last great hope, especially for your kids.
Harry
Follow me on Twitter @HarryDentjr
P.S. Another way to stay ahead is by reading the 27 simple stock secrets that our Seven-Figure Trader says are worth $588,221. You'll find the details here.
Harry studied economics in college in the '70s, but found it vague and inconclusive. He became so disillusioned by the state of the profession that he turned his back on it. Instead, he threw himself into the burgeoning New Science of Finance, which married economic research and market research and encompassed identifying and studying demographic trends, business cycles, consumers' purchasing power and many, many other trends that empowered him to forecast economic and market changes.
Copyright © 2019 Harry Dent- All Rights Reserved Disclaimer: The above is a matter of opinion provided for general information purposes only and is not intended as investment advice. Information and analysis above are derived from sources and utilising methods believed to be reliable, but we cannot accept responsibility for any losses you may incur as a result of this analysis. Individuals should consult with their personal financial advisors.
© 2005-2019 http://www.MarketOracle.co.uk - The Market Oracle is a FREE Daily Financial Markets Analysis & Forecasting online publication.

Only logged in users are allowed to post comments.
Register/ Log in