Global Central Banks Move To Keep The Party Rolling Onward
Stock-Markets
/
Quantitative Easing
Aug 12, 2019 - 05:02 PM GMT


The recent news that the US Fed, China and many of the global central banks are continuing to make efforts to lower rates and spark further consumer spending and economic activity is reminiscent of the late 2010~2013 global economic recovery efforts. This was a time when the economy was much slower than current levels and when central banks were doing everything possible to attempt to raise consumer and business activity related to capital.
The world's governments and banks operate on a very simple premise – transactions and economic activity must continue to operate within a fairly standard range of consistency in order for tax revenues and transactional fees to drive profits/income. If extended periods of economic contraction persist, the capacity to function within standard operating parameters diminishes very quickly for these institutions. A -5% to -10% contraction in asset values, transactional business, tax revenues and/or consumer activity over an extended period of time could result in a catastrophic set of events taking place.
All the credit issues and interest rate changes recently allowed us to profit from collapse in the stock market and rally in metals for a quick 24.16% profit last week.
The 2008-09 global credit market collapse
In the 2008-09 global credit market collapse, we witnessed an event that accelerated well beyond this -10% contraction very quickly. We believe the reason the US Fed and Global Central Banks are engaging in stimulus that is designed to attempt to spark further lending, borrowing and increased consumer activities to prompt another round of expansion within the global economy. We believe these efforts to support global asset prices and transactional processes and fees may end up supporting a process where many central banks and governments may end up paying consumers to borrow (negative interest rates) and pay consumers to continue engaging in economic activities.
Historically, central bank rates have never been this low in recent history and recent news that global central banks may continue to lower interest rates, ease monetary policy and introduce new stimulus programs suggests that concerns of a global market recession are real and that concerns the global consumer may contract economic activity and spending are real. Yet, is the answer to this problem related to real lending rates or something else?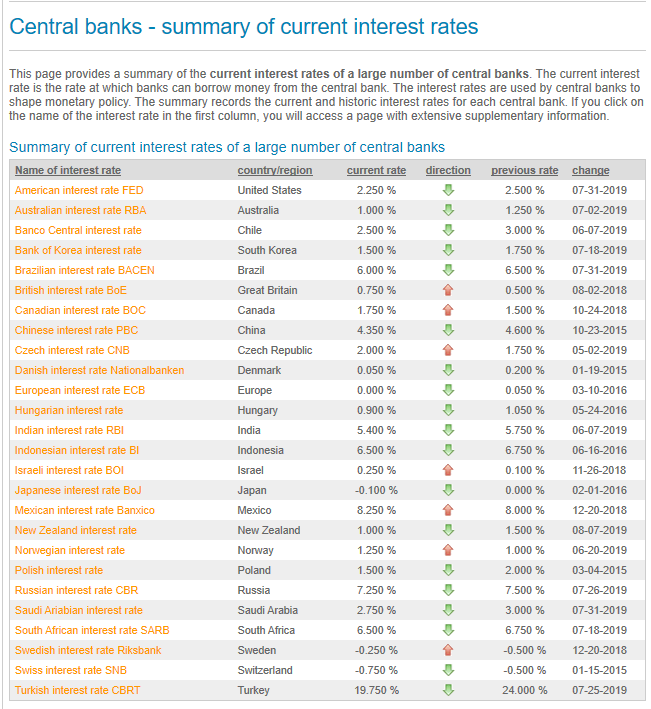 Countries where risks are excessively higher rates
It appears from our research that the only countries that are capable of operating at rates that are closer to normal are countries where risks are excessive and rates are higher because they need to attract investment into their debt/bonds. Established markets appear to be operating in a mode where lending rates are not conducive to traditional economic mechanisms of spending, saving, investing and rational accounting fundamental. The closest example we can use to attempt to explain this process is to state that we believe the credit markets never fully recovered after the 2008-09 credit market collapse and the new debt created from that event has, as of yet, failed to prompt any real economic expansion.
We believe the global economy is within a transitional process that will result in a longer-term economic expansion – yet we believe the process of achieving this expansion may require the destruction of certain aspects of the current economic system. The chart below highlights the efforts from 2003 through early 2019 of global banks to stimulate and stabilize the global economy with every tool available.
As difficult as it is to see in this image, global central banks have engaged in various efforts, at various times, to enact a concerted effort to stimulated the global economy, then back away from stimulus to evaluate the individual processes of the global economy and its ability to support itself. Each rise in QE activity is marked with new challenges and new efforts to spark economic activity. We believe one of the main challenges of this policy is that QE efforts may have benefited the wrong segment of the global population at the time and further eroded the intended outcome of these efforts.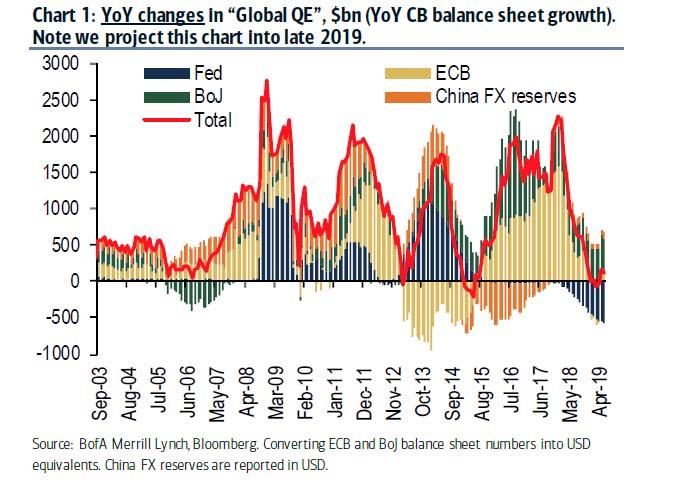 CONCLUDING THOUGHTS:
Throughout this incredible global effort to stimulate and stabilize the global economy, certain facets of the global economy have reacted positively while others have reacted negatively. Obviously, the benefits and failures of this continuing effort to transition through the recent economic malaise have resulted in a number of various advancements and declines over the years. It is rather interesting how capital has shifted into and out of various markets, segments, commodities and other forms in an effort to chase opportunity and returns while it appears the fundamental components of the global economy are still somewhat weak.
Next, in Part II of this article, we'll take a look at some of the winners and losers over the past 10 to 20+ years as a series of global economic events continue to roil the global markets and we'll discuss what we believe may become the final transitional phase of this global event.
MORE WARNING SIGNS ABOUT GOLD, SILVER, MINERS, AND S&P 500
In early June I posted a detailed video explaining in showing the bottoming formation and gold and where to spot the breakout level, I also talked about crude oil reaching it upside target after a double bottom, and I called short term top in the SP 500 index. This was one of my premarket videos for members it gives you a good taste of what you can expect each and every morning before the Opening Bell. Watch Video Here.
I then posted a detailed report talking about where the next bull and bear markets are and how to identify them. This report focused mainly on the SP 500 index and the gold miners index. My charts compared the 2008 market top and bear market along with the 2019 market prices today. See Comparison Charts Here.
On June 26th I posted that silver was likely to pause for a week or two before it took another run up on June 26. This played out perfectly as well and silver is now head up to our first key price target of $17. See Silver Price Cycle and Analysis.
More recently on July 16th, I warned that the next financial crisis (bear market) was scary close, possibly just a couple weeks away. The charts I posted will make you really start to worry. See Scary Bear Market Setup Charts.
Chris Vermeulen
www.TheTechnicalTraders.com
Chris Vermeulen has been involved in the markets since 1997 and is the founder of Technical Traders Ltd. He is an internationally recognized technical analyst, trader, and is the author of the book: 7 Steps to Win With Logic

Through years of research, trading and helping individual traders around the world. He learned that many traders have great trading ideas, but they lack one thing, they struggle to execute trades in a systematic way for consistent results. Chris helps educate traders with a three-hour video course that can change your trading results for the better.

His mission is to help his clients boost their trading performance while reducing market exposure and portfolio volatility.

He is a regular speaker on HoweStreet.com, and the FinancialSurvivorNetwork radio shows. Chris was also featured on the cover of AmalgaTrader Magazine, and contributes articles to several leading financial hubs like MarketOracle.co.uk
Disclaimer: Nothing in this report should be construed as a solicitation to buy or sell any securities mentioned. Technical Traders Ltd., its owners and the author of this report are not registered broker-dealers or financial advisors. Before investing in any securities, you should consult with your financial advisor and a registered broker-dealer. Never make an investment based solely on what you read in an online or printed report, including this report, especially if the investment involves a small, thinly-traded company that isn't well known. Technical Traders Ltd. and the author of this report has been paid by Cardiff Energy Corp. In addition, the author owns shares of Cardiff Energy Corp. and would also benefit from volume and price appreciation of its stock. The information provided here within should not be construed as a financial analysis but rather as an advertisement. The author's views and opinions regarding the companies featured in reports are his own views and are based on information that he has researched independently and has received, which the author assumes to be reliable. Technical Traders Ltd. and the author of this report do not guarantee the accuracy, completeness, or usefulness of any content of this report, nor its fitness for any particular purpose. Lastly, the author does not guarantee that any of the companies mentioned in the reports will perform as expected, and any comparisons made to other companies may not be valid or come into effect.
© 2005-2019 http://www.MarketOracle.co.uk - The Market Oracle is a FREE Daily Financial Markets Analysis & Forecasting online publication.

Only logged in users are allowed to post comments.
Register/ Log in