The No.1 Tech Stock For 2022
Companies
/
Tech Stocks
Nov 01, 2021 - 01:46 PM GMT

The $11.9 trillion global healthcare industry is in the early stages of a massive upheaval.
Frustrated by a lack of information and reliability from their current insurers – and utterly confusing billing systems that are nearly impossible to navigate – North Americans have begun taking their healthcare into their own hands...and in a powerful way.
For example...
Telemedicine soared in popularity, as virtual doctor visits went from being used by 11% of patients in 2019 to 46% of patients in 2020...
This sudden, significant shift in consumer behavior has already had a dramatic impact on the fortunes of some companies.
Mobile health and telemedicine firms such as Teledoc Health (NYSE: TDOC) – up 173% since August 2019 -- and Nuance Communications (Nasdaq: NUAN) – up 277% during that same span -- have seen their valuations soar sharply higher.
But one relatively new company in this space – thanks to its powerful Artificial Intelligence platform, strong leadership team and the imminent launch of its new healthcare app – could offer investors the best way to play this growing trend for maximum upside potential.
That company is Treatment.com International (CSE: TRUE; OTC: TREIF) a disruptive healthcare technology firm that is harnessing the power of AI to help individuals improve their health through personalized recommendations and insights.
Treatment.com is led by its founder and CEO John Fraser – a true healthcare software pioneer who previously founded and led a healthcare IT company that was acquired for $1.2 billion.
The company Has Built a Better, More Personalized Healthcare Solution for Consumers
Treatment.com's remarkably bright future is thanks in large part to its development of the most personalized, intelligent healthcare AI on the planet.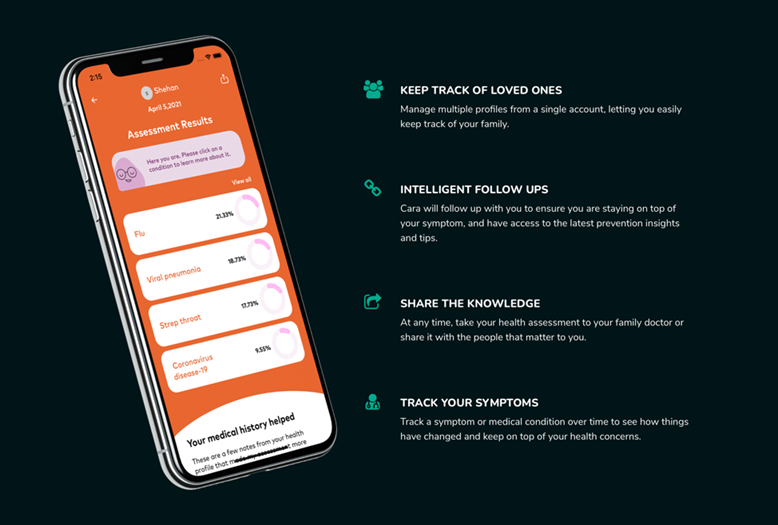 For five years, Treatment.com's global team of doctors and engineers trained their Treatment's Global Library Of Medicine (GLM) driven AI to think like a doctor...
And it was so effective that the University of Minnesota Medical School licensed it to teach and test their medical students.
The company's AI health assistant app – beta releasing to an exclusive group of consumers in Late 2021 – is known as CARA, and it has been designed to help both caregivers and consumers the power to stay on top of their health and the health of their families.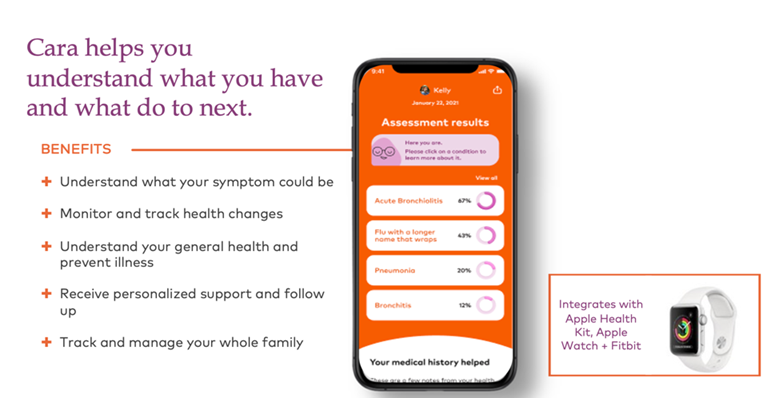 CARA learns from the consumer's medical profile, wearable data and individual tracking data. CARA then leverages the insights and recommendations developed by the company's proprietary AI to build easy and supportive tools to help ensure great health.
The CARA app also offers a comprehensive health and wellness tracking and analytics platform that integrates seamlessly with wearable devices (such as Apple Watch or Fitbit) and should allow the company to efficiently capitalize on the multi-trillion-dollar wellness industry.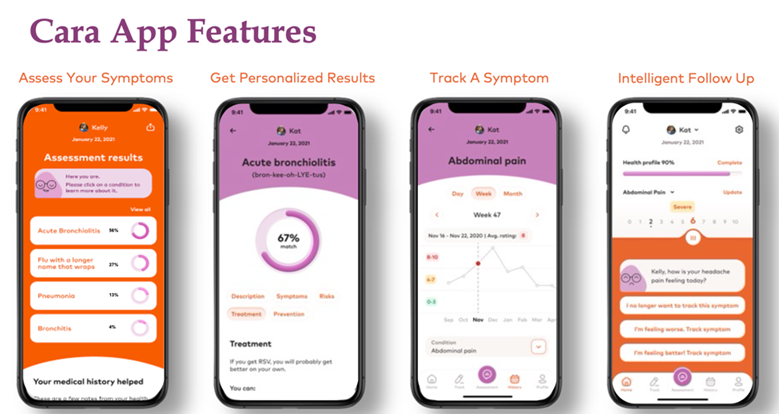 But the CARA app goes above and beyond just tracking your health...its AI allows it to follow up with you on next steps, much like a doctor.

The integration of intelligent tracking and monitoring into a single, powerful app helps support health and illness prevention in a way unlike any other platform available in the market today.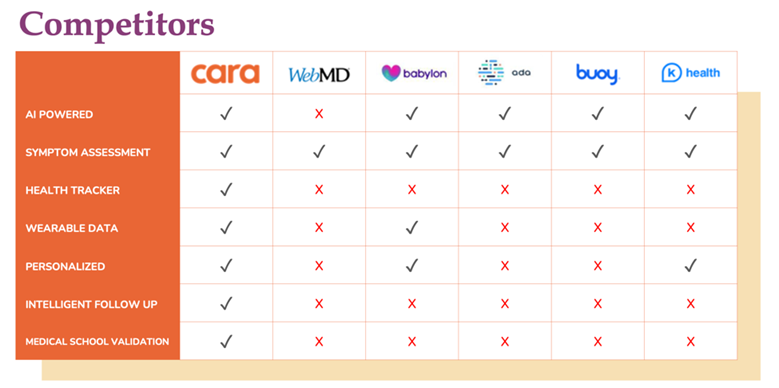 CARA allows for personalized, intelligent follow up with consumers. Working with the University of Minnesota Medical School, Treatment.com brought together the best doctors and engineers from around the world to teach CARA how to think like a doctor and provide a more accurate recommendation than any other digital tool on the market.
Treatment.com's (CSE: TRUE; OTC: TREIF) Business Model Allows for 3 Distinct Revenue Streams...and Significant Upside Potential
Treatment.com is set up for both short- and long-term financial success thanks in large part to a creative business model that incorporates three separate revenue streams.
Revenue Stream #1: Mobile App Subscriptions (B2C) – The company's CARA app provides health insights and recommendations that offer deep consumer value. The overwhelming popularity of mobile wellness apps has shown that consumers are willing to pay for valuable products in this space, and Treatment.com's app is positioned well thanks to its powerful, proprietary AI platform.
Revenue Stream #2: Licensing and Partnerships (B2B) – Treatment.com is poised to leverage its data and analytics to attract partners in the insurance providers, large corporations and government entities.
Revenue Stream #3: Clinical & Academic Applications (B2B) – The company plans to leverage its AI for products in the medical industry, including university medical school training, as has already been done at the University of Minnesota Medical School. In addition, Treatment.com's AI allows for integration with health clinics, resulting in more efficient, accurate healthcare visits.
Access to this individualized health data will provide deep insights, trends and predictions that will allow these providers to provide better, more impactful health services on a broad scale.
Treatment.com Appears to Be an Undervalued Potential Superstar in a Rapidly Growing Market
No matter how you slice it, the market for IT solutions within the healthcare industry is growing at a rapid pace.
The healthcare IT market is projected to grow from USD $187.6 billion in 2019 to USD $390.7 billion by 2024.
And the global e-health market is projected to grow from USD $74.4 billion in 2019 to USD $2.3 trillion by 2027 at a compound annual growth rate of 14.5% from 2020 to 2027.
E-health is broadly defined as the use of information and communication technology in health, often in the form of medical health records, medical apps, and telemedicine.

Within the e-health market, the most lucrative segment that is emerging is the Medical App segment.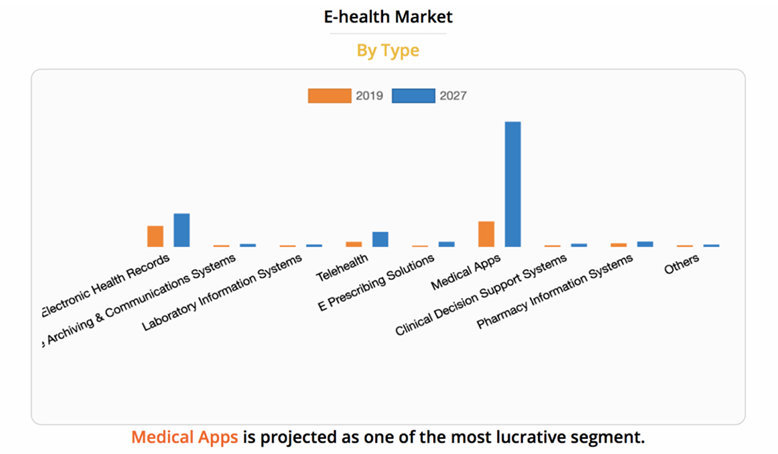 Despite all the hype around telehealth, medical apps are projected to grow much more quickly over the next half decade, and Treatment.com is one of the very few companies that is laser focused on this category.
It is this rapidly-growing market – and, in particular, the hottest individual segment of that market – that Treatment.com International (CSE: TRUE; OTC: TREIF) is now emerging.
Compared to other companies in the space – many of which are still privately held – Treatment.com would appear to offer investors an attractive, early-stage investment opportunity in a company that has the potential for significant growth in valuation.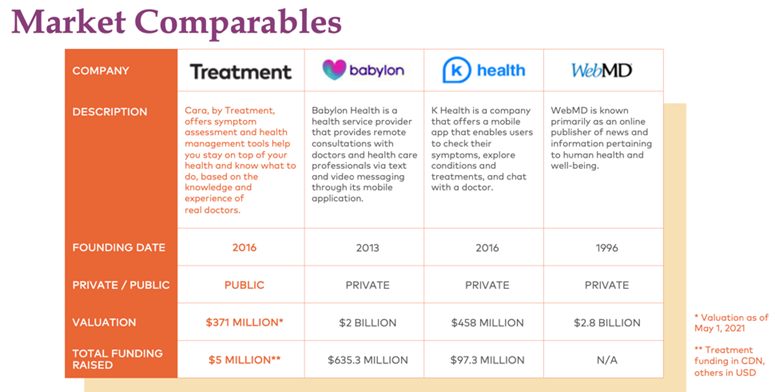 What it All Means: Treatment.com Checks All the Right Boxes When it Comes to High Upside Potential
There's no question that a number of attractive opportunities for investment success are now presenting themselves as the $11.9 trillion healthcare industry is upended by massive changes in consumer behavior.
It's important to remember, however, that Treatment.com is not simply a telemedicine company looking to capitalize on increasing consumer desire for more convenient healthcare options.
Instead, Treatment.com's CARA app – powered by its proprietary AI – is a game-changing healthcare solution that comes along at precisely the right time...and delivers powerful, much-sought-after information and care in a way unlike any other company's product is currently capable of.
From an investment standpoint, in addition to the market opportunity and potential comparables in the space, there are additional criteria to consider when evaluating any investment.
When looking to identify the best of these potentially lucrative investment opportunities, investors should focus on those companies that have two important components:
First...it's critical that a company have an asset that differentiates them from others in the industry.
In the case of Treatment.com International (CSE: TRUE; OTC: TREIF) that huge differentiator is the company's 100%-owned, AI-driven engine – its CARA app – which personalizes the caregiving experience in ways none of its competitors is currently capable of.
The second important component that a company needs for success is a proven, experienced management team...preferably with a history of delivering shareholder value.
This is another area where they get the highest of marks.
The company's founder and CEO, John Fraser, is a software and technology expert who has built and sold several healthcare software companies. His first cloud-based healthcare software company, Ability Networks, was purchased by $5 billion Inovalon for $1.2 billion.
Chief Medical Officer Dr. Kevin Peterson is a true pioneer in the industry, with 35 years of experience as a professor at the University of Minnesota. He has been the Principal Investigator (PI) or site-PI on many National Institutes of Health-funded studies, and the creation of a national electronic primary care research infrastructure.
Chief Innovation Officer Dr. Rob Scott is the founder of Remedy, an allied healthcare professional online consulting company. Dr. Scott has been doing informatics research for over 20 years, specializing in the area of patient self-care, developing technologies that support patient empowerment.
And Director of AI Research Dr. David Poole is a Fellow of the Association for the Advancement of Artificial Intelligence (AAAI) and the winner of the Canadian AI Association (CAIAC) 2013 Lifetime Achievement Award.
The bottom line: With a powerful, proprietary AI platform set to launch in the next few months...and a proven, experienced leadership team calling the shots, Treatment.com International (CSE: TRUE; OTC: TREIF) appears to be well-positioned for investors take advantage of the massive disruption taking place now in the $11.9 trillion healthcare industry.

Other companies leveraging technology to transform entire industries:

Technology is changing everything, from healthcare to transportation and beyond. And not only has Quantumscape (NYSE:QS) has been an exciting stock for early-in investors to own, but it's built on a foundation that makes every bit of sense in today's EV battery market. Li-ion batteries come with a suite of clear disadvantages, including capacity, peak charge deterioration over time, overheating, and the necessity for serious cooling systems. A huge plus for automakers and consumers alike.
And thanks to this, the most exciting new frontier for EV makers is now the solid-state battery, which uses a solid electrolyte instead of a liquid or polymer, and can deliver two to 10 times the energy density of lithium-ion. They're more powerful, without consuming the extra space. And they allow batteries to charge even faster – which could help spur the adoption of electric vehicles.
Advertising is evolving, as well. And Trade Desk Inc. (NASDAQ:TTD) is leading the charge. This industry is growing well beyond social media. In fact, by far, the fastest-growing segment of the digital advertising industry is "programmatic advertising", which promises to put ads directly in front of consumers using high-speed computers and the ultimate in algorithmic science. And Trade Desk is positioning itself to reap the benefits of this fast-growing segment.
Trade Desk is a company that lets advertisers buy digital ads across a multitude of different publishers in an advertising world that has undergone a lot of changes. This upstart has already been one of huge rewards for investors who have stuck with it long enough. Since it went public in 2016, investors could have seen gains as high as 4,000% on this one. It isn't likely to give new investors the same kind of return, but market sentiment and basic company fundamentals suggest that this is only the beginning.

Video chat has introduced a new way to interact in the workplace, in medical treatment, and beyond. And Zoom Video Communications Inc (NASDAQ:ZM) has been a major disruptor in that field. Zoom Video Communications' dramatic rise to popularity during the COVID-19 pandemic highlights the growing need for video communications in not only the workplace, but also in the healthcare sector. By keeping people connected without going into the office, Zoom may have just contributed to helping slow the spread of COVID-19. But it's only just getting started.

Zoom Video Communications has already made major waves, even being featured on Saturday Night Live, and now it's eyeing an even bigger market, partnering with healthcare practices. One, in particular, Pike Creek Psychological Center, has used Zoom to consolidate telehealth, phone and chat using zoom. Judi Willetts, Ph.D., the center's co-director highlighting some of its own issues, including connectivity issues, limited functionality with other programs, and more. "Zoom could solve the telehealth problem, plus three other problems that hadn't even gotten on to my agenda, and I realized it was comparable, price-wise. I thought it was nothing short of a miracle."

Alphabet Inc (NASDAQ:GOOGL) is no stranger to innovation. As the parent company of Google, Alphabet is making major waves in the world of technology. It does it all. It has innovative advertising, machine learning, data collection, self-driving cars, and way more. It's even getting in on the healthcare industry. From its COVID-19 initiatives to its FitBit product, Google is committed to helping the world live its healthiest life. Perhaps even more importantly, however, it is working on key technology that will help physicians optimize their time and make better choices along the way.
Google's Care Studio is just one of its healthcare products. It is a brand-new software solution that will help doctors digitize patient records while keeping this important data private and secure. In a blog post, Google explains, "Care Studio streamlines key clinician workflows so that teams can quickly get the information they need to care for patients. It brings together patient records from the multiple EHRs an organization uses – giving clinicians a centralized view of patient data and the ability to search across these records."
Apple Inc (NASDAQ:AAPL) is another innovator that has taken on a number of different industries. From physical products to its approach to media and beyond, there's no doubt that Apple is well-deserving of its $2.47 valuation. But it hasn't stopped there. Though say may overlook Apple as a major player in the world of healthcare, its iWatch and associated applications are invaluable tools in monitoring individuals' health. It is innovations like these that will help shape the future of medicine, and in turn help humanity live healthier, happier lives.
Apple has taken a great approach to this massive industry. From its efforts to increase access to COVID-19 vaccinations to its Fitness+ app, Apple Inc. is making waves in the future of health. In fact, just recently, the company announced that it will be expanding Apple Fitness+ services to include a number of new workouts, group sessions and even meditation features.

Blackberry Limited (TSX:BB) isn't new to the tech scene. In fact, its phones were once the pinnacle of security, used by some of the most powerful people in the planet. While it has pivoted away from its iconic cell phones of yesteryear, it is still very much involved in pushing tech, and by extension all of mankind, further. It's even building a global digitized healthcare database leveraging blockchain technology. This could be a game-changer for how health data is managed and distributed. But that's just one facet of its big picture push. From its high-profile partnerships with the likes of Amazon and more, to its key posturing in the Internet of Things explosion, Blackberry should not be ignored.

"Today's cybersecurity industry is rapidly advancing and BlackBerry Labs will operate as its own business unit solely focused on innovating and developing the technologies of tomorrow that will be necessary for our sustained competitive success, from A to Z; Artificial Intelligence to Zero-Trust environments," Charles Eagan, BlackBerry CTO explained.

3D Signatures Inc (CVE:DXD) software is revolutionizing how doctors diagnose and treat patients, saving them time. 3-dimensional Analysis has been used for years to detect diseases in all types of industries from food production to weapons manufacturing but only recently have we begun seeing its potential when it comes towards curing ailments like cancer or Alzheimer's disease where understanding complex conditions requires looking at every detail possible through pictures rather than just one idea about what could be going wrong with someone who suffers from these illnesses.
3D Signatures sets itself apart from its competition through creating individualized treatment plans for patients. Using its mapping platform, the software can determine how a disease will progress and whether or not the patient will respond to treatment. 3D Signatures' broad scope and futuristic technology brings a promising opportunity to potential investors. It truly is at the forefront of a new era in medicine, and investors should not overlook this company's massive potential.

CRH Medical Corporation (TSX:CRH) is a leading provider of products and services to treat gastrointestinal diseases, including anesthesia. They have been in the space since before many people were even born with their expertise spanning across North America as well international markets where they are trusted by medical professionals around the world. In addition to being ahead of trends that lead towards cutting-edge treatments for patients here at home or abroad.
CRH Medical Corporation specializes in products and services designed for the treatment of gastrointestinal diseases in the United States, Canada, and internationally. With a long history within the space, CRH has positioned itself as a leader in the field, trusted by medical professionals all over the world.

AEterna Zentaris Inc. (TSX:AEZS) is a major biopharmaceutical up and comer that's seen steady growth in recent years, with an array of new developments over the last few months alone including Macrilen - their first FDA-approved oral test for Adult Growth Hormone Deficiency which they hope will make it easier to diagnosis this condition without surgical intervention or expensive blood tests.
Aeeternus specializes primarily on Oncology solutions such as Herceptin cocktails while also offering Women's Health Products like breast pumps designed specifically around women requirements .

Aptose Biosciences Inc. (TSX:APS) a biotech company specializing in personalized therapies to address Canada's unmet oncology needs, has partnered with Ohm Oncology for research and development of APL-581. The drug holds potential as an oral medication that could be used against hematologic malignancies like breast cancer or non-Hodgkin lymphoma by targeting specific Molecular Profiles (P508 excludes mantle cell), which are highly mutable cells involved with forming tumors due their rapid accumulation during development stages when they do not contain well-structured chromatin fibers thus leading themOVA life cycles.

By. Brandon Foley
** IMPORTANT NOTICE AND DISCLAIMER -- PLEASE READ CAREFULLY! **

PAID ADVERTISEMENT. This article is a paid advertisement. GlobalInvestmentDaily.com and its owners, managers, employees, and assigns (collectively "the Publisher") is often paid by one or more of the profiled companies or a third party to disseminate these types of communications. In this case, the Publisher has been compensated by Treatment.com International Inc. ("Treatment.com" or "Company") to conduct investor awareness advertising and marketing. Treatment.com paid the Publisher four hundred and fifty thousand US dollars to produce and disseminate four articles profiling the Company. This compensation should be viewed as a major conflict with our ability to be unbiased.

Readers should beware that third parties, profiled companies, and/or their affiliates may liquidate shares of the profiled companies at any time, including at or near the time you receive this communication, which has the potential to hurt share prices. Frequently companies profiled in our articles experience a large increase in volume and share price during the course of investor awareness marketing, which often ends as soon as the investor awareness marketing ceases. The investor awareness marketing may be as brief as one day, after which a large decrease in volume and share price may likely occur.

This communication is not, and should not be construed to be, an offer to sell or a solicitation of an offer to buy any security. Neither this communication nor the Publisher purport to provide a complete analysis of any company or its financial position. The Publisher is not, and does not purport to be, a broker-dealer or registered investment adviser. This communication is not, and should not be construed to be, personalized investment advice directed to or appropriate for any particular investor. Any investment should be made only after consulting a professional investment advisor and only after reviewing the financial statements and other pertinent corporate information about the company. Further, readers are advised to read and carefully consider the Risk Factors identified and discussed in the advertised company's SEC, SEDAR and/or other government filings. Investing in securities, particularly microcap securities, is speculative and carries a high degree of risk. Past performance does not guarantee future results. This communication is based on information generally available to the public and on interviews with company management, and does not (to the Publisher's knowledge, as confirmed by Treatment.com) contain any material, non-public information. The information on which it is based is believed to be reliable. Nevertheless, the Publisher cannot guarantee the accuracy or completeness of the information.

SHARE OWNERSHIP. The Publisher owns shares and / or options of the featured company and therefore has an additional incentive to see the featured company's stock perform well. The Publisher does not undertake any obligation to notify the market when it decides to buy or sell shares of the issuer in the market. The Publisher will be buying and selling shares of the featured company for its own profit. This is why we stress that you conduct extensive due diligence as well as seek the advice of your financial advisor or a registered broker-dealer before investing in any securities.

FORWARD LOOKING STATEMENTS. This publication contains forward-looking information which is subject to a variety of risks and uncertainties and other factors that could cause actual events or results to differ from those projected in the forward-looking statements. Forward looking statements in this publication include, but are not limited to, the size and anticipated growth of the market for the companies' products, the prospects for success of the Company's to be launched health and wellness app – "CARA", the reported scheduled release of CARA, the ability to acquire customers for CARA, and the projected growth and profit margins of the Company's core product offerings. Factors that could cause results to differ include, but are not limited to, the companies' ability to fund its capital requirements in the near term and long term, the management team's ability to effectively execute its strategy, the degree of success of the launch of CARA, competition, market saturation, pricing pressures, etc. The forward-looking information contained herein is given as of the date hereof and we assume no responsibility to update or revise such information to reflect new events or circumstances, except as required by law.
INDEMNIFICATION/RELEASE OF LIABILITY. By reading this communication, you acknowledge that you have read and understand this disclaimer, and further that to the greatest extent permitted under law, you release the Publisher, its affiliates, assigns and successors from any and all liability, damages, and injury from this communication. You further warrant that you are solely responsible for any financial outcome that may come from your investment decisions.

TERMS OF USE. By reading this communication you agree that you have reviewed and fully agree to the Terms of Use found here http://GlobalInvestmentDaily.com/Terms-of-Use. If you do not agree to the Terms of Use http://GlobalInvestmentDaily.com/Terms-of-Use, please contact GlobalInvestmentDaily.com to discontinue receiving future communications.

INTELLECTUAL PROPERTY. GlobalInvestmentDaily.com is the Publisher's trademark. All other trademarks used in this communication are the property of their respective trademark holders. The Publisher is not affiliated, connected, or associated with, and is not sponsored, approved, or originated by, the trademark holders unless otherwise stated. No claim is made by the Publisher to any rights in any third-party trademarks.
© 2005-2019 http://www.MarketOracle.co.uk - The Market Oracle is a FREE Daily Financial Markets Analysis & Forecasting online publication.

Only logged in users are allowed to post comments.
Register/ Log in