Financial Markets Meltdown a Nightmare for Baby Boomers
Commodities
/
Gold & Silver Stocks
Oct 24, 2008 - 11:24 AM GMT


The continuing meltdown in the financial markets has not played well for the masses of baby boomers. Their losses in 401k's and other assets are probably down on the order of 30% - 40%, minimum.


The causes of financial problems in the world will not be fixed quickly and we fear a coming depression taking the markets to much lower levels in the coming months and perhaps years.
What will be the effect particularly to the baby boomers? Many boomers will find it necessary to delay their planned retirement as their retirement funds have greatly diminished. The timing of this financial meltdown could not come at a worst time for the boomers.
Those of us investing in the precious metals sector have also been killed, thinking this would provide a safe haven. Some of the best analysts we follow have misjudged the downturn in this sector but remain confident that a major rally is just around the corner.
All investors including those in the business have been greatly affected. In essence, there has been no place to hide in this great meltdown. Virtually all sectors are being taken down; the financial markets and commodities, including the precious metals and energy stocks as well as the energy trusts.
The reasons for the meltdown are probably attributable to the continuing unwinding of the Yen carry trade by the large investors and thus all assets (the good and the bad) are being sold.
The question now is what should investors do? For the most part, we would suggest holding precious stocks in anticipation of a major rally. Each investor must however, make their own decision depending on their investment horizon; sell everything, hold all or selected positions or seek out opportunities in this time of danger and crisis? Our opinion falls in the later category as we continue to seek out companies which we feel will be great performers 'when' the markets turn. Unfortunately, none of us have a crystal ball to forecast the bottom so if you are not buying today, at a minimum you should be preparing your wish list of junior mining shares and perhaps the long-term warrants trading on some of your favorite companies.
The chart below reflects the S&P/TSX Venture Composite Index and Gold and it appears to us that the shares are attempting to put a bottom in place which is partly our reason for optimism.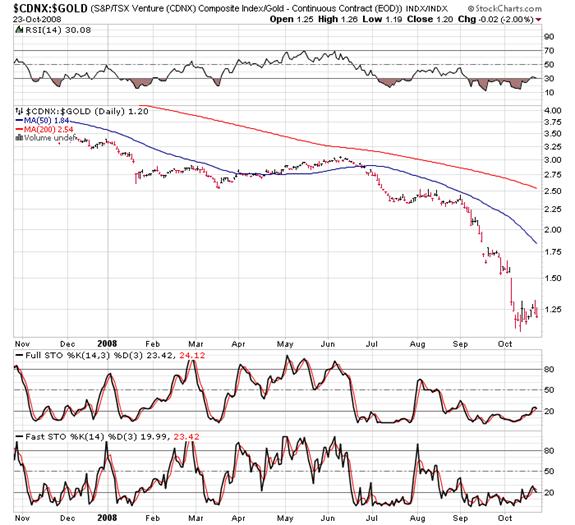 As my subscribers know, I have been selectively buying over the last couple of weeks and am comfortable with my purchases of shares and long-term warrants. I am building my inventory of shares and warrants to be sold at substantial higher prices in the coming months and years. Patience and good judgment will greatly reward investors.
For subscribers, we also provide a database for all companies with call options and leaps trading on the natural resource shares in addition to the warrants providing a valuable tool for all investors.
For those readers interested in warrants and why Warren Buffett is receiving warrants in his recent transactions, visit our website and learning center for more information.
Dudley Pierce Baker
Guadalajara/Ajijic, México
Email: info@preciousmetalswarrants.com
Website: PreciousMetalsWarrants
Dudley Baker is the owner/editor of Precious Metals Warrants, a market data service which provides you with the details on all mining & energy companies with warrants trading on the U. S. and Canadian Exchanges. As new warrants are listed for trading we alert you via an e-mail blast. You are provided with links to the companies' websites, links to quotes and charts, tips for placing orders and much, much more. We do not make any specific recommendations in our service. We do the work for you and provide you with the knowledge, trading tips and the confidence in placing your orders.
Disclaimer/Disclosure Statement:PreciousMetalsWarrants.com is not an investment advisor and any reference to specific securities does not constitute a recommendation thereof. The opinions expressed herein are the express personal opinions of Dudley Baker. Neither the information, nor the opinions expressed should be construed as a solicitation to buy any securities mentioned in this Service. Examples given are only intended to make investors aware of the potential rewards of investing in Warrants. Investors are recommended to obtain the advice of a qualified investment advisor before entering into any transactions involving stocks or Warrants.
© 2005-2019 http://www.MarketOracle.co.uk - The Market Oracle is a FREE Daily Financial Markets Analysis & Forecasting online publication.
Comments
carol stanley
24 Oct 08, 16:56
think positively


I think there is something to be said about negativity among all people...So much communications to listen to...Waking up to the stockmarket demise hour by hour. Constant talk among people about the recession...and what is happening causes more to happen...One talks to some one and panics and takes money from the stock market...It could be just that simple




Only logged in users are allowed to post comments.
Register/ Log in