Breakthrough Tech Could Give Billions Access To Healthcare
Companies
/
BioTech
Nov 05, 2021 - 03:30 PM GMT

There's a massive announcement set to take place later this year, and it could change the $12 trillion healthcare industry forever.
Over the last 2 years, we've seen a huge transformation as businesses across nearly every industry have gone digital.
And with the health crisis sweeping the globe last year, the healthcare sector was no different.
Today, over 1 billion people Google their health conditions every day, seeking out information on their symptoms before calling their doctor.
Wellness apps have become the most downloaded in the app store, with 1.2 billion downloads throughout 2020.
And the rise of telemedicine has brought doctors' visits to the comfort of your own home, as this trend has grown 46% from 2019 to 2020.
That's why we're now on the verge of a healthcare revolution, set to leverage the latest technology to disrupt a bloated and complicated system.
The New York Times says, "Artificial intelligence could transform medicine."
Forbes predicts, "Artificial intelligence (AI) is poised to change the healthcare [...] industry in ways we couldn't have imagined only years ago."
And even Big Tech giants are becoming healthcare companies, as Microsoft acquired the healthcare AI company, Nuance, for $19.7 billion earlier this year.
That makes it Microsoft's second-largest acquisition in history, which should give us a clue as to how important this shift in the healthcare system could become.
But one small company with a big company vision, could soon play a major role in this healthcare revolution, as they're finally set to release their new technology after 5 years in the making.
Treatment.com International (CSE: TRUE; OTC: TREIF) brought together over 40 world-class medical experts from around the world to create the global library of medicine driven by a unique AI system that can think like a real doctor.
Now, the company is set to release it to the world in the coming months.
And with its sophisticated AI symptom assessment and tracking tool, this could soon be one of the biggest developments to the healthcare system in years.
The Breakthrough Tech Trained To Think Like A Doctor
When people Google their symptoms to figure out whether their runny nose is just a common cold or signs of something more serious…
They often find themselves stuck with a one-size-fits all answer.
It doesn't take into account your medical history or anything about you.
Treatment.com's new Intelligent AI Driven Digital Assistant in Cara, on the other hand, sorts through millions of pieces of data to deliver the most accurate information.
That could include your height, weight, gender, pre-existing health conditions, blood pressure, diet, genetics, previous surgeries, doctor reports, and more.
And it's able to do it by integrating both your medical history and data from the most popular wearables on the market like Apple Watch and Fitbit.
Cara will help patients to not only understand what their symptoms mean and what they're mostly likely facing…
It will also help people and their caregivers monitor and track those symptoms over time.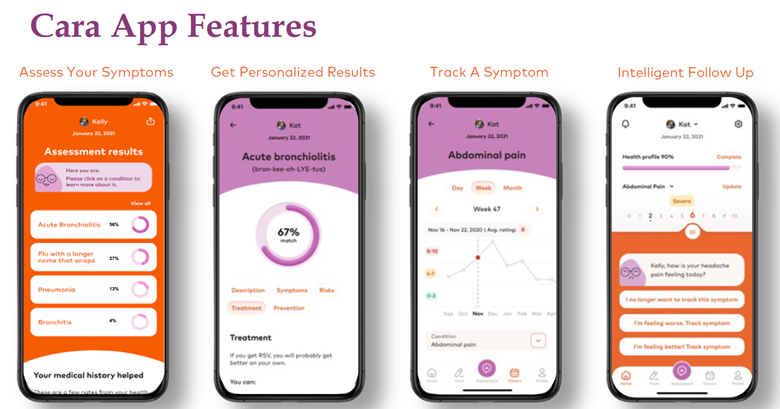 Add to that the ability to receive personalized support and follow-up over time, and it could become an essential tool in this new healthcare revolution.
With the help of world-class medical experts and engineers, they've created a unique new way to support better health and to provide access for anyone to enjoy.
Team of Seasoned Experts Unite
When it comes to adopting new technology, healthcare is usually among the last industries to make the change because the system is so notoriously complicated.
But with AI being used in everything from the GPS on your phone to the spam filters in your email these days, we're finally seeing AI in healthcare too.
Now, with the race to digitize healthcare, many are wondering which companies will lead the way.
For the best shot at success, you need to look at the teams who have created and scaled breakthroughs before.
That's exactly what the team behind Treatment.com (CSE: TRUE; OTC: TREIF) has done.
Their CEO, John Fraser, has over 25 years of experience scaling companies in healthcare technology.
Most recently, he led the cloud-based tech company, ABILITY Network, to a $1.2 billion exit to the health tech behemoth Inovalon.
And in starting Treatment.com, he partnered up with his Chief Medical Officer, Dr. Kevin Peterson.
Dr. Peterson has been a tenured professor at the University of Minnesota Medical School, one of the top medical schools in the country, for 35 years.
Together, they spent the last 5 years collaborating with over 40 world-class medical experts and top engineers from around the world to build this breakthrough technology.
Since the key to success for this new technology will likely be in their ability to land partnerships with big insurance companies and governmental health networks…
It's a smart bet to get behind CEO John Fraser, who has spent his entire career doing this.
And with 41% of its shares held by insiders, that's a great sign that the team has confidence in being able to scale and grow after all their hard work.
Driving Recurring Revenue From New Angles?
Treatment.com (CSE: TRUE; OTC: TREIF) has already received massive support from a top medical school, as the University of Minnesota has adopted it into its training program.
At the university, med students have begun using the technology to test their knowledge and train them in how to make clinical decisions.
But with the variety of ways this technology can be used, Treatment.com could be sitting on a potential goldmine in the days to come.
That's because they first plan to provide the Cara app to consumers to help deliver personalized health insights and recommendations.
They'll do this through a premium paid app, which could take off quickly if organizations or insurance companies license this to provide it as a benefit to employees or subscribers.
That's exactly what happened with wellness apps like Calm and Headspace, as insurers and employers flocked to them as a way to help lower healthcare costs in their organizations.
And that's precisely why Fraser's decades of experience and the network he's built over that time will be so valuable as the app launches later this year.
Second, Cara will also offer recommendations to other paid products and services like telemedicine, specialists, pharmacies, and other health products when appropriate for that next level of care.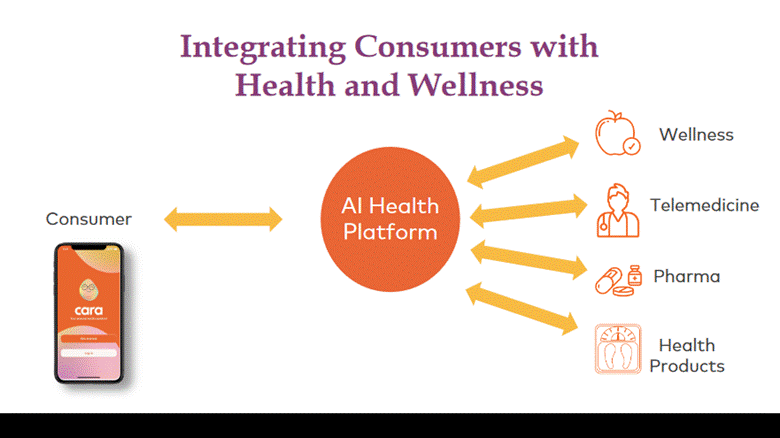 This will also provide Treatment.com (CSE: TRUE; OTC: TREIF) with another form of revenue through referral income.
Finally, the company can also license out the AI technology to medical clinics and academic institutions like they have at the University of Minnesota.
They've already tested the software in busy clinics, and it's showing promise in helping to streamline visits to save time and improving the accuracy of diagnoses for patients.
With AI set to transform the $12 trillion healthcare system, it could soon pay massive dividends as Treatment.com is set to release the Cara app later this year.
$12 Trillion Industry Offers Huge Revenue Potential
The industry already has major brand names operating in the space including WebMD and Teledoc.
And even Microsoft has gotten in on the action after taking over the AI company, Nuance.
But the number of multi-billion dollar companies taking over healthcare seems to be growing by the day.
For example, Babylon is a private company coming in at a $4.2 billion valuation after launching a triage chatbot last year.
They've rode this fast-growing digital trend to sign a 10-year deal with the NHS trust and with the Rwandan government.
And that's helped them raise nearly a half billion dollars with investors like AMF and Palantir Technologies.
Or look at ADA Health, another private company leading with AI technology.
They've signed 10 new global partners in just the last 8 months.
And they recently closed a $90 million funding round led by pharma giant, Bayer, and the tech juggernaut, Samsung.
But with many of these companies being private at the moment, Treatment.com offers investors a way to get in on this $12 trillion revolution at the ground floor.
And it offers this through new AI technology that goes far beyond what their competitors do.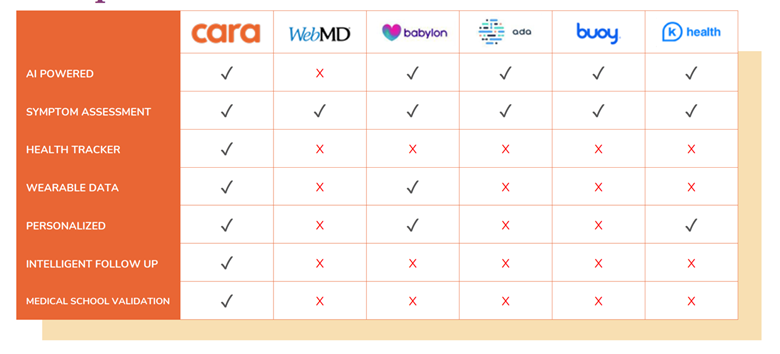 With a proven healthcare tech executive and dozens of world-class medical experts working behind the scenes for over 5 years...
Treatment.com (CSE: TRUE; OTC: TREIF) is now set to release the Cara app in the coming months, which could provide a major catalyst for Treatment.com to add its name as a major player in the industry in 2022 and beyond.

By. John Atronis
** IMPORTANT NOTICE AND DISCLAIMER -- PLEASE READ CAREFULLY! **

PAID ADVERTISEMENT. This article is a paid advertisement. GlobalInvestmentDaily.com and its owners, managers, employees, and assigns (collectively "the Publisher") is often paid by one or more of the profiled companies or a third party to disseminate these types of communications. In this case, the Publisher has been compensated by Treatment.com International Inc. ("Treatment.com" or "Company") to conduct investor awareness advertising and marketing. Treatment.com paid the Publisher four hundred and fifty thousand US dollars to produce and disseminate four articles profiling the Company. This compensation should be viewed as a major conflict with our ability to be unbiased.

Readers should beware that third parties, profiled companies, and/or their affiliates may liquidate shares of the profiled companies at any time, including at or near the time you receive this communication, which has the potential to hurt share prices. Frequently companies profiled in our articles experience a large increase in volume and share price during the course of investor awareness marketing, which often ends as soon as the investor awareness marketing ceases. The investor awareness marketing may be as brief as one day, after which a large decrease in volume and share price may likely occur.

This communication is not, and should not be construed to be, an offer to sell or a solicitation of an offer to buy any security. Neither this communication nor the Publisher purport to provide a complete analysis of any company or its financial position. The Publisher is not, and does not purport to be, a broker-dealer or registered investment adviser. This communication is not, and should not be construed to be, personalized investment advice directed to or appropriate for any particular investor. Any investment should be made only after consulting a professional investment advisor and only after reviewing the financial statements and other pertinent corporate information about the company. Further, readers are advised to read and carefully consider the Risk Factors identified and discussed in the advertised company's SEC, SEDAR and/or other government filings. Investing in securities, particularly microcap securities, is speculative and carries a high degree of risk. Past performance does not guarantee future results. This communication is based on information generally available to the public and on interviews with company management, and does not (to the Publisher's knowledge, as confirmed by Treatment.com) contain any material, non-public information. The information on which it is based is believed to be reliable. Nevertheless, the Publisher cannot guarantee the accuracy or completeness of the information.

SHARE OWNERSHIP. The Publisher owns shares and / or options of the featured company and therefore has an additional incentive to see the featured company's stock perform well. The Publisher does not undertake any obligation to notify the market when it decides to buy or sell shares of the issuer in the market. The Publisher will be buying and selling shares of the featured company for its own profit. This is why we stress that you conduct extensive due diligence as well as seek the advice of your financial advisor or a registered broker-dealer before investing in any securities.

FORWARD LOOKING STATEMENTS. This publication contains forward-looking information which is subject to a variety of risks and uncertainties and other factors that could cause actual events or results to differ from those projected in the forward-looking statements. Forward looking statements in this publication include, but are not limited to, the size and anticipated growth of the market for the companies' products, the prospects for success of the Company's to be launched health and wellness app – "CARA", the reported scheduled release of CARA, the ability to acquire customers for CARA, and the projected growth and profit margins of the Company's core product offerings. Factors that could cause results to differ include, but are not limited to, the companies' ability to fund its capital requirements in the near term and long term, the management team's ability to effectively execute its strategy, the degree of success of the launch of CARA, competition, market saturation, pricing pressures, etc. The forward-looking information contained herein is given as of the date hereof and we assume no responsibility to update or revise such information to reflect new events or circumstances, except as required by law.
INDEMNIFICATION/RELEASE OF LIABILITY. By reading this communication, you acknowledge that you have read and understand this disclaimer, and further that to the greatest extent permitted under law, you release the Publisher, its affiliates, assigns and successors from any and all liability, damages, and injury from this communication. You further warrant that you are solely responsible for any financial outcome that may come from your investment decisions.

TERMS OF USE. By reading this communication you agree that you have reviewed and fully agree to the Terms of Use found here http://GlobalInvestmentDaily.com/Terms-of-Use. If you do not agree to the Terms of Use http://GlobalInvestmentDaily.com/Terms-of-Use, please contact GlobalInvestmentDaily.com to discontinue receiving future communications.
INTELLECTUAL PROPERTY. GlobalInvestmentDaily.com is the Publisher's trademark. All other trademarks used in this communication are the property of their respective trademark holders. The Publisher is not affiliated, connected, or associated with, and is not sponsored, approved, or originated by, the trademark holders unless otherwise stated. No claim is made by the Publisher to any rights in any third-party trademarks.
© 2005-2019 http://www.MarketOracle.co.uk - The Market Oracle is a FREE Daily Financial Markets Analysis & Forecasting online publication.

Only logged in users are allowed to post comments.
Register/ Log in