Gold and Mining Stocks Investing, Better Early than Never Strategy
Commodities
/
Gold & Silver Stocks
Nov 13, 2008 - 11:02 AM GMT


Virtually all investors, whether in the stock markets in the United States or globally, commodities or the mining shares, the results over the last month or so is the same. Nasty, really, really nasty. Most of us in the business have also suffered and we feel the pain of our readers and subscribers to our services. Everyone is hurting.


That said, on a personal note, I have continued to purchase selected common shares and long-term warrants over the last several weeks. Yes, I have been early. With hindsight it would have been great to have waited a few more weeks or months but we make real decisions in real time. When I see a great opportunity, I don't know if it will jump up tomorrow, leaving me out or plunging in price, making it an even better opportunity.
It's just my gut feeling that when the turn does come for the junior mining shares, it will happen very quickly. Some unexpected event will occur which will drive the price of gold and the juniors higher overnight. Could it be a decision starting with this weekend's Global Economic Summit of the G 20? Perhaps an event with investors in the December Gold & Silver contracts actually calling for delivery of the physical?
If an unexpected event would happen most investors would not and could not react fast enough and would be like the deer caught in the highlights. The lack of a quick decision would see gold and the shares increasing greatly in value leaving investors behind. We could possibly see quick gains of 25%, 50% or more in the juniors in a given day and many investors would just not react in time and would decide not to invest. Thus, they would never get in.
I know some will take exception to my approach but while I may be investing in some of the selected juniors and long-term warrants on the early side at least I am in the game and I will not be left out when the markets do takeoff.
So, Better Early Than Never , is a choice only you can make. But remember, 'they' didn't ring a bell at the top telling you to sell and 'they' will not ring a bell at the bottom telling you to buy. Each investor should come to grips with this decision but it seems like most of us in the business are, at a minimum, doing some selective buying. I must also add that I have a few stocks and warrants which I am backing up the truck because of my confidence level of these specific companies which I have shared with my subscribers.
Let's take a look at a few charts. First is the U.S. dollar, observe the massive negative divergence forming at the dollar is hitting highs. This rally must end soon.
Next we look at a chart of gold and also the HUI index as of Wednesday's close. It looks like we are testing the recent lows and I believe there is a high probably of the previous lows holding.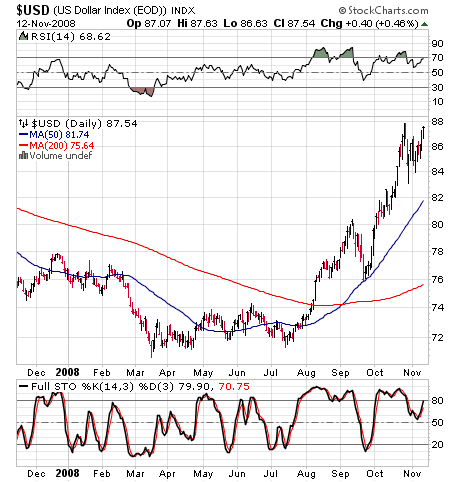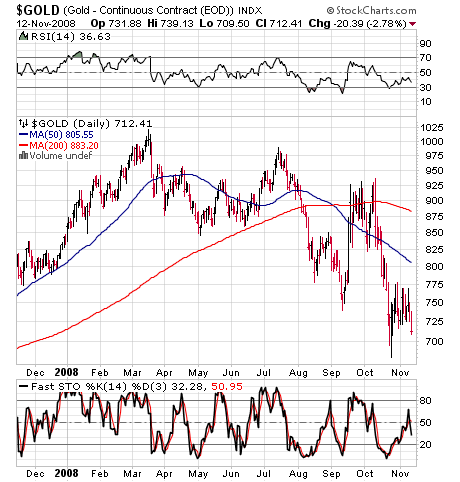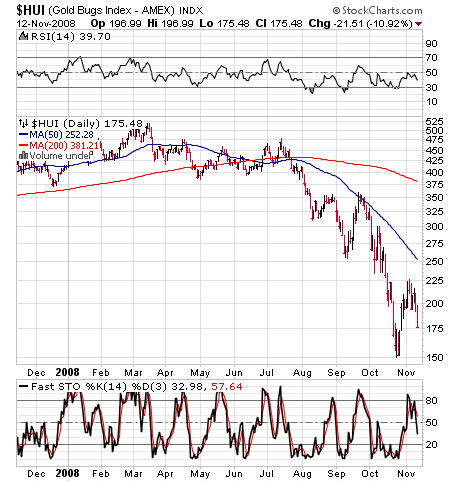 To summarize, the only place to be in our opinion is in gold and silver (bullion, if you can find some), mining shares (yes, they will come back) and long term warrants on selected mining shares.
For subscribers, we also provide a database for all companies with call options and leaps trading on the natural resource shares in addition to the warrants. A valuable tool for all investors.
For those readers interested in warrants and why Warren Buffett is receiving warrants in his recent transactions, visit our website and learning center for more information.
Dudley Pierce Baker
Guadalajara/Ajijic, México
Email: info@preciousmetalswarrants.com
Website: PreciousMetalsWarrants
Dudley Baker is the owner/editor of Precious Metals Warrants, a market data service which provides you with the details on all mining & energy companies with warrants trading on the U. S. and Canadian Exchanges. As new warrants are listed for trading we alert you via an e-mail blast. You are provided with links to the companies' websites, links to quotes and charts, tips for placing orders and much, much more. We do not make any specific recommendations in our service. We do the work for you and provide you with the knowledge, trading tips and the confidence in placing your orders.
Disclaimer/Disclosure Statement:PreciousMetalsWarrants.com is not an investment advisor and any reference to specific securities does not constitute a recommendation thereof. The opinions expressed herein are the express personal opinions of Dudley Baker. Neither the information, nor the opinions expressed should be construed as a solicitation to buy any securities mentioned in this Service. Examples given are only intended to make investors aware of the potential rewards of investing in Warrants. Investors are recommended to obtain the advice of a qualified investment advisor before entering into any transactions involving stocks or Warrants.
© 2005-2019 http://www.MarketOracle.co.uk - The Market Oracle is a FREE Daily Financial Markets Analysis & Forecasting online publication.

Only logged in users are allowed to post comments.
Register/ Log in