Stock Market Bear Still in Control
Stock-Markets
/
Stocks Bear Market
Nov 16, 2008 - 12:45 PM GMT


Nothing is a guarantee for sure in life but one thing I do know for sure is that the last 40 minutes of trading told us a lot about where we are in this stock market and the message this market is trying to send to the world that many of us still haven't heard. I now feel for sure that there is something out there that we just don't get at this moment in time because it's not visible. It does, however, have an energy. A vibe. It's saying that we are dealing with something never before seen and it's also saying that it's job isn't over yet. Almost like a punishment for all the improper behavior from the higher ups from just about everywhere.


From the big banks to the big brokers to big insurance companies. For all the inappropriate behavior they all exhibited and we as greedy folks ourselves accepted. To loans that many couldn't afford but the powers that be said we could and on and on. The list of poor behavior is far too long to list. It's pay back time. The froth and lack of concern for the truth of things is coming home to roost. You know what they say about payback. The old guard Nas stocks being annihilated one by one. You know that list all too well I'm sure. The financial stocks unable to bid even though they have been slaughtered. Almost as if the majority of them need to go away before the market will be happy again. The market seems to want the rash of supply out there with no real business model other than froth to go away forever.
Also, it doesn't matter who the Fed makes a deal with. Buffett has been buying and getting slaughtered. From Ge to Gs. No matter who buys. No matter what the Government and the fed do, it's meaningless to this energy out there that seems to have its head down with regards to paying back all of us with this bear market. It's the grand lesson. Maybe its the markets way of saying things must change. How we conduct business. How we treat people. How greed needs to be buried forever. How changes across the board must take place. The big cleansing. Time will tell. Many harsh lessons have already been given. I think more are to come.
The way things are unwinding, you wonder if the 2002 bear market lows at 775 will hold down the road. Heaven help this market if we do lose 775. Any number then becomes possible. We could rally first. We could not but the action in the leaders is screaming here with the way this market closed in the last 20 minutes. Nothing short of leaving one breathless and speechless. It shows the power and force of this bear and what's still possible. We have witnessed the unthinkable. We may witness a whole lot more of that.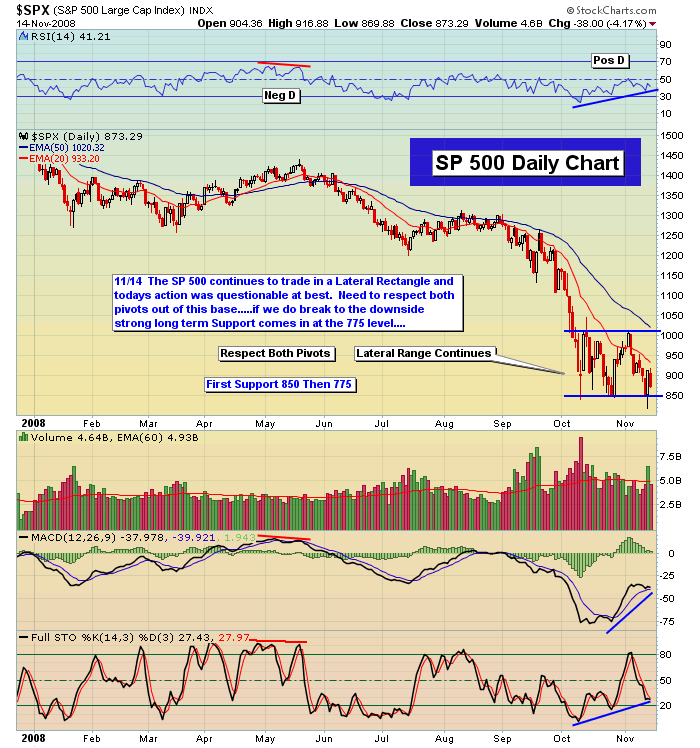 This bear is rocking folks and we need to respect it. The best answer to it may be all cash and some shorts as they present themselves and nothing else. It may just be that long side plays just won't be in effect for quite some time. Pure technical analysis is not working. The best divergences I've just about ever seen, including the daily chart divergences, are being ignored in ways I have never witnessed. It is interesting for sure. The most guaranteed patterns are failing. if you study the daily charts here you'd have to be nothing but long. Heavily long. One could make a case of almost being margin long yet look at the market behavior. Folks, those daily's are screaming buy, buy, buy.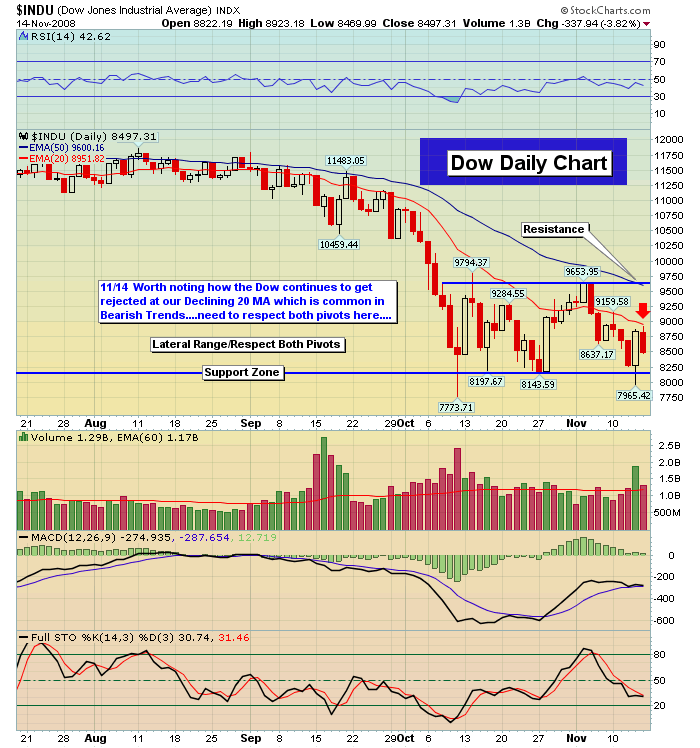 The market is laughing. The bears are rolling on the floor watching those buy signals get destroyed. They're saying for years and years all the market ever did was go up. They're saying we know how everyone laughed at us for so long. That all anyone thought was the market could only go higher. It sure did behave that way. I personally remember one colleague telling me in late 1999 that the Nas would never stop going up and that soon it would be higher in price than the Dow. Uh, no!!! The bears are saying forget it folks. We must respect that message, like it or not.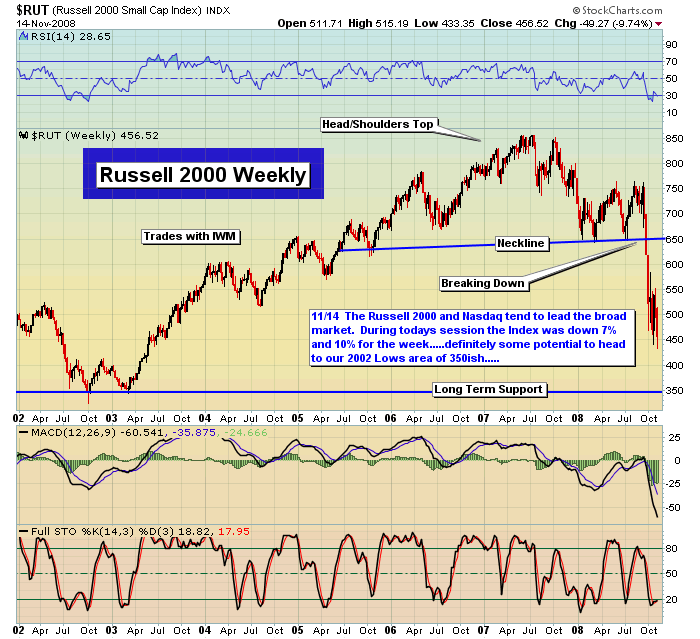 Listen, no need to keep harping on the obvious folks. We may end up being cash for months with some shorts from time to time. Be prepared for that. If that doesn't satisfy you I understand. it won't change what we do. We've done too well throughout this bear to get aggressive and then get crushed just because we're seeing some buy signals that just don't work. You look at Aapl. You break it down below 94 and then shoot up two days straight only to watch it collapse late day today.
The pattern is on complete breakdown now. Aapl is just the tip of that iceberg. We need to be in total defense mode from here on in until things flush out or there's action that suggests things really have changed for the better. The declining 20's stopped every rally today. The key is declining. It looks like the market is heading for a triple bottom breakdown. Nothing is guaranteed but the market looks like it's heading for a major breakdown soon based on the last 20 minutes of action today. Hold on to your hats. Feel good about missing the whole bear and we will guide you through all of this.
Peace
Jack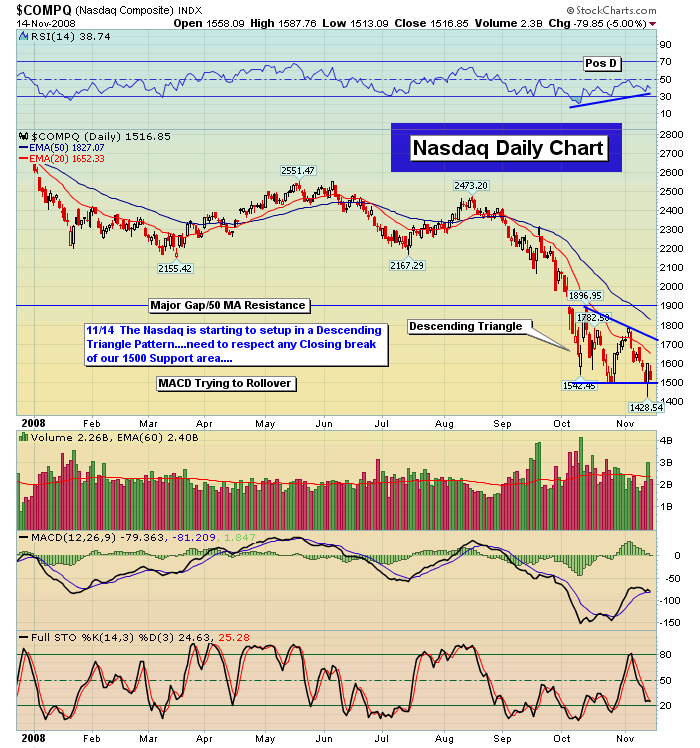 By Jack Steiman
Jack Steiman is author of SwingTradeOnline.com ( www.swingtradeonline.com ). Former columnist for TheStreet.com, Jack is renowned for calling major shifts in the market, including the market bottom in mid-2002 and the market top in October 2007.
Sign up for a Free 30-Day Trial to SwingTradeOnline.com!
© 2008 SwingTradeOnline.com
Mr. Steiman's commentaries and index analysis represent his own opinions and should not be relied upon for purposes of effecting securities transactions or other investing strategies, nor should they be construed as an offer or solicitation of an offer to sell or buy any security. You should not interpret Mr. Steiman's opinions as constituting investment advice. Trades mentioned on the site are hypothetical, not actual, positions.
© 2005-2019 http://www.MarketOracle.co.uk - The Market Oracle is a FREE Daily Financial Markets Analysis & Forecasting online publication.

Only logged in users are allowed to post comments.
Register/ Log in