Stocks & Commodity Markets Analysis - Take the Money and Run!
Stock-Markets
/
Financial Markets
May 13, 2007 - 12:48 PM GMT

The S&P closed flat for the week, but as usual, that doesn't mean there weren't some juicy moves along the way. Us unbiased traders at TTC have consistently been on top of every swing, from one side or the other, week after week – and we have the charts to prove it!


The markets opened to the upside on Monday and then pretty much went to sleep for the whole day. I'm sure many traders thought the week would go sideways until the Fed, but Tuesday morning the market proved that wasn't the case with a nice gap down. Monday's close had left pattern traders a bit bullish as the S&P seemed to suggest a triangle that would resolve to the upside. Instead it turned out to be yet another example of what I call the "Triangle Trap". The chart below was posted before Tuesday's open to suggest once again that we would NOT sell into the gap, but buy it instead.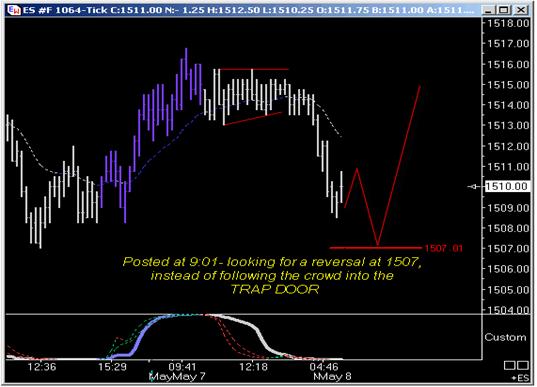 After a few minutes of vibrating around the target area, price and my proprietary trend charts took off to the upside and gave us an instant 7 points. The trend charts kept us out of shorting a losing gap down and then hinted we should take the money and run as the indicator started rolling over into the close. Below is a chart of the S&P e-mini futures into Tuesday's close.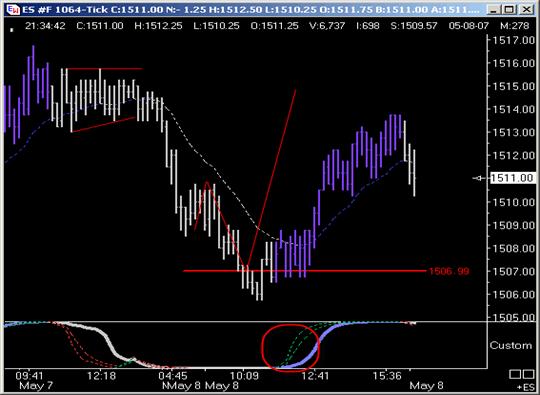 Members at TTC are using these trend charts for intraday trading in the SPX, DAX, gold, and oil. Daily and weekly time frames are available on a few other markets, and I plan on getting them for most other markets in the near future. Stop by, spend a few weeks with us, and see if we can improve your trading for only 1 ES point ($50) per month*. If you've been thinking about joining, now is the time to act! Keep reading to learn about the coming price increase and how you can get grandfathered in at the current price.
Wednesday brought the Fed meeting and most traders felt they had to be correctly positioned in front of the statement. Readers will remember I've had May 9 th as a turn date for months, and have been looking for a top to sell into. We elected to be flat and let the daytraders worry about trading that mess. The Fed announcement delivered that new high to set up a bull trap into Wednesday's close.
After months of waiting for the 9 th , we were pretty excited to see a new high appear dead on the very exact day. Sticking to the plan, Wednesday night I became cautious and posted that I was looking for a reversal pattern to confirm that we should get short. The next morning we gapped down and, once we were able to rule out a pattern that would see one more high, we shorted a number that was posted for members the night before. Of course, after a brief rally, the S&P rolled over to close down 16 on the day.
So, with our long-awaited turn date kicking in, members rang the register all day Thursday as the S&P sold off straight into the close. By that point, bullish traders that bought the Fed announcement were probably scrambling to get flat, but yes, we went long at the close at a price of 1497 for the ES futures. As you know, that wasn't such a bad thing, considering the low of the day was 1496 and the S&P closed Friday at its highs.
Our long position was explained to members at Thursday night's review, when I posted the following chart. The symmetry of certain markets are unbelievable, you just need to find them. And of course TTC does that for its members each and every day.
For the past year I've been getting on the bears' case because they're continually getting trapped into overnight holes that explode in their face. Now, I get the feeling the bulls will have their share of traps in the near future, but we aren't there yet. This market still feels toppy, but I'm not ready to give up on it yet. Of course, we have the luxury of going into the weekend flat, with profits, and waiting for the next setup because like I said, in a week where the markets closed unchanged, we were able to capture Tuesday's selloff perfectly, go short our May 9 th turn, and then cover and reverse 1 point from the S&P low on Thursday.
Now, many might ask why I would cover on Thursday after having caught such a nice swing, and the answer is simple if you step back and read what the market's been saying for the last few months. Swing trading just hasn't been as profitable lately as it used to – take Friday for example. The S&P has already recovered 73% of Thursday's selloff, and could do more. I'm not sure about others, but giving back 73% of my profit and hoping to get the right move on Monday is not what I call trading. What if we hit new highs next?
Once again, trading "unbiased" Elliott Wave is the only way… take the money and run. Going into next week, if the market continues to scream to the upside, we can trade it. If you're short from Friday and already at a loss, well, professional pit traders are going to have a ball with you. For those that just want to be short the market for the next big drop, well, after 5 years and 50 points from a new high, it's clear that strategy doesn't work either.
So, members should be going into next week flat after taking profits on Friday.
I think we have the pattern going into next week working for us perfectly. We've also mentioned two potentially important dates for the very near future. A few weeks ago when I mentioned the turn we got this week I mentioned to be careful with the wave degree. Was this week a tease of the old highs with the bulls about to be trapped? Or will we hit a perfect double top soon? Either way, if we're correct, I think many out there are about to be surprised. I'm hoping to be short early this week and test our target area below, which we expect a violent move from, once we confirm its direction.
If you haven't made nice profits this year, its time to really think about what you're doing wrong. If you've watched from the sidelines as the markets screamed higher or if shorted a rally from the 2002 lows only to watch the S&P recover all but 50 points of the initial decline – it's time to try something new! If this is you, it's about time to understand why you trade a certain side of the market and learn how to find the real money. Join now, become part of TTC, and begin to "earn and learn". Join before May 18, 2007 and if you don't see value from TTC, send me an email within 3 days asking for a complete refund! No questions asked . Now is a perfect time to join because the fee will be increased before the summer (read below for more details). Again, join this week and we will refund your total fee ($50) if you send me an email within 3 days of joining.
But I'm sure you won't.
If you are a registered member and need your username info, email me at Dominick@tradingthecharts.com
Europe
Having a problem trading the ES? Of course you are, its one of the hardest markets to trade, but no one tells you that part. Most other markets don't have as many traders scrambling around in them all day long, which makes there charts much cleaner. You might want to think about finding these other markets as there is much easier money out there to be made.
The Dax is certainly an index on our radar screen as it's been pulling us along on its explosive ride the last few weeks. We think we have the area it's targeting, as shown in the chart below. Here too, we are waiting for confirmation but we don't have it yet. If this is something you want to pay attention to, our members now have the trend charts on the Dax to use for their intraday trading. And trust me, these charts have saved many traders that were always quick on the sell button. The Dax forum has been growing nicely, we would love to have traders around the world join in and trade together in our great technical community. You can also take advantage of our chatroom, open 24/7.
Softs
OJ gave us a perfect selloff from the top. We then expected a bit of a rally and so far it seems to have reversed off the expected target.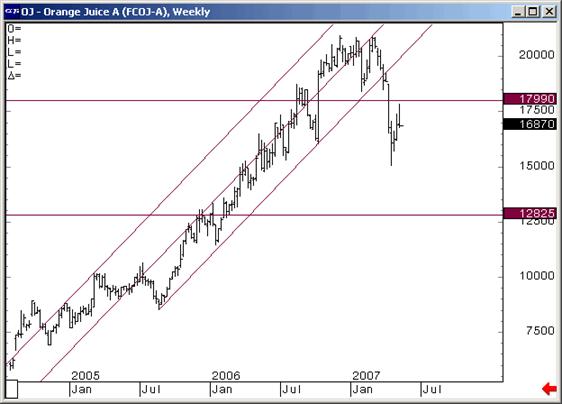 We continue to wait for a reversal that'll become a nice swing trade in the chart below. Stay tuned.
Gold
Gold survived the week's selling pressure and has come out on top of an old multi-year trendline. And the trend charts have nailed every move. Read Joe's Precious Points for a closer look at what's in store for the yellow metal next week and beyond.
Members only
Another great week as we were able to find very safe spots in a risky looking market. Friday's trade continued to follow our plan and should lead us to next week's big idea. Make sure to see where we stand in all the markets with the weekend chart updates available in the forums now. If we're correct, we still have a few nice weeks to look forward to before heading off for the beaches right after Memorial Day.
Be sure to also pick up a free PDF that Fibbo put together for us. It's an Elliott wave tutorial to get you started on your path to classic "unbiased" Elliott Wave. Elliott Wave Tutorial
TTC's Quick View

Also make sure you are aware of TTC's new addition to help many keep an eye on the Forum updates without needing to constantly login to check. We made this neat feature that you open to your desktop and you will be able to see when someone posts, and who is posting. There are some handy links there as well as a small time frame trend chart. I'm sure I'll find other things to add to it. You can open the Quick View by using the tab on top of the website.
*To Current and Prospective Members:
TTC will be increasing it monthly subscription fee sometime before this summer. The increase has become inevitable due to our ongoing expansion of the Website, computer and software upgrades, and the addition of services such as trend cycle charts. Current members and anyone that joins before the increase takes effect will not be subject to the new price, and will continue paying the current $50 subscription fee on a month-to-month basis. So, if you have been thinking of joining, this might be a great time.
Thank you for your attention to these changes. If there are any questions, please direct your email to admin@tradingthecharts.com .
Have a profitable and safe week trading, and remember:
"Unbiased Elliott Wave works!"
By Dominick
For real-time analysis, become a member for only $50
If you've enjoyed this article, signup for Market Updates , our monthly newsletter, and, for more immediate analysis and market reaction, view my work and the charts exchanged between our seasoned traders in TradingtheCharts forum . Continued success has inspired expansion of the "open access to non subscribers" forums, and our Market Advisory members and I have agreed to post our work in these forums periodically. Explore services from Wall Street's best, including Jim Curry, Tim Ords, Glen Neely, Richard Rhodes, Andre Gratian, Bob Carver, Eric Hadik, Chartsedge, Elliott today, Stock Barometer, Harry Boxer, Mike Paulenoff and others. Try them all, subscribe to the ones that suit your style, and accelerate your trading profits! These forums are on the top of the homepage at Trading the Charts. Market analysts are always welcome to contribute to the Forum or newsletter. Email me @ Dominick@tradingthecharts.com if you have any interest.
This update is provided as general information and is not an investment recommendation. TTC accepts no liability whatsoever for any losses resulting from action taken based on the contents of its charts, commentaries, or price data. Securities and commodities markets involve inherent risk and not all positions are suitable for each individual. Check with your licensed financial advisor or broker prior to taking any action.
© 2005-2019 http://www.MarketOracle.co.uk - The Market Oracle is a FREE Daily Financial Markets Analysis & Forecasting online publication.

Only logged in users are allowed to post comments.
Register/ Log in