Category: Credit Crisis 2008
The analysis published under this category are as follows.

Wednesday, March 19, 2008

It seems that the effects from the credit crunch on the sub prime mortgage market are far from over. Julia Harris, mortgage analyst from moneyfacts.co.uk looks at recent changes to the ever-depleting market. "Over the last week we have seen a host of sub prime lenders including Amber Homeloans, Scarborough Specialist Mortgages and SALT cease new lending of sub prime mortgages. In addition Northern Rock has announced that it will no longer be offering sub prime mortgages funded by Southern Pacific Mortgage Limited.
Read full article...

Read full article...
---

Wednesday, March 19, 2008
The Halifax (HBOS), Britain's biggest Mortgage bank shares crashed by 20% on the opening this morning as suspected hedge fund forced short selling drove the stock price sharply lower to £3.98. This was accompanied by rumours that the bank had to seek emergency funding from the Bank of England and that the central banks staff leave had been cancelled to deal with the crisis.
The Bank of England and the FSA took the unprecedented step of issuing statements that categorically denied the rumours. The FSA went further that it had launched an investigation into the trading activity surrounding HBOS and other banks this morning and accused traders of 'market abuse by spreading false rumours to profit from short-selling.
Read full article...

Read full article...
---

Wednesday, March 19, 2008
It's a Welfare State—If You're Rich
- Listen to conservative talk show pundits and blowhards. Listen to any of the political candidates who proudly amend their names with the phrase "conservative Republican." One theme resonates in all of the heavy wind—keep the government out of our private lives; let business enjoy a free market economy. Not only should government regulation be minimal, they say, but we must end the "welfare state."
Read full article...

Read full article...
---

Tuesday, March 18, 2008

There Should Be a Quid Pro Quo between the Fed and Financial Institutions
- The Fed's creation of various facilities in recent months - the Term Auction Facility (TAF) for depository institutions, the Term Securities Lending Facility (TSLF) for primary government securities dealers and the Primary Dealers Credit Facility (PDCF) - would be expected to alleviate some institutional liquidity issues that otherwise could metastasize into institutional solvency issues. Commercial and investment banks now can borrow against
seemingly
credit-worthy collateral with a much smaller "haircut" than otherwise. The Fed has created these new liquidity facilities in order to forestall a systemic failure of the financial system, not to enhance financial institution shareholder value.
Read full article...

Read full article...
---

Tuesday, March 18, 2008

If you have ever taken the time to watch water swirl around a pier, you have seen turbulence. The fixed object creates eddies that are at first large and then, as the turbulence seems to move around and away, they diminish. The late Robert Kraichman, a physicist saw this type of turbulence and wondered if it happened on a larger scale, would the same large to small changes take place.
Read full article...

Read full article...
---

Tuesday, March 18, 2008

"It's a snowball and it keeps getting bigger," Peggy Furusaka, credit specialist at BNP Paribas SA in Tokyo.
Last night, while America slept, investors and dollar-holders around the world held an impromptu election on US stewardship of the global economy. It was a spontaneous referendum triggered by the sudden collapse of Bear Stearns, but it covered many of the issues that have worried investors for the last seven years: the unfunded Bush tax cuts, the $2 trillion war in Iraq, the Federal Reserves low-interest bubble-making policies, the reckless gutting of US industrial base, the $4 trillion increase to the national debt, the multi-billion dollar "no bid" contracts, the opaque deregulated financial system, and the systematic destruction of the world's reserve currency. The ballots are still being counted, but the outcome is certain.
Read full article...

Read full article...
---

Tuesday, March 18, 2008

Eliot Spitzer and Bear Stearns. Not an unlikely couple in a statement in any given week, as Mr. Spitzer was known to take a swing at any financial company that may be doing wrong. However, last week both were bowed low – Eliot by personal demons, Bear Stearns by what may be called an old fashioned run on the bank. Eliot may wind up on the wrong side of prison bars and Bear Stearns may become nothing more than a historical footnote. The Fed and JP Morgan have come to the temporary rescue of Bear Stearns, however given the very intertwined dealings of financial instruments, investors began to wonder how many others might suffer the same fate in the weeks ahead.
Read full article...

Read full article...
---

Tuesday, March 18, 2008

This week's Outside the Box is going to be a little different. I am going to write about the extraordinary action by the NY Fed to foster the Bear Stearns deal with JP Morgan, and give you three brief notes from Michael Lewitt of Harch Capital Management and Bob Eisenbeis (former executive vice-president of the Federal Reserve of Atlanta) of Cumberland Advisors.
Let's Get Real About Bear Stearns
I already have a slew of emails from people upset about what they see as a bailout of a big bank, decrying the lack of "moral hazard." And I can understand the sentiment, as it appears that tax-payer money may have been used to bail out a big Wall Street bank that acted recklessly in the subprime mortgage markets.
Read full article...

Read full article...
---

Tuesday, March 18, 2008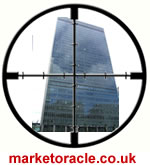 In the wake of Bear Stearns Firesale to JP Morgan, which itself is far from immune to panic withdrawals, the credit crisis loss of confidence contaigent appears to have Lehman Brothers in its sights. Panicking Wall Street investors who saw their shares in Bear Stearns go from $62 to $2 in a matter of days dumped stock in Lehman Brothers on Mondays opening. The stock traded down to $20 on Monday before rallying and closing at $31.75 down about 20% on the day.
Read full article...

Read full article...
---

Monday, March 17, 2008

Martin D. Weiss writes: Last night, when Ben Bernanke cut the discount rate ... made a loan of $30 billion to cement the Bear Stearns buy-out ... and flung open the Fed's coffers to the next major investment banks that may be on the brink of failure ... he must have thought that investors around the world would applaud his actions.
Not quite!
Read full article...

Read full article...
---

Monday, March 17, 2008

The ongoing deleveraging of the $500 trillion derivatives markets claimed its biggest scalp on Sunday - Bear Stearns, formerly one of the worlds top investment banks and now taken over by JP Morgan to prevent a global financial panic, with the aid of funding and guarantees from the US Fed amounting to $30 billion which was reminiscent of the UK Governments bailout of Northern Rock Bank.
Read full article...

Read full article...
---

Monday, March 17, 2008

On Friday, Bear Stearns blew up. It was the worst possible news at the worst possible time. A day earlier, the politically-connected Carlyle Capital hedge fund defaulted on $16.6 billion of its debt. Carlyle boasted a $21.7 billion portfolio of AAA-rated residential mortgage-backed securities, but was unable to make a margin call of just $400 million. (Where did the $21.7 billion go?) The news on Bear was the last straw. The stock market started reeling immediately; shedding 300 points in less than an hour. Then, miraculously, the tide shifted and the market began to rebound. If there was ever a time for Paulson's Plunge Protection Team to come to the rescue; this was it.
Read full article...

Read full article...
---

Monday, March 17, 2008

I have been on Wall Street for fifteen years, and fully appreciate how the market will read the "purchase" of Bear Stearns for $2 per share is anybody's guess. As a manager of risk, I see the following:
It is obvious Bear Stearns was bankrupt and could not have continued as a viable entity.
Rather than have them declare bankruptcy, the Fed engineered a plan to have JP Morgan "buy" Bear Sterns for $2 per share. A price of $2 per share means the market was too optimistic in the last 14 months when Bear's stock fell from $169.33 in January 2007 to $30 per share as of Friday's close.
Read full article...

Read full article...
---

Sunday, March 16, 2008
Martin D. Weiss writes:Today marks the first day of the next phase of the credit collapse we've been warning you about: The failure phase.
The first victim: Bear Stearns.
Read full article...

Read full article...
---

Saturday, March 15, 2008

"It's another round of the credit crisis. Some markets are getting worse than January this time. There is fear that something dramatic will happen and that fear is feeding itself," Jesper Fischer-Nielsen, interest rate strategist at Danske Bank, Copenhagen; Reuters
Wednessday's action by the Federal Reserve proves that the banking system is insolvent and the US economy is at the brink of collapse. It also shows that the Fed is willing to intervene directly in the stock market if it keeps equities propped up. This is clearly a violation of its mandate and runs contrary to the basic tenets of a free market. Investors who shorted the market yesterday, got clobbered by the not so invisible hand of the Fed chief.
Read full article...

Read full article...
---

Saturday, March 15, 2008
I am not the only market-watcher who has noticed that although the news seems to get progressively worse for the banks and brokers, and stress to the financial system and the Fed (lender of last resort) gets progressively more intense, the stock indices for the most part have held above their January lows. The Jan. 22 low in the Dow at 11,635, for instance, was tested Monday at 11,732, and perhaps we should consider Friday's low at 11,833 as yet another test -- amidst treacherous news and innuendo about the efficacy of Bear Stearns.
Read full article...

Read full article...
---

Saturday, March 15, 2008

Hedge funds
are now
facing their worst crisis
since the 1998 Long Term Capital meltdown. Banks are now raising their collateral requirements even on hedge funds with the best (AAA-rated) assets. Many hedge funds have made money for their wealthy investors by borrowing heavily to buy high quality mortgage securities. Their earnings were made by exploiting the spread between the interest paid on shorter-term loans and the interest earned on the longer-term mortgages. However, they figured if a little debt could magnify returns, then a lot of debt would be that much better. Until, that is, the subprime market caused a hiccup in higher-quality bonds, too.
Carlyle Capital
, which leveraged its portfolio 32-to-1, collapsed on Thursday after failing to come up with additional capital to protect itself from creditors seizing its assets. One domino after another is falling after the turmoil is forcing other hedge funds to come up with extra capital. The problem is, their assets are also deteriorating, as they cannot find a market, even for their higher-quality debt instruments.
Read full article...

Read full article...
---

Friday, March 14, 2008
As with so many crises in history, the consequences of certain situations are not foreseen, or if they had been foreseen were downplayed to either inaction, or insufficient action. So it has been with the "sub-prime" crisis that is now a full blown liquidity crisis that is spreading like a gangrene into other aspects of the credit market. You may still wonder why this crisis is causing such a threat to the entire financial system so as to cause the Fed to 'throw money from helicopters'? The problem is essentially due to the functioning of collateral.
Read full article...

Read full article...
---

Friday, March 14, 2008

A year or so ago, I wrote a piece discussing that when the world credit bubble (pan financial bubble in markets and assets) unwinds, world governments will be forced to try and support the markets. The prediction was that this will amount to monetization of failing markets. The alternative to monetization would be intolerable financial panics and market collapses, where people lose all their savings. (Monetization is where central banks buy assets to shore them up, thus using the currency to support collapsing markets. This is in the process of happening now in the EU and the US.)
Right now, we are looking at the precipice of a total world financial collapse. When the stock markets finally let go, people will wake up to the reality of world financial bankruptcy. Millions of people will lose much of their retirement savings, in a super world stock crash, and you will again see stories about people refusing to open their 401k statements because they don't want to see how far down they are. That's what happened right after the Tech crash. Well, think of that episode as merely a taste of what is to come.
Read full article...

Read full article...
---

Friday, March 14, 2008
According to Bear Stearns CEO, Alan Schwartz, his company went from being a stable and liquid enterprise to nearly insolvent in the span of 24-hours. What unexpected event arrived to shipwreck poor Bear? Market chatter of course:

"Bear Stearns has been the subject of a multitude of market rumors regarding our liquidity. We have tried to confront and dispel these rumors and parse fact from fiction. Nevertheless, amidst this market chatter, our liquidity position in the last 24 hours had significantly deteriorated." Bear Stearns PR
Read full article...

Read full article...
---