Category: US Housing
The analysis published under this category are as follows.

Saturday, July 21, 2007
We have been forecasting that the housing recession would have a negative knock-on effect on discretionary consumer spending. Six successive months of declining light motor vehicle sales is corroborating evidence of this. If J. D. Power has got its numbers correct, July is on course to mark the seventh consecutive month in which car and truck sales decline.
Read full article...

Read full article...
---

Saturday, July 21, 2007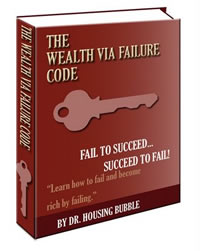 I'm sure many of you already read the article about The Real Estate Prayer Luncheon in Florida where a group of hopeful agents prayed that the housing slump will end. I actually think this is a great idea to resurrect the housing market. So in light of this, I am going to pray that my new book coming out called The Wealth via Failure Code will be a major success. I'm praying that all of you will buy it. Since we are living a surreal housing environment, I figure writing a book with Orwellian themes will tickle many of your fancies.

Read full article...

Read full article...
---

Monday, July 16, 2007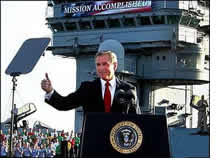 It is said that the definition of insanity is doing the same thing over and over and expecting a different result. If we adhere to this definition, housing pundits must be clinically insane because since the middle of 2006 we've been hearing rhetoric of "yes, today we've reached bottom." Amazing how these folks live on one way streets. During the past seven years, each new record high was welcomed and when asked if this was a peak most would respond that the sky was the limit. No end in their immediate future. If up to them, housing would appreciate 20% each year until the end of time.
Read full article...

Read full article...
---

Thursday, July 12, 2007
Brady Willett & Todd Alway write: With U.S. homebuilder confidence slipping to a 16-year low in June and subprime contagion fears omnipresent, no one seemed to notice when Toll Brothers reported a 93.5% increase in its 'Provision for inventory write-downs/write-offs' for the six-months ending April 2007. However, as the losses and/or inventory write-downs at Toll and other builders mount in the coming quarters, the carnage could prove difficult to ignore. After all, following more than a decade of truly spectacular gains, the good times for U.S. homebuilders are over.
Read full article...

Read full article...
---

Saturday, July 07, 2007
As we are witnessing the mortgage debacle unfold in California, there are other parts of the country that felt very little impact by this seven year credit bubble. For the most part, this bubble has been isolated to coastal metro areas. Not uncommon in beach locales, housing in prime locations always yields a commanding price in the market. But to what extent? Actually to the extent the market can sustain the price, sellers will ask for Pollyanna if they have the inclination they will get it. Yet this desire for higher and riskier mortgages has added fuel to a housing craze unparalleled in history.
Read full article...

Read full article...
---

Sunday, July 01, 2007
Mike Larson writes: I'm an optimist. No, really. In "regular life," I like to look at the bright side of things. Anyone who has known me for a long time will tell you the same thing.
But when it comes to the markets, I don't mess around. Starry-eyed optimism is a recipe for disaster. You have to approach trading and investing in a cold, rational manner. I don't care if you're talking about bonds, stocks, real estate, or anything else.
Read full article...

Read full article...
---

Thursday, June 28, 2007
As the Fed does an ostrich impression by sticking its head in the ground and pretending everything is okay, we are facing an economic tipping point ushered in via housing. The Fed has left the key interest rate steady once again. At this point, they are backed to a wall because lowering rates will signal that the economy is weak and needs additional help thus stunting consumer confidence. If they raise rates, they accelerate the bursting bubble because debt service on millions of American's mortgages will go higher thus taking money away from the national past time of mall shopping. We are quickly approaching a global tipping point.
Read full article...

Read full article...
---

Wednesday, June 27, 2007
That's the conventional wisdom, but recent reports from retailers might suggest otherwise. Early in June, Bed Bath & Beyond issued a profit warning. BB&B's chief executive, Steven Temares, said: "Based upon what we have experienced and has been reported by others, the overall retailing environment, especially sales of merchandise related to the home , has been challenging" (emphasis added).
Read full article...

Read full article...
---

Wednesday, June 20, 2007
Markets operate under the assumption that key players act rationally in most circumstances. Their premise is such that market stability is based on people acting to a set of according rules. Much has been debated about this because economics as a science is cold and aloof; it is a matter of simply stating the facts. Yet we have learned in the recent housing mania that market psychology and behavioral economics play a large role in how people interpret risk and what constitutes an investment.
Read full article...

Read full article...
---

Tuesday, June 19, 2007
The National Association of Home Builders (NAHB) index of current sales of new single-family homes edged down a tick to 29 in the June survey, the lowest reading for this housing cycle and the lowest reading since early 1991 (see Chart 1). Why? I will let David Seiders, the NAHB's chief economist, tell you in his own words: "It's clear that the crisis in the subprime sector has prompted tighter lending standards in much of the mortgage market, and interest rates on prime-quality home mortgages have moved up considerably during the past month along with long-term Treasury rates."
Read full article...

Read full article...
---

Sunday, June 17, 2007
America has gone housing crazy. In the last six years, housing has contributed to 29% of total employee additions. How does this equate to past decades? Let us take a look:
1971-1979: 10%
1980-1989: 12%
1990-1999: 10%
2000-2006: 29%
Read full article...

Read full article...
---

Friday, June 15, 2007
My trading strategy is fairly simple. I identify a dominate theme and then buy leading stocks in that theme. This has worked quite well for me over the years. Back in the good old days it was the Internet and stocks like AOL (TWX), CMGI (CMGI), Cisco (CSCO), Intel (INTC) and Microsoft (MSFT). Over the past three years, it has been industrialization of the emerging markets. This led to the formation of my
Big Build-Out (BBO) portfolio
and stocks like Companhia Vale do Rio Doce (RIO), Southern Copper (PCU) and BHP Billiton (BHP).
Read full article...

Read full article...
---

Tuesday, June 12, 2007
Interesting video on the US housing market crash by Itulip.
Read full article...

Read full article...
---

Monday, June 11, 2007
Better late than never, huh? The so-called Fed model is often used to gauge the under-over-valuation of corporate equities by comparing the earnings yield on, say, the S&P 500 with the yield on the Treasury 10-year security. The same kind of analysis can be applied to owner-occupied housing by dividing the "earnings" or services produced by owner-occupied housing by the market value of that housing. The services produced by housing are estimated by the Bureau of Economic Analysis in its National Income and Product Table 2.45U, line item "Personal Consumption Expenditures: Owner-Occupied Nonfarm Dwellings: Space Rent."
Read full article...

Read full article...
---

Saturday, June 02, 2007
The housing bust is here and we can all expect home prices to decline every year for years to come. However, recovery will eventually happen and when today's market seems bad just take a look at this video to know what a recovery looks like
Read full article...

Read full article...
---

Friday, June 01, 2007
Mike Larson writes : There is demand for housing out there. Yes, you heard me right — people are willing to buy homes.
There's just one catch: The prices have to be low!
That's one message from the April housing data. The other is that we are literally swimming in homes for sale — condos, town houses, single-family homes, you name it!
Let me tell you what this means …
Read full article...

Read full article...
---

Thursday, May 31, 2007
An economics video presentation at Humboldt State University. Special guest lecturer Dr. Christopher Thornberg of Beacon Economics discusses the current housing bubble and its effects on California
Read full article...

Read full article...
---

Monday, May 28, 2007
Headline: "C.A.R. [California Association of Realtors] reports sales decrease 27.8 percent in April, median price of a home in California at $597,640, up 6.2 percent from year ago." Then we also read, "Throughout the state inventory levels have increased to their highest levels in recent years..."
Price increase in the climate of declining sales and rising inventory? Something doesn't add up.
Read full article...

Read full article...
---

Wednesday, May 23, 2007
Since bottoming on April 12th, the SPDR Homebuilders ETF (XHB) is up 12.5%; twice as much as the S&P 500's gain of 6%. If you are surprised by that statement you are not alone. I still find it hard to believe even after staring at the chart.
Read full article...

Read full article...
---

Tuesday, May 22, 2007
U.S. mortgages in foreclosure rose in April 62% from a year ago according to RealtyTrac Inc. Folks are increasingly losing their homes as we warned last October . Attempting to allay fears, Federal Reserve Chairman Ben Bernanke spoke last Thursday: "We believe the effect of the troubles in the subprime sector on the broader housing market will be limited and we do not expect significant spillovers from the subprime market to the rest of the economy or to the financial system." We clearly disagree.
Credit Suisse's ARM Reset Schedule, included in our last report , shows that over $1 Trillion dollars worth of adjustable rate mortgages will reset over the next 5 years. Bloomberg is just now reporting on the extent of the subprime meltdown . Even more telling is what credit derivative market charts are showing.
Read full article...

Read full article...
---