Analysis Topic: Companies Analysis
The analysis published under this topic are as follows.

Tuesday, January 02, 2007
The theme for 2007 is to diversify into high growth economies, which includes both emerging and developed economies. The UK and USA are expected to slow during 2007 and better growth is likely to be found outside these countries, as was the case for much of 2006.
These are our stock picks for 2007 and beyond, the aim being to provide long-term sustainable growth rather than short-term speculative holdings, and as always do your own research before entering into any investment decisions. Also, we intend on focusing more on managed investment trusts rather than individual stocks so as to reduce the risk and this further enhance the long-term aspect of our selections.
Read full article...

Read full article...
---

Tuesday, December 26, 2006
The six Chinese office workers in front of me all ordered the same thing — a Chinese specialty called hot pot, a simmering fondue-like pot of aromatic and spicy stock that contains leafy vegetables, mushrooms, dumplings, meat, and/or seafood. It looked absolutely delicious and smelled even better. 'I want one of those,' I said to the cashier who couldn't speak a lick of English.
My host at the Zhang Jiang Hi-Tech Industrial Park cafeteria on the outskirts of Shanghai gently interrupted me. 'I suggest you make a different selection, Mr. Sagami,' he quietly warned. 'That is dog hot pot.'
'Dog? Dog as in woof woof? ' I asked.
Read full article...

Read full article...
---

Friday, December 22, 2006
Russia's state controlled gas monopoly Gazprom has purchased 50 percent plus one share in
Sakhalin Energy
, the project operator of Sakhalin-2 oil and gas venture in the Far East, for $7.45 billion, in a deal that consolidates Putins control over Russia's energy resources.The agreement was announced at the Kremlin, in a meeting between President Putin, and executives from Gazprom, Royal Dutch Shell as well as top executives from Japanese shareholders, comes after months of mounting pressure from the Russian regulators.
Read full article...

Read full article...
---

Tuesday, December 12, 2006
Russia's Environment agency Rosprirodnadzor, today said it was to file lawsuits against foreign oil companies developing the Sakhalin-2 oil and gas fields during early 2007. The agency estimated initial costs of the damage at $10 billions but could rise as high as $50 billion. Intense pressure from the Russian government is forcing Royal Dutch Shell to give up control of the lucrative $30 billion Sakhalin-2 project to state gas monopoly Gazprom as an attempt to elevate the pressure and get the project moving forward. Shell holds a controlling 55 percent stake in Sakhalin Energy. Japan's Mitsui and Mitsubishi own 25 percent and 20 percent.
Read full article...

Read full article...
---

Tuesday, December 05, 2006
The declining dollar is expected to bring earnings boosts to many US multinationals with large over seas exposure / export earnings as a % of total revenues. The declining dollar results in an increase in profit margins and competitiveness against the host countries products & services. Manufacturers such as Intel, Coca Cola and IBM. Producers such as Exxon Mobil and Service companies such as Macdonald's all receive more than 50% of their revenues from overseas interests.
Read full article...

Read full article...
---

Monday, December 04, 2006
Pfizer shares fell by nearly 12 per cent after the worlds largest drug manufacturer, announced it was halting trails of its heart medicine Torcetrapib , after it revealed deaths and cardiovascular problems among people taking the drug during the clinical trials. The stock was also downgraded by several market analysts on concern that Pfizer's revenue growth will now weaken.
Read full article...

Read full article...
---

Sunday, November 26, 2006
Google passes $500 on the back of a wave of speculative interest, is this the start of another run up in google or are we near a potential slump in the google share price ?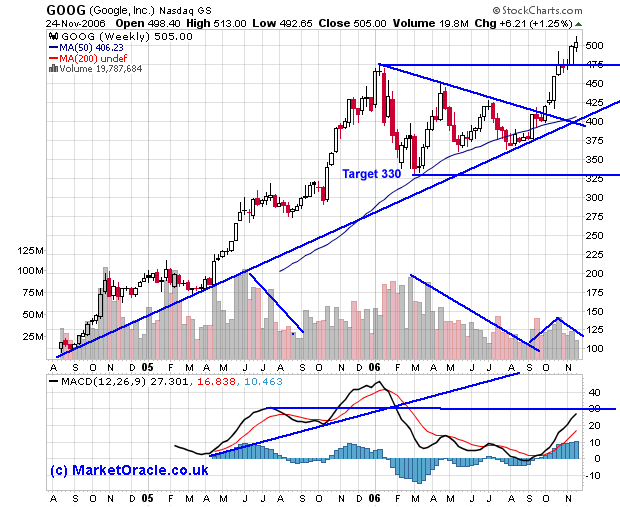 Since google floated some 2 years ago at $85, it has had strong run higher to the current price of $505, up 600% since IPO, and up over 50% on the 330 lows seen barely 3 months ago. Now we look at where google actually stands and probability that it can achieve an even higher price or if Google has run ahead of its fundamentals.
Read full article...

Read full article...
---

Sunday, November 05, 2006
Canada's "Conservative" government recently announced a surprise change in the tax laws that could have come straight from the Kremlin's playbook. The tax change regards a new plan to tax Canada's income trusts. Not only does it come out of the blue, it breaks a pledge made by Canada's Conservative government not to change the trust taxation rules.
Trusts, unlike corporations, pay little or no corporate tax because they were set up to take advantage of a loophole in tax rules. The supposedly offsetting factor is that owners of trust units pay higher tax on income from the trust because a break for corporate dividends doesn't apply. With trusts paying no corporate income tax to Canada or to their province of residence, foreigners paid 15-per-cent withholding tax on investment income going out of Canada.
Read full article...

Read full article...
---

Friday, November 03, 2006
Google will earn more advertising revenue in the UK this year than Channel 4. Who's chief executive warned the TV industry that they had underestimated the threat from the internet. Andy Duncan said some traditional broadcasters had been slow to recognise the challenge posed by the internet and multi-channel TV, which cut into the audience and ad revenues of terrestrial broadcasters.
'This, reinforces that significant structural change has been going on and will continue to go on,' Duncan said.
Some broadcasters have been very slow to realise this. The industry as a whole is frankly rather backward looking and is perhaps underestimating the scale of change that is going on and the pace of change. Duncan said Channel 4, which is publicly owned but funded by advertising, had had an "incredibly good year", increasing its audience share by 10% and boosting its share of the ad market. This made the comparison to the search engine all the more striking, he said.
Read full article...

Read full article...
---

Monday, October 30, 2006
The Kyoto pact has spurred billions of euros in greenhouse trade between companies in Europe and through a program that allows rich countries to pick up credits for investing in clean projects in developing countries.
The first phase of the pact requires about 35 developed countries to cut emissions of 5% from 1990 levels by 2008 to 2012.
But carbon dioxide-belching oil refineries and power plants, beyond some in Europe, mostly have yet to join in. That's mainly because President George W Bush withdrew US – the top polluter – from the international agreement, and as rapidly developing countries like China, India and Brazil oppose emissions limits because they have only recently industrialised.
But this is likely to change as the economic impact of global warming starts hitting and the carbon trading market could be transformed from a $10 billion a year market to a $1 trillion market.
Read full article...

Read full article...
---

Sunday, October 29, 2006
With rumours of Russia's metals giant seeking to takeover South Africa's Anglo American, this on the back of a merger between russian minerals giants RUSAL and SUAL, creating a $25-30 billion company supplying one-eighth of the world's aluminum and 16 percent of its alumna.
The new russian giant is headed by Brian Gilbertson, former chief executive of BHP Billiton who wants to create a similar diversified company to BHP Billinton, which he was instrumental in creating in 2001. It may end up being called Anglo American Russian. Brian Gilbertson, former chief executive of BHP Billiton, reportedly wants to cobble together the global mining company Anglo American with Russian Aluminum.
Read full article...

Read full article...
---

Friday, October 20, 2006
Reports say that Corus, UK based steel giant, has backed Tata's $9 billion take over bid. According to the Financial Times , the board of Corus, the Anglo-Dutch steel maker, has recommended 5.1 billion pound takeover bid to the shareholders.
And the report says that Corus will make a statement about this, possibly as soon as Friday. The move will end the chances of any potential counter-bidders for the world's eighth biggest steel maker. Novolipetsk and Severstal, two Russian steel companies, and CSN, a Brazilian steel maker, are thought by some steel industry observers to be interested in making a counter bid.
Read full article...

Read full article...
---

Monday, October 09, 2006
Google is buying the YouTube for $1.65 billion dollars in stock.
The deal that unites the most popular Internet search engine with one of the Web's rising stars is by far Google's most expensive in its eight-year history. But the price tag catapults Google into a front-running role with Internet video.
You Tube started in Feb 2005, and in just over 18 months has captured about 50% of the online video market, compared to Google's 11%.
Read full article...

Read full article...
---

Monday, October 02, 2006
Today online gambling stocks took a big tumble ! As the senate passed a law on Friday effectively banning online gambling sites.
PartyGaming alone saw over £2 billion slashed from its market value as its shares more than halved, crashing 60p to 46p. It was by far the biggest faller in the FTSE 100 index. There were equally large losses in the rest of the sector. Sportingbet, which also said it has abandoned its planned merger with rival firm World Gaming, saw its shares collapse by 63%, from 118.25p to 68p. Shares in 888 tumbled by 34% to 97p.
Read full article...

Read full article...
---

Monday, September 25, 2006
In a big blow to Tobacco companies, a federal judge on Monday granted class action status to tens of millions of "light cigarette" smokers for a potential $200 billion lawsuit against cigarette makers.
U.S. District Judge Jack Weinstein in Brooklyn made the ruling on a 2004 lawsuit that alleges Philip Morris, R.J. Reynolds Tobacco, Lorillard Tobacco Co. and other defendants duped smokers, and responded to consumers' mounting health concerns with a campaign of deception designed to preserve revenue.
Read full article...

Read full article...
---

Friday, September 22, 2006
The financial media is buzzing about the reports of "enormous losses" suffered by Amaranth Advisors, a Connecticut hedge fund that reported it had lost in excess of $4 billion in the collapse of natural gas prices during 2006.
Specifically, the fund claims that its losses were due to bets that the spread between the March and April 2007 natural gas contracts would widen. That spread, in fact, did not widen but instead grew tighter as natural gas prices fell. While the fund allegedly lost money on a number of natural gas–related bets, The New York Times is reporting that the spread bet was the most costly.
Read full article...

Read full article...
---

Wednesday, September 20, 2006
After the Russian's shut down Yukos Oil, not it seems that it is Shells turn and the giant $20 billion Sakhalin Island oil project as the Russian government look to increase the states stake in Russia's energy projects.
State run Gazprom wants a 25 percent stake in Sakhalin-2. Talks have been suspended after development costs had doubled from $10 billion to $20 billion. Shell owns 55% of the project. The Natural Resources Ministry intensified probes of the venture's environmental safety standards and signed an order this week to cancel part of Shells licence on environmental grounds.
Read full article...

Read full article...
---