Analysis Topic: Politics & Social Trends
The analysis published under this topic are as follows.

Tuesday, September 11, 2007

The anniversary address of Osama bin Laden to mark the attacks of September 11th should be raising alarm bells; however, the Department of Homeland Security is not issuing any new warnings, and instead seems focused on ramping up security for airliners as if to prevent the attack of six years ago.
Read full article...

Read full article...
---

Sunday, September 09, 2007
Invisible transfers and long distance calls Hollow laughter in marble halls Steps have been taken, a silent uproar Has unleashed the dogs of war... -- Pink Floyd, Dogs of War
Read full article...

Read full article...
---

Saturday, September 08, 2007
Many technical analyses cast doubt on the official explanation of the collapse of three World Trade Center buildings, including those presented by an impressive new group: Architects and Engineers for 9/11 Truth. More difficult than discovering the truth, however, is convincing most of the public to accept the bitter truth.
Read full article...

Read full article...
---

Monday, September 03, 2007
Add faked photos to the list of lies told by the Bush–Cheney Administration before its invasion of Iraq.

In a town hall meeting in Bloomsburg, Pa., this week, Rep. Paul Kanjorski, a 12-term congressman, said that shortly before Congress was scheduled to vote on authorizing military force against Iraq, top officials of the CIA showed select members of Congress three photographs it alleged were Iraqi Unmanned Aerial Vehicles (UAVs), better known as drones. Kanjorski said he was told that the drones were capable of carrying nuclear, biological, or chemical agents, and could strike 1,000 miles inland of east coast or west coast cities.
Read full article...

Read full article...
---

Saturday, September 01, 2007
In a scathing attack on Donald Rumsfeld and the US failed policy of invasion and occupation of Iraq by the former head of the British Army in Iraq, General Sir Mike Jackson stated :
Read full article...

Read full article...
---

Friday, August 31, 2007
Labor Day is commemorated on the first Monday in September each year since the first one was celebrated in New York in 1882. Around the world outside the US, socialist and labor movements are observed on May 1 to recognize organized labor's social and economic achievements and the workers in them. This day gets scant attention in the US, but where it's prominent it's commonly to remember the Haymarket Riot of May 4, 1886 in Chicago. It followed the city's May 1 general strike for an eight hour day that led to violence breaking out on the 4th.
Read full article...

Read full article...
---

Wednesday, August 29, 2007
"… Iran 's active pursuit of technology that could lead to nuclear weapons threatens to put a region already known for instability and violence under the shadow of a nuclear holocaust. Iran 's actions threaten the security of nations everywhere."
Read full article...

Read full article...
---

Tuesday, August 28, 2007
As Labor Day approaches, what better time to assess the state of working America. It's under assault and weakened by decades of eroding rights in the richest country in the world once regarded as a model democratic state. It's pure nonsense in a nation always dedicated to wealth and power, but don't try finding that discussed in the mainstream. Today, it's truer than ever making the struggle for equity and justice all the harder. That's what ordinary working people now face making beating those odds formidable at the least.
Read full article...

Read full article...
---

Saturday, August 25, 2007
Sir,
Arising from a recent interview which I enjoyed with Pat Gorman of Wake Up America at Free Mark et News Network, your name has been brought to my attention many times in the past couple of weeks.
Read full article...

Read full article...
---

Saturday, August 25, 2007
Every other week, results of independent studies reveal that Britain's NHS right from the GP surgeries straight to hospital wards delivers extremely poor value for money.
Read full article...

Read full article...
---

Friday, August 24, 2007
The recent and tragic bridge collapse in Minnesota raises many questions in Americans' minds about our aging infrastructure, and what is being done to maintain it. Questions such as: "Was I-35 an isolated accident or are we approaching days when crumbling bridges and bursting pipes will be regular features on the evening news?"
Read full article...

Read full article...
---

Tuesday, August 21, 2007
An in depth study by Euro care into cancer treatment across Europe reveals that despite Britain spending a record amount on cancer treatment, it fails abysmally coming in below many former eastern block countries that spend as little as one third that of the UK on cancer treatment.
Read full article...

Read full article...
---

Tuesday, August 14, 2007
Last week this column addressed the train wreck that federal spending has become. To score political points politicians will make loud noise about fairly small matters such as earmarks, even while refusing to address the real problem. Namely, that our federal government is too big and does too much. Politicians prefer to pass a bill or create a program every time somebody points to a new social problem, this way they can tell their constituents how much they are doing to help. Instead of rationally explaining the proper role of government, politicians have attempted to play the role of friend, preacher, parent, social worker, etcetera-- in essence, whatever any organized special interest can demand.
Read full article...

Read full article...
---

Friday, August 10, 2007
This week in a Special Outside the Box good friend George Friedman addresses the Byzantine geopolitical ramifications of recent three party discussions between the Americans, Iraqis, and Iranians. With no obvious reason to trust one another and a good deal of reasons not to, why are we seeing evidence of more discussions.
As George tells it, there is more than meets the eye to these talks. The different parties all strive to extract the most favorable concessions from the Iraq War befitting their respective, and divergent interests; alas, both Iran and the US have come to the realization, albeit belated, that neither party can achieve their objective and the even far more politically grievous realization that no single party can aspire to control or stability in Iraq without the explicit cooperation of all parties, working in unison toward collective initiatives. Further, the risk that everything spins out of control is forcing negotiations among enemies.

Read full article...

Read full article...
---

Tuesday, August 07, 2007
To say these are interesting times is undoubtedly an understatement in my view, as I am a conservative by nature. And the dichotomies – don't get me started on them. In the US, supposedly the exemplar of free enterprise in the world, never have so many owed so much to the state, while at the same time it appears those in power have embraced capitalism to its
fullest degree
, spending money here and there as long as kick-backs in the form of political contributions keep coming. What do we call this – selective capitalism? What's scary is current circumstances in America are very similar to the period preceding the
French Revolution
, where it appears we are witnessing the proliferation of a
Bourgeoisie
class of 'well to-do's' in knowing the right people. Isn't that a scary thought for some! If this is true, business leaders, bankers, and politicos should beware.
Read full article...

Read full article...
---

Monday, August 06, 2007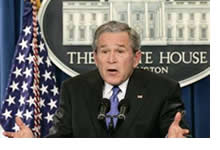 We no longer can trust Congress to impeach and remove a terrible president. The Washington Post has published an op-ed piece by Robert Dallek that proposes a constitutional amendment to allow "ouster by the people" for removing a president other than by impeachment or because of incapacity. Considering the dismal performance of George W. Bush and his administration and the difficulty in obtaining impeachment, this is a fine idea.
Read full article...

Read full article...
---

Friday, August 03, 2007
"...If you fear that we're only a couple of headlines away from $100 oil, be careful how you buy into Russia's huge energy reserves..."
A RISK CONSULTANCY firm based in Canary Wharf 's gleaming financial district emails us here at BullionVault to ask:
"We are keen if possible to get a view from you on the recent heat between the UK and Russian governments.
Read full article...

Read full article...
---

Thursday, August 02, 2007
The incredible collapse of the Minneapolis bridge will send a message to the nation that has been repeatedly sent for decades, but that our political system has refused to effectively respond to. America's physical, engineered infrastructure has been in desperate need for massive spending to repair and replace, but the multi-trillion-dollar cost has been rejected by local, state and federal politicians.
Read full article...

Read full article...
---

Friday, July 27, 2007
This week in Outside the Box good friend George Friedman of Stratfor delves into that enigma that is Executive power and Presidential elections. George ventures to assess the current President in light of former Presidents, utilizing a methodical rubric of measure to analyze the capabilities of what in all perceptions is a lame duck President with respect to domestic influence and foreign perception. He also analyzed the presidential race. I found this a very interesting piece.
Read full article...

Read full article...
---

Thursday, July 26, 2007
The essence of the myth of the Western tradition is the ideal of an independent life lived in liberty and dignity through family and community
. This liberty and independence promotes enterprise and action. Such a myth engendered the human initiative which gave birth to such epoch-changing developments as paper money, financial credit, steam power, the combustion engine, steel hull shipping, electricity, wireless communication, television, air flight, nuclear power, the micro chip and the Internet.
Read full article...

Read full article...
---