Gold Analysis - How Asia Saved America - Maybe!
Commodities
/
Gold & Silver
Aug 13, 2007 - 01:25 PM GMT

Doesn't that chart below look sweet?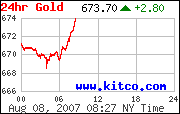 Of course I am optimistic. But I will admit that my optimism is built on a foundation of strong favorable fundamentals. And what you are observing below is one of those strong fundamentals acting in over drive. And so be it. I will not stand in its way.
Reading an interesting book, "How the Irish Saved Civilization," Thomas Carhill. The premise of the story is that as the Roman civilization was crumbling one Irish man through a gargantuan effort began preserving western civilization for modern posterity. And of course the irony is that the Irish were the least civilized of that era yet they played an important and life preserving role in preserving ancient civilized knowledge, technology and literature.
How does our decadent, staid and mundane western civilization today compare with the collapsing Roman Western civilization of 400 AD? Very similar in my opinion.
"This is a static world. Civilized life, like the cultivation of Ausonius's magnificent Bordeaux vineyards [400AD], lies in doing well what has been done before. Doing the expected is the highest values…" "How the Irish Saved Civilization," Thomas Carhill
I thought who is going to save America as our financial house of cards continues to implode and our western civilization and its people and its armies sink into oblivion? Who will then save the United States ? Asia of course because they alone hold most of the real wealth of today. Tangible manufacturing, growing natural resource ownership, growing gold reserves, and their greatest asset being of course their US dollars and US bonds. Read the text below and tell me if this does not describe our society in very great detail even today in this early 21 st century.
"…the rich became even richer. The great landowners ate up the little ones, the tax base shrank still further, and the middle classes, never encouraged by the Roman state, began to disappear from the face of the earth." Click
If the west does seriously continue to sink its only hope is with the kind and ever benevolent Asia who have compassionately shown their love for western civilization these past 66 years. We better start being nice to these folks as they are the only financially solvent super power remaining today.
What did good ole' Herbert say when he faced his moment of financial crisis?
"The initial government response to the Great Depression was ineffective, as President Hoover insisted that the economy was sound and that prosperity would soon return." Click
Now, let's flash forward and hear the words of our contemporary president and see how he plans to handle the latest severe financial disaster.
"President Bush said Wednesday that financial markets will be able to work through current turbulence without torpedoing the economy, calling the business environment "sound." "…the president said the government shouldn't bail out lenders of risky mortgages that went sour…" Click
And what fox is sitting in the woods just waiting to swoop in and save the United States in her moment of economic destruction?
" China could use pile of cash to invest in USA " "…its institutions are sitting on a mountain of capitalist cash. Beijing now could spend some of its hoard on cross-border investments, taking advantage of market turmoil ignited by the mortgage industry meltdown." "There is no doubt in my mind they would love to further buy into the U.S. financial sector, especially at bargain prices like these," says Donald Straszheim, vice chairman of Los Angeles-based Roth Capital Partners." "…the Chinese government announced plans to use some of its $1.33 trillion in financial reserves to create a $200 billion state investment company." "I presume some part of China 's government will soon buy an equity stake in a major hedge fund or investment bank as well. … Anyone looking for financing to do a really big deal will, I would guess, soon make a pilgrimage to Beijing," economist Brad Setser…" "Renewed talk of China 's investment ambitions grew out of market upheaval that began with subprime mortgages, loans extended to borrowers with poor credit histories." Click
Here is a good thought. Think how we long for the good ole days and the business of nostalgia is in the billions. The ideas of today, our literature, and our sense of adventure is DOA. For 40 years we as a people have lost even our fascination and quest for space travel
"…the pretence that we still are what we once were…" Click
I have heard the battle cry and mantra repeated over and over these past years that Asia will save us and not allow us to fall. Will they? Are we placing all our faith on a culture that is totally different than our own and a culture that traditionally despises western values? Folks, I am not kidding here when I say that the United States views all of Asia and China as a long term insurance policy to be exercised when financial catastrophe strikes. This is where we place our faith in a prosperous future? My, how such similar factors work to create the seeds of destruction with all great civilizations.
"…The creation of an increasingly unwieldy and rigid bureaucracy, whose own survival becomes it's over riding goal…" Click
What if when the time comes we find the barbarians at the gate and for their help they demand in turn tribute? These are all possibilities that I personally believe will come to fruition. Is Asia ( China ) going to save America on that day the US defaults? We hope they will and we expect that to be a reality. We hear over and over that China needs us. They need our market and our buying power. Who would buy what the Chinese make if the Americans have no money. Two market sources come to mind. Europe and Asia itself. Europe can well use what China produces. And Asia itself is growing so monstrously that the market there is becoming self sustaining. And if these facts prove themselves out where will that leave the poor and broke US Dollar?
But back to our main question we asked in the beginning. Can we count on China and the rest of Asia one day to bail us out of an economic default? Beats me. But mark my words here because we will eventually find out. But for fun lets go over some of those traits occurring today in our western civilization that have worked to the destruction of other strong and mighty civilizations.
And what of our military today? Do we find senators sons and judge's daughters fighting in the hot deserts of Iraq ? No, we find those who have joined for the purposes of receiving long term benefits and never did they expect to be engaged in a real time war.
"…the despising of the military and the avoidance of its service by established families." Click
And while technology becomes our God with every new discovery our consciences are cold to the long term values we used to hold in such great esteem.
"…the lip service paid to values long dead…" Click
Would you, the reader, deny that our middle class is deteriorating while the richer become significantly richer still while the poor sink deeper into greater poverty?
"…the increasing concentrations of the populace into richer and poorer by way of a corrupt tax system, and the desperation that inevitably follows…" Click
Class becomes separated from class as the middle class deteriorates.
"Rather the bureaucratic and social establishment of Rome had become so top heavy and entrenched that effective reform was no longer possible. Class was insulated from class." Click
Read the text below as I believe it describes our present presidential administration today.
"… the aggrandizement of executive power at the expense of the legislature; ineffectual legislation promulgated with great show; the moral vocation of the man at the top to maintain order at all costs, while growing blind to the cruel dilemmas of ordinary life…" Click
The executive power is superseding the legislative branch. What legislation is produced is done so merely for show and to heighten a politician's prestige and image. President Bush today finds his greatest perceived job to be maintaining the moral virtues of our western society at the expense of every other different culture. And the plight of the middle class is being designated to the dustbin of tomorrow. How bad goes the developing economic financial mortgage and housing storm out in the world of extended loans?
"Bear Stearns (BSC) said Friday that it is weathering the worst storm in financial markets in more than 20 years after a major rating company warned mortgage credit problems could hurt the investment bank's profits. Bear Stearns' chief financial officer said the shockwaves hitting lending markets, triggered by rising mortgage losses, were as bad as crises such as the Internet bubble bursting in 2001 or the 1998 collapse of hedge fund Long-Term Capital Management. "These times are pretty significant in the fixed-income market," CFO Sam Molinaro said on a conference call with analysts. "It's as been as bad as I've seen it in 22 years. The fixed-income market environment we've seen in the last eight weeks has been pretty extreme." Click
And let's look at gold once more before we leave? Is the bull market merely in its beginning stages? Well, look at the chart below and you decide. The following below chart illustrates that gold has not even begun its real momentum higher. Notice it is presently still at the bottom of the trough? This gold bull market per CPI adjusted numbers has not even yet seriously begun. Of course what this means is that there still remains a lot of easy money on the table yet to be made.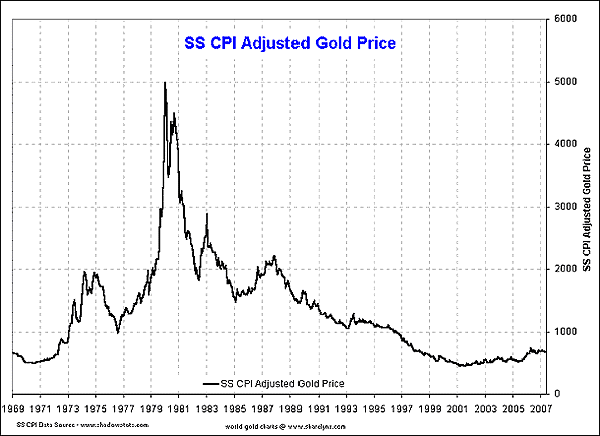 "Rome, the eternal city, had been untouchable since the Celts of Gaul had sacked it by surprise in 390 BC." "Between the Sack of Rome by Alaric in 410 [AD] and the death of the last western emperor in 476, the imperium became increasingly unstable." Click
What is western cultures Alaric? For make no mistake that Alaric has already come to pay us a visit.
"The citizens of the City of Rome , therefore, could not believe it when toward the end of the first decade [410AD] of the fifth century, they woke to find Alaric, king of the Visigoths, and all his forces parked at their gates." Click
Alaric visited our grand financial capital on September 11, 2001 . Two 110 stories high very important financial buildings were totally destroyed and our Pentagon was devastated that day. What was our reaction? We sent out our emissaries, the public press, to minimize the existing damage and to immediately make predictions how soon it would take for things to return to normal. But make no mistake what happened that day. And I am referring to what the history books will record of this incident 100 years from today. What will the future history books say?
"In that pause, Roman (American) security died and a new world was conceived." Click
Gold Letter, Inc. reviews gold, silver, uranium and other resource stocks under valued and poised to rise in this time of increased demand for all resources. Natural resources and related contrarian stocks will only escalate in value as the world continues to experience unprecedented population growth. Gold Letter's 10 best performing stocks are up over 2,000% and GL's top 55 performing stocks are up over 500%. Close to 90% of all Gold Letter's recommendations since inception in January, 2003 are up over 250%. GL charts are computer generated and updated every hour while markets are open.
Click here to order Gold Letter
"The Worldwatch Institute, an organization that focuses on environmental, social and economic trends, says the current rate of global demand for resources is unsustainable." Click
Below is a good prophetic message from Ed.
Dave, "Most everyone you talk to expects the next move in interest rates to be lower. I strongly disagree. If that should happen then the Dollar would fall into never, never land and we would see inflation go ballistic. There's a different scenario to my last point. If short term rates do fall in order to save the economy and the stock market, the Dollar will suffer along with long term rates. Long term rates will soar because of the lack of confidence in the Dollar. If either of these scenarios play out the broader stock market will suffer and Gold will reap the benefits when investors flock to the safe haven gold provides" Ed
Send me an email!
By David Vaughn
Gold Letter, Inc.
David4054@charter.net
The publisher and its affiliates, officers, directors and owner may actively trade in investments discussed in this newsletter. They may have positions in the securities recommended and may increase or decrease such positions without notice. The publisher is not a registered investment advisor. Subscribers should not view this publication as offering personalized legal, tax, accounting or investment-related advice. The news and editorial viewpoints, and other information on the investments discussed herein are obtained from sources deemed reliable, but their accuracy is not guaranteed. © Copyright 2007, Gold Letter Inc.
© 2005-2019 http://www.MarketOracle.co.uk - The Market Oracle is a FREE Daily Financial Markets Analysis & Forecasting online publication.

Only logged in users are allowed to post comments.
Register/ Log in