Welcome to The Market Oracle
The Market Oracle is a FREE Daily Financial Markets Analysis & Forecasting online publication.
We present in-depth analysis from over 1000 experienced analysts on multiple views of the probable direction of the financial markets. Thus enabling our readers to arrive at an informed opinion on future market direction.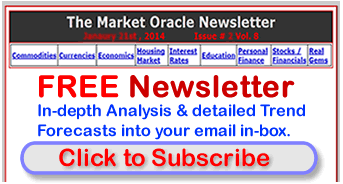 Fri 25th Apr 2014
Featured Articles:
Most Popular of the Week
Most Popular Authors Most Recent Articles
Most Popular of last 30 days

1.Budget 2014 Cash ISA Allowance Near Tripled to £15,000, Current Best ISA - Nadeem_Walayat - (Reads 39,840)
2.Stock Market Top - 2014 The Year of Gold, Silver and Commodities - Trader MC (Reads 8,167)
3.The Fourteen Year Economic Recession - James_Quinn (Reads 6,755)
4.Crimea, Ukraine War, Czar Putin Tightening Grip Over Police State Russia for New Dynasty - Nadeem_Walayat - (Reads 6,240)
5.Commodities Another Leg Up with Gold Setup for a Final Takedown - Toby_Connor (Reads 5,036)
Most Popular All Time (Financial Markets & Economy)

1. US Housing Market Crash to result in the Second Great Depression - Feb 2007 - Mike_Whitney (Reads 387,075)
2. UK Housing Market Crash and Depression Forecast 2007 to 2012 - Jan 2009 - Nadeem_Walayat (Reads 296,124)
3. UK Housing Market Crash of 2007 - 2008 and Steps to Protect Your Wealth - Aug 2007 - Nadeem_Walayat (Reads 257,592)
4. The Real Reason for the Global Financial Crisis…the Story No One's Talking About - Sept 2008 - Shah Gilani (Reads 228,773)
5. Last Warning! Three-Pronged Collapse ... Stocks, Bonds and Real Estate - Dec 2006 - Larry Edelson (Reads 224,029)
The Market Oracle.