Stock Market Investments - Take More Profits Now!
Stock-Markets
/
Global Financial System
Aug 16, 2007 - 09:06 AM GMT

Larry Edelson writes: I'm just back from Asia with visits to Thailand, Singapore, Manila and Sydney. And I'll get right to the bottom line: I have no doubt in my mind whatsoever that overseas economies will continue to explode higher.
However, my on-the-ground experience from this trip also tells me that even Asian economies could hit some headwinds over the next few months.
I attribute this to three forces …
Force #1: The disaster in the U.S. mortgage markets.
It's bad. As much as $1.4 TRILLION of mortgages in the U.S. are at risk of default, or at best, falling into late payment status.
Already, two Bear Stearns hedge funds that invested heavily in mortgages have been wiped out. And at least two overseas funds, plus Macquarie Bank in Australia, have taken some big hits on U.S. real estate and mortgage investments.
But it's not the dollar amount of the damage overseas that I see as the problem. Foreign economies do not have big exposure to our crumbling mortgage markets.
Rather, it's the psychological toll that has me worried.
It didn't matter where I went … nearly everyone I talked to was worried about the U.S. mortgage market disaster. And when investors are jittery, they tuck their heads into their shells.
On its own, this nervousness is not enough for me to throw up the caution flags. But I also see some evidence that …
Force #2: The dollar's weakness is beginning to affect Asia's export markets.
Already, one of Thailand's largest employers — Thai Silp South East Asia Import Export Co. — shuttered its doors and laid off more than 5,000 employees because the falling dollar made their exports uncompetitive in world markets.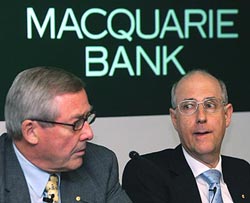 Even Australia-based Macquarie Bank's executives are worrying about U.S. subprime mortgage woes.
And in Singapore, electronics manufacturers are also starting to feel the pinch of the weak dollar. For example, Creative Technology and Chartered Semiconductor are starting to see their sales and earnings slump.
The problems seem to be contained to the weaker companies in Asia. And longer-term, even though I expect the dollar to fall more, I don't think Asia's vibrant export markets will suffer all that much.
Still, there's no discounting the fact that this could be a short-term negative for Asian economies.
Force #3: Beijing is clamping down hard on speculation.
So far, China's government has been totally unable to ferret out the speculation going on in the country's stock markets. Beijing has raised interest rates five times since April 2006. It's also upped bank reserve ratios eight times since June 2006, with the most recent increase taking effect yesterday.
None of that has put a lid on the country's markets yet. Indeed, it's pretty tough to cool things down when you have 1.3 billion people coming onto the world stage and wanting to get rich.
Nevertheless, my sources in Asia tell me Beijing is determined to snuff out some of the excess in the markets there. I think another interest rate hike and another hike in the bank reserve requirement are coming.
Plus, my charts tell me the markets in Asia have gotten too far ahead of themselves.
Bottom line: I believe China's stock markets could see some air escape over the short-term. I would not be surprised to see the Shanghai A and B indexes fall 10% or 12%.
So What Can You Do? Take Some More Profits NOW!
To be clear, in no way does this suggestion indicate that the long-term bull market in Asian economies or natural resources is over. Hardly! Much higher price levels are coming across the board.
But given the three short-term forces I just laid out for you — AND the indisputable fact that a major correction is already underway in U.S. stock markets — I think it's time to take some more profits off the table.
In my July 5 Money and Markets column , I gave you an update on some of the names I've mentioned in the past. And I suggested unloading a few — XTO Energy (XTO), Cimarex Energy (XEC), the AIM Energy Fund (IEFCX), and the Dow Jones U.S. Energy ETF (IYE) — if you were holding them.
Today I'd like to give you an updated list (capital appreciation through the end of trading on August 13) …
Investment Name
Ticker
Mention Date
Gain/Loss
Oil Service HOLDRS Trust

OIH

09/19/05

38.8%

StreetTracks Gold Trust

GLD

09/19/05

43.3%

Tocqueville Gold Fund

TGLDX

10/10/05

36.5%

Energy Select Sector SPDR

XLE

10/10/05

39.0%

Vanguard Energy VIPERs

VDE

10/10/05

39.4%

iShares S&P Global Energy

IXC

10/10/05

32.6%

Powershares WilderHill
Clean Energy Portfolio

PBW

10/10/05

34.1%

US Global Investors World
Precious Minerals Fund

UNWPX

10/10/05

53.7%

DWS Gold & Precious Fund

SCGDX

02/23/06

-3.9%

Sadia SA

SDA

06/08/06

73.1%

Archer-Daniels-Midland

ADM

06/08/06

-15.3%

Cresud SA

CRESY

06/08/06

54.1%

Enerplus Resources Fund

ERF

08/10/06

-24.9%

U.S. Global Investors
Resources Fund

PSPFX

08/10/06

-1.1%

Profund Ultrasector
Oil & Gas

ENPIX

08/10/06

23.7%

Matthews India Fund

MINDX

09/28/06

36.3%
Now, if you're holding any of these investments, your results will vary based on when you bought and the fees your broker charges you. I also mentioned some of these more than once. But as you can see, a lot of them have posted solid gains.
So, I suggest grabbing any profits you have on Sadia (SDA), Cresud (CRESY), and the Matthews India Fund (MINDX). You might want to look at the rest of your holdings to see if there are any other positions you can scale back on.
Regularly taking profits like this is just good money management. It allows you to lighten up your portfolio a tad … and it reduces your downside risk.
But I repeat: Do not take this as a sign that the bull markets in Asia and natural resources are over … they're not even close to an end.
In fact, I remain firmly convinced that the long-term uptrends for most developing economies — China, India, Brazil and more — have much farther to go. Ditto for natural resource prices!
Best wishes for your health and wealth,
Larry
P.S. If you're interested in getting all of my recommendations as soon as I release them (including flash alerts), plus 12 monthly hard-hitting issues of Real Wealth Report that will keep you fully informed on the natural resource and international markets, subscribe now for just $99 a year.
This investment news is brought to you by Money and Markets . Money and Markets is a free daily investment newsletter from Martin D. Weiss and Weiss Research analysts offering the latest investing news and financial insights for the stock market, including tips and advice on investing in gold, energy and oil. Dr. Weiss is a leader in the fields of investing, interest rates, financial safety and economic forecasting. To view archives or subscribe, visit http://www.moneyandmarkets.com .
© 2005-2019 http://www.MarketOracle.co.uk - The Market Oracle is a FREE Daily Financial Markets Analysis & Forecasting online publication.

Only logged in users are allowed to post comments.
Register/ Log in